London Developments, Building, Project, News, Design, Property, Architects
London Property Information : Building Links
Architectural Development in the British Capital – Built Environment Information
London Developments
London Architecture Links – chronological list
Contemporary Architecture in the UK Capital City
1 America Square
1 Leadenhall Tower
1 Neathouse Place
1 Undershaft Tower City of London
10 Bloomsbury Way Camden
10 Brock Street Regents Place
10 East Road
10 Grosvenor Street
10 Palace Gate
10 Trinity Square
100 Bishopsgate
1000 Great West Road
110 Fetter Lane
120 Moorgate Office
122 Leadenhall Street
124 Horseferry Road
125 Old Broad St
125 Old Broad Street
14 St George Street
15 Canada Square
150 High Street Stratford
150 Holborn
160 Tooley Street
176 Prince Wales Road
194 Pitfield Street
20 Blackfriars Road
20 Fenchurch Street Building
222 Black Prince Road
23 Savile Row
24 Savile Row in London
25 Ropemaker Building
25 Tanners Hill
257 City Road Tower
259 City Road
26 Finsbury Square
26-48 Oxford Street Development
280 High Holborn
30 Crown Place
33 Queen Square
35 Marylebone High Street
4 Merchant Square
40 Broadway
41 Lothbury
45 Park Lane
45 Park Lane Hotel
5 Broadgate Development
5 Canada Square Building
55 Baker Street
6 Bevis Marks
6 Bevis Marks London
60 Ludgate Hill and 30 Old Bailey
60 Threadneedle Street
60-70 St Mary Axe Building
65 Hopton Street Bankside
77 Wicklow Street
85 Great Eastern Street
88 Wood Street
99 Bishopsgate
A40 Footbridge
Abbey Mills
Abbotts Wharf Housing
Adelaide House
Adelaide Wharf
Admiralty Arch
Agar Grove Estate
Alban Gate
Albert Memorial
Aldensley Road
Aldermanbury Square
Aldgate Buildings
Alexandra Palace
All Souls Church
Alleyns School Building
Aloft London ExCeL Hotel
Alphabeta
Amelia Street Public Realm Design Competition
American Embassy Building
Angel Building Islington
Angel Building Sculpture
Apex Temple Court
Arcadia Centre Ealing
Architecture Foundation
Architecture Foundation Director
Architecture Foundation Discussion
Architecture Foundation Norwegian Practices
Architecture Foundation Office
Architecture on Film
Ark Book Tower
Arrowhead Office Development
Artist's House
art'otel london hoxton
Ashburton Triangle Housing
Atrium Store
Australia House The Strand
Aylesbury Estate
BA Head Office Waterside
Baden Powell Close
Baker Street Building
Bank of England Building
Bank of England Tour
Bankside
Bankside Development
Barbican Centre
Barbican Centre Cinema
Barbican Estate Buildings
Barcode Soho
Barking Central
Barking Creative Industries Quarter
Barking Riverside Housing
Barking Skills Centre
Barking Town Square
Barnet College Campus
Bartholomew Road Camden
base2stay Hotel Soho
Bat House Project
Bateman Mews
Bateman's Row
Bath Road Hotel
Battersea Architecture
Battersea Building Photos
Battersea Power Station
Battersea Power Station Building
Battersea Power Station Chimneys
Battersea Power Station Designs
Battersea Power Station Redevelopment
Battersea Reach Tower
Battersea Tube Station
BBC Grafton House
BBC New Broadcasting House
Bear Lane
Beatrice Tate Special Needs School
Belgravia Buildings
Belsize Park House
Bermondsey Buildings
Bermondsey Housing Scheme
Bermondsey Square Tree
Bermondsey Station
Bethlem Royal Hospital Museum
Beveridge Mews Stepney Green
Bexley Waste Treatment Facility
Bezier Apartments
BFI Film Centre
BFI Imax
Bike Stand Soho
Billingsgate Market
Bio Medical Research Centre
Bishops Place
Bishops Square
Bishopsgate Buildings
Bishopsgate Goodsyard
Bishopsgate Project
Bishopsgate Tower
Black Cube
Black & White Building Shoreditch
Blackfriars Hotel
Blackfriars Railway Bridge
Blackheath Road
Blizard building
Bluebird Garage Cafe
Bolsover Street Apartments Fitzrovia
Bomber Command Memorial
Bond Street Shops
Bonfire restaurant in the Barbican
Boxtree Housing Harrow
BP Upstream Learning Centre
Bracken House
Brent Cross Shopping Centre
Brexit Bunker
Brick House London
Bridge Academy
Brighton Pier
Brit Oval Stadium
British Library
British Museum Building
British Museum Development
British Postal Museum Archive London
Broadcasting House London
Broadgate Development
Broken Wharf House
Brompton Crystal
Brunel Museum
Brunel University
Brunner Showroom Clerkenwell
Brutalist Architecture
Buckingham Gate Residential Scheme
Buckingham Palace London
Buckley Building Clerkenwell
Burberry Factory Development
Bush House
Cable Car Royal Docks
Cadogan Hall
Cafe Royal Hotel
Caledonia Road Building
Camberwell College of Arts Building
Camden Arts Centre
Camden Buildings
Camden Council Pancras Square
Camden Sainsburys
Campden Hill Holland Park
Canada House
Canada Water Station
Canary Wharf
Canary Wharf Buildings
Canary Wharf Station
Cannon Place House
Cannon Street Offices
Cardinal Place Victoria
Carillion Building
Carmine Building
Carnival Village
Carson Road House
Cass School Education EDU
Castle Lane Apartments in London
Cedars Road Pavilion
Central Saint Martins Campus
Central School Ballet
Central St Giles
Centre Lifelong Learning Islington
Centre Point
Chance Street House
Channing School
Charing Cross Station
Charlotte Road House
Charterhouse Place
Cheapside Building
Chelsea Academy
Chelsea Apartments
Chelsea Barracks
Chelsea Barracks Art Marquee
Chelsea Barracks Developer
Chelsea Barracks Letter
Chelsea Barracks Masterplan
Chelsea Barracks Proposal
Chelsea Buildings
Chelsea Flower Show Garden
Chelsea Harbour Design Centre
Chelsea Town House
Cherry Orchard Road
Chesham Place
Cheyne Walk House
Chichester House
Chinatown Design
Chipping Barnet Church Gardens
Chiswick House
Chiswick Property
Chobham Academy
Chotto Matte Restaurant
Christ Church Spitalfields
Christ Church Spitalfields Crypt
Church Walk Houses
Churchill War Rooms
Churchwood Gardens in Forest Hill South London
CIPD Wimbledon
Citicape House
City Lit Building
City London Building
City North
City of London Buildings
City Point
City Road Tower
City Westminster College
City of Westminster College Building
City Westminster Courts
Clapham House
Clapham Manor Primary School
Claredale Street
Claridge's Hotel London
Clerkenwell Hotel
Clerkenwell Streetscape
Clinical Education Centre
Clore Gallery Tate
Colonial Drive Development
Colville Estate Towers
Commonwealth Institute
Commonwealth Institute Design Museum
Commonwealth Institute Redevelopment
Consort Road Peckham
Cornmill Gardens Lewisham
Covent Garden Buildings
Covent Garden Flower Cellars
Cox & Power London
Craddock Cottages
Credon Centre
Cremorne Riverside Centre
Crossrail Station Buildings
Croydon Canyon Competition
Croydon Gateway
Croydon Gateway Development
Croydon Regeneration Alsop
Cruickshank Street House
Crystal Palace Concert Platform
Daily Express Building
Daiwa Building
Dalling Road House
Darwin Centre
Darwin Centre Building
Delfina Foundation
Deptford Lounge
Design for London
Design Museum Building
Design Museum David Chipperfield Exhibition
Design Museum Exhibition
Design Museum Exhibitions 2014
Design Museum Jan Kaplicky Exhibition
Design Museum Sale
Developing City Vision 2050
Development House
Devonshire Square
Docklands Student Village
Dollar Bay Building
Donnybrook Quarter
Doon Street Tower
Dorchester Hotel
Drapers Gardens
Dream Isle CJ Lim
Driftwood Pavilion Design
Dukes Avenue House in London
Dukes House in Alexandra Palace
Dulwich College Building
Dunraven School Lambeth
Earls Court Redevelopment
Earlsfield Theatre
East London Architecture
East London Architecture Photos
East London Houses
East Road Building
Ecobuild 2009
Ecocities
Economist Building
Edgware Road Development
Elephant Castle
Elephant Castle Regeneration
Ellesmere Nursing Home
Elm Court House
Elmgrove Point
Elmhurst Avenue House in London
Embassy Gardens Nine Elms
Emirates Stadium
Endless Stair
Enfield Town Library
Erith Housing Scheme
Eton House
Eureka Pavilion
Euston Road Buildings
Euston Station
Eva Jiricna Stair
Evelina Childrens Hospital
Eveline Lowe Primary School
Evelyn Grace Academy
Evelyn Grace Academy Brixton
ExCeL London
Exchange Tower
Exhibition Road Project
Falcon Wharf Riverside Penthouse
Farmiloe Building Redevelopment
Farnborough Airport Building
Farringdon Architecture
Farringdon Redevelopment
FAT house
Festival of Architecture
Festival of Architecture Installation
Filling Station Kings Cross
Financial Times Building
Finsbury Circus Office Building
Finsbury Health Centre
Finsbury Park
Finsbury Park Housing
Finsbury Square
Fisher Street Development
Fitzrovia Buildings
Fitzroy Square
Flat Time House
Fleet Street Architecture
Fleet Street Buildings
Fleet Street Hill
Fore Street
Fortnum Mason
Francis Crick Institute
Fresh Wharf Barking
Friends House
Frieze Art Fair Pavilion
Frognal Road House
Frutina Swim Centre
Fulham Wharf Development
Future Clapham
Future Systems Shop
Gainsborough Studios
Gap House
Garden Museum
Gatwick Airport
Geffrye Museum
Gillette Building
Girdlers Hall
GLA Building
Glaxo Smith Kline Building
Globe Theatre
Golden Lane Campus
Golden Lane Estate
Golden Lane Estate Leisure Centre
Goldhawk Village
Goldsmiths Media Communications
Grace Belgravia Club
Graduate Centre
Grahame Park Estate
Great Conservatory Syon Park
Great Marlborough Street Building
Great Ormond Street Hospital
Great Pulteney Street Office Building
Great Scotland Yard Hotel
Greenwich Buildings
Greenwich Hotel
Greenwich Hotel Building
Greenwich Peninsula Housing
Greenwich Peninsula Masterplan
Greenwich University Architecture School
Gresham Street Offices
Groucho Club Soho
Guildhall Building
Guoman Hotel Heathrow
Gustafson Porter Award
Guy's Hospital Architecture Competition
H10 Hotel
Hackney Bridges
Hackney House
Hackney Library
Hackney Marshes Community Hub
Hackney Mosque
Hackney Picturehouse
Hackney Service Centre
Hackney University Technical Colleges
Hackney Wick Olympic Regeneration
Hallfield Housing Estate
Hammersmith Buildings
Hammersmith Grove
Hammersmith House
Hammersmith Student Accommodation
Hampden Gurney School
Hampstead Architecture
Hampstead Garden Suburb Buildings
Hampstead House
Hampstead Lane
Hampton Court Palace
Hampton Court Station
Hanger Lane Buildings
Hanover Lodge
Hanover Square
Hanover Square Development
Hanover Terrace House
Harlequin 1 BSkyB
Harlesden Buildings
Harlesden Homes
Harrods Building
Harrow College Building
Harvey Nichols London
Heart of East Greenwich
Heathrow Airport T5
Heathrow Airport Terminal 5
Heathrow New Terminal 2
Heathrow Terminal 5
Henrietta Barnett School
Hermes London Store
Heron Tower
Heron Tower Building
Highbury Square
Highgate Apartments
Highgate House
Highpoint
Hilton Canary Wharf
Hilton Hotel London
Hilton London Tower Bridge
Hilton on Park Lane
Holloway Road Housing
Homeshell Burlington House
Hoover Factory
Horniman Museum & Gardens
Hornsey Road Apartments
Hornsey Town Hall
Hornsey Town Hall Crouch End
Hornsey Town Hall Restoration
Horse Guards Volleyball Venue
House in Dulwich
Houses Parliament
Howick Place
Hoxton House
Hoxton Square
Hungerford Pedestrian Bridge
Hurlingham Club Outdoor Pool
Hyde Park Competition
Ian Ritchie Offices
Icona Stratford
Idea Store Chrisp Street
Idea Store Whitechapel
Imagination Building
Imperial College Building
Imperial West
In & Out Club
Inamo St.James
Iranian Embassy
Ironmonger Row Baths
Islington Architecture
Islington House
Islington Houses
Ismaili Centre Building
Isokon
JC Decaux Building
Jewish Community Centre
John Soanes House
Johnson Building
Jubilee Bridge London
Jubilee Gardens
Jubilee Line Buildings
JW3 Centre for Jewish Life
JW3 Jewish Community Centre
Keeling House
Kensal House
Kensington Apartment
Kensington High Street Buildings
Kensington Palace
Kentish Town Centre
Kew Bridge Road Flats
Kew Garden's Tree Top Walkway
Kew Herbarium
Kew Walkway
Khan House
Kidbrooke Regeneration
Kilburn Grange Park Adventure Playcentre
Kinetica apartments Dalston
King Street Regeneration Hammersmith
King's Cross Building
Kings Cross Central
Kings Cross Central Office
Kings Cross Central Office Development
Kings Cross Eastern Range
Kings Cross Gasholder Competition
Kings Cross Square
Kings Cross Square London
Kings Cross Concourse
Kings Cross Station
Kings Cross Student Housing
Kings Grove House
Kings Mews Apartments
Kings Place
Kings Place Concert Hall
King's Reach Tower
Kingsley Place House
Kingsmead Theatre
Kingston Academy
Kingston Upon Thames Houses
Kingston Upon Thames Property
KPF Gallery Exhibition
Kvadrat Showroom London
KX200
Laban Centre
Ladderstile House
Lambeth Accord Competition
Lambeth Buildings
Lambeth College
Lamda Building
Langlands Bell
Lant Street
Latitude House
Latymer Upper School Building
Lavington Street Southwark
Lawn Tennis Association National Tennis Centre
Laycock Street Housing
Le Corbusier Exhibition
Leadenhall Market
Leaf House
Lee Valley White Water Centre
Leicester Square
Leicester Square Cinema
Leicester Square Hotel
Leighton House Museum
Lewisham Apartments
Lewisham Housing
Liberty Building
Lisson Gallery
Little Venice
Liveable Neighbourhood
Living Staircase Ampersand Building
Liverpool Street Station
Lloyds London Building
Lloyds London Building Photos
London 2012 Olympics Handball Arena
London Aquatics Centre
London Aquatics Centre 2012 Olympics Pool Zaha Hadid
London Aquatics Centre Interior
London Architect
London Architects
London Architectural Photographs
London Architecture Designs
London Architecture Images
London Architecture Photographs
London Architecture Photos
London Architecture Walking Tours
London Array Wind Farm Substation
London Art Galleries
London Bars
London Bombings Memorial
London Bridge Station
London Bridges
London Britannia Airport Thames Estuary
London Building Centre Talk
London Building Images
London Building Photographs
London Building Photos
London Buildings
London Buildings 1
London Buildings 2
London Buildings 3
London Buildings 4
London Buildings 5
London Buildings A
London Buildings B
London Buildings C
London Buildings D
London Buildings E
London Buildings F
London Buildings G
London Buildings H
London Buildings I
London Buildings J
London Buildings K
London Buildings L
London Buildings M
London Buildings N
London Buildings O
London Buildings P
London Buildings Q
London Buildings R
London Buildings S
London Buildings T
London Buildings U
London Buildings V
London Buildings W
London Buildings Y
London Buildings Z
London Cenotaph
London Churches
London Cinemas
London County Hall
London Dairy Building
London Eye Photos
London Festival of Architecture
London Fire Brigade Building
London Fire Station Buildings
London Fruit & Wool Exchange
Gagosian Gallery iMayfair
London Hospital Buildings
London Hotel Buildings
London Homes
London House Extension Competition
London Houses
London Housing
London Hub City
London Inhabited Bridge
London Inhabited Bridge Competition
London Jewellers
London Loft
London Museum Buildings
London National Theatre
London Office Buildings
London Olympic Park
London Olympic Stadium
London Olympic Stadium Building
London Olympic Stadium Construction
London Olympic Substation
London Olympics Aquatics Centre
London Olympics Architecture
London Olympics Basketball Arena
London Olympics Bridge
London Olympics Buildings
London Olympics Energy Centre
London Olympics Handball Arena
London Olympics Media Centre
London Olympics Pumping Station
London Olympics Rowing Venue
London Olympics Shooting Venue
London Olympics Substation
London Olympics Velodrome
London Olympics Village
London Olympics Water Polo Venue
London Passive House
London Property
London Railway Stations
London Regatta Centre
London Restaurants
London Riot Rebuild
London School Buildings
London School Economics Student Centre
London Science Museum Building
London Shops
London Skyscraper Buildings
London Skyscrapers
London Syon Park Waldorf Astoria Hotel
London Theatres
London Underground Stations
London University Buildings
London Velodrome
London Velopark
London Walking Tours
London Wall Buildings
London Wall Place Office
London Waste Tower
London Water Tower House
London Zoo
Long House
Longford School Library
Lords Ground Masterplan
Lords Media Stand
Lower Lee Valley London
LSE Students Centre
LSE Lincoln's Inn Fields Building
Ludgate Sampson Houses
Lumen Centre
Luxury Mews Conversion North Belgravia
Madder Rose Gallery
Maggies Barts London
Maggies Centre London
Maggies London
Maison Tropicale
Mandarin Oriental Hyde Park Hotel
Fitzroy Street and Maple Place
Marylebone Station
Marni Store Sloane Street
Mayfair Buildings
Mayfair House
Medieval & Renaissance Galleries
Merchant Square
Metropolitan Works
MI6 Building
Michael Faraday Community School
Michael Faraday Community School Building
Michelin House
Midtown London Building
Mill Hill House
Millbank Tower
Millennium Bridge House Redevelopment
Millennium Dome London
Millennium Village Greenwich
Milner Square Barnsbury, Islington
Miloft
Milton Gate Building
Minster Court
Mobile Acoustic Performance Shell
Modern Architecture London
MOMI London
Monsoon Building
Montague Place Skywalk
Montpelier Community Nursery
Monument Building
Moorfields Eye Hospital
Moorgate Buildings
Moorgate Offices
Moorhouse Offices
Morden Wharf Development
More London
Morgan Stanley Building
Mossbourne Victoria Park Academy
Multi Runway Hub Airport
Murray Mews Houses
Museum of Childhood
Museum of London
National Gallery
National Maritime Museum
National Portrait Gallery
Natural History Museum
Natural History Museum Gallery
Natwest Tower
Nell Gwynn House
Neo Bankside
Neo Bankside Development
Neuroscience Institute
New Design Museum Stickyworld
New Kent Road
New Kings Road Offices
New London Architecture Conference
New London House
New Palladians Exhibition
New Queens Park Rangers Stadium
New Street Square
New Town Tower Popularchitecture
New Union Wharf
New Zealand House
Newlands School Southwark
News London Building
Nido Spitalfields
Nile Street Building
Nine Elms Development
NLA Exhibition
No1 New Oxford Street
Noble Yard House
North Greenwich Station
North London Architecture
North London Architecture Photos
North London Residential Extension
North Wharf Road
Notting Hill Penthouse
Number One Oxford Street
Number One Poultry
O Central
O2 Arena
Oakmayne Tower
Oasis Academy Enfield
Old Bailey
Old Home Office Courtyard
The Old Vic Theatre Building
Olympia Development Earls Court
Olympic Park Landmark
Olympics Media Centre
One Angel Lane
One Blackfriars Road
One Eagle Place Development
One Hyde Park
One Hyde Park Apartments
One Hyde Park Knightsbridge
One London Wall
One New Change
One Poland Street
One Spirit Showcase
One Westminster Place
Origami stair
Orion House
Orm Waterloo Road
Oscar Wilde House
Osterley House
Outer London Commission
Oxford House College
Oxford Street Diagonals
Oxo Tower
Paddington Buildings
Paddington Central Buildings
Paddington Station Building
Palestra
Palladio Exhibition Royal Academy Arts
Pan Peninsula
Paperhouse
Paradise Park
Park Avenue South
Park Crescent
Park Plaza Hotel
Park Plaza Westminster Bridge
Park Plaza Westminster Bridge Hotel
Park Royal
Park Sqare Mews
Park Walk School Chelsea
Parliament View
Paternoster Square
Peabody Avenue Pimlico
Peckham Library
Peckham Space
Pembury Estate Hackney
Peninsula Central
Pentonville Road Scheme
Peter Jones Sloane Square
Phipp Street Shoreditch
Phoenix Heights
Phoenix High School
Photographers Gallery
Piccadilly Building
Piccadilly Circus
Pitzhanger Manor
Playboy Club London
Plinth House Limehouse
Pocket Housing
Poland Street Underground
Polka Childrens Theatre
Portcullis House
Portobello Road House
Potters Field
Prendergast Vale College
PricewaterhouseCoopers More London
Princes Foundation Built Environment
Princess Wales Fountain
Private Library
Project Abbey
Putney Place
Putney Wharf Tower
Pyramid Building
Quadrant 2 South
Quadrant Redevelopment
Queen Mary University London
Queen's Terrace Barracks
RADA London
Ram Brewery
Rambert South Bank
Raven Row
Ravensbourne College
Redbridge Welcome Centre
Regent Street Buildings
Regent Street Shop Window in London
Regents Place London
Regents Place Pavilion
Reiss Store
Renaissance Croydon
Residential Landmark Victoria
Revelstoke Road Homes in Wandsworth
RIBA Building
RIBA Building Futures Debate London
RIBA Prince Charles Lecture
RIBA Prince of Wales Lecture
Richard Deacon's Cornice
Richard Green Gallery Mayfair
River Cafe
River Thames Buildings
Riverbank Park Plaza
Riverlight Vauxhall Nine Elms Battersea
Rivers Academy Feltham
Riverwalk
Rivington Place
Robin Hood Gardens
Robin Hood Gardens Competition
Roca London Gallery
Rolling Bridge
Roofscape Retrofit
Rothschild Bank
Roy Square
Royal Academy Arts
Royal Academy Arts Exhibition
Royal Academy London
Royal Albert Hall
Royal Arsenal Masterplan
Royal College Art Battersea
Royal College of Pathologists East London
Royal College Physicians
Royal College Surgeons
Royal Court Theatre
Royal Courts Justice
Royal Danish Embassy
Royal Docks Business Park
Royal Docks London
Royal Exchange
Royal Festival Hall
Royal Hospital Chelsea Infirmary
Royal London Children's Hospital Competition
Royal Mail Group Paddington
Royal Opera House
Saatchi Gallery Chelsea
Sackler Crossing Kew Gardens
Sadlers Wells Theatre
Sadlers Wells Theatre New Space
Savoy Hotel
Sebastian Barquet Design Gallery
Sebastian Barquet Designart
Selborne House Victoria
Selfridges Building
Senate House UCL
Serpentine Gallery 2002 Toyo Ito
Serpentine Gallery 2009
Serpentine Gallery Pavilion
Serpentine Gallery Pavilion 2008
Serpentine Gallery Pavilion 2008 Images
Serpentine Gallery Pavilion 2009
Serpentine Gallery Pavilion 2010
Serpentine Pavilion
Serpentine Sackler Gallery
Shad Thames Buildings
Shadow House
Shaftesbury Theatre Building
Sheldon Avenue House
Shell Building
Sheperd's Bush Road Offices
Shirley Sherwood Gallery Kew Gardens
Shoffice
Shoreditch Rooftop Apartment
Shoreditch Tower
Siemens Crystal
Siemens Urban Sustainability Centre
Silken Aldwych Hotel
Silver Tree Eco Tower
Silvertown Aquarium
Silvertown Housing
Silvertown Quay
Siobhan Davies Studios
Sir John Soane's Museum
Slip House Brixton
Sloane Street Masterplan
Smithfield Buildings
Smithfield Market
Smiths Farm Northolt
Sofitel London St James
Soho Buildings
Somerset House
South Acton Estate
South Bank Centre
South Bank Masterplan
South End Public Realm
South Hampstead High School
South Kilburn Masterplan
South London Architecture
South Molton Street
South Molton Street Building
South Place Hotel
Southwark Buildings
Southwark Lido
Space House Building
Spiral Booths V&A
Spire London Docklands Tower
Spitalfields Building
Spitalfields Buildings
Spitalfields Hotel
Spitalfields Market
Spring Gardens
Squirries Street Property
St Botolphs Development
St Brides Church
St Georges Wharf
St Helens Building
St Helens Square
St James Market Development
St James Palace
St James Senior Girls' School
St James Square
St James Theatre Westminster
St Johns Square Apartments
St Johns Wood Buildings
St Joseph's College Residences
St. Katharine's Dock
St Martins In The Fields Church
St Mary Le Bow
St Mary Le Strand
St Mary Magdalene Academy
St Mary Woolnoth
St Marys Road Peckham
St Pancras Church
St Pancras Renaissance
St Pancras Station
St Pancras Station Concourse
St Patricks School
St Pauls Cathedral
St Pauls Cathedral Building
St Pauls Information Centre
St Pauls Church Hammersmith
St Paul's School Science Building
St Stephen Walbrook
St Thomas' Hospital Architecture Competition
Stadthaus Murray Grove
Stamford Bridge Stadium
Stansted Airport Building
Stansted Airport Cross Rail
Stealth House
Stitched House
Stock Exchange Building
Stockwell Park High School
Stoke Newington House
Stoke Newington School and Sixth Form
Strange House
Strata SE1
Stratford Buildings
Stratford DLR Station
Stratford Eye Tower
Stratford High Street
Stratford Island University Centre
Stratford kiosks
Stratford Regional Station
Stuart Shave Modern Art
Suburban Dreams
Suburban Studio
Summit Centre Heathrow
Supported Housing in Hackney
Sutherland Hussey Architects Exeter
Swiss Cottage Buildings
Swiss Cottage Masterplan
Swiss Cottage Park
Swiss Re Building
T4 Hilton Hotel
T5 Hilton Hotel
Taj Crowne Plaza St James
Tanner Street
Tarling Estate
Tata Steel Enclosure
Tate Britain
Tate Britain Transformation
Tate Modern
Tate Modern Extension
Telecom Tower
Ten Hills Place
Thames Estuary Airport in London
Thames Hub Airport
Thames River Park
Thames Valley University Buildings
The Ark London
The Bloc Building Edmonton
The Cheesegrater
The Cube London
The Deck National Theatre
The Dock Kitchen
The Gherkin
The Granary Barking
The Grove Eltham
The Lichfield Studios
The ME Hotel
The Monument
The Paddington Triangle
The Parabola Design Museum
The Peak Victoria
The Pinnacle
The Scalpel City of London Skyscraper
The Shard Building
The Shard London
The Shard Skyscraper
The Shard Tower
The Shed National Theatre
The Shoal Stratford
The Waldron Lewisham
The Wave
The Writers Spitalfields
This is not a Gateway Festival
Three Mills Bridge
Three Sisters
Tideway Wharf
Timothy Taylor Gallery
Timothy Taylor Gallery Ron Arad
Tollgate Gardens
Tolworth Mental Health Hospital Building
Tomlinson Centre
Tooting Mitcham FC
Torquay House Westminster
Tottenham Court Road
Tottenham Hotspur Football Club Stadium
Tottenham Hotspur Training Facility
Tower 42
Tower 42 Building
Tower Bridge
Tower London
Tower of London Hotel
Town Hall Hotel & Apartments
Trafalgar Square
Trevanion Road House
Trinity EC3
Triumph Pavilion 2014
Triumph Pavilion Bethnal Green
Triumph Architectural Treehouse Award 2014
Tsunami Memorial London
Turquoise Island Westbourne Grove
Two London Bridge
UCL Buildings
UCL Cancer Institute
UCL Galleries
UCL Stratford Campus Newham
UCLH Medical Research Centre
UEL Computer Education Buildings
UEL Stratford Campus Building
Unicorn Theatre
Unite Stratford
University College Hospital
University Square Stratford
US Embassy Building
US Embassy Building London
V & A European Galleries
V & A Gallery London
V & A Jewellery Gallery
V & A Museum Exhibition Road Project
Vanston Place Fulham
Vantage West
Vauxhall Buildings
Vauxhall Bondway
Vauxhall Cross Towers
Vauxhall Sky Gardens
Vauxhall Square
Vauxhall Tower London
Victoria & Albert Museum
Victoria & Albert Museum Boilerhouse Yard
Victoria Albert Museum Womens Amenities
Victoria Buildings
Victoria Palace Theatre
Victoria Station
Victoria Transport Interchange
Victoria Transport Interchange 2
Victoria House Extension
W London Leicester Square
Waitrose King's Cross
Walbrook Square
Walkie Talkie Building
Waste of Space Design Competition
Waterloo City Square
Waterloo City Square Competition
Waterloo Station
Watermark Place
Waterside House Paddington
Wavertree Court
Wellcome Foundation
Wellington House
Wembley Buildings
Wembley Hilton
Wembley Stadium
West End Buildings
West London Architecture
West London Buildings
Westferry Secondary School on the Isle of Dogs
Westfield Shopping Centre
Westfield Stratford City
Westminster Abbey
Westminster Academy
Westminster Buildings
Westminster Cathedral
Westminster Kingsway College
Westminster Offices
Westminster Sustainable Buildings
White City Buildings
White City Collaborative Care Centre
White Cube Gallery
White Water Canoe Centre
Whitechapel Gallery Building
Whitecity Lul Sidings
Whitecross Street
Whitehall Buildings
Whitehead Building Goldsmiths
Whitehorse Street
Willis Building
Willow Road House
Wilton Plaza
Wimbledon Centre Court Roof
Wimbledon Masterplan Design
Wimbledon Tennis Club
Wobbly Bridge
Wood Lane Station
Worley Parsons Building
Yellow Building
Yew Tree Lodge
York House Workspace
Young Vic Theatre
Location: London, UK
London
Morden Wharf, Greenwich Peninsula, south east London: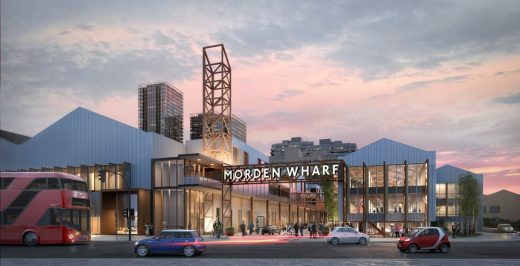 image : Pixelflakes
London has the fifth-or sixth-largest metropolitan area GDP in the world depending on measurement. The British capital is a world cultural capital. It is the world's most-visited city as measured by international arrivals and has the world's largest city airport system measured by passenger traffic. The city's 43 universities form the largest concentration of higher education in Europe.
More than 300 languages are spoken within the city boundaries. London is the most populous municipality in the European Union. The London metropolitan area is the largest in the EU with a total population of 13,614,409, while the Greater London Authority puts the population of London metropolitan region at 21 million. London had the largest population of any city in the world from around 1831 to 1925.
The UK capital contains four World Heritage Sites: the Tower of London; Kew Gardens; the site comprising the Palace of Westminster, Westminster Abbey, and St Margaret's Church; and the historic settlement of Greenwich (in which the Royal Observatory, Greenwich marks the Prime Meridian, 0° longitude, and GMT). Other famous landmarks include Buckingham Palace, the London Eye, Piccadilly Circus, St Paul's Cathedral, Tower Bridge, Trafalgar Square, and The Shard.
The city is home to numerous museums, galleries, libraries, sporting events and other cultural institutions, including the British Museum, National Gallery, Tate Modern, British Library and 40 West End theatres. The metro system is the oldest underground railway network in the world.
Source: wikipedia
Dukes House, Alexandra Palace, Muswell Hill: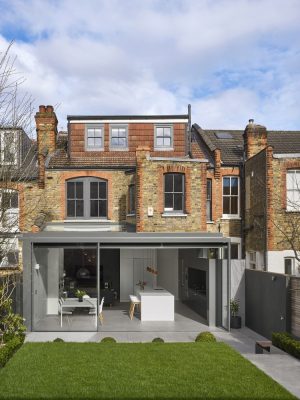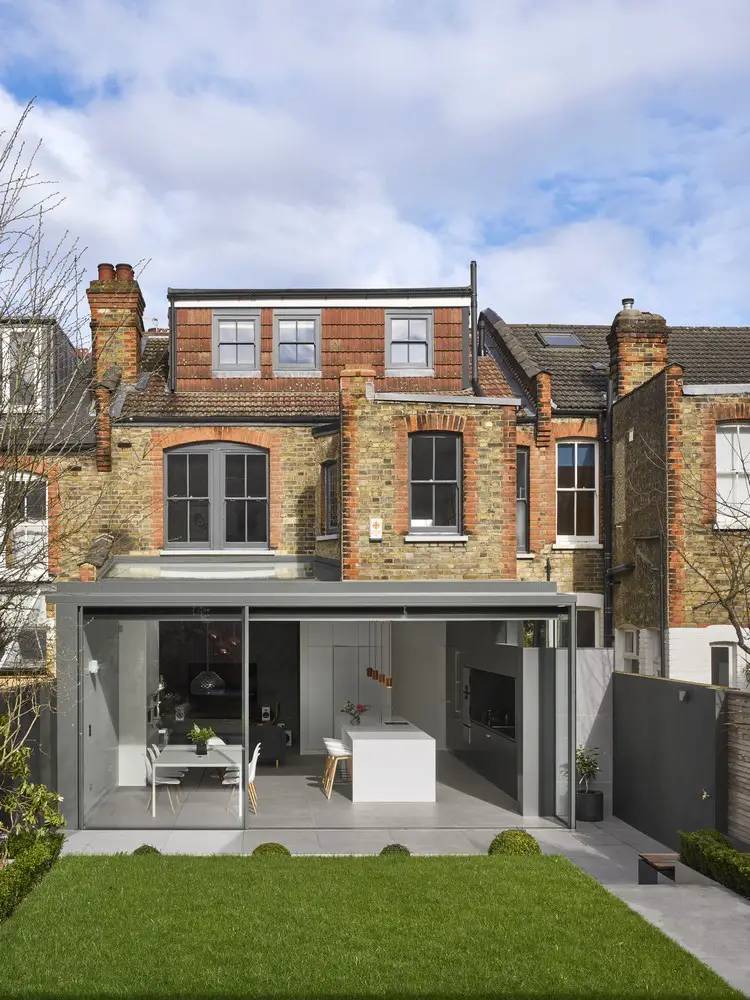 photograph : Will Pryce
Comments / photos for the London Architecture Information page welcome