Sir John Soane's Museum London, Lincoln's Inn Architecture, Renewal, Architect
Sir John Soane's Museum Building in London
Historic Lincoln's Inn Building restoration by Julian Harrap Architects, England, UK
30 Sep 2020
Sir John Soane's Museum Reopening
Sir John Soane's Museum Renewal
A RIBA National Award Winner 2016 – 23 Jun 2016
Design: Julian Harrap Architects LLP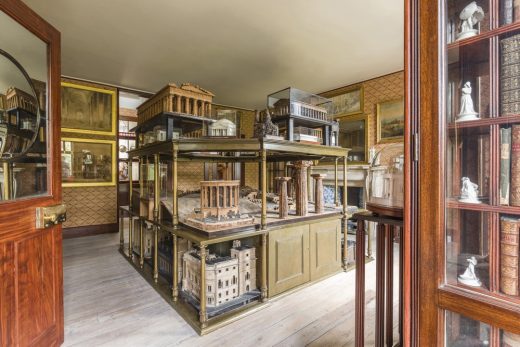 28 + 24 May 2013
Sir John Soane's Museum
Date built: 1834
John Soane, Architect
Address: Sir John Soane's Museum, 13 Lincoln's Inn Fields, London WC2A
Phone: 020 7405 2107
Soane restoration wins RICS award for Best Conservation Project
Phase II of the Sir John Soane's Museum £7 million restoration project, Opening Up the Soane, (OUTS) will get off to a flying start this June – with the knowledge that Phase I of the project has won the 2013 Royal Institution of Chartered Surveyors London Award for Best Conservation Project






photos from the Sir John Soane's Museum
The accolade was awarded in early May for the restoration of Number 12 Lincoln's Inn Fields, from February 2011 – December 2012. Soane's first house was lovingly restored to accommodate a new exhibition gallery, shop and conservation studio, bringing the Museum's Regency interiors back to life and enabling it to provide improved access with a cunningly concealed lift and rebuilt staircases.
Major conservation projects such as Kensington Palace, Somerset House (west wing) and the St Pancras Renaissance Hotel provided very stiff competition in a wider-ranging field than in 2012 but the Soane, nominated by its project managers, Fanshawe LLP, were the outright winners, with the official judge's citation.
'Opening up the Soane' is a £7million project to restore, refurbish and improve the Museum, providing much needed facilities to allow it to flourish in the 21st century. This included the provision of disabled access to most areas, cleverly incorporated into the historic fabric'.






photos from the Sir John Soane's Museum
The Museum's Acting Director, Helen Dorey, was delighted to accept the award, as the Soane gears up for Phase II of the restoration – unveiling Soane's private apartments on the second floor of Number 13, Lincoln's Inn Fields:-
"We are thrilled to have received such a prestigious accolade in the face of such strong competition," she comments "Our passion for Soane and his legacy has really forced the pace and quality of the project and we've been lucky enough to work with a great team of architects, Julian Harrap Architects and, of course, Fanshawe's our project managers.
The judges were particularly impressed by the platform lift at the front of Number 12, but when they saw what had been managed inside – in terms of both the conservation work and the internal lift – they were amazed. We're particularly thankful to Caroline Wilson, of Julian Harrap Architects who was the prime mover in the lift design".
Julian Harrap of Julian Harrap Architects is proud to have been part of the Soane's winning project:-
"Conserving our historic buildings for future generations is crucial to maintaining our heritage," he explains "When you get the opportunity to use modern architectural techniques to preserve the work of an architectural thought leader like Sir John Soane, it gives you a real sense of contributing to Britain's architectural heritage."



photos from the Sir John Soane's Museum
Trudie Dawson of Fanshawe LLP comments:
"Fanshawe are delighted that the OUTS Project has won the RICS London Award in the Building Conservation category. It is a great recognition of the effort from the entire team and a wonderful end to the first phase of the historic conservation works. The Project entailed intense collaboration between many skilled professionals; the dedication and focus of each and every member to achieve the vision of OUTS and we are very much looking forward to the future phases."
Phase II of OUTS will open up Soane's Bedchamber, Bathroom, Oratory, Book Passage and Model Room and Eliza Soane's Morning Room. These have never before been open to the public, having been removed to provide staff accommodation shortly after Soane's death in 1837.
"Restoring Soane's rooms in Number 13 will give us all the opportunity to find out more about Soane's life and collections," Helen Dorey explains.
"We're looking forward to giving visitors access to even more of his famous House Museum – and if we win another award in the process we know that he'd approve."
Sir John Soane's Museum restoration design : Julian Harrap Architects


photo © Adrian Welch
Sir John Soane's Museum London – Backgrouind Information
Opening Up the Soane (OUTS) is a three-year, £7m restoration project being carried out at Sir John Soane's Museum, Lincoln's Inn Fields, London WC2.
The restoration work, within the Museum's Grade I listed interiors, is opening up more areas and aspects of the collection to the public, including Soane's private apartments which have been closed to the public for 180 years.
The lead conservation architect is Julian Harrap Architects, working together with gallery designers Caruso St John Architects and alongside project managers Fanshawe LLP, quantity surveyors D. R. Nolans & Co. and main contractor Fairhurst Ward Abbotts. The Museum continues to remain open throughout the works.
The funding needed to carry out the restoration and related activities has principally been raised from private sources, including major grants from The Monument Trust, the Foyle Foundation and the Wolfson Foundation and generous support from the US via Sir John Soane's Museum Foundation.
A grant of £813,000 was given by the Heritage Lottery Fund (HLF).
In addition, £500k has been generated through a public appeal launched in February 2011.
Phase I of the Project was completed in December 2012 including:
– No.12 Basement, including the Warders' mess and new cloakroom facilities
– No.12 Ground Floor, including new shop and visitor's entrance
– No.12 First floor, including new exhibition gallery
– No.12 Second floor, restored for use as new conservation studios
– Internal Lift (basement to second floor)
– New display cases and furniture for gallery, shop and reception
– No. 13 Tivoli and Shakespeare Recesses
Phase II will involve the restoration and opening to the public of the entire second floor of the Museum (Sir John Soane's private apartments, unseen since his death in 1837) including reinstatement of Soane's Model Room and restoration of the North Drawing Room.
The architect Sir John Soane's house, museum and library at No.13 Lincoln's Inn Fields has been a public museum since the early 19th century. On his appointment as Professor of Architecture at the Royal Academy in 1806 Soane (1753-1837) began to arrange his collected books, classical antiquities, casts and models so that students of architecture might benefit from access to them.
In 1833 he negotiated an Act of Parliament to preserve the house and collection after his death for the benefit of 'amateurs and students' in architecture, painting and sculpture. Today Sir John Soane's Museum is one of the country's most unusual and significant museums with a continuing and developing commitment to education and creative inspiration.
The museum is open free: Tuesday to Saturday inclusive, 10am-5pm. Also on the first Tuesday evening of each month, 6-9pm. Closed Sunday, Monday, Bank Holidays and Christmas Eve.
www.soane.org
Sir John Soane's Museum is a Non-Departmental Public Body (NDPB) whose prime sponsor is the Department for Culture, Media and Sport.
Heritage Lottery Fund
Using money raised through the National Lottery, the Heritage Lottery Fund (HLF) sustains and transforms a wide range of heritage for present and future generations to take part in, learn from and enjoy. From museums, parks and historic places to archaeology, natural environment and cultural traditions, we invest in every part of our diverse heritage.
HLF has supported 32,000 projects, allocating £4.9billion across the UK, including just over £893million in London alone. Website: www.hlf.org.uk
19 Jan 2012
Sir John Soane's Museum Exhibition
Location: Sir John Soane's Museum, 13 Lincoln's Inn Fields, London WC2A 3BP, UK
Exhibition at the Sir John Soane's Museum


image from Sir John Soane's Museum
Sir John Soane's Museum Exhibition
Sir John Soane's Museum – Information
For more information about the Soane visit www.soane.org or call 020 7440 4263.
Location: Sir John Soane Museum, Lincoln's Inn, London, England, UK
London Buildings
Contemporary London Architecture Designs
London Architecture Designs – chronological list
London Architecture Tours by e-architect
Lincoln's Inn Fields building : The Old Curiosity Shop



photo © Adrian Welch
Fleet Street Buildings



photo © Nick Weall
Sir John Soane's Museum in London
Buildings close by to Sir John Soane's Museum include:
St Mary le Strand



photo © Nick Weall
Somerset House



photo © Nick Weall
Comments / photos for the Sir John Soane's Museum London page welcome