Royal College of Physicians London, England, Denys Lasdun Building, Photos, Architect
Royal College of Physicians
RCP: Building on Regent's Park, London, England – design by Sir Denys Lasdun
12 Mar 2014
Royal College of Physicians in London
Design: Denys Lasdun, Architect
Location: southeast corner of Regent's Park
The RCP and Lasdun: a year of celebration
Wednesday 12 March – In 2014 the Royal College of Physicians (RCP) celebrates the 50th anniversary of its iconic headquarters in Regent's Park, designed by Sir Denys Lasdun, coinciding with the centenary of Lasdun's birth.
Royal College of Physicians, south facade: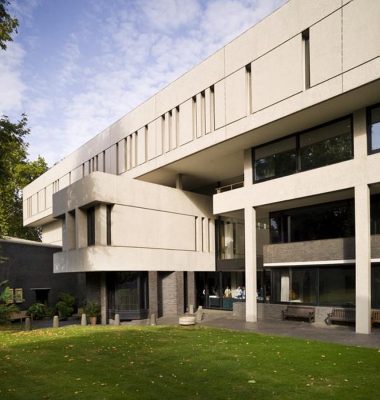 To celebrate and share our fascinating architectural masterpiece with as many people as possible, the RCP is organising a programme of events and activities across the year, including:
• An exhibition – The anatomy of a building: Denys Lasdun and the Royal College of Physicians
From 8 September 2014 to 13 February 2015
• An official anniversary event on 5 November 2014, exactly 50 years after Her Majesty the Queen opened the building, including architectural lectures from leading speakers
• Publication of a new book featuring especially commissioned photography of our remarkable building
• The launch reception for Open House on 8 September 2014
• 50th anniversary tours and lectures on 21 September as part of Open House, London weekend
• Guided architectural walks and curator tours throughout 2014 and 2015
• New memorabilia and hospitality packages featuring tours of the building
Royal College of Physicians, central staircase: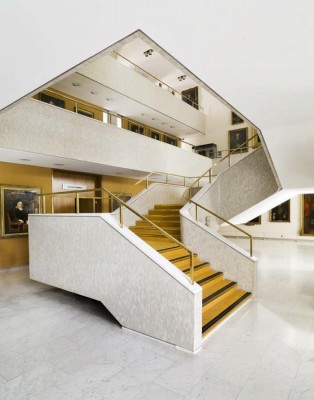 The building is the fifth home of the Royal College of Physicians, which in 2018 will celebrate its 500th anniversary as an organisation. One of the few buildings to achieve a Grade I listing from English Heritage, the building also received a Civic Trust Award in 1967, and in 1992 Lasdun was awarded the Royal Institute of British Architects' Trustees Medal in recognition of his work at the RCP, considered to be 'the best architecture of its time anywhere in the world'.
Royal College of Physicians, Censors Room: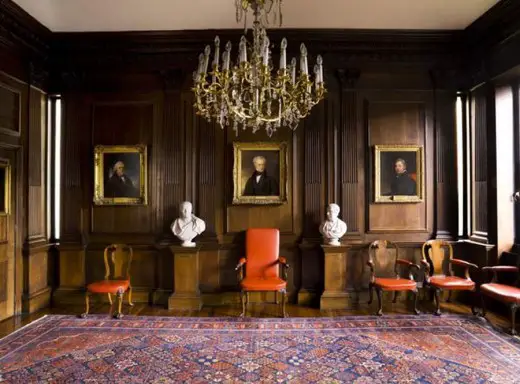 Professor Linda Luxon, RCP Treasurer and chair of the RCP's Museum Committee, said:
'For the past 50 years, the RCP has worked hard to preserve and maintain our architectural masterpiece in tribute to its creator, Sir Denys Lasdun. Sir Denys famously said 'our job is to give the client on time and on cost, not what he wants but what he never dreamed he wanted and, when he gets it, he recognises it as something he wanted all the time.' Sir Denys believed that the building would prove flexible to the needs of the RCP as it moved through the decades and he was right – we been able to introduce modern facilities without changing the key elements of his original design.'
'I hope that as many people as possible visit us in 2014 to experience the building, and enjoy our historical collections.'
Construction work, central staircase, 1961–64: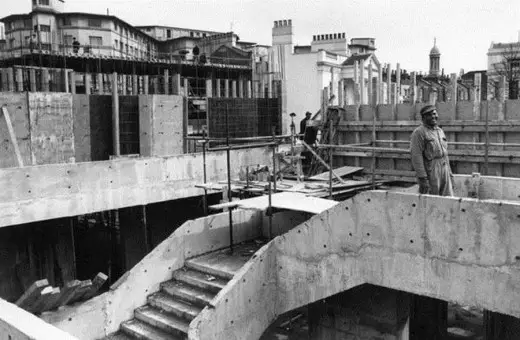 Dr Barnabas Calder, Lasdun expert and architectural historian, University of Liverpool, said
'Lasdun believed strongly and explicitly that architecture was an art, and the intelligence, focused thought and creative endeavour which went into the Royal College of Physicians building make it one of Britain's great examples of the art of architecture. It's thrillingly mysterious sculptural form intrigues passers-by, and with interiors as beautiful and unusual as its exterior, the Royal College of Physicians is one of London's most enthralling buildings.'
'…a powerful, yet refined and rational expression of the College's ceremonial traditions in an entirely modern idiom'
English Heritage
Royal College of Physicians, west facade: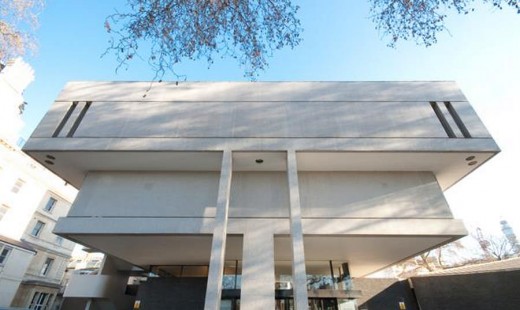 Royal College of Physicians in London – Background
For further information about the exhibition and the building:
www.rcplondon.ac.uk/anatomy-of-a-building
http://www.rcplondon.ac.uk/museum-and-garden/architecture-and-buildings
The Royal College of Physicians
The RCP represents nearly 30,000 hospital doctors in 30 specialties. We support our fellows and members during every stage of their career and thus improve the quality of patient care. By setting and monitoring the standards of medical training, we ensure that patients are seen by fully trained, capable doctors. Our evidence-based guidelines and audits support our fellows and members in improving and scrutinising clinical care. Our education programmes provide physicians with the knowledge and skills they need for high performance. We also take a wide role in the public health arena through campaigning for change, advising government, and taking part in national debates on medical, clinical and public health issues.
Construction work in progress, 1961–64: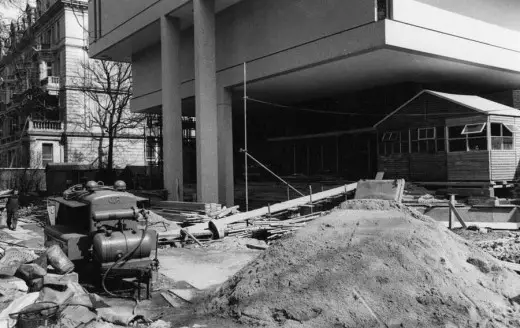 The Royal College of Physicians (RCP) is the oldest medical college in England. Its collections relate to the history of the medical college, and to the physician's profession. Collections range from portraits, providing a pictorial and sculptural record of fellows and physicians associated with the RCP, from its foundation in 1518 to the present, the fascinating Symons collection of medical instruments, the Hoffbrand collection of apothecary jars and a rare set of six 17th century human remains – our 'anatomical tables'.
The building, museum collections and exhibitions are open to the public Monday to Friday, 9am–5pm. Entry is free of charge and guided tours can be arranged. To book a tour, contact the RCP museum team on 020 3075 1543 or [email protected].
www.rcplondon.ac.uk/museum-and-garden
Royal College of Physicians London
St. Andrews Place
1960-64
Design: Denys Lasdun, Architect
Location: southeast corner of Regent's Park, north of city centre
Strong modernist building, probably the best design by Denys Lasdun, articulate and not dated like the Brutalist South Bank architecture (National Theatre) – Adrian Welch, Architect & Editor
More information online soon
Address: 11 St. Andrews Place London NW1 4LE
Contact: 020 7935 1174
Denys Lasdun Architect
Location: 11 St. Andrews Place, London, NW1 4LE , England, UK
London Buildings
Contemporary London Architecture Designs
London Architecture Designs – chronological list
London Architectural Tours – tailored UK capital city walks by e-architect
Royal Opera House London
Dixon Jones Architects



photo © Nick Weall
Royal Opera House Building context : Covent Garden
Royal Courts of Justice London
Royal College of Pathologists HQ, Alie Street, East London
Architects: Bennetts Associates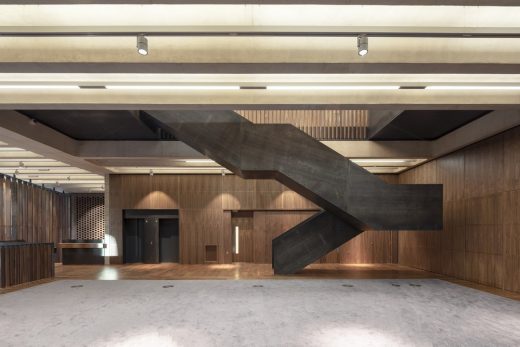 photograph : Peter Cook
Royal College of Pathologists East London
Comments / photos for the Royal College of Physicians England page welcome
Website: www.rcplondon.ac.uk