Building events 2023, Architecture across the globe, Design talks, Projects awards, Webinars images
Architecture Events from around the world
Architectural Exhibitions + Lectures + Awards + Debates + Seminars + Shows in 2023
post updated 22 March 2023
Building Events – now on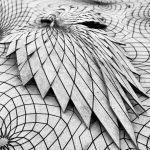 Architectural Events – rolling events diary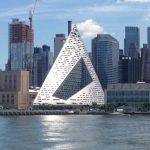 photo © Adrian Welch
+++
Architecture Events 2023
Architecture Events in 2023, chronological:
Just added:
Building Stories: The Awards Talks
22 March 2023
RIBA announces latest Building Stories Talk: Celebrating the 2022 Stephen Lawrence Prize winner:
On 22 March 2023, RIBA will be hosting the latest in the series of Building Stories: The Awards Talks to celebrate the Hackney School of Food, recipient of the 2022 Stephen Lawrence Prize.
Building Stories: The Awards Talks, is a series of live digital and in-person talks where architects reveal what it takes to create a RIBA award-winning building.
Architects Tom Surman and Percy Weston from Surman Weston will present the story behind their award-winning Hackney School of Food. Additional onstage guests include The School's founder, Henry Dimbleby MBE and Jessica Neil, Chief Executive of the Stephen Lawrence Day Foundation. The discussion will focus on the winning elements of Surman Weston's project and why architecture matters to Stephen Lawrence Day Foundation.
Satwinder Samra, architect, educator, and BBC presenter, will host the evening and poet James Massiah will be making a special live appearance.  The onstage activity will conclude in a chat and Q&A about how architects can impact communities with special projects, support and mentoring for early-stage architects, and the importance of food in the community.
The event will begin at 6pm at 66 Portland Place. Following the talk, guests and attendees are invited to mix and mingle in RIBA's bar.
+++
Lord Hendy Routemaster Bus Tours 2023
from 27 March 2023
We postponed the City of London tour this year as it would have taken place during the week of national mourning following the death of HM The Queen. Here are the revised dates for next year.
27 March – City of London – Fleet Street to Aldgate – there will be limited places available as passengers have been transferred from the postponed tour.
May New tour – Lambeth – date to be confirmed
12 June – West End – Aldwych to Victoria
25 September – Canada Water
+++
High-Rises & Vertical Construction Summit, Frankfurt, Germany
3 – 4 May 2023

High-rise projects are seen on horizons across the Europe and show no signs of slowing down. According to the Global Tall Buildings Database of the CTBUH (Council on Tall Buildings and Urban Habitat) now were erected 1,647 buildings taller than 200 m. The high-rise building construction is characterised by high demand for construction technology and complex engineering works. Heightening population density and expanding urbanisation has increased the need for constructing high-rise buildings due to land shortage. More than three-quarters of the EU population live in urban areas and this figure is expected to rise to almost 85% by 2050.
With Europe is facing a generational energy crisis that could last for years, many efforts have been done to design high-rises in an energy efficient and reduce the energy demand or carbon emission of high-rise buildings.
The high-rise buildings implemented today are astonishing in terms of the multitude of their architectural and constructional solutions, as well as their technology. Conducting a comprehensive analysis of technological innovations used in these buildings, due to the size of the issue, requires a special approach. Building materials and techniques continue to improve with advances in engineering and evolving design sensibilities. The industry needs to innovate and explore competitive new ideas, while stricter regulations contribute to a reduced margin for error and waste. Modular construction is gaining popularity across the industry as companies realise the efficiency and cost-saving benefits, the high-rise sector is also becoming an advocate.
High-Rises & Vertical Construction Summit aimed at equipping professionals with insights and perspectives on strategies to navigate high rise constructions in the next normal. Learn and uncover case studies from reputable leading experts, architects and engineers, experience the latest technology to improve data quality insight and take advantage of the excellent networking opportunities throughout the summit.
WHY YOU CANNOT MISS THIS EVENT
• Exploring the most prevalent sustainable features abundant for high-rises
• Understanding how the new normal will shape future vertical cities
• Adopting new practices and trends in vertical structures
• Implementing innovations into skyscrapers in various urban contexts
• Integrating technologies into skyscrapers of the future
If you have any enquiries, please contact +603-2775 0067
Limited seats are allocated for this event. Group booking package available with terms and conditions applied.
To register for this international conference, kindly fill in the registration form.
+++
Prague House Tours: Villa Müller, Vila Bilek, Loos Apartment & Gallery, Museum of Tower Blocks in Kladno and Villa Winternitz.
22-26 May 2023

Icons of Czech Avantgarde: Authenticity & Style Diversity
7th International Iconic Houses Conference in Prague
All who share a passion for 20th century residential masterpieces are invited to take part in the conference's lectures, receptions and house tours!
In the Czech Republic, the Iconic Houses Network has no fewer than eleven wonderful modern member house museums. Immerse yourself in two keynotes, 16 short presentations and a rich program of 16 guided tours of residential masterpieces and hidden gems that are ready to welcome you.
22-26 May: Prague, Pilsen & Brno (open to all).
27-30 May: Post-Conference Field Trip Vienna & Ljubljana, open to Iconic Houses members and donors only.
Taken together, these talks and house tours offer a wonderful insight into the 20th-century development of the Czech house and the evolution from traditional vernacular architecture to the modernism of the International Style.
There is Adolf Loos' Villa Müller in Prague, who was an important European pioneer of modern architecture and five interiors in Pilsen, also designed by Loos. And Villa Tugendhat in Brno, the masterpiece designed by celebrated German-American architect Ludwig Mies Van der Rohe is inscribed by Unesco on the World Heritage List since 2001. These unique homes will be the focus of the lectures and conference house tours.
Register at https://www.aanmelder.nl/ihc2023.
_______________________________________________________________
Vienna and Ljubljana House Tours: Villa Beer, Haus Dellacher, Margarete Schütte-Lihotzky Zentrum, Plečnik House exterior and interior.
About the Iconic Houses Network
ICONIC HOUSES is the international network connecting circa 180 architecturally significant houses and artists' homes and studios from the 20th century that are open to the public as house museum.
The platform also focuses on advocacy, conservation, management, and cooperation. Executive Director and Founder is architectural historian Natascha Drabbe, based in The Netherlands. The International Advisory Board consists of house museum directors Iveta Černá (Villa Tugendhat), Justin Gunther (Director of Fallingwater), Anne Rowe (Heritage Director at Sunnylands Center & Gardens) and Katya Degrieck (Maison Lenglet). Explore around 180 iconic residential masterpieces around the world at www.iconichouses.org.
+++
China Dialogues Book
Together with the Power Station of Art in Shanghai, China we posted details of the presentation of a book by Vladimir Belogolovsky, that took place on 4 Sep 2022.
This online event was recorded and available for viewing at a later time.
The announcement link can be viewed here (in Chinese with an English translation feature): https://mp.weixin.qq.com/s/VdRsNels3hcwQM8eenlQBA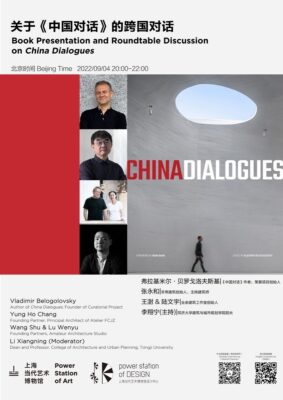 Blurb excerpts about the book by Vladimir Belogolovsky:
Li Xiangning: "With a refreshing query, engaging themes, and deep insights, Vladimir Belogolovsky's dialogues with China's cutting-edge architects investigate and illustrate a vivid scene of contemporary Chinese architecture."
Kenneth Frampton: "…Each conversation is an extraordinary testimony to the energy of an undeniable renaissance, in which these talented and highly cultivated architects are engaged in the common project of creating a civic culture for a new society…"
Steven Holl: "…China Dialogues tirelessly presents the Chinese architects who have embodied new freedom and promise…"
Jean-Louis Cohen: "…Belogolovsky lifts the veil on a prolific new generation of designers, who have in common a highly intellectualized and conceptual understanding of architecture…"
Juhani Pallasmaa: "…Belogolovsky shares his deep personal knowledge of current Chinese architecture and the leading individual designers, as well as their thinking and intentions…"
Aaron Betsky: "…This book assembles some of the very best practices not just in Asia, but in the world, displaying their work with photographs of great depth while letting the designers tell us about their sources, dreams, and aspirations…"
Luis Fernández-Galiano: "In China Dialogues Vladimir Belogolovsky charts a panorama of Chinese architecture through the words of its main players. He draws his 'landscape with figures' with excellent prose, deep understanding, and outspoken wit…"
Cui Kai: "Belogolovsky's book gathers an inquisitive collection of thoughts from outstanding Chinese architects; it is a critical documentation of the author's in-depth conversations about the past, the future, and the current moment of our architecture."
Vladimir Belogolovsky
Curatorial Project
48-15 11h Street, 4A
Long Island City, NY 11101
Tel. 718.415.9646
www.curatorialproject.com
+++
Future Of Cities Conversations Series, Madrid, Spain – international
The Norman Foster Foundation Presents The 'Future Of Cities' Conversations Series
In the face of crises like climate change and the COVID-19 pandemic, effective and positive change in cities is an imperative condition to optimising public health, social equity and environmental sustainability for urban centres and the rest of the world.
Norman Foster Foundation Future Of Cities Conversations
+++
Architecture as a New Geography
Bank of Georgia (Formerly Ministry of Highways): Pushing the Boundaries
A Discussion with Odile Decq and Jean-Louis Cohen
postponed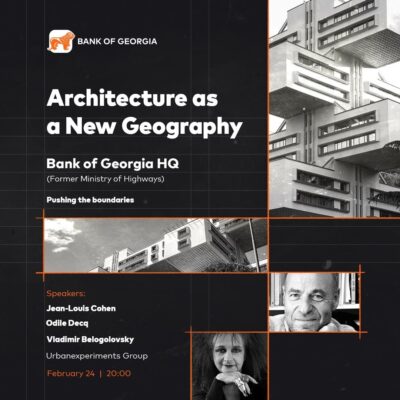 Online architectural discussion:
Architecture as a New Geography
with Odile Decq and Jean-Louis Cohen.
Vladimir Belogolovsky will moderate the discussion together with Niko Lekveishvili, the founder of Tbilisi-based TIMM Architects. We will discuss a remarkable building, the Bank of Georgia HQ (formerly the Ministry of Highways).
Built in Tbilisi, Georgia, in 1975, the building is one of the most iconic modernist structures in the former USSR. We will use it as a springboard to address the roles of megastructures, politics in architecture, conflicts between clients, architects, and the public, current trends, site/landscape, daring buildings versus nostalgia, and place of the public realm in contemporary architecture. Listeners will have a chance to ask questions. There will be live audiences in Tbilisi and Paris, and individual listeners around the world.
https://bankofgeorgia.zoom.us/j/96510831596
Intercontinental Curatorial Project
48-15 11h Street, 4A, Long Island City, NY 11101, USA
Tel. 718.415.9646
www.curatorialproject.com
**********
GENERAL INFO
Dallas Architecture Forum Architectural Events, Texas, USA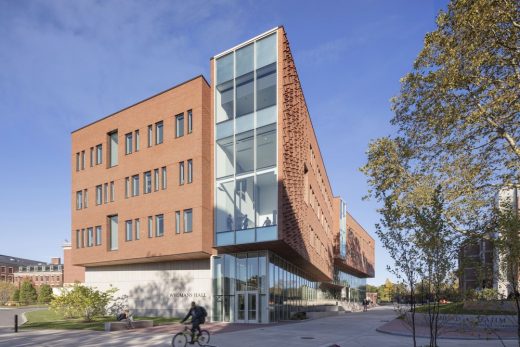 photograph by John Horner
Dallas Architecture Forum Architecture Events
Bartlett School of Architecture Events, London, England, UK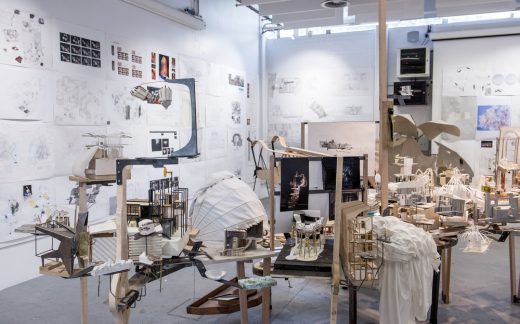 photo courtesy of UCL
Bartlett School of Architecture Events
DesignMorphine Events
DesignMorphine is a creative hub for design, developed through workshops, lectures, projects and explorations in the field of architecture, design and arts.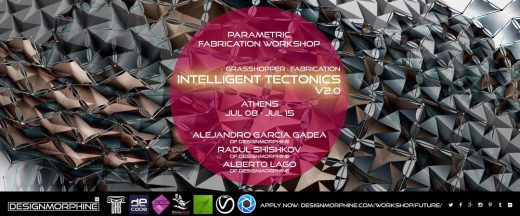 DesignMorphine Architecture Events
Cal Poly Pomona Events, Pomona, Los Angeles County, CA, USA
Cal Poly Pomona Architecture Events
Architectural Events
Architecture Events are added on the site daily over a 16 hour period. We cover architectural exhibitions, building talks, debates, conferences, book launches and competitions across the globe. Architecture Events welcome – please provide as a minimum one image and dates.
ARCHIVE
ESSEX Architecture Weekend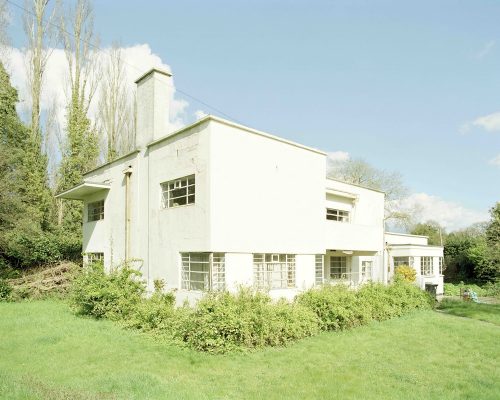 photograph © Catherine Hyland. Courtesy Focal Point Gallery
Architecture Events 2016 Archive
San Francisco Architecture Events, California, USA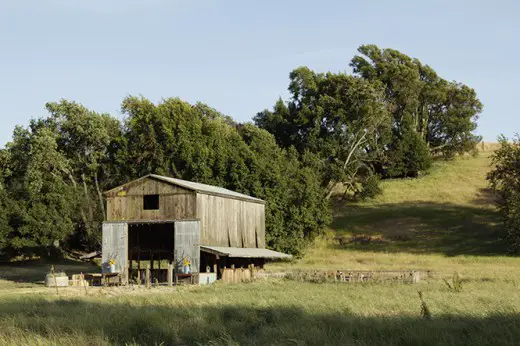 image Courtesy SF:AIA
San Francisco Architecture Events
Rice Design Alliance Events, Texas, USA
UB School of Architecture & Planning Buffalo Events, NY, USA
AA School Architecture Events, London, UK
V&A Architecture Events, London, UK
Architecture Centre Bristol, England
Faculty of Architecture University Hong Kong Events, China
The Turbulences FRAC Centre Event
University of Melbourne School of Design Architecture Event, Melbourne, Australia
AIA Kansas City Architecture Event
University of Westminster Events, London, UK : Building Lectures
Deutsches Architektur Museum – Building Exhibitions, Germany
Columbia University Architecture Event – GSAPP : NYC, USA
Events for the World Architecture Events page welcome