Houses of Parliament London Building Images, Architect, Photos, Renewal, Date, Location
Houses of Parliament London Architecture
Palace of Westminster Repair: Neo-Gothic Building design by Barry + Pugin Architects
22 May 2021
Houses of Parliament Restoration and Renewal Programme News 
Houses of Parliament Restoration and Renewal
17 July 2018
Houses of Parliament Restoration and Renewal
Houses of Parliament Building Renewal News
PARLIAMENT ANNOUNCES APPOINTMENTS TO SHADOW SPONSOR BOARD TO OVERSEE RESTORATION AND RENEWAL OF PALACE OF WESTMINSTER
-Elizabeth Peace, Chair of the Government Property Agency, announced as Chair of shadow Sponsor Board-
Elizabeth (Liz) Peace CBE has been appointed as the Chair of the shadow Sponsor Board of the Restoration and Renewal of the Palace of Westminster. The governing bodies of both the House of Commons and House of Lords approved her appointment on Monday 16 July.
Earlier this year, both Houses of Parliament agreed to temporarily vacate the Palace of Westminster to allow the increasingly urgent work on the building to be carried out in one single phase. They also agreed to establish an Olympic-style Sponsor Board, set up through legislation, and Delivery Authority to manage the work.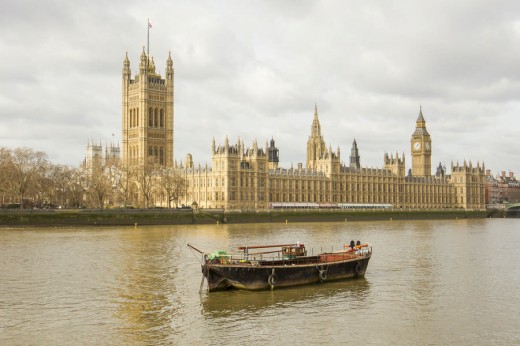 photo from architects
Liz Peace joins four other industry figures, as well as seven Members of Parliament from both Houses, in making up the shadow Sponsor Board. The Board will own the budget, business case and scope of the restoration programme, and will be set up initially in shadow form and subsequently through legislation.
She has more than 35 years' experience in government and the property sector, currently serving as Chair of the Government Property Agency, established to improve the efficiency and effectiveness of the Government Estate. She is also Chairman of the Mayor of London's Old Oak and Park Royal Development Corporation, which manages the UK's largest regeneration project, as well as being a former Chief Executive of the British Property Federation.
Seven Members from across both Houses have also been appointed, nominated by political parties. They include former members of the Joint Committee on the Palace of Westminster as well as Members of Parliament with a wide range of experience in the public and private sectors.
Tom Brake MP, Spokesperson for the Commons Commission, said:
"The refurbishment of the Palace of Westminster is one of the most significant heritage restoration projects this country will ever see. Establishing a Sponsor Board, to ensure value for money for taxpayers, and to keep the project on track and on budget, will be absolutely vital for this project to succeed. I'm delighted in the appointment of Liz Peace as the Chair, and with the appointments of her fellow Board members, whose combined wealth of experience and knowledge is second-to-none."
Lord McFall of Alcluith, Spokesperson for the House of Lords Commission, said:
"This Sponsor Board will be tasked with preserving the Palace of Westminster as the home of Parliament for future generations, and so it's vital that the Board possesses the skills, vision and leadership to make this happen. The appointment of someone of Liz Peace's calibre and experience, as well as her considerable knowledge of corporate governance, is good news for the Restoration and Renewal Programme as it embarks on this crucial phase of its journey."
Liz Peace, Chair of the shadow Sponsor Board, said:
"It's an honour to be taking on this important role. The Palace of Westminster is an iconic building, of huge national importance, and I'm thrilled to be leading this much-needed restoration project. Together with the talent, knowledge and experience of the wider Board, I hope to help steer the project through to successful completion, and create a Parliament building of which the whole country can be proud."
30 + 17 Mar 2017
Houses of Parliament Renewal
Houses of Parliament Renewal Cost Cutting
MPs seek to cut £3.5bn bill for Houses of Parliament repairs, reports The Guardian.
Cheaper alternatives for the renovation of the Houses of Parliament are to be sought by MPs to keep costs below the estimated £3.5bn bill.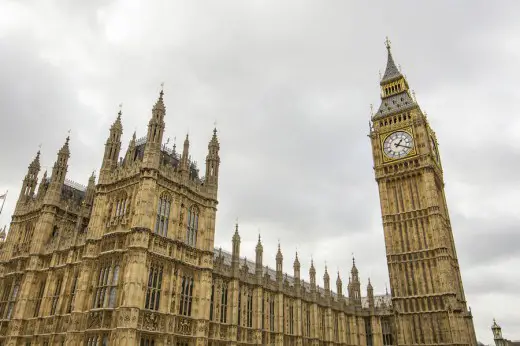 photo from architects
The premises used by parliament are in urgent need of extensive restoration and repairs to avoid the risk of being burned down or encountering other catastrophic failure.
Consultants Deloitte examined the options in 2014.
In January 2017 the Treasury committee announced that it would hold an inquiry into the proposals.
On the 17th of March 2017 the committee published a preliminary report saying it would look at whether reducing the scope of the renovations would save money.
Website: Houses of Parliament Repair Costs
24 Oct 2016
Houses of Parliament Location
Rebuild UK Parliament Up North
Former First Minister of Scotland Alex Salmond has said the building should be rebuilt in Liverpool or Manchester, reports Building Design. He said the move was needed to "equalise" the economy so it was less dependent on London – see Palace of Westminster London renewal.
Houses of Parliament
Address: Parliament Square, London, SW1
17 Dec 2013
Houses of Parliament Restoration & Renewal
Deloitte Real Estate and AECOM with HOK to support the Palace of Westminster's Restoration and Renewal programme
Today the House of Commons and House of Lords announced Deloitte Real Estate, AECOM and HOK as the team appointed to undertake an Independent Options Appraisal as part of the 'Palace of Westminster Restoration and Renewal Programme'.
Alex Bell, the team's programme director and a partner of Deloitte Real Estate, said: "This is a hugely complex yet fascinating programme at possibly the UK's most famous building and we are delighted to be selected to provide an independent appraisal of the options. Our team – Deloitte Real Estate, AECOM and HOK, have applied our complementary skill-sets to difficult and high profile real estate challenges across the public sector property portfolio, including Whitehall many times in the past. However, this programme has enthused our team at another level entirely and we are excited to begin."
John Hicks, programme director and head of the government sector at AECOM, said: "AECOM is extremely proud to have been selected to be part of the team to undertake this important piece of work for Parliament, drawing on our extensive experience on complex public sector projects such as London 2012, Crossrail and work on the Pentagon in the United States, as well as our history of work across Whitehall property portfolio. Our team is committed to providing robust data to the Houses of Parliament, enabling them to make an informed decision on a preferred way forward for the restoration of the Palace of Westminster."
Andrew Barraclough, director at HOK, added: "We are delighted to have secured this important commission. Through our work in the Palace of Westminster over the last 20 years we have gained an in-depth knowledge and sensitivity towards the work of Charles Barry and Augustus Pugin; and our aim is to ensure this icon of Britishness is safe-guarded for future generations."
The study will explore a number of ways in which Parliament can remain operational whilst implementing long overdue essential works to protect this important Grade I listed building and UNESCO World Heritage site.
Deloitte Real Estate is providing programme management, report authoring and real estate advice. AECOM is the technical lead providing engineering, cost, risk, programme and construction logistics. HOK is providing architecture and heritage architecture services.
Houses of Parliament Restoration & Renewal – Background Information
The programme has been established to tackle the significant work that needs to be undertaken at the Palace of Westminster. The contract involves the detailed appraisal of three broad approaches to the work:
• continuing repairs and replacement of the fabric and systems of the Palace over an indefinite period of time;
• a defined, rolling programme of more substantial repairs and replacement over a long period, but still working around continued use of the Palace; and
• scheduling the works over a more concentrated period with parliamentary activities moved elsewhere to allow unrestricted access to the Palace for the delivery of the works.
The Palace is a Grade I listed building and, with Westminster Abbey, forms part of the Westminster UNESCO World Heritage Site. Visit the official parliament.uk website for information on the Restoration and Renewal of the Palace of Westminster.
About Deloitte Real Estate
Deloitte Real Estate redefines the concept of a full-service real estate business, offering a breadth of capability and an innovative approach unequalled in the market.
Our team combines traditional property services with financial and business advisory expertise to deliver integrated solutions on the most simple assignment to the most complex. We apply a depth of insight drawn from our understanding of all industries and sectors to advise occupiers, lenders, investors and the public sector on every aspect of real estate in an increasingly complex world. www.deloitterealestate.co.uk
About AECOM
AECOM is a global provider of professional technical and management support services to a broad range of markets, including transportation, facilities, environmental, energy, water and government. With approximately 45,000 employees around the world, AECOM is a leader in all of the key markets that it serves. AECOM provides a blend of global reach, local knowledge, innovation and technical excellence in delivering solutions that create, enhance and sustain the world's built, natural and social environments. A Fortune 500 company, AECOM serves clients in more than 140 countries and had revenue of $8.2 billion during the 12 months ended Sept. 30, 2013. More information on AECOM and its services can be found at www.aecom.com.
About HOK
HOK is one of the world's most influential architectural design firms, with 1,700 staff in 24 offices around the globe. It celebrates diversity through the geographic reach, project genre and form and the talents of its multidisciplinary design professionals.
Renowned for designing some of the world's most complex buildings, HOK's 170-person team in London has designed a variety of significant projects in the capital including: the Commons and Lords Committee Rooms; the Cabinet Office and the Churchill Museum and Cabinet War Rooms; the Ministry of Defence Headquarters; Foreign Commonwealth Office; Canada House; Kings Library; British Medical Association; Darwin Centre at the Natural History Museum.
Current projects in the UK comprise: Lead Architect on the Francis Crick Institute Europe's largest centre for biomedical research and innovation; Interiors Architect for the BBC's flagship New Broadcasting House; Fisher Street Oversight Development
Houses of Parliament Renewal images / information received 171213
Palace of Westminster London Renewal
Palace of Westminster Building
Photos of the Palace of Westminster
Photo © Keepclicking – added 10 Sep 2012:
St Stephen's Tower – aka 'Big Ben'

Views from the River Thames, looking north:





photographs © Nick Weall
Aerial Photograph looking southeast:



photo © webbaviation
Built: 1840-68
Architects: Barry + Pugin
photographs © Nick Weall
Large Victorian Gothic Building
Houses of Parliament and Burghers of Calais by A. Rodin



photograph © Nick Weall
Houses of Parliament and Buxton Memorial



photograph © Nick Weall
The old Palace of Westminster existed from the time of Edward the Confessor.
Contains London landmark, Big Ben.
Public Access: Strangers Gallery when Parliament is in session
Nearest Tube: Westminster
Houses of Parliament: 020 7219 3000


Houses of Parliament London : photo © Adrian Welch, May 2007
Location: Parliament Square, London, SW1, England, UK
London Building Designs
Contemporary London Architectural Designs
London Architecture Links – chronological list
Architecture Walking Tours London> – bespoke UK capital city walks by e-architect
Temporary UK Parliament Concept on the River Thames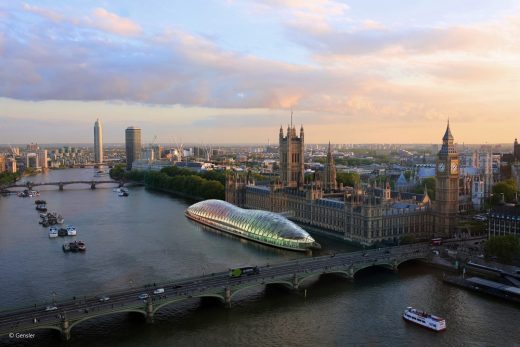 picture © Project Posiedon
Temporary UK Parliament on the River Thames in London – 3 Oct 2016
Westminster Abbey



photograph © Nick Weall
Another building by one of the Houses of Parliament Architects – Pugin : Hub Edinburgh
Big Ben Photographs [2007] taken with Panasonic DMC-FX01 lumix camera;
Leica lense: 2816×2112 pixels – original photos available upon request: info(at)e-architect.com


Houses of Parliament London : image © Isabelle Lomholt
Houses of Parliament London joint architect : Charles Barry
Big Ben:





Houses of Parliament London : photograph © Adrian Welch May 2007
Houses of Parliament Building in New Zealand
Comments / photos for the Houses of Parliament London Architecture page welcome
Website: Palace of Westminster in London