London Bridge Station Renewal, Thameslink Building Redevelopment, Architecture Pictures, Design Images
London Bridge Station
Thameslink Station Building Redevelopment, UK – design by Grimshaw / tp bennett architects
9 Oct 2019
Network Rail wins 2019 RIBA Client of the Year
The Royal Institute of British Architects announced Network Rail as the winner of the 2019 RIBA Client of the Year. The annual RIBA award recognises the role that a good client plays in championing brilliant architecture.
In 2019 their award-winning projects included London Bridge Station, Hackney Wick Station and Ordsall Chord:
Network Rail – RIBA Client of the Year 2019
18 July 2019
London Bridge Station Stirling Prize Shortlisting
London Bridge station named on shortlist for RIBA Stirling Prize 2019
London Bridge Station was today named in the shortlist for UK architecture's most prestigious award, the RIBA Stirling Prize 2019.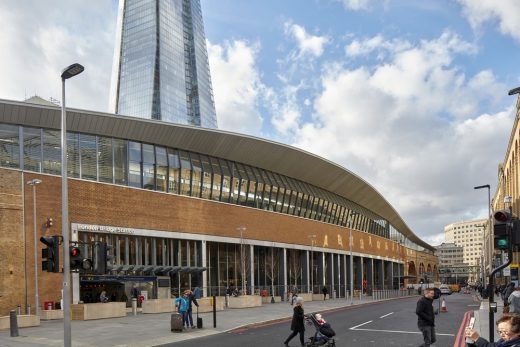 The RIBA Stirling Prize is given to the architect of the building thought to be the most significant of the year for the evolution of architecture and the built environment. The winner will be announced on 8 October.
London Bridge Station interior: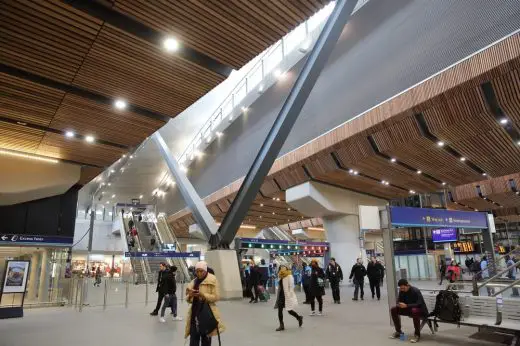 Based on a design by Grimshaw, London Bridge station re-opened in May last year following a £1bn transformation as part of the Government sponsored Thameslink Programme, a partnership between the Department for Transport, Network Rail, Govia Thameslink Railway, Southeastern and Siemens.
London Bridge Station aerial photo: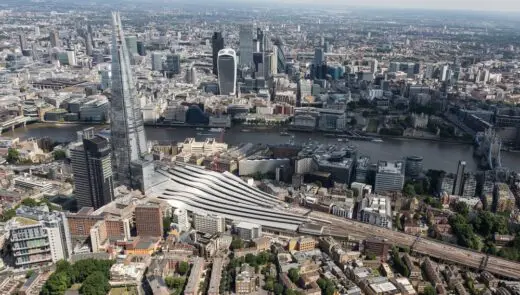 In a five-year build programme the project created the largest street-level station concourse in the UK, larger than the football pitch at Wembley stadium, preserved many historic features while also making a major contribution to the regeneration of this area of London.
Work included a major track upgrade, a new rail underpass on the approach to the station and platform widenings and extensions, all of which means 30per cent more trains can use the station than before.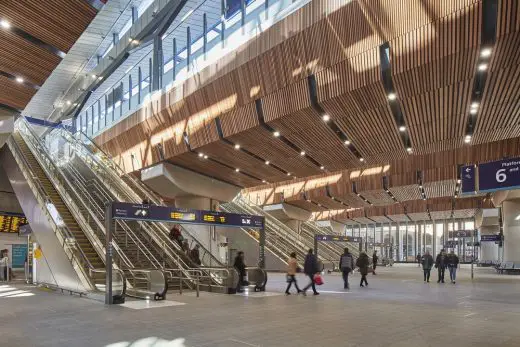 London Bridge is the oldest station in central London and the fourth busiest in the UK. The station was originally built as two separate stations. The rebuild means that for the first-time passengers can reach all 15 platforms from one concourse.
Throughout the rebuild the station remained open to ensure rail services were maintained for the 55m customers who use it each year.
The station earned its place among the six strong Stirling Prize shortlist having previously been awarded a RIBA London Award 2019, a RIBA National Award 2019 and being named the RIBA London Building of the Year 2019
John Halsall, Network Rail's managing director, Southern Region said: "Being named on the shortlist for the RIBA Stirling Prize is a great honour. It recognises that we have created an exciting and vibrant building which not only serves passengers but makes a wider contribution to architecture and the local community.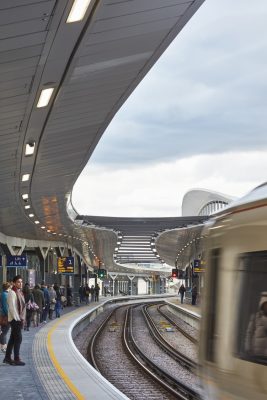 I would like to congratulate Grimshaw for this achievement and pay tribute to everyone who delivered this challenging project creating a transport hub fit for the future.
Mark Middleton, Partner at Grimshaw said: "In addition to delivering the operational imperatives for Network Rail's Thameslink programme, we wanted to link two areas of Southwark through the station, as well as activating the streets in the surrounding neighbourhood and providing a space of civic scale and presence. This has been no small feat, and with these combined elements, London Bridge station is a new type of transport hub that is deeply rooted in its context and community."
15 July 2019
London Bridge Station Building Award
London Bridge station rebuild earns top CEEQUAL score
The rebuilding of London Bridge station has been awarded top marks in the prestigious CEEQUAL scheme.
The £1bn project, delivered as part of the government sponsored Thameslink Programme, received a 97.3 per cent CEEQUAL score.

photos courtesy of WAF
CEEQUAL is the evidence-based sustainability assessment, rating and awards scheme for civil engineering, infrastructure, landscaping and public realm project. The scheme operates alongside BREEAM – bringing together the world's leading sustainability assessment methods for buildings, master planning, and infrastructure.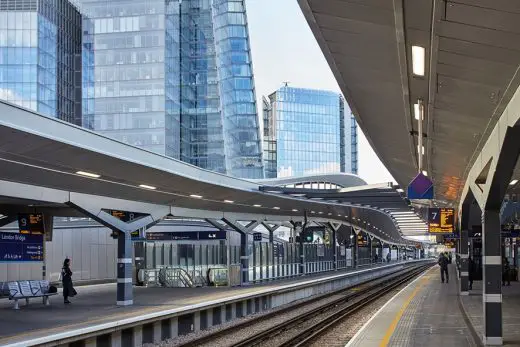 Photography Credit: All photos are by Paul Raferty except the aerial view. Aerial view copyright Network Rail.
London Bridge station is central London's oldest station and the fourth busiest in the UK. The Thameslink Programme required the station to be rebuilt, while remaining open for the 55 million passengers a year who use it.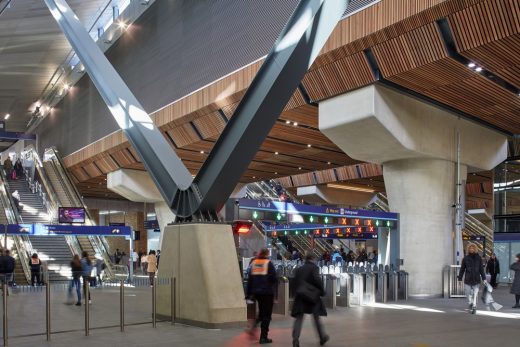 Sustainability was a driving factor throughout the design and construction phases of the redevelopment project.
Andy Barnes, consents manager, Thameslink Programme, London Bridge station re-development said: "We are very proud to have achieved such a high score. It is testament to the importance which was place on sustainability across all elements of the project. It also demonstrates the hard work and commitment of everyone involved to deliver not just a great building but provide a blue print for delivery of major complex projects."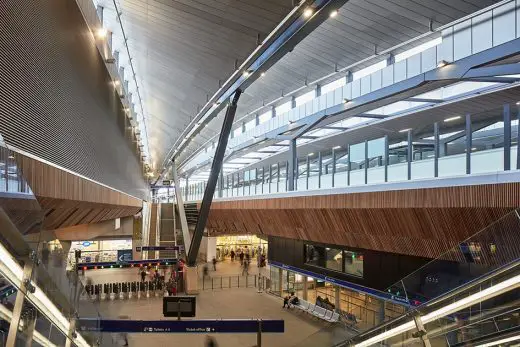 Ian Nicholson, director, CEEQUAL and infrastructure BRE said: "It gives us great pleasure to present the London Bridge team with their CEEQUAL Excellent certificate. They have demonstrated a very high level of sustainability performance in the rebuilding and remodelling of the station. Their performance shows how it is possible to deliver high performance without costing more money."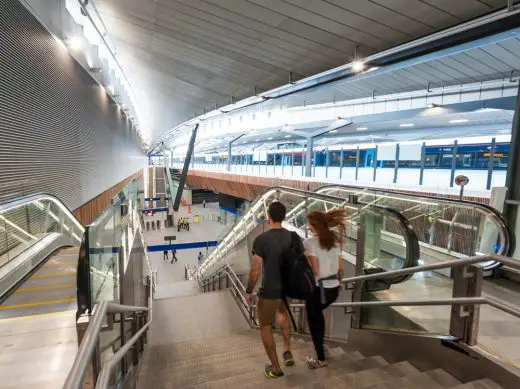 Examples of how the sustainability agenda and successes have made the London Bridge project stand out include:
• Practices led to construction carbon savings of 1,687 tCO2e, embodied carbon savings of 8,354 tCO2e and annual operation carbon savings of 396 tCO2e
• Construction phase sustainability initiatives saved £1.3 million with a payback of just six months
• Operational phase sustainability initiatives saved £115k annually
• Installation of a geothermal energy pile system contributed 6.1% carbon savings
• Re-use of 5,000 m2 of aggregates and diversion of over 98% of waste from landfill
• Providing work experience for over 30 students, training to over 200 unemployed residents and 61 apprenticeships
• Delivering several community improvement projects and 35 engagement events
• Supporting the sustainability agenda by producing 52 sustainability focused best practice case studies to highlight how the project provided solutions and improvements to improve overall sustainability performance, both regarding the environment and to strengthen links with the local community
• Other elements of the Thameslink Programme which have received CEEQUAL awards include: Borough Viaduct, Bermondsey Dive Under, Blackfriars and Farringdon stations.
30 Nov 2018
This transport building by Grimshaw is one of the World Architecture Festival Awards 2018 Day Two Winners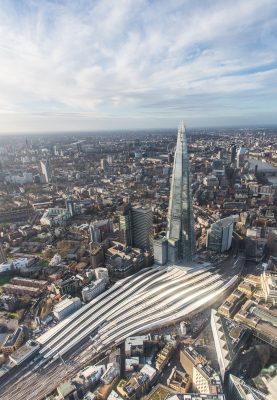 9 May 2018
London Bridge Station Building Opening
London Bridge Station Opening News
Royal Opening for London Bridge Station which offers a 'Transformation in Passenger Experience'
Wednesday 9 May 2018 – London Bridge Station reopened by the Duke of Cambridge, Prince William after five year rail and building programme which nearly doubles capacity and provides 30% more connections.
The country's fourth busiest railway station, London Bridge, has been officially reopened today (Wednesday 9th May) by Prince William the Duke of Cambridge following a £1billion transformation by Network Rail nearly doubling its passenger capacity and enabling more and faster connections for passengers.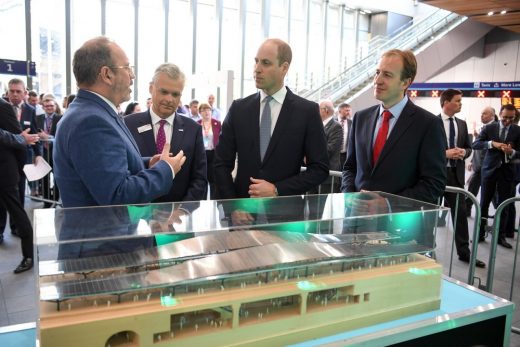 image courtesy of Network Rail
In a five year build, the Thameslink programme, partnership between the Department for Transport, Network Rail, Govia Thameslink Railway, Southeastern and Siemens, has created the largest street-level station concourse in the UK – big enough to lay the Shard down inside- for passengers to make their connections smoothly and efficiently. Work has included a major track upgrade, a new rail underpass on the approach to the station and platform widenings and extensions, all of which means 30% more trains can use the station than before.
His Royal Highness arrived at London Bridge Station on a new Siemens Class 700 Thameslink train where he met the Secretary of State, the Rt Hon Chris Grayling MP and Mark Carne, Chief Executive of Network Rail. His Royal Highness then descended from the platform into the new station concourse to meet groups of apprentices, project leaders and staff involved in the redevelopment. They were then given a singing performance by children from the local primary school before unveiling a ceremonial 'sleeper' marking the completion of the improved station.
For the first time in over a hundred and fifty years, passengers at London Bridge – which was built in the 19th century as two separate stations – are able to reach all 15 platforms from one concourse.
The 15 new platforms were completely rebuilt with three more through platforms helping to service the stations on the north side of the Thames and the number of terminating platforms reduced to six. Two platforms are dedicated to the Thameslink service which allows a very significant uplift in services able to stop and pass through the station, carrying more carriages before and reaching a 138 station network stretching from Bedford to Brighton.
Transport Secretary, the Rt Hon Chris Grayling MP, said: "Today, we are indebted to the thousands of men and women who have built a modern, accessible and iconic station fit for London's future, and the patience of passengers who will now see a transformation in their journeys.
"Thanks to government-sponsored investment, London Bridge station will be the beating heart of the Thameslink, offering thousands of commuters more frequent and reliable services, with modern new trains using pioneering world-first technology to enable better journeys across the entire route.
"It is my honour to welcome the Duke of Cambridge to London Bridge station to officially declare it open."
Mark Carne, Chief Executive of Network Rail, said: "This station has been rebuilt from its Victorian foundations upwards by a team of engineers while still providing a service for the 48 million people who use the station every year to deliver it on the very day we said we would five years ago.
"This is a station that represents a transformation in passenger experience, a catalyst for economic growth and a world first in the use of Digital Railway technology demonstrating our vision of the future.
"I give my thanks to the great people and great teams behind this fantastic project, as well as to our customers for their patience and understanding during these major works."
Duke of Cambridge at London Bridge Station: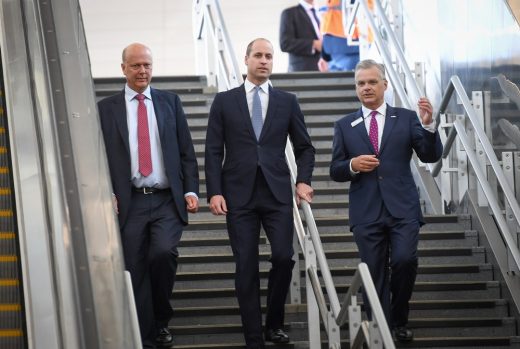 image courtesy of Network Rail
The 15 new platforms were completely rebuilt and the number of 'through' platforms has increased from six to nine during the reconstruction. This has enabled the creation of two platforms dedicated to the expanded Thameslink service which connects 138 destinations from Peterborough, Bedford and Cambridge in the north to Brighton, Littlehampton, Horsham, Rainham and Maidstone in the south.
David Brown, Chief Executive Officer at Go Ahead Group (majority owner of Govia Thameslink Railway and Southeastern), said: "The work at London Bridge has enabled the reintroduction of Thameslink services and a much better experience for our customers, who have shown patience throughout the disruption involved. In 11 days we'll be introducing an exciting, new, expanded Thameslink network – connecting new communities north and south of the capital with quicker journeys across central London and additional capacity".
Gordon Wakeford , Managing Director Siemens Mobility Division UK, said: "The Thameslink Programme will deliver greatly expanded passenger capacity on the north south route via the core area between London St Pancras, London Bridge and Elephant & Castle. Siemens is very proud of delivering the most advanced UK passenger train fleet on time with the 115 new Desiro City Class 700 trains and resignalling the core area to enable the trains to achieve a world first with automatic train operation in combination with the European train control system. This technology is critical to safely achieving a 24 trains per hour passenger service."
With public access through entrances to the north, south, east and west, the station is filled with more than 80 new shops, cafes and restaurants, making London Bridge station a destination in its own right, creating hundreds of jobs and boosting economic growth in Bermondsey and Southwark.
Nadia Broccardo, Team London Bridge CEO, said: "Team London Bridge and our business community has long supported the redevelopment of London Bridge station and are delighted with the results.
The station is a stunning piece of architecture in its own right and the Thameslink Programme in London Bridge has been managed extremely well under often challenging circumstances. The Network Rail, Costain and Thameslink project teams have become part of our community over the past six years and we look forward from benefitting from the new retailers, public spaces, rail connections and capacity that the opening of the new station brings."
Peter Williams – CEO, Better Bankside, said: "The remodelling of London Bridge station has been a massive undertaking which has inevitably impacted on its users and neighbours over an extended period. Network Rail is to be congratulated on delivering such a large infrastructure investment in such a dense space. The re-opening is very welcome on a number of fronts, improving connections for businesses and employees in the area and further energising the local economy".
David Biggs, Managing Director, Network Rail Property, said, "The redeveloped London Bridge station represents a new landmark for Network Rail, bringing together years of work and expertise to create a truly iconic place that delivers for commuters, customers, and the local community.
"The project not only modernises a vital transport hub, it creates a new focal point on the South Bank that boasts more retail units than any other Network Rail managed station. We're excited about this growing and improving retail offer and providing a destination where people can travel, shop, eat and socialise."
Darren James, Infrastructure Managing Director at Costain, said: "London Bridge is one of the capital's most important hubs for commuters and visitors from across London and south-east England. Therefore ensuring it meets the demands of 21st century rail passengers is vital.
For the past four years, we have delivered work on this complex redevelopment project to not only enhance the service people rely on everyday but to also allow for millions more people to benefit from it. Collaborative engineering, enabled by cutting-edge technology and programme management, has been a key part of the station's success and we are excited to see our work continue to make a positive difference to people's journeys for years to come."
The Government is investing in the network which London Bridge is part of through the circa £7bn Thameslink Programme, to increase capacity, boost reliability, improve journeys by modernising the existing railway fabric, upgrading stations and introducing new trains and carriages.
London Bridge station is the oldest station in central London and was originally built in 1836. Today it caters to around 48 million passengers per year, making it one of the busiest stations in the country.
Work at London Bridge has included track remodelling and resignalling of all lines east and west of the station involving 128 different track stages and 9 signalling changes and strengthening of 35 bridge structures. Over 40km track and 147 new switches and crossings have been installed.
Mark Bullock, Balfour Beatty's Managing Director for Rail and Utilities: said, "Harnessing our unrivalled expertise in critical rail infrastructure Balfour Beatty worked alongside its partners to deliver this complex and challenging project while ensuring the station remained open throughout. All at Balfour Beatty are proud to be part of the new iconic London Bridge station; which will transform north-south travel through London and vastly improve commuter services."
London Bridge has remained open to passengers throughout the works. It has been opened to passengers for four months but today's ceremony marked the completion of the project. Minor finishing works are taking place at the Tooley Street entrance these are expected to be completed by June.
The new concourse is larger than the main footprint and is the largest station space in the UK and as large as Wembley stadium (200m by 95m).
27 Feb 2017
London Bridge Station Building Construction
London Bridge Station Construction News
See the incredible progress made so far this year at London Bridge as the team prepares for significant engineering work throughout 2017
Passengers given a glimpse behind the hoardings at London Bridge as the station team gears up for engineering work this Easter.
The station's £1bn redevelopment, part of the Thameslink Programme, is currently in its final phase ahead of completion in 2018. This will mean closures and changes to services over Easter, both May bank holidays, August and December, as Network Rail continues to rebuild London Bridge and the surrounding railway.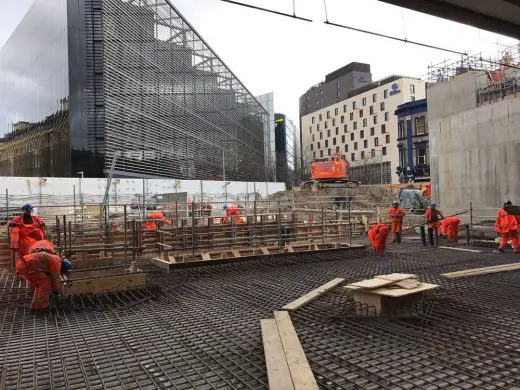 Since January, great progress has been made on the final section of the new, street-level concourse, which will open in January 2018. The foundations are being formed for the station façade and the lifts, stairs and escalators have been installed. The team has also been busy assembling the pre-cast bridge decks that will support platforms 1, 2 and 3, and building the steelwork sections that will form the canopies above.
This is in preparation for Easter, when the orange army will be bringing into use the tracks through platforms 1 and 2 at London Bridge and carrying out track and signalling work in the surrounding area. There will be no Southeastern trains to or from Charing Cross, Waterloo East and London Bridge on Friday 14 and Saturday 15 April and no trains to or from Cannon Street between Friday 14 and Monday 17 April inclusive. There will also be no Southeastern trains at Deptford, Greenwich, Maze Hill or Westcombe Park over the four day weekend; passengers wishing to attend Tall Ships Royal Greenwich 2017 should be aware of alternative options.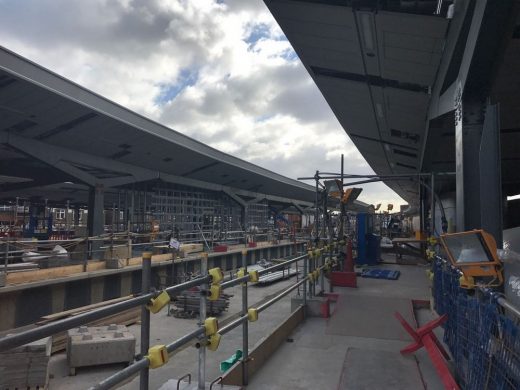 Andrew Hutton, Network Rail's lead development manager for London Bridge station said: "As the redevelopment of London Bridge by the Thameslink Programme leaps towards completion, I would like to thank passengers for their patience. We understand that it has been tough and urge passengers to plan ahead throughout 2017, while we work round-the-clock on our Railway Upgrade Plan to improve journeys to and through London for the millions of passengers that use the UK's busiest stretch of railway each year."
Ellie Burrows, Train Services Director at Southeastern said: "The work being done at London Bridge has been, and continues to be, hard on our passengers, but we are confident it will be worth it. The new station will improve the experience and journey for our passengers and we cannot wait for them to see the benefits in 2018. We thank our passengers for their continued patience and urge them to plan ahead and to make alternative arrangements during the planned engineering work happening during Easter and the May bank holidays, and during August and December, when working days will be significantly affected by closures."
Passengers are advised to look ahead to August and Christmas 2017 when significant engineering work will take place at and around London Bridge, including on working days.
5 Dec 2016
London Bridge Station Building Exhibition
London Bridge Station Exhibition News
London Bridge is 180 years old – Passengers invited to find out more about the fascinating history of London's oldest station.
A pop-up exhibition charting the 180-year history of London's oldest railway station is taking place at London Bridge station this December.
completed London Bridge concourse: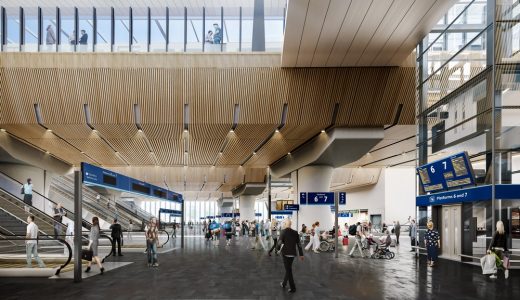 The special event, organised by Network Rail in partnership with Southeastern, celebrates the 180th anniversary of Britain's fourth busiest station and highlights the major redevelopment due for completion in 2018 – the most transformational in the station's long and rich history – as part of the government-sponsored Thameslink Programme.
London Bridge Station pop-up exhibition: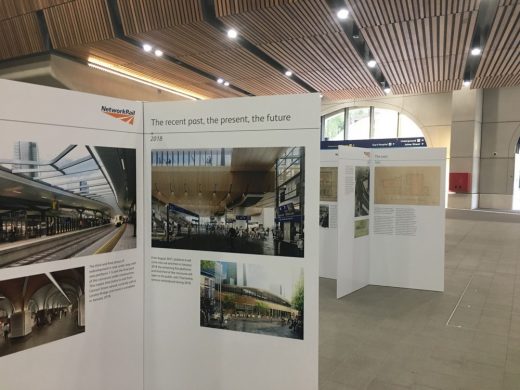 London Bridge opened to the public as part of the London and Greenwich Railway on 14 December 1836, six months before Queen Victoria took to the throne. It has undergone many changes in the years since. From 5 December until Christmas, passengers and the public can learn more about this fascinating history through the exhibition, which charts the station's evolution from pioneering railway terminus to major 21st century transport hub.
London Bridge Nov 2011: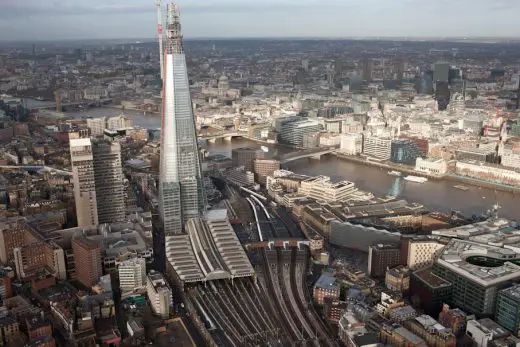 Andrew Hutton, Network Rail's Lead Development Manager, London Bridge, said: "This is a momentous milestone for London Bridge and very timely as the station enters the final stages of redevelopment, as part of Network Rail's Railway Upgrade Plan. London Bridge is the gateway to London and a catalyst for growth across the Southwark area; Network Rail is proud to play such a crucial part in 180 years of history."
6 Oct 2016
London Bridge Station Rebuild
London Bridge Station Rebuild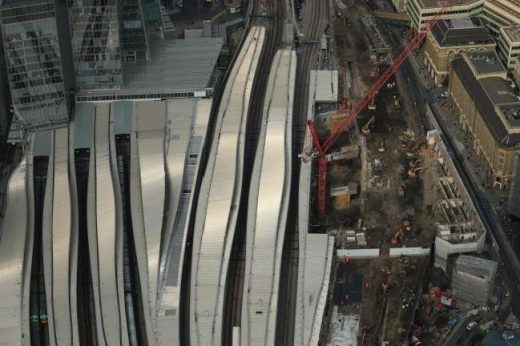 Timelapse footage captured by Network Rail shows the incredible progress made in just one month as the rebuilding of London Bridge station moves into its final phase.
London Bridge Station Rebuild Final Phase
4 Jan 2008
London Bridge Station Redevelopment
Design: tp bennett architects
London Bridge Station Development
A masterplanning study prepared by tp bennett architects based on a thorough appraisal of urban design, town planning, rights to light and commercial viability provided Railtrack with clear concise recommendations for redevelopment. The subsequent design scheme by a multidisciplinary team led by tp bennett architects, fundamentally reconfigured and enlarged the existing station and provided for an uplift of 50% in passenger numbers. It also incorporated a major new retail concourse and a landmark air rights office building.
bennett urban planning provided town planning advice and coordinated an extraordinarily large consultation exercise necessary to accommodate the views of the many local interest groups and interested national bodies.
The scheme gained detailed planning and listed building consent subject to S106 in December 2000, and was adopted as the official Thameslink Programme at the successful second Thameslink Public Inquiry at the end of 2005.
The Thames Link Programme was granted its legal and planning powers to proceed under a Transport Works Act Order in Dec 2006 and a full commitment to fund the project was given by the Transport Secretary in July 2007.
The redevelopment of London Bridge Station to implement tp bennett's "masterplan" scheme is scheduled to take place in the third and final phase of the project (Key Output II) immediately after the London Olympics in 2012.
London Bridge Station Redevelopment images / information from tp bennett architects
Location: London Bridge Station, England, UK
London Railway Stations
Liverpool Street Railway Station
Waterloo Station York Road Ticket Hall London
London Architecture Designs – chronological list
Comments / photos for the London Bridge Station Building Redevelopment page welcome
Website: Visit London