World Building News, Architecture across the Globe, Architectural Designs, Projects
Architecture News – Global Buildings
– 30,000 pages + 381,000 architectural images across resource – 4 sites
– cross-referenced resource : building / architect / country / city / type
– architectural news online 16 hours a day, 7 days a week
post updated 25 May 2021
e-architect Editors Isabelle Lomholt & Adrian Welch handpicks key architecture news to post on facebook + twitter
Architectural News 2020
For the latest news see our homepage.
This page shows a selection of picks by the Editors – Isabelle and Adrian – from our daily postings:
Key Building News from around the world – Headlines
May 25, 2021
BW: Workplace Experts revives Government Building, Westminster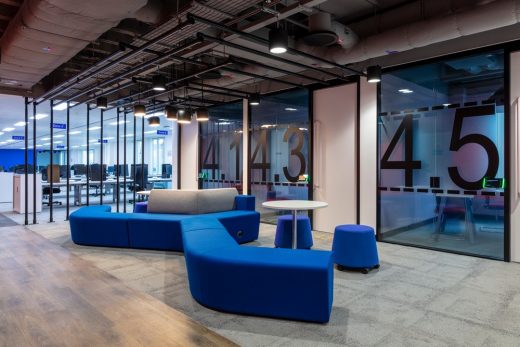 BW: Workplace Experts has recently completed the strip out, Cat B fit out and refurbishment works on a Government project in Westminster, London. The project involved the internal refurbishment and fitting out of the basement, first, second, third, fourth and fifth floors, together with some selected major plant refurbishments and renewals.
BW: Workplace Experts revives Government Building, Westminster
Apr 23, 2021
New Central Campus Building, Dearborn, Michigan, USA
Architects: Snøhetta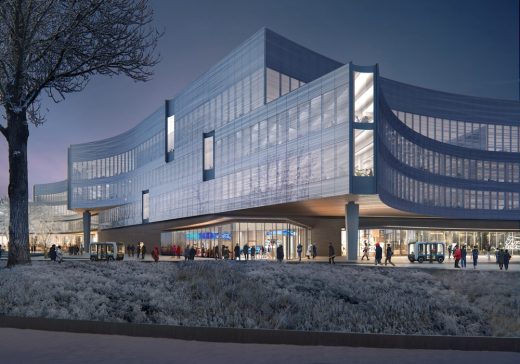 image © Snohetta and Plomp
New Central Ford Campus Building, Dearborn, Michigan
Ford Motor Company has unveiled its New Central Campus Building as part of the transformation of its Research & Engineering (R&E) Campus in Dearborn, Michigan. Snøhetta's design supports Ford's aspiration to create an environment that allows it to lead the automotive industry into the future of mobility technologies.
14 May 2021
Does Composite Decking Add Value To Your Home?
Making home improvements is a great way to enhance comfort and convenience, but it can also affect the value of your property. In some cases, changes you make to your home can increase its value, while other changes may decrease the value or have no impact it at all.
Does Composite Decking Add Value To Your Home?
3 Apr 2021
Taft, Portland, Oregon, USA
Design: Skylab Architecture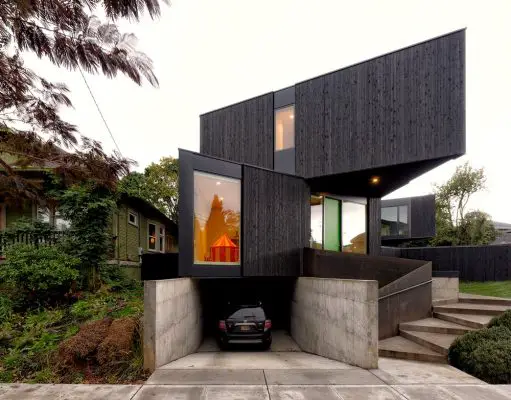 photography: Michael Cogliantry and Jeff Van Bergen
Taft House in Portland
The house is built using 28 prefabricated modules. Each of the triangular-shaped, structurally independent modules is 100-square-feet in size and features pre-installed finishes and integrated building systems. Capable of a wide range of assembly configurations, when fit together, the modules create a structurally efficient system.
1 Feb 2021
Zhuhai Jinwan Civic Art Centre., Jiuzhou Port, Zhuhai City, Guangdong Province, China
Design: Zaha Hadid Architects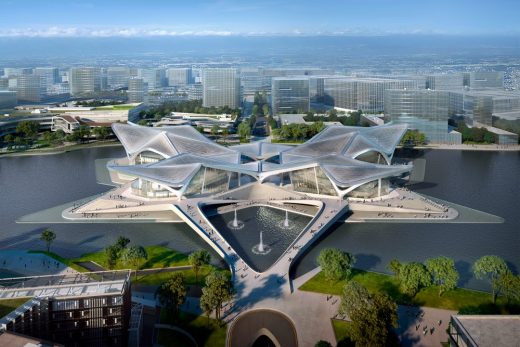 image courtesy of architectural office
Zhuhai Jinwan Civic Art Centre
Designed as a hub of contemporary creativity within one of the world's most dynamic regions, the Zhuhai Jinwan Civic Art Centre is located at the heart of Jinwan district's Western Ecological New Town where the new Zhuhai Airport Intercity railway provides direct connections with Zhuhai's city centre, its airport and Hengqin district, as well as Guangzhou, Shenzhen, Macau and Hong Kong via interchanges.
15 Dec 2020
A Pseudo Reminiscence
Student Project from Edinburgh School of Architecture and Landscape Architecture, 3rd Year
An investigation into the integral elements of a live club experience exposed a facet of our lives that has been removed in the Covid-19 era. Questions of intense proximity, sound impact and inebriation were all studied.
However, the key idea explored was how live performance offers an opportunity for transcendence. Therefore, as a result of this investigation an attempt was made to create a new synthetic landscape, with unique sonic texture, that could have a semblance of this transcendent experience.
By Richard Scott, Archie MacLean and Fred Wilkins
More content from Edinburgh School of Architecture and Landscape Architecture here:
Edinburgh School of Architecture Student Projects
More content from another Scottish School of Architecture here:
Student Projects at Dundee School of Architecture
1 Nov 2020
30,000 Posts on e-architect!
The e-architect resource has over 30,000 pages of architectural information + building news.
We passed the 30k mark on 31 October 2020.
www.e-architect: 27474
www.edinburgharchitecture.co.uk: 1435
www.glasgowarchitecture.co.uk: 1129
www.architecturaltours.co.uk: 25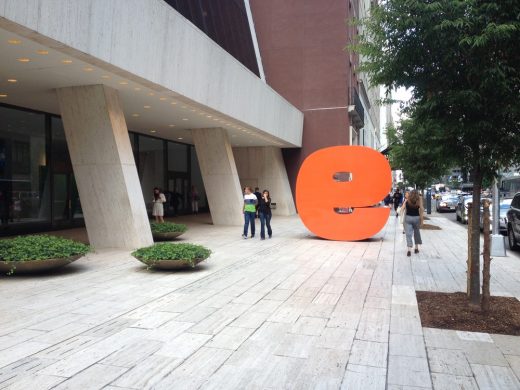 photo © Adrian Welch
1 Nov 2020
The Stage Visitor Centre Building, London
The Stage Curtain Playhouse
30 Oct 2020
AR Emerging Architecture awards news
2020 AR Emerging Architecture awards
26 Oct 2020
Thamesmead Architecture Competition News, UK
Thamesmead Waterfront Competition
14 Oct 2020
Re-name, Re-brand and Re-organisation
Concert: Bringing harmony to every project
From 15 October 2020, Bruceshaw London changes its name to Concert.
In times of heightened uncertainty, the role of the Project Manager and Cost Consultant in the construction sector is more vital than ever and this rebrand is reflective of the Concert business now and in the future.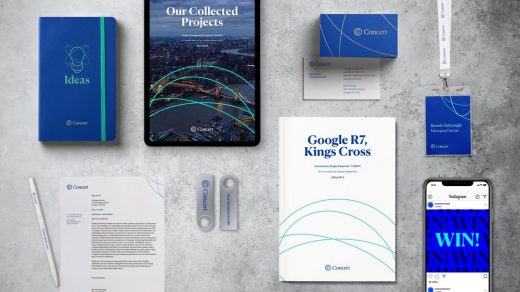 As a company Concert embraces change; the rebrand is the result of an extensive engagement programme with clients and employees, as well as an investigation of the wider market in which it operates. The new brand capitalises on over 46 years of industry experience and knowledge, whilst focusing the lens firmly on excellence and future growth.
Concert adopts a leadership role in projects from start to finish, ensuring that budget is spent in the right places, time is managed effectively, risks are understood and mitigated, allowing people to do their best work.
Rennie Dalrymple, Managing Director at Concert comments:
"I am delighted to introduce Concert, which brings together the values we hold and how we like to do business, while providing a strong platform for development and growth in the years ahead. Coupled with a re-organised board structure, we continue to be well organised and client focused, bringing together every facet of the supply chain to work harmoniously together in order to deliver projects that meet and exceed expectations."
The Concert board comprises:
Rennie Dalrymple – Managing Director
Daniel Wright – Director of Cost Management
Tom Bishop – Director of Project Management
Nicholas Payne – Director of Health & Safety
Paul Body – Director
Daniel Rowe – Non-executive Chairman
Concert enjoys on-going relationships with key clients including Global Holdings, Equinix, EcoWorld/Ballymore, Google, Marks & Spencer, Ark Data Centres and Greensill.
The Bruceshaw team in Belfast has rebranded to Skope and will continue to provide services to their clients under this new name.
Please view the new website here: www.weareconcert.com and follow here:
Instagram: Weare_Concert
Twitter: Weare_Concert
Linked In: We Are Concert
Facebook: We Are Concert
28 Aug 2020
Prince Plaza in Shekou District, Shenzhen
19 May 2020
Warehouse Home's new real estate division
Industrial living brand Warehouse Home's new real estate division brings a curatorial approach to buying and selling property in a sought-after niche.
Global lifestyle brand Warehouse Home has launched a property division, offering specialist advice to those looking to buy or sell high-end industrial conversions. This new real estate agency is a natural extension to the Warehouse Home brand's phenomenal success in print, online and through its interior design service.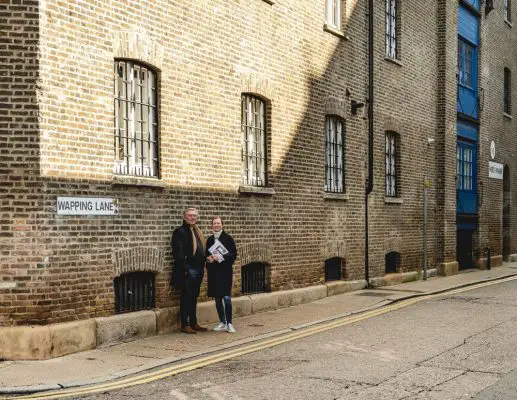 Warehouse Home's new real estate division
19 May 2020
Clean Air Series: UVC lighting that actively reduces the bacterial and viral charge
humanlumen, the lighting brand with a uniquely human-centric approach, introduces the Clean Air Series, a range of UVC Air Sterilisation Units, providing a safe, reliable and sustainable solution for a safe 'Return to Work' for many employers and employees.
The Clean Air Series is a range of efficient UVC lighting devices that actively reduce the bacterial and viral charge of the air in closed environments.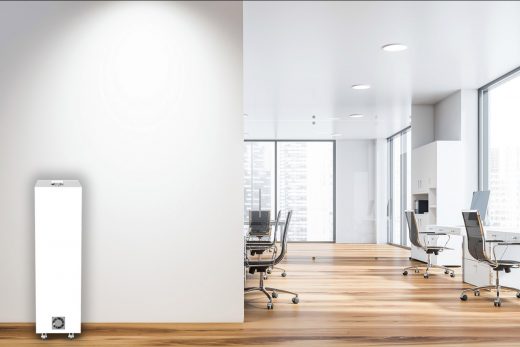 UVC lighting reduces bacterial and viral charge
Architecture News in 2019
Please find below a press release from our client Guardian Glass Europe. Contact details further down.
26 Nov 2019
Double skin facades
Selecting the right combination of glass to optimise their benefits
Bertrange, Luxembourg, November 14, 2019 – When designing a double skin façade, it is important to choose the right combination of glass to optimise the benefits in terms of energy management, dynamic selectivity, thermal insulation, and enhanced comfort, while minimising potential issues such as condensation, says Ralf Greiner, Product Application Manager for Guardian Glass in Europe.
A double skin façade is façade is a traditional façade that has a second cover on the outside that is normally made of glass. The two facades, often called "skins", are separated by an empty space (air gap), the width of which can vary from a few centimetres to several metres. If mechanical shading systems are installed in the air gap, the outer skin also provides them protection against wind loads and dirt.
A double skin façade can be either mechanically or naturally ventilated, depending on the type of ventilation system used in the air gap. These are known as active and passive (interactive) ventilated facades.
Active systems have an outer skin of airtight insulation glass in front of the ventilated inter space. Air exchange is artificially induced and takes place inside the building via heat exchangers. In winter, this has the advantage that energy required for heating can be saved via heat recovery. Active systems tend to use the more traditional glass types for the external insulating glass skin.
Passive ventilated façades are the more common type in Europe, particularly on commercial buildings. Here, the air exchange takes place between the inter space and the environment. A natural convection is created via defined openings, which are normally located above and below the outer glass. Suspended glass walls in front of a conventional construction are also possible, as are punctuated facades, as well as box-type windows or compound windows.
The benefits of a double skin façade
Due to increasingly higher standards on protection against heat gain and therefore low solar energy transmission, double skin facades that combine energy efficient glazing with mechanical shading devices are becoming increasingly popular. Although they've been installed in buildings over the last 20 years or so, glass technology has progressed considerably during this time, which has helped increase their use. Today, innovative glass products and coatings are available for double skin facades that help provide numerous benefits – but only if the right combination of glass is selected for the external and internal skins.
The number of glazing combinations and possibilities available today are staggering. This provides architects with a full palette of glass performance and aesthetics options to consider; they can choose the most suitable glazing in terms of glass performance, thickness, dimensions, thermal and mechanical resistance (durability), solar protection, colour, etc.
Chosen correctly, the glass can provide advantages in terms of improved energy management, sound insulation, thermal insulation, as well as the possibility of enjoying fresh air from the cavity through opened windows and therefore enhanced comfort for building occupants. Furthermore, additional shading systems can be placed between the outer and inner glazing, providing dynamic selectivity (i.e. the ratio between maximum daylighting and maximum solar protection).
Solar radiation reflecting coatings in the outer shell can significantly reduce the energy transmission when blinds are fully retracted compared with a conventional solution without coatings. Users can operate the mechanical shading smarter (either open or in intermediate states) and enjoy unobstructed views for longer without having to fear overheating. It's all about finding the right balance for the building; glazing solutions can help you achieve that near-perfect balance.
Coated solar control glass
Advanced coated solar control glass, for example, can actively optimise the daylighting factor (DF), as well as the building's thermal regulation. The glass can help to make the building more energy efficient by reducing the need for air conditioning, heating and artificial lighting, which all contribute to a more comfortable working or living environment for building occupants. As a result, these glazing solutions can also be instrumental in helping to achieve environmental certifications such as LEED, BREEAM, HQE, DGNB, etc.
In passive ventilated facades, the aim is normally to reflect a part of the short-wave solar energy directly from the outer glass so that the heat build-up in the inner space is reduced and, in turn, the thermal load. The use of coatings on the glass is significantly reinforced when combined with additional sun and anti-glare protection in the inner space. Excellent g-values are also achieved when the blinds are operated in a fully retracted or intermediate state. The dynamic selectivity that can be achieved in this way renders the ventilated system particularly attractive.
Another advantage of using coatings in the outer glazing is the possibility to play with various light reflection grades. This allows the architect to design very transparent and apparently "light" constructions or using higher reflections for creating a uniform appearance and hiding a patchwork of individually adjusted shading devices.
The challenge of durable coatings
While the inner glazing of a passive system is conventional double or triple insulating glass, for the outer single glazing a laminated safety glass (often consisting of heat strengthened glass) is typically used. Its residual load capacity ensures maximum safety in case of breakage. The challenge when using high performance coated glass is that the coating must be both durable and suitable for using monolithically or laminated facing the interlayer. Most coatings on the market are very sensitive to humidity and external climatic elements, which means they often need to be hermetically sealed, which obviously limits the flexibility.
The combination of high durable solar control coatings for reflecting a share of the solar radiation with special energy absorbing PVB interlayers do further improve the energy efficiency. In particular, the spectral selectivity (daylight to solar energy ratio) can be significantly enhanced.
Potential issues
While architects may be familiar with the advantages of double skin facades, there are some potential disadvantages that require careful consideration. Again, it is important to select the right combination of glass that minimises these potential issues, while optimising the benefits.
A double skin façade with the wrong glass combination may also decrease the amount of natural light entering a building, while increasing the temperature in the air gap (which can lead to shorter operating life of electric motors, heat exchanger systems, etc.) and creating condensation on the external skin.
Condensation
In passive ventilated facades – depending on the position of the building and adverse climatic conditions – condensation can occur on the inner side of the outer glass pane. Of particular concern are the morning hours in spring and autumn, when potential condensation can significantly disrupt the clear views from inside the building. Again, this doesn't have to be an issue, as glass solutions are now available to prevent this natural phenomenon from occurring.
Anti-fog coatings for glass are specially designed, extra-durable coatings applied onto the outer glass pane, which significantly reduce the probability of condensation. Tests under real building conditions have shown that these anti-fog coating solutions provide slightly higher surface temperatures compared to an uncoated outer surface. This temperature difference significantly reduces the appearance of condensation. While the uncoated glazing in comparison tests shows condensation over many hours, under the same conditions, the coated glass remains clear and free of water droplets throughout. One word of caution: it is essential to consider the use of anti-fog coated glass at the project planning stage, as the application of such coatings after installation is not possible.
Other potential issues with double skin facades include higher investment and operating expenses. An additional skin around a building places a higher demand (load/weight) on the ground area. This must be taken into account at the project planning stage. There may also be higher sound transmission between neighbouring rooms in the building if windows are left open.
A guiding hand
For advice and guidance on choosing the right combination of glass for your double skin façade, Guardian Glass has a team of experts who can help. The Guardian SunGuard® range of coated solar control glass offers a variety of products with attractive aesthetics and technical properties to help optimise the performance of double skin façades and minimise the issues sometimes associated with them.
Publishng Platform for Websites
Are you interested in receiving articles for your website?
Check out the WhitePress® platform:
https://www.whitepress.net/73wrw
27 Sep 2019
Reynaers launches brand new RIBA-accredited CPD for architects
Reynaers, supplier of aluminium windows and doors, are offering a new CPD course. The RIBA-accredited course is for architects and other construction industry professionals is entitled: "Accessible Solutions for Aluminium Windows and Doors".
Devised and led by Simon Cray, the 45-minute seminar will provide delegates with a comprehensive guide to the changes to Approved Document M. It will also include an overview of the products that can assist architects in meeting the updated standards, which include new requirements for windows, doors and handles.
The course will additionally cover a comprehensive background history of accessibility legislation, including The Discrimination Act 1995 (c 50) and its replacement the Equality Act 2010.
Having worked on developments including the 2012 Olympic Athletes Village, Reynaers has extensive experience of delivering accessibility through aluminium systems. The CPD will draw on the company's expertise in this area, using case studies to demonstrate solutions that have been used to assist in meeting specific accessibility standards.
Reynaers supplies an extensive portfolio of sustainable aluminium solutions for windows and doors. Many of the solutions are suitable for use in meeting accessibility requirements, including the company's window for accessible homes, a variant of its best-selling CS 77 window system.
The company already offers practical structured learning for architects to understand the advantages and design benefits of aluminium glazing and curtain walling. Committed to facilitating professional development, it is able to tailor any of its CPD material to suit delegates' learning objectives.
The new course, which Reynaers can deliver at its own Knowledge Centre HQ in Birmingham or at the architects' premises, takes the same pragmatic approach to solution-led design, giving chartered members further choice in achieving their annual CPD targets with the most relevant learning.
More info: https://www.reynaers.co.uk/en-UK/reynaers-cpd
8 Jun 2019
Notre Dame Cathedral Design Competition
Is this global disaster an opportunity to collectively rethink the role of heritage in today's culture?
reTHINKING Notre Dame Competition
e-architect wins Best Design Media Award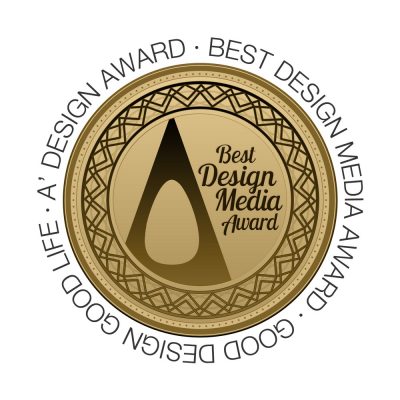 1 Mar 2019 – e-architect was selected as a recipient of the Best Design Media Award. The selection was made by thousands of award winning designers who have indicated the very best design publications worldwide. Read our profile at:
Best Design Media Award
Feb 18, 2019
Bellefonte Courthouse, PA, USA
The column Joel Solkoff is writing concerns three small towns in central PA.
1. State College, where he lived in a de facto nursing home for 15 years.
2. Nearby Bellefonte where the county courthouse is located. The courthouse is infamous as the place where Penn State's child molestation trials and convictions took place. Bellefonte is an architectural treasure. Anna Keitchline, the first female architect–a spy in WorldWar I– lived and worked there.
3. Williamsport, the center of Central PA (instrumental in helping elect Trump President). The focus here is on the Creative Class Movement of which the Pajama Factory is an important piece.
This is an urban planning story.
The column will contain several embedded videos from the e-architect YouTube site. Here is another an irreverent taxt cab ride tour of Bellefonte, PA:
Feb 15, 2019
Factory Windows, Pajama Factory, Williamsport, PA, USA
Original content from e-architect's Joel Solkoff based in the US.
Another architectural video on e-architect, this one on factory windows and the metric system:
Architect Mark Winkelman and his wife advertising executive Suzanne are the founders of the Pajama Factory, a complex of seven buildings on 30,000 square meters of real estate in Williamsport, PA.
Williamsport is one of a number of US communities that constitute what urban theorist Richard Florida describes as the "creative class".
Professor Florida estimates that one third of the US workforce– about 40 million Americans–constitute this class which defines creativity to include such diverse fields as engineering, bio-engineering, and software design. Other creative class communities include Tribecca in Manhattan and Paducah, Kentucky.
Pajama Factory, Williamsport, PA
12 Feb 2019
Escala: scale-ruler fountain pen for architects
Carlo Aiello recently designed a scale-ruler fountain pen for architects and engineers. The pen is currently on Kickstarter for two more weeks. He designed this pen for the architectural community.
When studying architecture he actually wanted a pen like this one and now he has decided to make it available.
See more on our Architectural Products page.
Feb 13 & 9, 2019
Return of Joel's Column
NOTICE: Joel's always eclectic column returns shortly. "Don't touch that dial" as the US tv moguls said in the 1950s
Scribbling away from an art critic loft in building seven of a pajama factory (once the largest in the world), Joel Solkoff reports
Mark Winkelman drives three hours to Williamsport from New York City to manage his nine-building domain in the portion of central PA where pockets of poverty have remained since the US 1930s Depression. Exclusively for e-architect UK, NYC architect Winkelman describes his early career working for Phillip Johnson and about the architectural design lessons learned during an extended stay in Japan.
Joel's column returns shortly with this and other startling news about Anna Keichline, Pennsylvania's first female architect who also served as a spy in World War One, Bellefonte's 1850s Centre County Courthouse, and how local government entities on the sub-county level have led to chaos at Penn State's bedroom town of State College.
e-architect exclusive interview with an unlikely city planner in down-and-out Williamsport, PA
Joel's range extends from justice architecture and the progressive architecture movement to make prisons friendly places, to State College / PennState / State Department of Transportation's failure to plan ten and twenty years into future. Worthy of special attention is how PA Transportation Secretary Leslie Richards has created chaos with her focus on cars, cars, cars above all else coupled with her remote control of the street on which Joel lived last month, but no more.
11 Jan 2019
Reynaers at ARCHITECT@WORK 2019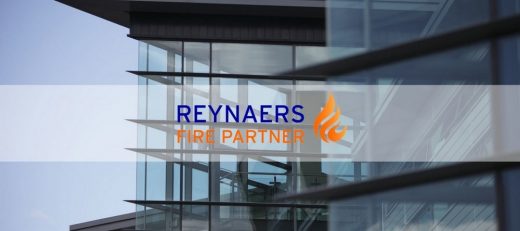 Reynaers to exhibit at ARCHITECT@WORK 2019, The Old Truman Brewery, London, showcasing its industry-leading approach to fire safety with fire-resistant curtain walling and high-quality flush window and door systems:
Reynaers fire-resistant products at ARCHITECT@WORK
Architectural News in 2018
18 + 9 Nov 2018
79&Park Stockholm, Stockholm, Sweden
Design: BIG-Bjarke Ingels Group Architects
79&Park
A cascading grid of 169 housing units for Oscar Properties next to Norra Tornen designed by OMA Partner Reinier De Graaf: two large new buildings by world-famous architects.
8 Nov 2018
New Fish Market, Sydney, New South Wales, Australia
Architects: 3XN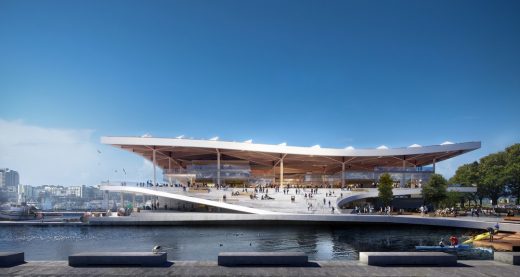 render © 3XN
Sydney Fish Market Building
The largest fish market in the southern hemisphere is envisioned as a major public and cultural amenity and an icon for Sydney.
Jun 28, 2018
A' Design Awards and Competition 2018 – 2019
A' Design Awards and Competition Call for Entries 2018 – 2019
Jun 15, 2018
American Architecture Awards 2018
The Nation's Highest Public Award for New Architecture by the Most Prominent Architecture Firms in the United States of America:
American Architecture Awards 2018
4 June 2018
The Hidden Ways Architecture Can Affect You
An interesting article by Michael Bond on the BBC website:
One of the most consistent findings by Colin Ellard, who researches the psychological impact of design at the University of Waterloo in Canada, is that people are strongly affected by building façades: complex and interesting designs affect people in a positive way; simple and monotonous layouts affect people in a negative way. When Ellard walked a group past the long, smoked-glass facades of a Lower Manhattan store their walkinjg speeded up and their arousal / mood states plummeted. Walking past restaurants and store buildings had the oppsoite effect.
Link to article: The Hidden Ways Architecture Can Affect You
12 May 2018
Adelaide Contemporary Designs by Shortlisted Architects
Adelaide Contemporary design proposals unveiled as six high-quality design teams compete to design the new South Australia landmark:
Salone del Mobile 2018 – Milan Design Week 2018, Italy
April 17 to 22, 2018, the latest furniture designs from around the world with plenty of architecture studios involved.
Enea will showcase their new Kaiak Lounge chair and the Pile table, both designed by Estudi Manel Molina, and the Lottus Wood chair with wooden arms, designed by Lievore Altherr Molina.
Salone Internazionale del Mobile Milan 2018 News
7 Apr 2018
Bombas Gens: Fundació Per Amor a L'Art, Valencia, Spain
Design: Ramon Esteve Estudio, Architects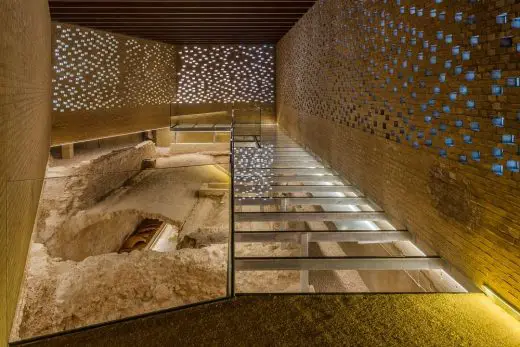 photo © Frank Gomez
Bombas Gens Building
This Spanish architectural office wins the Land Rover Born Prize for the Architecture section.
25 Mar 2018
Rathbone Square, Oxford Street, London, UK
Design: Make Architects
Rathbone Square Buildings
This new square is a flagship project for Great Portland Estates plc that has taken the former Royal Mail sorting office site and transformed it into a high-quality mixed use development with a new publicly accessible garden just off Oxford Street.
11 Mar 2018
New architecture by country / city pages launched by e-architect:
Mar 7, 2018
Balkrishna Doshi Receives the 2018 Pritzker Architecture Prize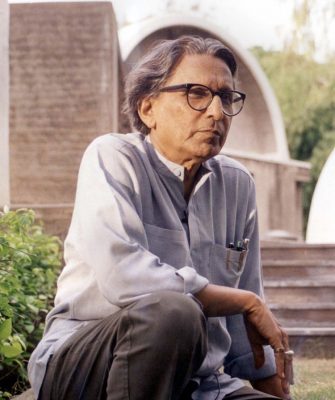 Balkrishna Doshi photo courtesy of VSF
Professor Balkrishna Doshi, of India, has been selected as the Pritzker Architecture Prize 2018 Winner, announced the Hyatt Foundation, which sponsors the award, known internationally as architecture's highest honor.
24 Feb 2018
University College Dublin Design Competition, Ireland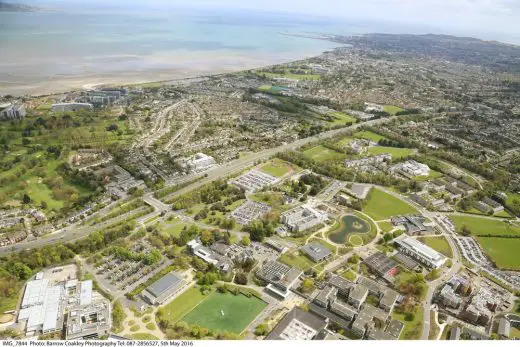 UCD Belfield Core Campus and Surrounding Area – image courtesy of Barrow Coakley Photography
University College Dublin's Future Campus Competition
Two-stage architecture competition seeks urban design vision for 24 ha area of campus and concept designs plus a €48m Centre for Creative Design. The Jury includes top architects Sir David Adjaye and Ann Beha.
23 Feb 2018
Amsterdam 75 House, Hipódromo, México D.F.
Design: Jorge Hernández de la Garza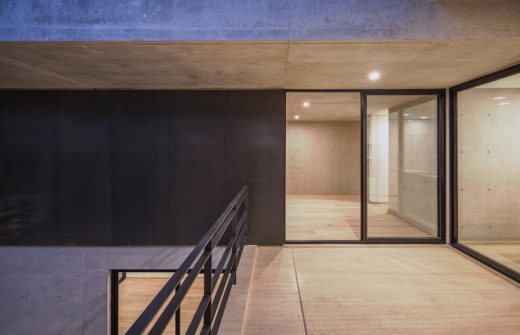 photo : Jorge Hernández de la Garza
New House in Hipódromo
This bold architectural intervention consisted of "solving 5 departments of different types and an additional dwelling which is inside an old house" catalogued by the Institute National of Fine Arts.
16 + 13 Feb 2018
Church of Saint-Jacques de la Lande, Rennes, North West France
Architects: Alvaro Siza Vieira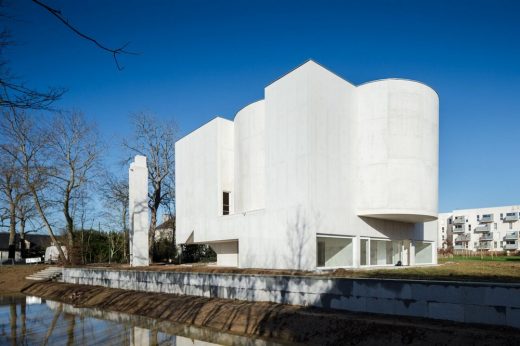 photo : Joao Morgado
This religious building in Brittany was designed by the celebrated Portuguese architect Álvaro Siza Vieira. His use of simple white concrete forms provides a powerful ceremonial space that is sensitive to the low-scale residential neighbourhood south of Rennes.
New built environment update country pages launched by e-architect:
22 + 21 Feb 2018
Prague Architecture News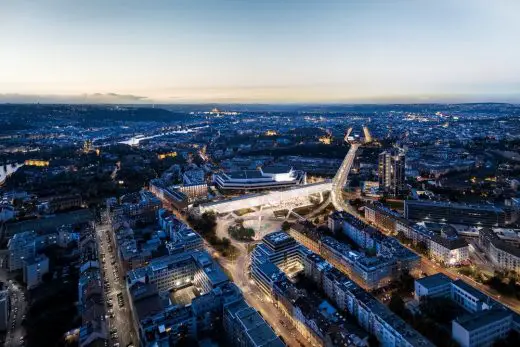 image : Play Time – Architectonic Image
16 + 15 + 14 Feb 2018
South African Architecture News
13 Feb 2018
10 Feb 2018
PERFORMANCE iN LIGHTING won three iF DESIGN AWARD 2018
PERFORMANCE iN LIGHTING has been awarded with three prizes in two different discipline of this year's iF DESIGN AWARD, a world-renowned design prize organized by the world's oldest independent design organization, iF International Forum Design GmbH, Hannover, Germany.
The winning products, LAMA+ and TRACCIA, won in the discipline Product, in the Lighting category.
LIGHT-PERFORMER® was awarded in the discipline Communication, in the Apps / Software category.
LAMA+ and TRACCIA were selected for their combination of attractive design with excellent lighting performances.
TRACCIA: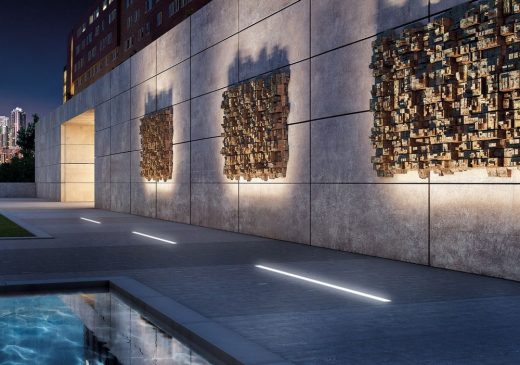 LIGHT-PERFORMER®, a configurator for custom lighting systems, won due to its easy handling and simple self-explaining interface.
The selection was made by a 63-member jury, made up of independent experts from all over the world. Competition was intense with over 6,400 entries submitted from 54 countries around the world trying to attain the seal of quality.
12 Jan 2018
150th Anniversary Frank Lloyd Wright Clutch
As part of commemorating celebrated US architect Frank Lloyd Wright's 150th Anniversary, architects ACME, based in Hawaii, have produced 150 Special Limited Edition Women's Clutches.
The limited edition architectural product is made from Cherokee red vegan leather internally with black externally. It has a chrome zipper pull with the 150 FLW logo, plus a cable chain.
ACME Studio Inc, P.O. Box 89, Kula, HI 96790, USA ; http://acmestudio.com
Architectural News in 2017
7 Dec 2017
20 Ropemaker Street Offices, London, UK
Architects: Make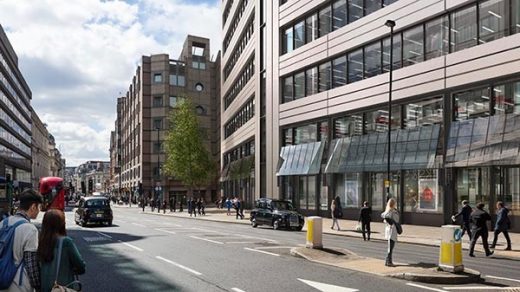 image courtesy of architects office
20 Ropemaker Street Offices
Planning consent granted unanimously by the Borough of Islington for this commercial tower building proposal. It makrs the corner of Ropemaker St and Finsbury Pavement.
21 Nov 2017
Norton Folgate City Continuity Community in Spitalfields, London, England
Design: Burrell Foley Fischer Architects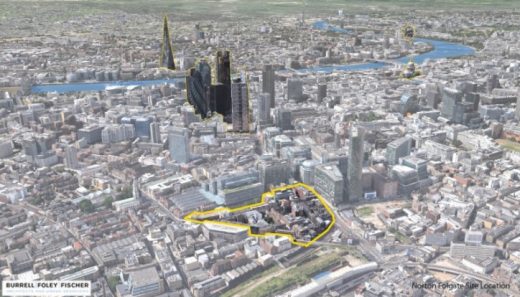 image courtesy of architects
Norton Folgate Spitalfields Buildings
2017 IMCL Honor Award, Proposed Project – City Continuity Community
10 Nov 2017
Bora Residential Tower, Santa Fe, west of Mexico City
Design: Zaha Hadid Architects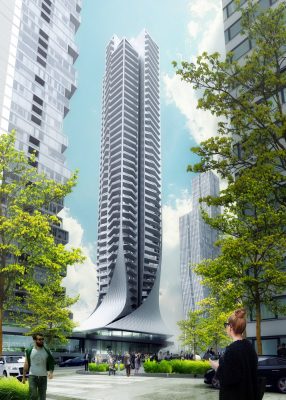 image : LabTop, courtesy of ZHA
Bora Tower Building
Construction works start on this building in Santa Fe, a key business district in the Mexican capital city, for over 220 apartments. With over 50 floors, the new building will be the highest residential tower in Mexico City.
15 Sep
Tom Patterson Theatre, Stratford, Ontario, Canada
Design: Hariri Pontarini Architects



image Courtesy of Hariri Pontarini Architects
Tom Patterson Theatre Building
The Stratford Festival invited 50 international architects firms to submit their credentials. The committee then selected 8 architects to be interveiwed. Four architectural teams were then shortlisted and invited to take part in this architecture competition.
14 Sep 2017
Snowdon Aviary Renewal, London Zoo, England
Design: Foster + Partners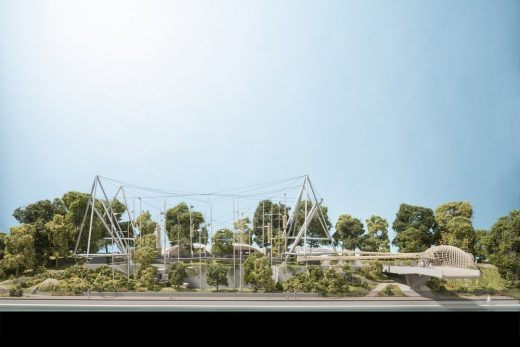 photo © Tom Miller
Snowdon Aviary Building Redevelopment
Renewal proposal for this Grade II* listed structure, originally designed by architect Cedric Price with Frank Newby and Lord Snowdon in 1962. It was the first British aviary in Britain with a 'walk-through' format. The structure is located on the north side of a canal in the north west of the British capital city.
Up-Cycled Warehouse in Melbourne design by Zen Architects article posted on 4 Aug 2017 by Editor Isabelle Lomholt
11 Aug 2017
De Verkenner Tower, Utrecht, The Netherlands
Design: Mei architects and planners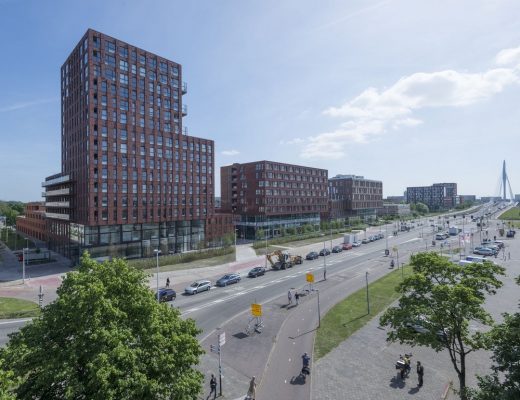 photo : Jeroen Musch
New Residential Building in Utrecht
Raising the game in mass housing with 'Roses and concrete' artwork and poem and an elegant, colourful façade of balconies. The 'gatekeeper' project is located in the post-war district of Kanaleneiland.
Aug 3, 2017
Graham Foundation Grants 2017
Graham Foundation Announces 2017 Grants to Organizations Over $400,000 awarded to organizations supporting innovative and challenging ideas in architecture.
Fnded projects include exhibitions, events, research projects, publications, and site-specific installations and performances.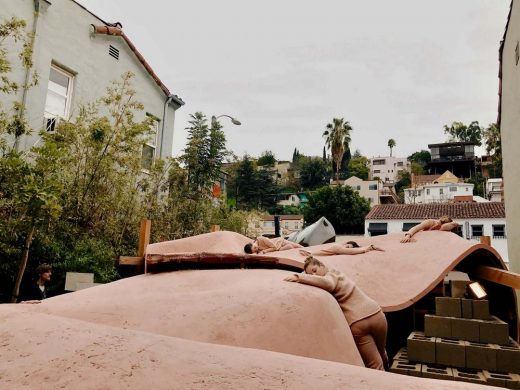 photo – Gwyneth Shanks, From Above Looking Down, 2017, Los Angeles. Courtesy the artist. From the 2017 organizational grant to Materials & Applications for "Privacies Infrastructure"
Graham Foundation Grants 2017 News article posted by Editor Adrian Welch
Reale Group office building, Turin, Italy
Design: Iotti + Pavarani Architetti Artecna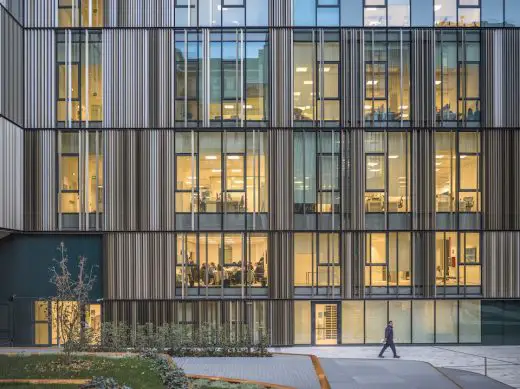 photograph : Fernando Guerra | FG+SG fotografia de arquitectura
Reale Group Office Building in Turin designed by Iotti + Pavarani Architetti Artecna article posted on 3 Aug 2017 by Editorial Assistant Cole Dean.
The project was created by the engineer Roberto Tosetti from Artecna with the winners of this architectural competition. Reale Immobili ran the design contest back in 2013.
Architecture News from July 2017
30 Jul 2017
Salmiya Wind Tower, Kuwait City
Design: AGi architects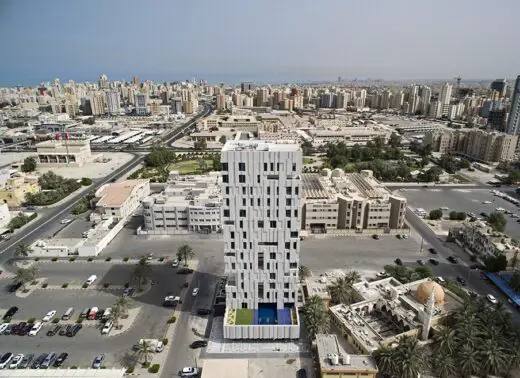 photo courtesy of this architects studio
Salmiya Wind Tower Building
Wafra Vertical Housing introduces a new concept to urban living, transforming the single family dwelling typology to adapt to 21st century living in this small Gulf country.
29 Jul 2017
The Boilerhouse, Royal Holloway, University of London, Surrey, England, UK
Design: Cartwright Pickard Architects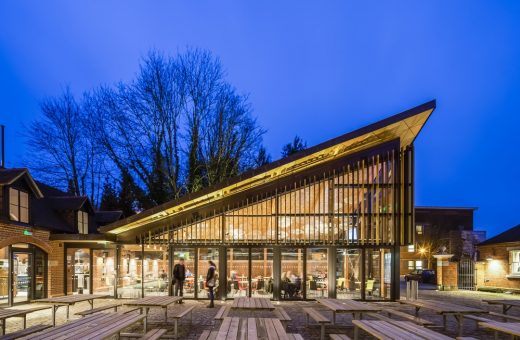 photo © Hundven-Clements
New Building at Royal Holloway, University of London
A new café pavilion and event space inserted into the original Boilerhouse complex courtyard serving the Grade I Listed Founders Building as well as the refurbishment of the original stable block into a seating and servery area.
22 Jul 2017
Contracts awarded for Palace of Westminster Building Renewal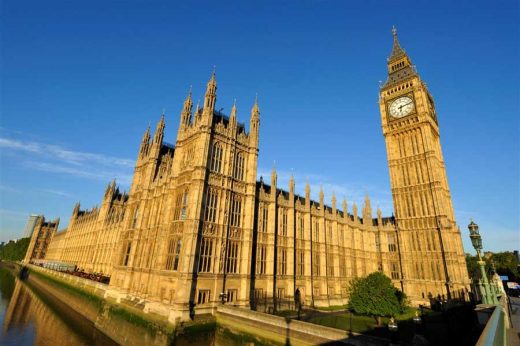 picture © Nick Weall
Palace of Westminster Building Renewal
In Lot 1 BDP beat HOK, Foster + Partners and Allies and Morrison.
CH2M Hill win for Lot 2, beating Aecom & Mace (Joint Venture), Capita Property Infrastructure & Gleeds Cost Management (Joint Venture), EC Harris (ARCADIS) and Turner & Townsend
Namdaemun Office Tower, Seoul, South Korea
Design: Mecanoo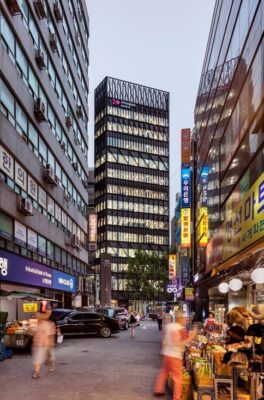 photo courtesy of architects firm
Namdaemun Office Building
25 Jul 2017 – The Namdaemun Office Building in Seoul is Dutch architectural studio Mecanoo's first completed project in the South Korean capital. Stark linear facade patterns make for a powerful architectural form.
Robarts Library Building, University of Toronto, Toronto, Ontario, Canada
Design: Diamond Schmitt Architects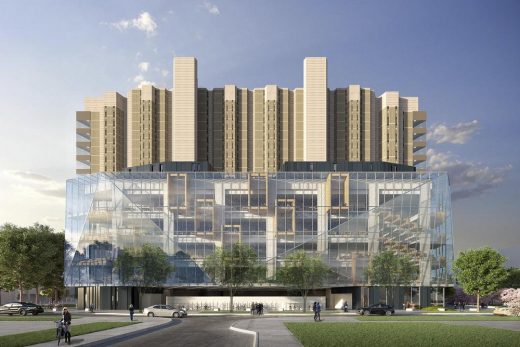 image courtesy of architects office
Robarts Library Expansion at the University of Toronto
24 Jul 2017 – A major expansion of the largest academic library in Canada. The University of Toronto will add 1,200 work and study spaces to the concrete Brutalist building.
Building News from June 2017
1 Jul + 30 + 29 Jun 2017
Tower Cladding Samples Fail Fire Safety Tests
137 cladding samples from high rise buildings have now failed fire safety tests carried out for the UK government by the The Building Research Establishment Ltd (BRE).
EVERY panel tested has failed the government's combustibility tests.
UK Tower Cladding Samples Fire Safety Tests News
Scotland is not included in the current testing regime but the Scottish Government is carrying out a similar review.
The British Government looks to be facing a cladding safety bill of around £600m after the Grenfell Tower fire.
Clearly those involved in the prcourement of UK buildings have focused too much on cost savings and not enough on building safety.
1 Jul + 30 Jun 2017
National Arts Centre Building, Confederation Square, Ottawa, Canada
Design: Diamond Schmitt Architects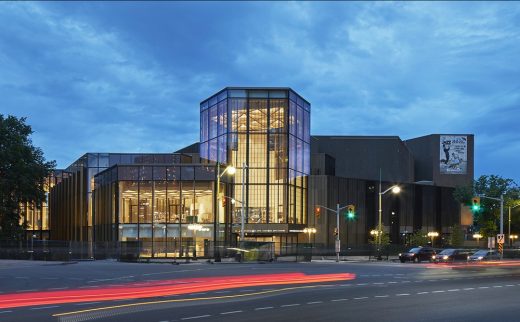 photo : Lisa Logan Photography
National Arts Centre Building News
Architectural News from March 2017
26 Mar 2017
St Michael's Manchester Development On Hold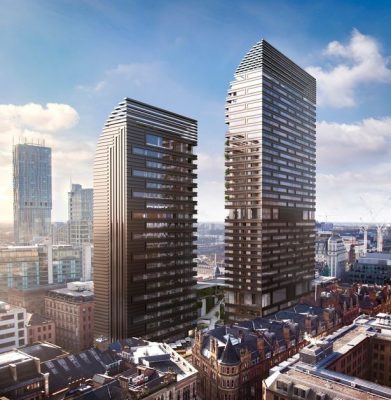 image courtesy of architectural office
St Michael's Manchester Development News
Manchester City Council confirms that former Man Utd footballers Gary Neville and Ryan Giggs have requested this major city centre scheme be put on hold.
Speaking at the MIPIM property fair in France, footballer-turned-developer Neville said he wanted the proposal to be more refined before ebing considered by MCC. The current design is by Make Architects, based in London.
Building News from February 2017
Feb 16, 2017
Workforce Housing Buildings, Newark, NJ, USA
Design: Richard Meier & Partners Architects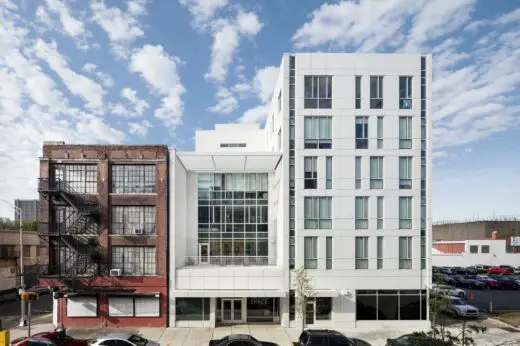 photo : Scott Frances
Teachers Village in Newark, New Jersey
Completion of three new Workforce Housing Buildings in Newark. These new buildings provide 123 residential units and a variety of retail spaces. Within the Teachers Village project, all buildings by this celebrated architecture office have been designed with open interior spaces full of natural light.
16 Feb 2017
Leeza SOHO, Beijing, China
Design: Zaha Hadid Architects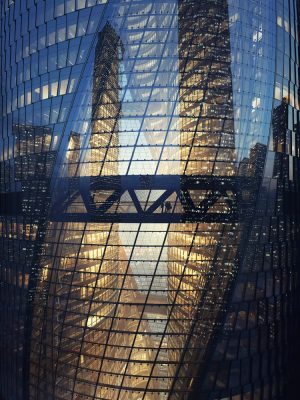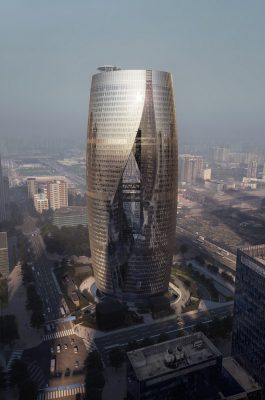 image courtesy of architects
Leeza SOHO
Within the Lize Financial Business District – a new business, residential and transport hub adjacent to Financial Road in southwest Beijing. The new building will be located at the intersection of Lines 14 and 16 currently under-construction for the Beijing Subway rail network.
16 Feb 2017
Eclipse, Amor de Perdição Square, Porto, Portugal
Architect: FAHR 021.3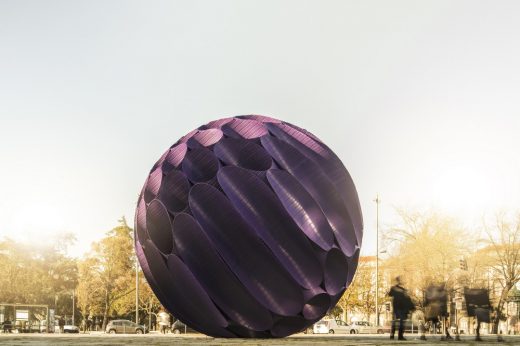 image courtesy of architects
Eclipse in Porto
This temporary installation celebrates the 20th anniversary of Porto's historic centre being classified as a UNESCO World Heritage site. The architecture studio FAHR 021.3 created a sphere that shifts the centre of the square towards its gravitational pull temporarily.
Recent Architecture News
Architectural News : selected buildings from around the world shown recently on the architectural news page
World Architecture Festival news : World Building of the Year Award
Zaha Hadid building news : Heydar Aliyev Centre, Baku, Azerbaijan – photos
Recent Architecture Articles
Original content on e-architect – Recent Archive:
Low-cost Housing for the Elderly
13 Oct 2013 by Joel Solkoff
Joel Solkoff looks at housing access issues, from the low proportion of housing that is wheel chair accessible to the requirement of elderly individuals to spiritually uplifting laces such as museums.
Morgan Library Disability Architecture, NYC, USA
24 Aug 2013 by Joel Solkoff
When I began this column I wrote: "The future of architecture is rapidly requiring you to redesign the world to meet the requirements of the largest generation in world history. Ours is an aging population in the process of developing disabilities–but a generation with the determination, education, political clout, and for many the wealth to live independently none-the-less."
Architecture Articles for e-architect
Architectural News Archive
Sustainable Architecture : Carbon Emissions Rise – radical plan required
Architecture Studio Profile : Norton Ellis Architects
"After just a few weeks listed on e-architect we were contacted by a new client for a residential refurbishment. The project suits us perfectly, I was amazed how the website created a new project so soon for us. I'm delighted that we signed up with e-architect, which we should have done sooner." Robert Ellis, architect
We feature selected buildings below that have recently appeared on the Architecture News. A wider selection of new buildings can be found in our monthly architectural news pages. We try to choose major buildings / designs that have created the most interest for our readers. Buildings can be located anywhere in the world and don't have to be contemporary – major building refurbishments and architectural redevelopments are also welcome.
Buildings for the World Architecture News page welcome: info(at)e-architect.com
Website: Architecture