Finsbury Health Centre Architect, Modern Architecture London, News, Refurbishment, Sale
Finsbury Health Centre
Modern Islington Building, North London design by Berthold Lubetkin architect, England, UK
30 Jan 2012
Finsbury Health Centre Building News
At the next meeting of Save Finsbury Health Centre (SFHC) there will be an update on moves towards establishing a building preservation trust. There will also be planning for a public event to celebrate both the continued use of Finsbury Health Centre as an NHS heath centre and the new Finsbury Health Centre Preservation Trust.
Finsbury Health Centre – photos © Adrian Welch, taken on 16 Sep 2011
FHC's future will not be 'secure' apparently unless the Health Reform Bill is dropped, according to SFHC. The Bill in its original form said nothing about NHS property, and September's directive to devolve ownership to providers using over 50% of the building has apparently been resisted by the potential Foundation Trusts and GP surgeries affected.
Finsbury Health Centre Building News 2010
Islington Council was due to meet 1 Mar 2010 to decide the fate of this Berthold Lubetkin building.
Finsbury Health Centre, Pine Street, northeast London
Date built: 1938
Design: Berthold Lubetkin Architect
Finsbury Health Centre photos © Adrian Welch, taken on 16 Sep 2011
Status: Grade I
Berthold Lubetkin's daughter Sasha made an impassioned plea on 1 Feb 2010 for the retention and refurbishment of Finsbury Health Centre to the Health and Wellbeing Review Committee. Of all the buildings Lubetkin designed, she said, this was his favourite.
Save Finsbury Health Centre
Decision by Health Secretary Alan Johnson : Islington Primary Care Trust asked to reappraise selling the building and investigate ways to keep it open, involving local stakeholders.




photos © Nick Weall, 20 Jun 2010
This good news follows recommendations made by the Secretary of State's Independent Reconfiguration Panel. This website fully supports the campaign to keep the building open, well-maintained and properly connected to local people.
Finsbury Health Centre Sale
Islington Council voted unanimously to refer the proposed sale of Berthold Lubetkin's building to health secretary Alan Johnson.
13 Feb 2009
Islington Primary Care Trust to sell Berthold Lubetkin's building due to the large cost of refurbishment.
29 Jan 2009

Link to the Campaign to save this celebrated Modern building at the base of this page
FINSBURY HEALTH CENTRE, Pine Street, London EC1
Notes © John Allan, Avanti Architects, Jan 2009
Finsbury Health Centre Building
ORIGINS
Finsbury Health Centre was commissioned by the Indian doctor Chuni Katial on behalf of the Public Health Committee of the former Metropolitan Borough Council of Finsbury and designed by the architectural partnership Tecton under the leadership of the Russian architect Berthold Lubetkin. It was opened by the King's Physician Lord Horder in October 1938 and has remained in operation ever since.
It offered a wide variety of health services to the people of Finsbury and was designed to be adaptable to new requirements as healthcare priorities developed and changed. It is one of the most significant achievements of the early Modern Movement in Britain, bringing together for the first time in a municipal building its social commitment, its architectural ideals and its technical innovation.
It anticipated the foundation of the NHS by a clear decade and was acclaimed as a model of coordinated public health service provision in a radical building type. It is now listed Grade I.
BUILDING DESIGN
The building is designed in the form of a letter H with arrival, reception, a lecture theatre and core services in the central section, and flexibly planned clinical accommodation in the two wings. The building form creates an entrance garden through which ramped access is provided to the main entrance in the centre of the plan.
The full floorplate extends over ground and first floors, with a partial lower ground floor, accessed independently from the rear via a vehicular service courtyard. Parking spaces are ranged along the Pine Street frontage. The building structure consists of reinforced concrete frame, with glass block and curtain wall infill, tiled wall surrounds and an asphalt roof.
REPAIR AND REFURBISHMENT
After seven decades in use the building has been altered (slightly) and has deteriorated from ongoing lack of maintenance. The first systematic (albeit partial) project to restore the building fabric authentically was commissioned by Islington Health Authority and carried out under the direction of Avanti Architects in 1994.
The works included re-roofing, concrete repair, window repair and replacement, renovation of the curtain wall and retiling of one wing, reinstatement of original colours and renewal of the trompe l'oeil metal entrance sign. This project provides the model for full refurbishment of the remainder of the building envelope when funds become available.
CURRENT STATUS
The local health authority is now seeking to dispose of the centre and relocate the various services it provides to other areas within the borough, including a new building yet to be built. This is in spite of the clear wishes of the local community who is deeply committed to the building, appreciate its unique significance and depend on its services being provided from the current location.
No significant work is believed to have been undertaken since the partial refurbishment project of the mid 1990s, but the building remains entirely capable of restoration and upgrade. Its layout, form and historical ethos all embody the ideals of public service and this, coupled with undiminished local need, all point to the retention of this building in the use for which it was designed.
But there is also scope for adaptation despite its listed status, provided this is sympathetically conceived. If, as is being suggested, the necessary funds are not currently available, then more determined efforts are needed to establish them. The unfavourable comparisons being made between the costs of retention and the redistribution of services and new building appear inconclusive at best.
MY INTEREST
I feel a particularly close association with this building, both on account of Avanti's earlier restoration project of the mid 1990s, which itself derived from a survey we undertook in 1988 marking its 50th anniversary, and also through my connection with the original architect, Berthold Lubetkin, whose biography I published in 1992. I remain wholly committed to the belief that the health centre has a viable and vital future and that a new project is demanded that is worthy of this unique building which was a pioneering icon on completion and is still widely loved and internationally admired today.
CONTACT DETAILS
John Allan, Avanti Architects Ltd, 361-373 City Road, London EC1V 1AS
Tel. 020 7 278 3060 Fax. 020 7 278 3366
[email protected] www.avantiarchitects.co.uk
Finsbury Health Centre Refurbishment
Date of renewal: 1994
Design: Avanti Architects
Finsbury Health Centre architect : Berthold Lubetkin
Location: Pine Street, London, England, UK
London Buildings
Contemporary London Architecture
London Architecture Designs – chronological list
London Architecture Tours by e-architect
Save Finsbury Health Centre campaign – external link
Finsbury Square Building : Eric Parry
Agar Grove Homes, Camden, North London
Design: Hawkins\Brown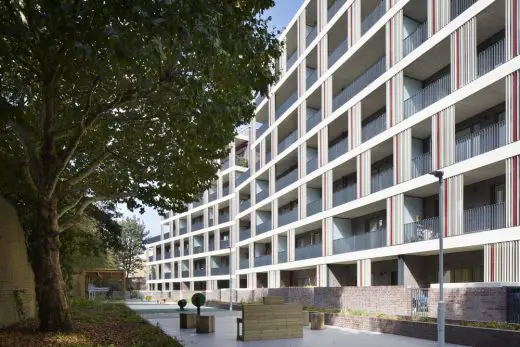 photograph © Jack Hobhouse
Agar Grove Homes
Comments / photos for the Finsbury Health Centre London page welcome