London Passive House, Holland Park Property, Passivhaus Home England, Project, Design
Passive House London
Passivhaus UK: Holland Park Home – design by Paul Davis + Partners, architects
10 Mar 2011
London Passivhaus – Passive House Retrofit
The first certified retrofit to Passivhaus standards in the UK – a social home built in the 1850's
Location: 100 Princedale Road, Holland Park, north west London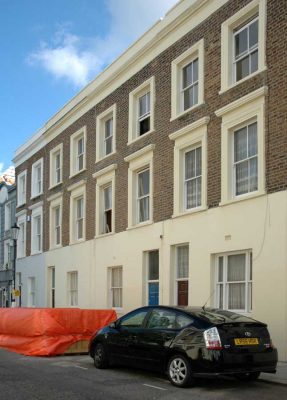 Holland Park Property photo from Paul Davis + Partners Architects
Passive House in London
Paul Davis + Partners Architects together with client Octavia Housing and the 100 Princedale Road Team have received the first Passivhaus certificate for a retrofit project in the UK, cutting CO2 emissions by 83% and saving tenants £910 per year in fuel bills.
Paul Davis + Partners alongside engineers and builders Ryder Strategies, environmental consultants Eight Associates and consultants/ project managers Greentomatoenergy, transformed , the 1850s terraced house in a Holland Park conservation area for client Octavia Housing by refurbishing it to strict Passivhaus levels. This is a German low-energy building standard that requires the home, amongst other criteria, to use less than 15kWh of energy to heat it per m2 per year, compared to the UK average of 130kWh.
The home's CO2 emissions and energy consumption have been cut by an estimated 83% and 94% respectively, saving the tenants an estimated £910 a year on fuel bills. The ultimate goal is to offer maximum comfort to the inhabitants and a home that is future proofed against fuel poverty.
How they did it:
The team took stripped back the house to the facade, removing the internal walls, staircases and chimney breasts. They then created a thermal envelope within the brick exterior using 20cm of insulation and a continuous airtight layer made of timber OSB boards. The timber joists were re-hung on steel beams resting on party walls. This measure avoided creating problematic "cold bridges" to the exterior brickwork.
The bespoke triple-glazed "sash" windows, created by the contractor, were also key to the design. They are in fixed at the top and hinged at the bottom and meet with conservationists' approval matching externally the original sash window design.
The project also includes another first: a labyrinthine underground heat exchange beneath the lower floor slab, providing fresh air in summer and warm air in winter.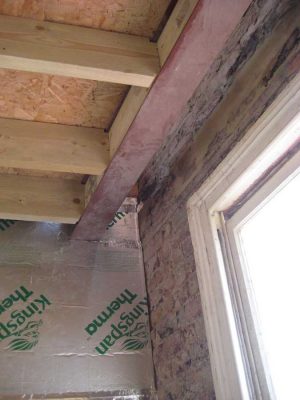 Holland Park Property photo from Paul Davis + Partners Architects
The house comes equipped with over other dozen low energy innovations including the super wall insulation, solar thermal panels and a heat exchanger system (MVHR) that recycles energy from waste air and water. The home has no gas boiler, radiators or conventional heating system and uses these innovations to keep the house at a comfortable temperature with a healthy air-flow all year round.
All in all, the home has a primary energy demand of 10kWh/m2.year and a space heating energy demand of 80kWh/m2/year. It emits just 15kg CO2/m2/year.
The project cost was £178, 000 in total, which included £83,000 of energy measures and £90,000 of other measures. This gives a payback period of 49 years if the energy price stays stable, or just 24 or 17 years if energy prices rise 5% and 10% annually respectively.
Energy and building services manager from Octavia Housing (Client), Lewis Lowe said that: 'We are delighted that 100 Princedale Road, a social home built in the early Victorian period, is the first refurbished home of any age in the UK to achieve this challenging and highly regarded accreditation. The project has highlighted many new refurbishment techniques and procedures not typical in standard refurbishments and as a result it has brought the Passivhaus principles into our new build programme. This has been an opportunity by Octavia to demonstrate that even the hardest of homes to heat can be refurbished to an exemplar standard.'
Pd+p Project Architect, Marion Baeli said: 'Achieving PassivHaus standard in Victorian housing stock, beside the fact that it is technically a 'tour de force', has the potential to help the increasing number of families in the UK facing the disastrous consequences of fuel poverty. This approach also offers optimum internal comfort, healthy environment and help improve well being of people living in old existing houses.'
Environmental Consultant, Jean-Pierre Wack said: "By delivering a PassivHaus, Princedale Road achieves exemplar carbon emissions reductions without compromising on thermal comfort levels. The site specific response is especially creative in undertaking environmental improvements adapted to this historic building".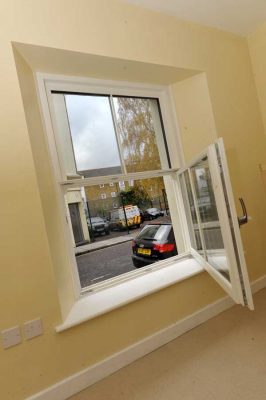 Holland Park Property photo from Paul Davis + Partners Architects
Dr Wolfgang Feist, the founder of Passivhaus, presented the project team with the very first PassivHaus certificate awarded to a retrofit in the UK on 1 March 2011 at EcoBuild. Accreditation was given by Peter Warm of WARM: Low energy building practice, one of just four Passivhaus certifiers in the country.
Passivhaus certifier, Peter Warm, said: 'The renovation at 100 Princedale Road is a milestone in the history of thermal renovation – it has achieved the demanding "Passivhaus" standard, the leading standard for low energy building. What makes this a milestone is that this is a building in a conservation area, where external wall insulation is not generally acceptable, and that it has dealt with the difficult issues of internal wall insulation and building airtightness by an overall concept of lining the shell with a continuous box. The airtightness of the building is ten to twenty times better than most current building projects. This surely will be one of the buildings that shape how we learn to deal with our existing housing stock.'
Tenant Ms Bakali recently moved into the home with her three children; aged 16, 11 and 5. Over the next two years, the efficiency and comfort levels of the home can be monitored by the public via www.greenoctavia.org.uk. Energy readings will be collected from the home and compared to two similar homes on the same street which have been refurbished to lower levels of energy efficiency. Ms Bakali and her family will also be regularly visited to see how they are finding living in their unconventional home.
Find out more about the retrofit project: www.greenoctavia.org.uk
1. Octavia Housing is a forward thinking, not-for-profit organisation with a sound track record in social housing and providing care services for the most vulnerable in our communities. Octavia own and manage a portfolio of some 4,000 homes, nearly all in the heart of London and are working to make these homes more energy efficient. Octavia Housing have recently been given permission for a large mixed-tenure Passivhaus development in the capital, providing 30 affordable low energy homes for Londoners, completing in 2012.
2. Competition partners Paul Davis + Partners are an 85 strong London-based practice known for their skilful integration of contemporary architecture within historic environments and their commitment to sustainable architecture, having won an international competition for building 70 code level 5 houses in Northern Ireland and several low energy developments in London.
3. Competition partners Ryder Strategies is a building company that specialises in the services design and construction of low energy houses. They are responsible for the construction and the services design including many of the innovations used.
4. Competition partners Eight Associates are an environmental consultancy specialising in environmental assessments and energy modelling. They have consulted on numerous retrofits within London's historic environments. This has led to their advice being sought by two local authorities to mediate between the policy team and design and conservation officers on suitable policy targets.
5. Competition partners greentoamtoenergy are low energy consultants and installers of renewable and low energy technologies.
6. Work began on site in April 2010 and was completed in December 2010.
7. Retrofit for the Future is a £17m programme, managed by the Technology Strategy Board, that will see over 80 social housing units retrofitted with new, innovative technologies. Understanding and implementing best practice retrofitting of properties is key to meeting the government's CO2 reduction target of 80% by 2050. The results of the retrofit projects will be shared to help provide clear future direction on making the UK's current housing stock more energy efficient.
8. The Technology Strategy Board is a business-led executive non departmental public body, established by the Government. Its mission is to promote and support research into, and development and exploitation of, technology and innovation for the benefit of UK business, in order to increase economic growth and improve quality of life. It is sponsored by the UK's Department for Business, Innovation and Skills (BIS). www.innovateuk.org.
Passivhaus London images / information from Paul Davis + Partners
Location: 100 Princedale Road, London, England, UK
London Buildings
Contemporary London Architecture
London Architecture Designs – chronological list
London Architectural Tours by e-architect
Key Project by Paul Davis + Partners in London:
Saatchi Gallery, Duke of York development, Chelsea, southwest London, UK
2008



image © Timothy Soar
Saatchi Gallery – Grade II listed building
Design by Paul Davis & Partners for the Saatchi Gallery
Fit-out architect – AHMM
First UK zero-carbon Passivhaus
The Larch House
Design : bere:architects



image from architect
Passivhaus Wales
Wimbish Passivhaus Scheme
Parsons & Whittley Architects



photo from the architect
Wimbish Passivhaus Scheme
London Architecture Photographs
Comments / photos for the Passivhaus London – Passive House Architecture page welcome