Spire London Tower, Docklands Skyscraper, Architect, Residential Building Design Images
Spire London, Docklands Skyscraper
Tallest resi-tower in Western Europe: High-Rise in England, UK – design by HOK Architects
5 Sep 2016
Spire London Docklands Tower
Design: HOK, Architects – architects Larry Malcic and Christopher Colosimo
Location: Hertsmere Road, adjacent to Canary Wharf, at West India Quay
The tallest resi-tower in Western Europe
CHINA'S GREENLAND GROUP LAUNCHES £800+MILLION SPIRE LONDON IN LONDON DOCKLANDS: THE TALLEST RESI-SKYSCRAPER IN WESTERN EUROPE
Previously unseen images of London's new £800+m resi-skyscraper, built by China, the tallest resi-tower in Western Europe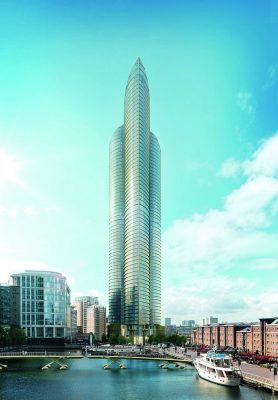 • London's new £800+ million residential skyscraper will be the tallest in the UK and Western Europe, known as Spire London
• Greenland Group, China's largest premium residential developer, is building and launching Spire London in London Docklands
• The 235.145 metre (771ft) high 67-storey residential tower, has a GDV (completed value) in excess of £800 million
• The new resi-skyscraper will be the tallest in the UK and Western Europe
• The tower will provide 861 apartments of which 765 are for private sale
• The private sale apartments include luxurious suites, one, two and three bedroom apartments, and three bedroom duplex penthouses
• The skyscraper will also provide hotel-style concierge, retailing, residents' gardens and five-star lifestyle amenities including a 35th floor Spa and Club Bar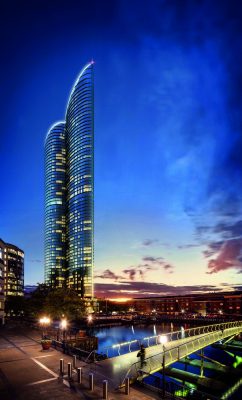 • Greenland Group, founded in 1992, is listed on the Shanghai Stock Exchange and has a £53 billion (GDV) global portfolio of property and other assets
• Greenland Group is building more than 82 million sq.m. of new commercial and residential projects worldwide
• Greenland Group has projects in 80 cities/towns across China and 12 cities internationally
• Spire London is located in Hertsmere Road, adjacent to Canary Wharf, and directly fronts onto the 30 acres of water in West India Quay
• Spire London is designed by architects Larry Malcic and Christopher Colosimo of multi-award-winning architectural practice HOK
• The specification, apartment layouts and interiors are by leading interior designer Nicola Fontanella of Argent Design
• The tower will provide panoramic views over the whole of London – the highest and most far-reaching ever provided by apartments in the capital
• Residents will have spectacular views of the River Thames, Canary Wharf, the City of London and far beyond, including numerous famous and historic landmarks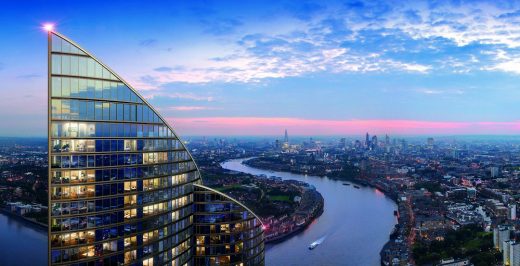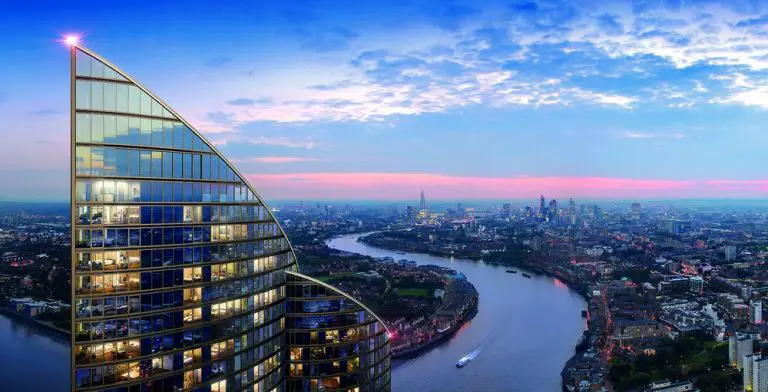 • The striking architecture is inspired by the nautical history of the Dock site and by the orchid, a flower cultivated in China for more than 3,000 years
• Three petals form the spire, creating faceted glass façades and nautical style 'prow' and 'bow' contours
• The angled roof of the tower allows for outside terraces in the premier and penthouse apartments
• Feature louvres allow for natural ventilation throughout the building
• Around the tower there will be a new public realm with a paved piazza, entrance driveways, birch trees and sculptural benches
• To the northeast of the tower there will be a dramatic dancing fountain, inspired by the one at Somerset House
• Spanning the entire depth of the ground floor is a through-lobby providing striking views, designed to recall the quality and appearance of a boutique hotel
• The luxurious lobby has a 6 metre (19.7ft) high ceiling, columns, feature lighting, lounge seating and concierge with an Orchid petal shaped reception desk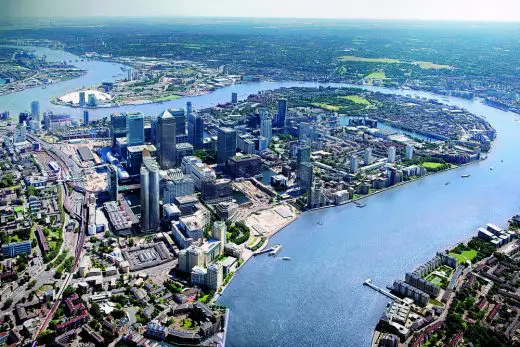 • Spire London offers the best lift provision of any new residential tower in London, with nine passenger lifts to the private apartment floors
• Most existing towers provide just 4-6 passenger lifts
• The waiting time for a lift will be just 30 to 35 seconds, with the passenger cars travelling up the building faster than six metres per second
• The luxurious private sale apartments are on the eighth to 66th floors of the tower
• Apartment sizes range from 50 sq.m. (538 sq.ft) for a one-bedroom apartment to 150 sq.m. (1,615 sq.ft) for a three-bedroom duplex
• The apartments have bright open interiors with 2.6 metre (8.5ft) high ceilings in the living spaces and bedrooms, bordered by floor-to-ceiling windows
• Features include curved walls, comfort cooling, large living areas, custom-designed open-plan bespoke kitchens and boutique hotel-style bathrooms
• The premier and penthouse apartments are on floors 56 to 66
• Features including designer kitchens with breakfast bars, 2.625 metre (9.2ft) high ceilings, walk-in dressing rooms and private roof terraces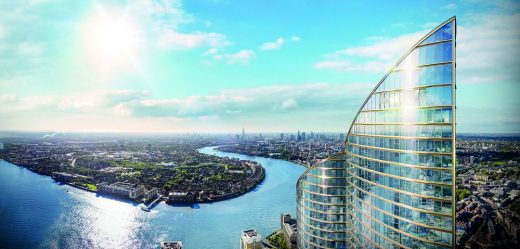 • Spire London will provide a range of outstanding five-star lifestyle amenities
• The 35th floor Spa will include a 465 sq.m. (5,000 sq.ft) pool room with swimming pool with infinity edge, lounge areas and a Jacuzzi
• The 35th floor also features a 185 sq.m. (2,000 sq.ft) gymnasium and fitness studio with changing facilities
• The Club room has a central cocktail bar, lounge seating and feature wine displays
• The cinema room has automatic curtains/blinds to reveal – or provide privacy from – the far-reaching City views
• The second and third floors provide community space for residents including meeting rooms, a games room and music/learning/cultural space
• The third floor also incorporates an open deck which forms a residents' garden
• To either side of the tower are a pair of three-storey pavilion buildings providing 500 sq.m. (5,382 sq.ft) of high quality retail space with residents' roof-gardens above
• The pavilion roof-gardens and third-floor garden deck provide 929 sq.m. (10,000 sq.ft) of private gardens for residents
• At night, feature lighting around the top of the tower will reinforce the landmark silhouette of Spire London
• The tower lighting is complemented by accent lighting to the trees, benches and paved piazza, creating a striking impression to the approach to the building after dark
• The construction of Spire London is underway
• Above-ground demolition works at the site have already been undertaken
• Piling for the tower will begin in January 2017
• The tower scheduled to reach the halfway point in height during the summer of 2018
• Build completion is scheduled for 2020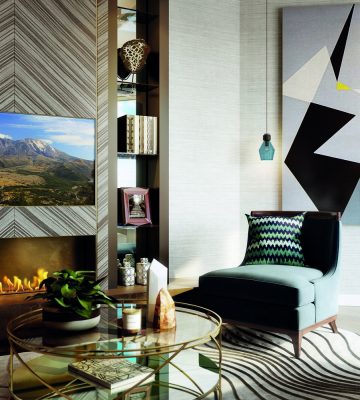 Yuliang ZHANG, Chairman and President of Greenland Group said: "Spire London will create a new iconic landmark on the London skyline. This tower will be Western Europe's tallest residential building and underlines London's enduring status as a world-class city and destination. This is Greenland Group's most important project in Europe, and will deliver exceptional new homes for Londoners. Greenland Group operates across four continents and is a global leader in delivering high-rise residential buildings, and has already built or is developing four of the ten highest buildings in the world."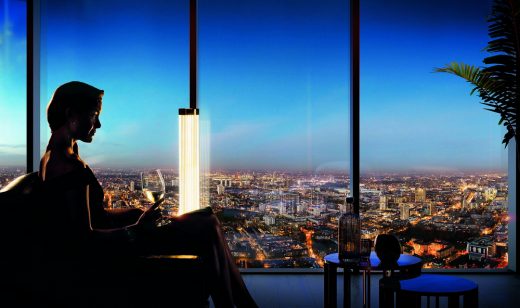 Wenhao QIAN, Managing Director of Greenland (UK) Investment Ltd said: "This important launch reflects the confidence that Greenland Group continues to have in both the London economy and the London property market. We believe that there is always a demand for 'best in class' property assets that offer a high quality, bespoke, designed and unique product in a prime location. In our view Spire London fulfils these criteria, and we believe there will be significant demand for the apartments within this tower from both the UK and overseas."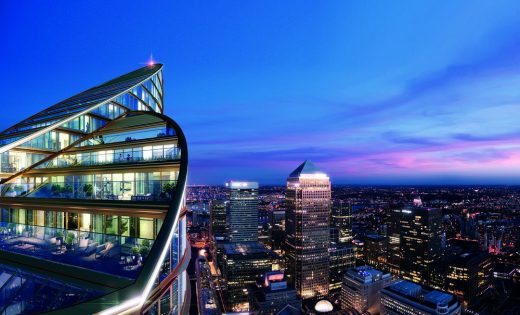 On Thursday 13th October the public launch of Spire London will take place in the state-of-the-art sales exhibition suite created by Argent Design in Warehouse Number One, directly adjacent to the development site in Hertsmere Road. Apartments at Spire London are priced from £595,000 (999-year leases, virtual freehold). For further sales information and to reserve a place at the launch event contact joint sole agents CBRE and JLL on Tel 020 3813 2471. For further information please visit www.cbreresidential.co.uk or www.residential.jll.co.uk, or visit www.spirelondon.com.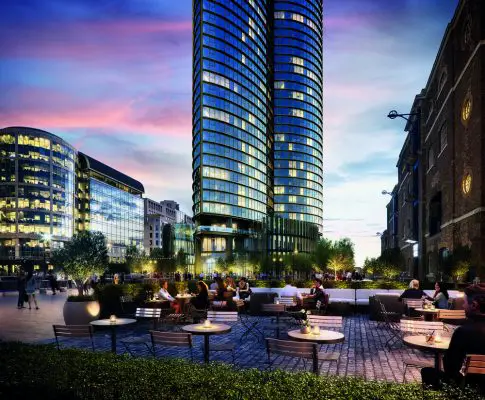 GREENLAND GROUP LAUNCHES SPIRE LONDON IN LONDON DOCKLANDS: THE TALLEST RESIDENTIAL TOWER IN WESTERN EUROPE
Greenland Group, one of China's largest premium residential developers, is launching Spire London in London Docklands, an 235.145 metre (771ft) high 67-storey residential tower, with a GDV in excess of £800 million, the tallest in the UK and Western Europe, with concierge, retailing, residents' gardens and five-star lifestyle amenities including a 35th floor Spa and Club Bar.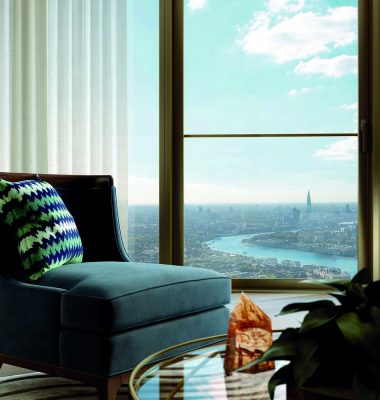 Located in Hertsmere Road, adjacent to Canary Wharf and directly fronting onto the 30 acres of water in West India Quay, Spire London is designed by architects Larry Malcic and Christopher Colosimo of multi-award-winning architectural practice HoK, and by leading interior designer Nicola Fontanella of Argent Design.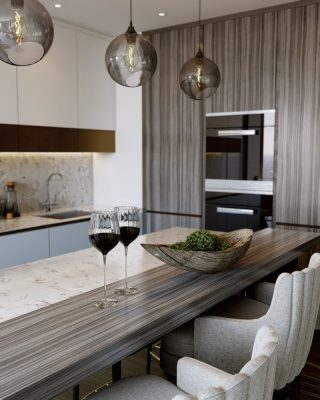 The tower will provide 861 apartments of which 765 are for private sale. The private sale apartments include luxurious suites, one, two and three bedroom apartments, and three bedroom duplex penthouses.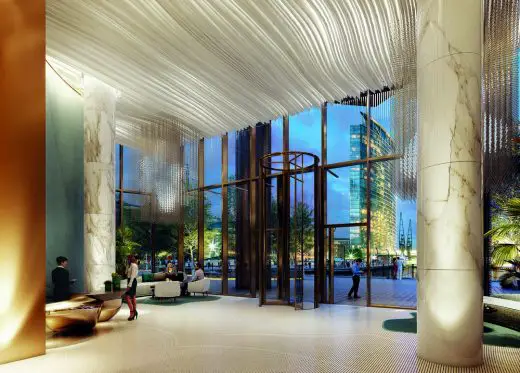 The tower has been designed to provide uninterrupted panoramic views over the whole of London – the highest and most far-reaching ever provided by apartments in the capital – capturing the Thames, Canary Wharf, the City of London, and numerous famous and historic landmarks.
The striking and unique architecture is inspired by the nautical history of the site and by the orchid, a flower cultivated in China for more than 3,000 years. Three petals form the spire, creating faceted glass façades and nautical style 'prow' and 'bow' contours. The angled roof of the tower allows for outside terraces in the premier and penthouse apartments, whilst feature louvres allow for natural ventilation throughout the building.
Bronze coloured metal detailing on the lower floors and bronze coloured feature fins on the pair of pavilion buildings either side of the tower complement the tan brickwork of the adjacent historic buildings around the dock basin. The dynamic façades and flowing interiors provide a refreshing and appealing contrast to the traditional tower and low-rise architecture of many buildings in Docklands.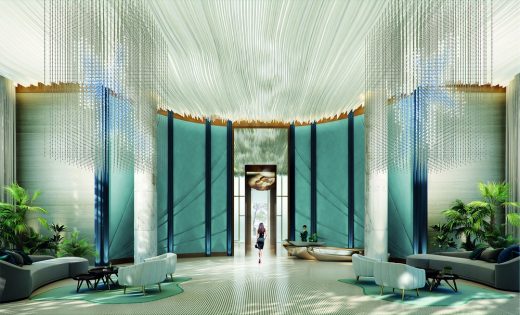 Spire London is designed so that resident and visitor arrivals deliver a memorable first impression. Around the tower there will be a new public realm with a paved piazza, entrance driveways, birch trees, sculptural benches, and to the northeast of the tower a dramatic dancing fountain, inspired by the one at Somerset House.
Spanning the entire depth of the ground floor is a through-lobby providing striking views. Designed to recall the quality and appearance of a boutique hotel, the luxurious lobby has a 6 metre (19.7ft) high ceiling, columns, feature lighting, lounge seating and concierge with an Orchid petal shaped reception desk.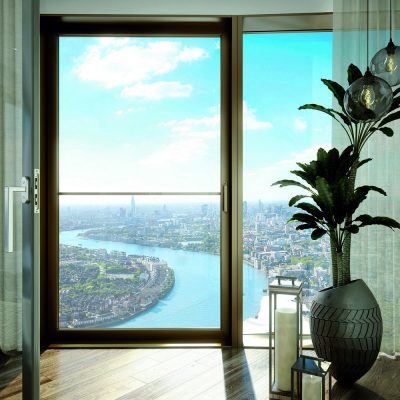 Inspired by the Thames landscape, Argent Design has given the lobby an aquamarine, white and bronze colour scheme with terrazzo flooring and swirling rugs which echo the shape of the Thames.
Spire London offers the best lift provision of any new residential tower in London, with nine passenger lifts to the private apartment floors. Most existing towers provide just 4-6 passenger lifts. The waiting time for a lift will be just 30 to 35 seconds, with the passenger cars travelling up the building faster than six metres per second.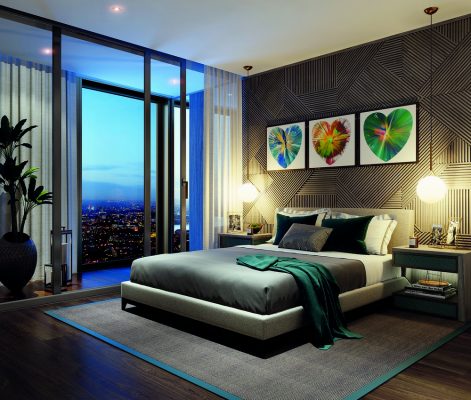 The luxurious private sale apartments are on the eighth to 66th floors of the tower with sizes ranging from 50 sq.m. (538 sq.ft) for a one-bedroom apartment to 150 sq.m. (1,615 sq.ft) for a three-bedroom duplex.
Argent Design has worked closely with Greenland Group to create apartments with bright open interiors with 2.6 metre (8.5ft) high ceilings in the living spaces and bedrooms, bordered by floor-to-ceiling windows.
With their curved walls, flowing spaces and abundance of natural light, the apartments will provide a stylish home, the perfect place to live, relax, entertain and enjoy leisure facilities. Features include comfort cooling, large living areas, custom-designed open-plan bespoke kitchens and boutique hotel-style bathrooms with high quality finishes in natural materials including timber and stone.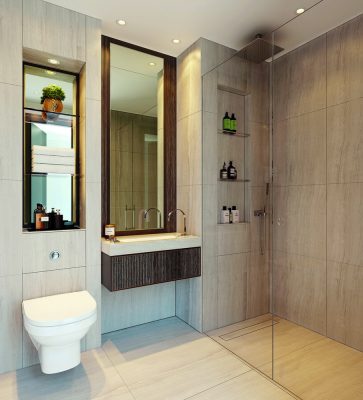 The premier and penthouse apartments are on floors 56 to 66 with features including designer kitchens with breakfast bars, 2.625 metre (9.2ft) high ceilings and walk-in dressing rooms in selected apartments. The angled roof provides the premier and penthouse apartments with the opportunity to use the outside space as private roof terraces.
Spire London will provide a range of outstanding five-star lifestyle amenities. The 35th floor Spa will include a 465 sq.m. (5,000 sq.ft) pool room with swimming pool with infinity edge, lounge areas and a Jacuzzi, and a place for leisure and relaxation whilst enjoying stunning views over London. There is also a 185 sq.m. (2,000 sq.ft) gymnasium and fitness studio. Changing facilities are available too.
The Club room has a central cocktail bar, lounge seating and feature wine displays. The cinema room provides the perfect venue for entertaining family and friends, and has automatic curtains/blinds to reveal – or provide privacy from – the far-reaching City views.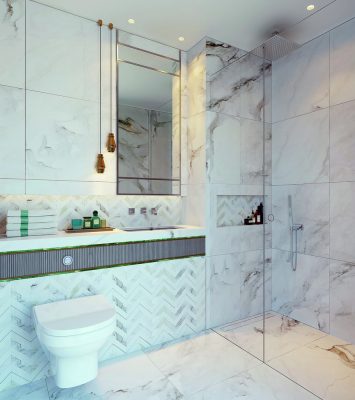 The second and third floors provide community space for residents including meeting rooms, a games room and music/learning/cultural space. The third floor also incorporates an open deck which forms a residents' garden. To either side of the tower are the three-storey pavilion buildings providing 500 sq.m. (5,382 sq.ft) of high quality retail space with residents' roof-gardens above. The pavilion roof-gardens and third-floor garden deck provide 929 sq.m. (10,000 sq.ft) of private gardens for residents.
At night, feature lighting around the top of the tower will reinforce the landmark silhouette of Spire London, complemented by accent lighting to the trees, benches and paved piazza, creating a striking impression to the approach to the building after dark.
The construction of Spire London is underway. Above-ground demolition works at the site have already been undertaken. Piling for the tower will begin in January 2017 with the tower scheduled to reach the halfway point in height during the summer of 2018. Build completion is scheduled for 2020.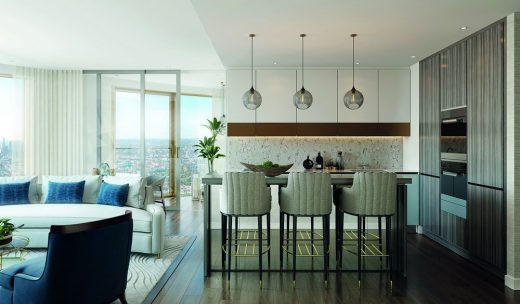 Peter GIBNEY, Director at JLLsaid: "Spire London is exceptionally well located, on the doorstep of Canary Wharf, London's financial hub, as well as providing easy access to the City of London and the UK stock exchange centre. The tower is just a short walk from Canary Wharf underground station (Jubilee line) and Canary Wharf and West India Quay DLR stations, providing access to Bond Street, Bank and City Airport within 15 minutes, and has the added benefit of the new Crossrail Link due to open in 2018."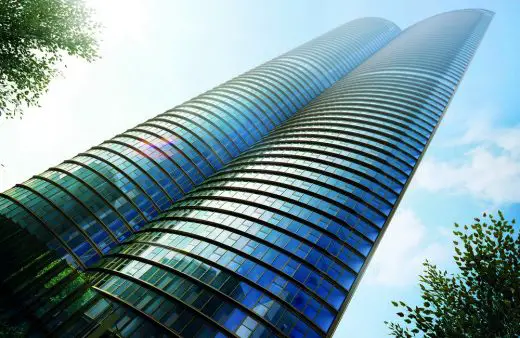 Matthew LEITCH, Senior Director at CBREsaid: "With its record breaking height, unrivalled views and dynamic architecture, Spire London is distinctly different to any other project being launched in Docklands. It stands apart from the current competition and we believe will attract buyer interest from both end-user and investor buyers from the UK and overseas."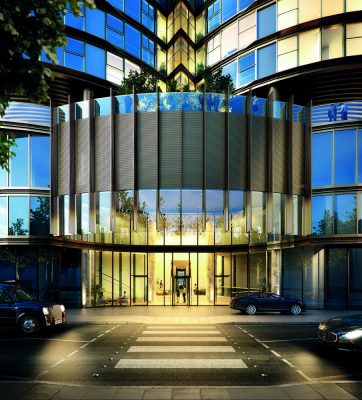 Spire London – Professional Team
Developer: Greenland Group
Greenland Group is China's premier residential property developer, founded in Shanghai in 1992 and led by founder, Chairman and President Yuliang ZHANG. The Group is listed on the Shanghai Stock Exchange and is a Fortune Global 500 company with extensive experience in delivering high quality residential and mixed-use developments around the world, operating across four continents. With its mission statement "create better lives" Greenland Group is a global market leader in property and lifestyle provision, and currently has a £53 billion (GDV) global portfolio of property and other assets, and is building more than 82 million sq.m. of new commercial and residential projects worldwide. Since 2012 the Group has undertaken overseas expansion and has projects in 80 cities/towns across China and 12 cities internationally. The Group has overseas projects in the UK (Spire London and Wandsworth Ram Quarter), U.S.A. (New York and L.A.), Australia (Sydney & Melbourne), Canada (Toronto), Germany (Frankfurt), Russia (St. Petersburg), South Korea (Seoul & Jeju), Malaysia (Johor Bahru) and Japan (Chiba).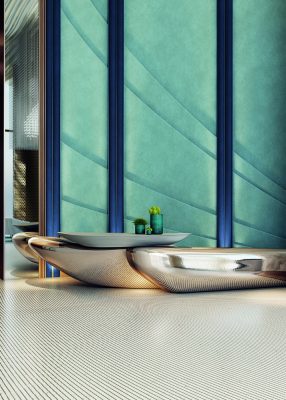 Architectural Practice: HOK
HOK is a globally acclaimed, award-winning architecture practice with 2,000 staff in 25 locations. HOK delivers exceptional designs through the creative blending of human need, environmental stewardship, value creation, science and art. Its origins are in mid-century America when three visionary architects conceived a highly collaborative design practice to provide diversity in design services, building types and geography. HOK London celebrates design with a clear focus on client expectations and occupant needs, and a strong thread of community context. Architects Larry Malcic and Christopher Colosimo were chosen to create Spire London because they have an impressive pedigree in designing landmark buildings in London and around the world, including Barclays World Headquarters and Five Churchill Place in Canary Wharf. The diversity of HOK's international work includes the Flame Towers in Baku (Azerbaijan), the Central Bank of Kuwait Tower, the Capital Market Authority Tower in Riyadh (Saudi Arabia), the LG Electronics Science Park and Research and Development Centre in Seoul (South Korea), the Yusha Square Towers in Haikou (China), and international airports in New Delhi, Riyadh and Doha. The consistent theme is enhancing lives through intelligent, sustainable and innovative design. Visit: www.hok.com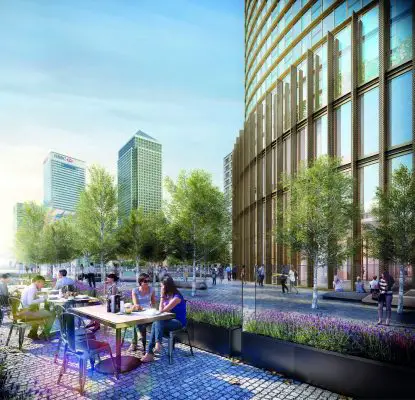 Interior Specification and design: Argent Design
Led by Founder and Managing Director Nicola Fontanella, Argent Design is a multi-award-winning design house with over 20 years experience in creating some of the world's most desirable, luxurious and high quality homes. Argent Design operates in both the UK and property hotspots including Miami, Monaco, New York, St Petersburg, Shanghai, and Verbier. Visit: www.argentdesign.co.uk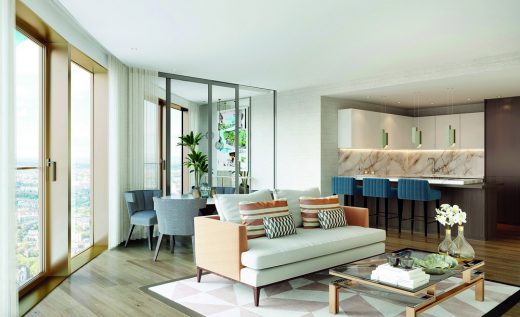 Joint Sole Sales Agent: CBRE Residential
CBRE Group, Inc. (NYSE: CBG), is a Fortune 500 and S&P company headquartered in Los Angeles in the United States. CBRE Group is the world's largest real estate services and investment firm (as measured by 2014 revenue). The company has more than 52,000 employees worldwide (including affiliates), and serves real estate owners, investors and occupiers through more than 370 offices (excluding affiliates) worldwide. CBRE offers strategic advice and execution for property sales and leasing; corporate services; property, facilities and project management; mortgage banking; appraisal and valuation; development services, investment management; and research and consulting. CBRE has been ranked number one brokerage firm by the National Real Estate Investor for the eleventh consecutive year and is the highest-ranking property company in the Fortune 'World's Most Admired Companies' list, and the firm also received the Euromoney Global Award for Advisors and Consultants. CBRE Residential London was named 'Residential Advisor of the Year' in 2015 at the Estates Gazette Awards in the category of 'Best New Homes' sales, and also won 'Investment Agency of the Year' at the RESI awards in 2014. These awards demonstrate industry and international recognition for the firm's exemplary service delivery, and show the power of the CBRE brand around the world. In summary, CBRE is recognized as a best in class advisor globally. Visit: www.cbreresidential.co.uk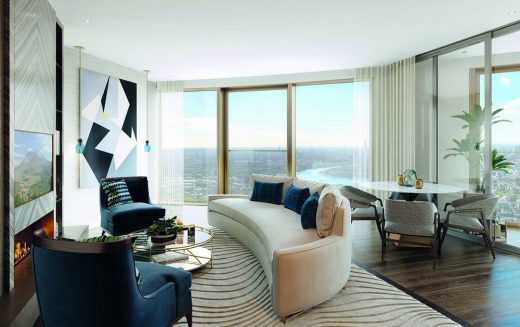 Joint Sole Sales Agent: JLL
JLL (NYSE: JLL) is a professional services and investment management firm offering specialized real estate services to clients seeking increased value by owning, occupying and investing in real estate. A Fortune 500 company with annual fee revenue of $5.2 billion and gross revenue of $6.0 billion, JLL has more than 280 corporate offices, operates in more than 80 countries and has a global workforce of more than 60,000. On behalf of its clients, the firm provides management and real estate outsourcing services for a property portfolio of 4.0 billion square feet, or 372 million square meters, and completed $138 billion in sales, acquisitions and finance transactions in 2015. Its investment management business, LaSalle Investment Management, has $59.1 billion of real estate assets under management. JLL is the brand name, and a registered trademark, of Jones Lang LaSalle Incorporated. For further information, visit www.jll.co.uk.
Spire London Tower Docklands Skyscraper images / information received 050916
Location: Hertsmere Road, London, England, UK
London Building Designs
Contemporary London Architecture Designs
London Architecture Designs – chronological list
London Architecture Tours – tailored UK capital city walks by e-architect
New London Skyscrapers
The Shard



tower photographs © Nick Weall
The Shard tower
'Walkie Talkie' building, Fenchurch St, City of London



image from Rafael Viñoly Architects
Walkie Talkie building
122 Leadenhall Street – The Cheesegrater



image : Cityscape
Proposed London skyscraper – 225m high – due to be tallest building in City of London
Key Existing London Skyscrapers
Canary Wharf, Isle of Dogs
Design: Cesar Pelli, architect



photograph © Jason Baxter
Tower 42 – formerly Nat West Tower
London office tower
183m high, 47 floors – tallest building in London until 1 Canada Square in 1990
The Shard – further information on the tower
The Shard Building : article from Aug 2012
Comments / photos for Spire London, Docklands Skyscraper page welcome
Website : Spire London Developer – Greenland Group