Robin Hood Gardens, London Modernist Building, Architect, Homes, Replacement, Images, News, Info
Robin Hood Gardens London
Modern Housing Poplar: East London Architecturedesign by The Smithsons, England, UK
24 May 2018
Robin Hood Gardens Exhibition News
Robin Hood Gardens: A Ruin in Reverse at the Applied Arts Pavilion, Venice Biennale 2018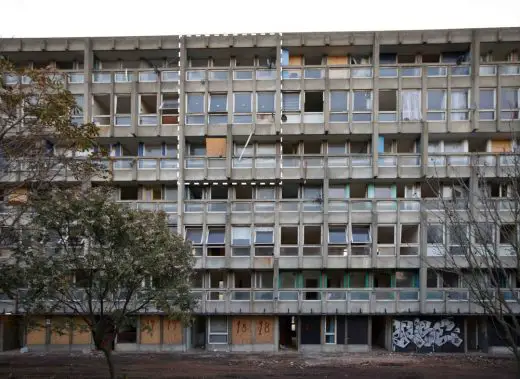 photo © The Victoria and Albert Museum, London
Robin Hood Gardens: A Ruin in Reverse
Robin Hood Gardens: A Ruin in Reverse is the title of the exhibition curated by Christopher Turner and Olivia Horsfall Turner at the Applied Arts Pavilion in the Sale d'Armi Arsenale.
For the third consecutive year, the collaboration between La Biennale di Venezia and the Victoria and Albert Museum, London has made it possible to present a Special Project jointly organised by the two institutions.
17 Apr 2018
Robin Hood Gardens Demolition News
The demolition of Robin Hood Gardens London was paused for five days after footage of a potentially deadly accident surfaced, reports Building magazine today. Developer Swan Housing revealed construction on the site stopped for almost a week after footage emerged.
Video footage showed a slab of concrete cross barrier and nearly hit worker.
28 Aug 2017
Robin Hood Gardens Scheme Images
Design: Metropolitan Workshop and Haworth Tompkins
Location: Tower Hamlets, London, UK
Tower Hamlets Housing Demolition
Demolition is now underway on Robin Hood Gardens.
It will be demolished in sections with the western block going first, report Dezeen. Residents of this block have long been evicted, but the eastern block is still occupied and will be pulled down later.
28 Jun 2017
CF Møller Appointment News
CF Møller appointment spells end for this Modern housing estate in Poplar, reports the AJ today.
Danish Architects CF Møller has been appointed to the latest phase of the Robin Hood Gardens estate regeneration – a scheme that will spell the end for the Smithsons' 'streets in the sky' development.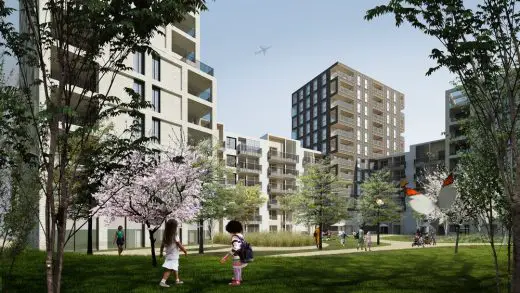 Court Yard View CGI
Robin Hood Gardens Redevelopment – Blackwall Reach in London
3 Aug 2016
Robin Hood Gardens Scheme Planning Application
Design: Metropolitan Workshop and Haworth Tompkins
Location: Tower Hamlets, London, UK
Planning application submitted for Blackwall Reach Phase 2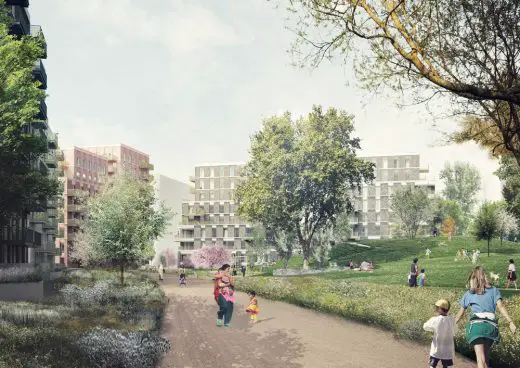 Millennium Green
Swan Housing Association has submitted a planning application to Tower Hamlets for Phase 2 of the Blackwall Reach Regeneration Project in Poplar, east London. Planning was submitted following extensive public consultation held by Swan and their regeneration partners of Tower Hamlets Council and the Greater London Authority.
Designed by Metropolitan Workshop and Haworth Tompkins, acting as joint architects, the proposed scheme delivers 268 new homes across four new buildings.
The scheme retains the original central park and mound within this housing estate in Tower Hamlets, a large public space shielded from the surrounding roads. An unusual feature in this densely built part of London, the park is appreciated by local residents and so the design retains this space in its entirety.
The four buildings, two designed by each practice, share a common architectural language but are different in style and expression, creating two distinct architectural 'quarters' around the central space.
Phase 2 is part of a large regeneration project, consisting of five phases, which will transform a key area of the borough, adjacent to the Blackwall Tunnel, replacing 252 homes with a total of 1575 new homes, commercial premises and community facilities. The entire masterplan will be delivered over the next decade, with the first phase already completed in 2015.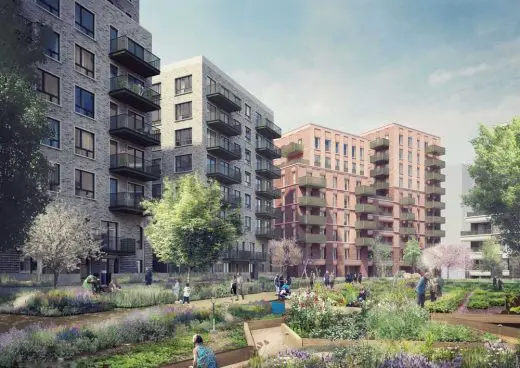 Millennium Green
Geoff Pearce, Executive Director Regeneration and Development, Swan Housing Group said:
"Metropolitan Workshop and Haworth Tompkins were selected as joint architects for the next phase of Blackwall Reach because of their track record of delivering high quality urban design and architecture in residential and mixed use projects. We believe their designs complement each other and show commitment to the art of making beautiful, sustainable buildings.
We think that their designs provide an inspired and deliverable redevelopment plan for the next phase of the regeneration of Blackwall Reach."
Neil Deely, Partner, Metropolitan Workshop said:
"We are looking forward to continuing our work with Swan Housing, the GLA, Tower Hamlets Council and the local community in due course and also furthering our successful collaboration with Haworth Tompkins. We are very pleased that the client group has embraced the recommendations for qualitative improvements to the plans for regeneration of the estate and to delivering the best possible place to live at Blackwall Reach."
Toby Johnson, Director, Haworth Tompkins said:
"We respect the legacy of the Smithsons and have been all too aware of the intellectual challenge involved in working on Blackwall Reach. However, we have worked closely with Metropolitan Workshop and Swan Housing to deliver a scheme that will preserve and enhance the open space and the heart of the estate, improve the relationship the new buildings make to the surrounding streets and provide better homes for the existing residents of the estate, as well as additional homes to meet the demand in this fast changing part of London.
We think these proposals will improve the quality of life for those living on and near the estate and support the wider regeneration of Blackwall Reach."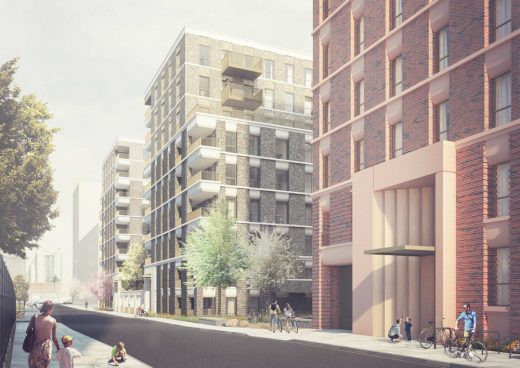 Woolmore Street
Location: Tower Hamlets, London
Type of project: Residential
Client: Swan Housing Association
Architect: Metropolitan Workshop and Haworth Tompkins
Landscape architect: Townshends
Structural engineer: AKT II
Haworth Tompkins + Metropolitan Workshop
8 Feb 2016
Robin Hood Gardens Replacement
Haworth Tompkins has been brought in to work on the replacement for Alison and Peter Smithson's soon-to-be-demolished Robin Hood Gardens estate in Tower Hamlets, reports the Architect's Journal.
Robin Hood Gardens (1968-72) by Peter and Alison Smithson: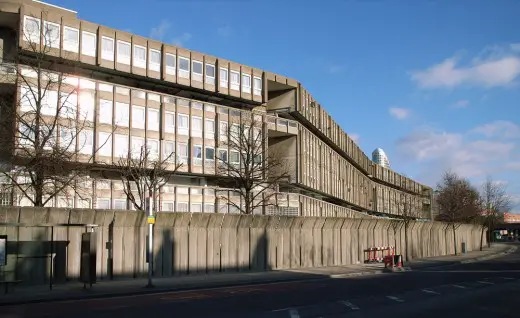 photo courtesy wikimedia commons
The Stirling Prize-winning practice joins Metropolitan Workshop Architects on the scheme – phase 2 of the estate's regeneration – which will see the Brutalist western block of the 1972 'streets in the sky' flattened to make way for around 200 homes.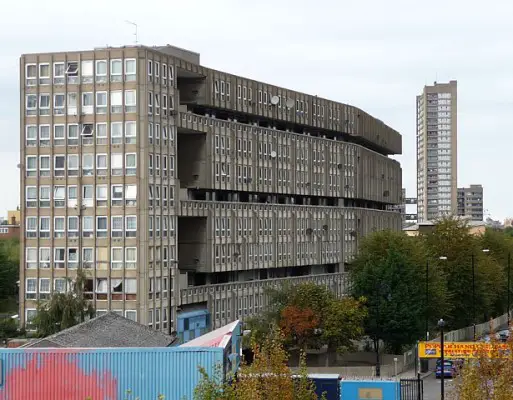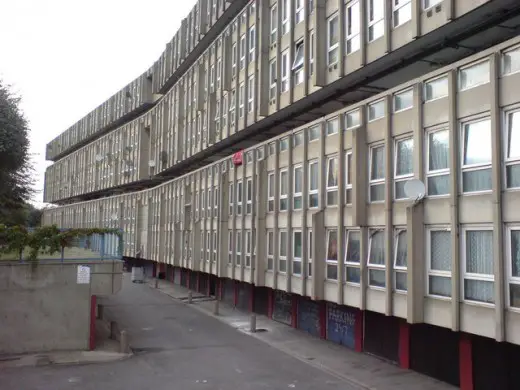 photos courtesy wikimedia commons
Metropolitan Workshop has already worked on refining the original redevelopment masterplan for the east London estate next to the Blackwall Tunnel – officially the Blackwall Reach Regeneration Project.
Jestico + Whiles, which was appointed with Metropolitan Workshop on the masterplan review following a contest in 2013, is no longer involved in the project.
Robin Hood Gardens
News Update 23 + 25 Feb 2011
Aedas set to oversee demolition of Robin Hood Gardens
Swan Housing Group has beaten London & Quadrant to be named as preferred partner for a 1,600-home regeneration project in east London.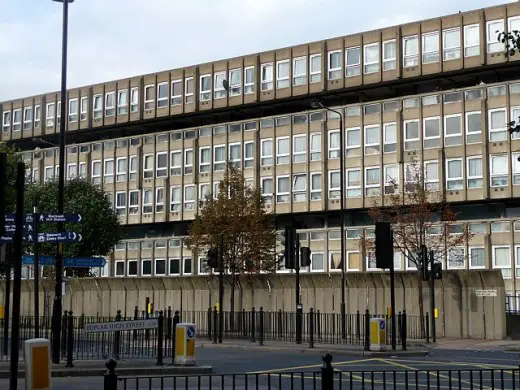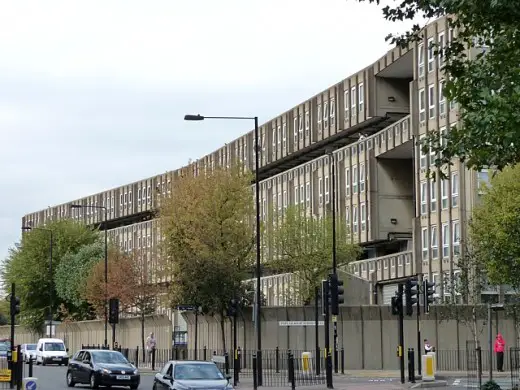 photos courtesy wikimedia commons
A bid by Swan and Countryside Properties PLC was selected ahead of a rival bid by L&Q and Telford Homes. Swan and Countryside plan to dedevelop an area of Tower Hamlets, including this Modernist housing estate in Poplar. The Blackwall Reach project will include 1,600 new homes, shops and community facilities.
The team will now lead the demolition of the 1970's estate, designed by Alison and Peter Smithson, to make way for 1,621 new homes as part of the wider regeneration of Blackwall Reach.
Photographs of the Poplar housing estate © Adrian Welch, taken on 17 Sep 2011






News Update 12 Jan 2011:
Residents of this Poplar housing estate vote in favour of housing estate redevelopment designs by architects HTA and Squire & Partners. Tower Hamlets Council admitted it had once again delayed an official decision.
News Update 10 Dec 2010:
Robin Hood Gardens Tenants' & Residents' Association prepare to take legal action against Tower Hamlets Council over claims they were not properly consulted on the £500 million demolition and rebuild scheme.
News Update 9 Mar 2009:
Dan Cruickshank attacks Tower Hamlets and English Heritage over Robin Hood Gardens
Architectural historian and TV personality Dan Cruickshank has given the east London council and heritage body a drubbing over the Smithson's estate.
TV presenter and historian Dan Cruickshank has launched a blistering attack on Tower Hamlets council and English Heritage over their failure to back the listing of Robin Hood Gardens, which he warned would lead to a "grotesque act of barbarism" if it is demolished.
Speaking at the Ecobuild conference last week ahead of his participation in a public debate on the Smithsons-designed east London estate, RIBA honorary fellow Cruickshank hit out at Tower Hamlets' record on listed buildings and its poor maintenance of the estate while accusing English Heritage of "utterly failing" to do its job.
Cruickshank's backing of BD's campaign to rescue Robin Hood Gardens comes as the Twentieth Century Society revealed it would conduct a new survey of tenants following evidence that the council's was skewed in favour of demolition.
"To destroy [the Robin Hood Gardens buildings] would be one of the most grotesque acts of barbarism, vandalism – architecturally, visually, socially," said Cruickshank.
"Having failed to maintain and manage those buildings properly… they [the council] are taking what they think is the easiest solution to level the site. They are utterly wrong.
"What amazes me though is English Heritage – their job is to assess and step back and realise the raw potential of even problematic housing schemes, and they've utterly failed to do that.
"It is incredible that they are not listed. Buildings of that quality, comparable buildings – the Goldfinger buildings – Trellick Tower [and] Alton are listed – Sheffield Park Hill is listed, Keeling House is listed – why on earth is this one not listed?"
Robin Hood Gardens – Listing News, Apr 2008:
Minister's decision re listing on delayed until after 1 May 2008
Scanned sepia photos from 1996 by isabelle lomholt, apologies for the low quality:
Robin Hood Gardens
Date built: 1967/68 – 72
Architects: Alison & Peter Smithson, popularly known as The Smithsons
'Save Robin Hood Gardens' Competition sponsored by BD Magazine
Building Design campaign to list this Modernist housing estate, Feb-Mar 2008
Robin Hood Gardens Competition – Shortlisted Entry, 23 Jun 2008
Kraft Architecture working with Mike Hyatt Landscape Architects
Description of The Smithsons' controversial blocks:
Unlike the public housing on the other side of London – at Roehampton – this Modernist architecture wasn't formed from floating Corbusian slab blocks or elegant point blocks but long sinewy legs enclosing a massive and sterile piece of grass.
Comparisons:
The now-demolished Crescent blocks in Hulme, Manchester – though different in geometry – share the same external deck access with acres of grass and mounds between 'legs' of the block; indeed many public housing blocks across the UK share the deck access concept but tend to be copies. Le Corbusier's Unite d'Habitation does not really bear comparison as the access is mostly internal and the climate anyway is so different.
Robin Hood Gardens architects : The Smithsons
Robin Hood Gardens- Redevelopment Proposals
2007
Design: Horden Cherry Lee
Robin Hood Gardens Redevelopment proposals – architect : Horden Cherry Lee
Location: Robin Hood Gardens, London, England, UK
London Building Designs
Contemporary London Architectural Designs
London Architecture Links – chronological list
London Architecture Tours – bespoke UK capital city walks by e-architect
Blackwall Reach, Tower Hamlets, East London
Design: C. F. Møller Architects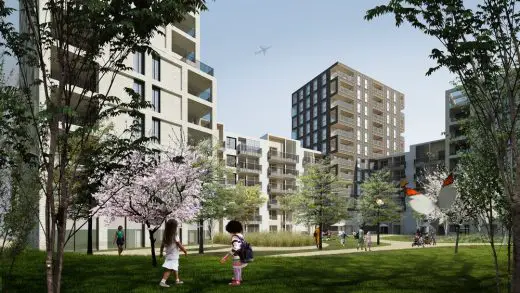 Court Yard View CGI
Blackwall Reach Development
Buildings near by inlcude the Balfron Tower
Alison & Peter Smithson building photos © Isabelle Lomholt
Comments / photos for the Robin Hood Gardens London – Blackwall Reach Development page welcome