London architect studios, UK capital architecture practices, British engineers firms, Design company contacts
London Architect Practices
Architectural Offices in England: Building Designers in the UK capital city, contact details
"After just a few weeks listed on e-architect we were contacted by a new client…I'm delighted that we signed up with e-architect, which we should have done sooner."
Robert Ellis, architect at Norton Ellis Architects
post updated 14 August 2023
London Architects Practices
UK Capital Architecture Firm contact details, alphabetical:
Architect
phone / fax
e-mail / website
address

London Architect Profiles

London Architecture Practices, contact details – alphabetical:

BFLS Architects

+44 (0)20 7706 6166
–
info(at)bfls-london.com
www.bfls-london.com
BFLS
66 Porchester Road,
London
W2 6ET
Commercial Architecture

+44 (0)20 7801 0566
[email protected]
commercialarchitecture.london
Commercial Architecture, 3 River Reach,
Gartons Way, Battersea,
London, SW11 3SX
Norton Ellis Architects London

+44 (0)20 7490 3142
+44 (0)5602 093407
mail(at)nortonellis.co.uk
www.nortonellis.co.uk
Norton Ellis Architects
14 Baltic Street East
London
EC1Y 0UJ

London Architects Offices Listings

London Architecture Offices, alphabetical:

Alan Hills Architects
+44 (0)7710 460 805
–
alan(at)alanhillsarchitects.co.uk
www.alanhillsarchitects.co.uk
Alan Hills Architects
13 Rosebery Avenue
London N17 9RY
Amanda Levete Architects
+44 (0)20 7243 7670
+44(0)20 7243 7690
info(at)amandalevetearchitects.com
www.amandalevetearchitects.com
Amanda Levete Architects
The Warehouse, 20 Victoria Gardens
London W11 3PE
Architecture for London
+44 (0)20 3637 4236
mail(at)architectureforlondon.com
architectureforlondon.com
Architecture for London
3-5 Bleeding Heart Yard
London EC1N 8SJ
Avery Associates Architects
+44 (0)20 7233 6262
+44 (0)20 7233 5182
enquiries(at)avery-architects.co.uk
www.avery-architects.co.uk
Avery Associates Architects
270 Vauxhall Bridge Road
London SW1V 1BB
Common Ground Workshop
+44 (0)77 6525 7123
info(at)commongroundworkshop.co.uk
www.commongroundworkshop.co.uk
Common Ground Workshop
53 Old Bethnal Green Rd
London E2 6QA
Curious
+44 (0)207 183 4236
–
architecture(at)curiousgroup.co.uk
www.curiousgroup.co.uk
Curious
4-8 Emerson St
London SE1 9DU
Dow Jones Architects
+44 (0)20 8772 0507
+44 (0)20 8675 6892
mail(at)dowjonesarchitects.com
www.dowjonesarchitects.com
Dow Jones Architects
39 Calbourne Road
London SW12 8LW
drdharchitects
+44 (0)20 7100 9003
–
drdh(at)drdharchitects.co.uk
www.drdharchitects.co.uk
drdharchitects
54-58 Tanner Street
London SE1 3PH
Eldridge Smerin Architects
+44 (0)20 7228 2824
mail(at)eldridgesmerin.com
www.eldridgesmerin.com
Eldridge Smerin Architects
17 Calico Row
Plantation Wharf
London SW11 3TW
EPR Architects
+44 (0)20 7932 7600
+44 (0)20 7932 7601
architects(at)epr.co.uk
www.epr.co.uk
EPR Architects Ltd
30 Millbank
London SW1P 4DU
Feix&Merlin Architects
+44 (0)7815 924 345
–
info(at)feixandmerlin.com
www.feixandmerlin.com
Feix&Merlin Architects
Unit 29, The Paragon
43 Searles Road
London SE1 4YL
Fraser Brown MacKenna Architects
+44 (0)20 7251 0543
+44 (0)20 7251 0543
studio(at)fbmarchitects.com
www.fbmarchitects.com
Fraser Brown MacKenna
15-18 Featherstone St
London EC1Y 8SL
Jefferson Sheard Architects
+44 (0)870 240 4889
+44 (0)203 586 7871
contactus(at)jeffersonsheard.com
www.jeffersonsheard.com
Jefferson Sheard Architects,
10 Margaret Street
London W1W 8RL
Kjellander Sjöberg London Architects
+44 (0) 7951 923 934
irfan.a(at)kjellandersjoberg.com
www.kjellandersjoberg.com
Kjellander Sjöberg Studio Ltd
2-4 Tottenham Road
London
N1 4BZ
Margot Krasojevic
+44 (0)20 8995 6651
+44 (0)20 8995 6651
margot(at)decodeine.org www.decodeine.org
Margot Krasojevic
Temple House Studios, 19 Arlington Gardens
London W4 4EZ
Platform 5 Architects
+44 (0)20 7739 9812
+44 (0)20 7043 5841
info(at)platform5architects.com
www.platform5architects.com
Platform 5 Architects
Unit 1, 33 Waterson St
London E2 8HT
Woods Bagot
+44 (0)20 7637 6880
+44 (0)20 7637 6888
wblhr(at)woodsbagot.com
www.woodsbagot.com/td>
Woods Bagot
Architects
Oxford House
76 Oxford Street
London W1D 1BS
London Architect Offices Listing
Getting Listed
London Architects + Landscape Architects + Structural Engineers with offices in the UK capital.
We welcome Architect Practice additions at info(at)e-architect.com
See Architect Profiles Information for prices and details.
The e-architect site aims to promote London Architects as well as the city's architecture. The page is a useful resource for selecting an architect in the UK capital.
London Architect firms' details are listed for an annual fee, likewise for Structural Engineers, etc.
We also carry architect listings for other English cities such as Manchester, Birmingham, Leeds, Newcastle, Oxford, Bristol, Cambridge, Sheffield and Liverpool. Multiple architecture office listings carry a discounted price.
We also post architect listings in Wales, Scotland and most other countries around the globe. Simply email us your contact details with the fee and we can get you online.
Architect Studios
UK architect firms:
Western European architect firms:
Belgian Architect – design firm listing
Celebrated British architecture practices:
David Chipperfield Architects – key British Architecture Office
Foster + Partners Architects Office London
Zaha Hadid – London Architectural Studio
London Architecture
London Architects – design offices listed by building
London Architecture : news + key projects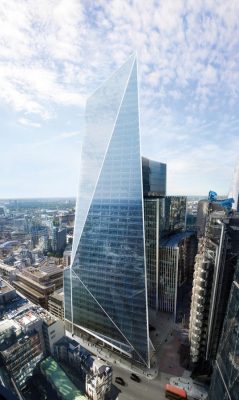 image courtesy of the architects firm
The Royal College of Art, Howie Street, SW11 building design by the famous Swiss architecture office of Herzog & de Meuron: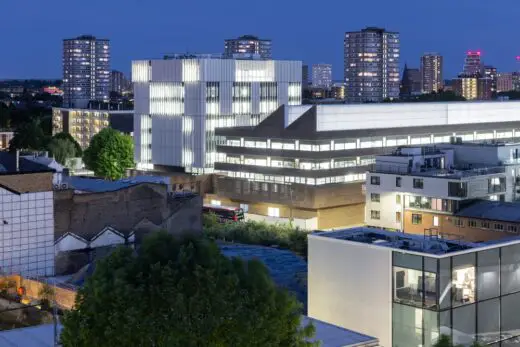 photo © Iwan Baan
Royal College of Art Battersea Campus
One Exchange Square, Broadgate, EC2 building design by the UK's Fletcher Priest Architects: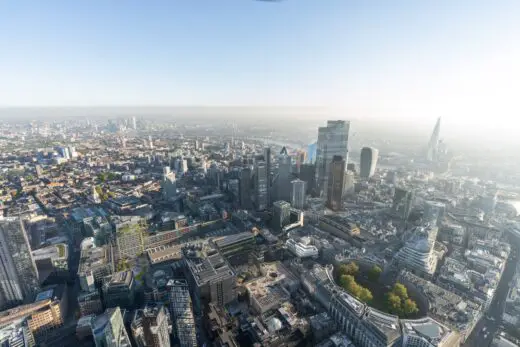 image : Secchi Smith
One Exchange Square Broadgate Building
60 Aldgate, Minories, City of London building design by ACME Architects, based in Britain: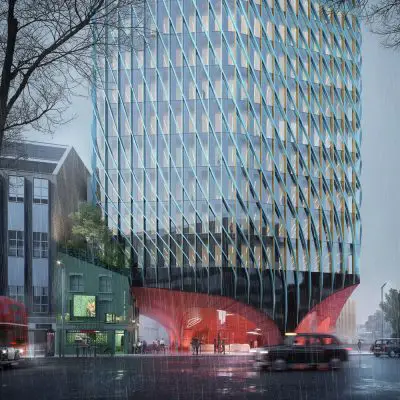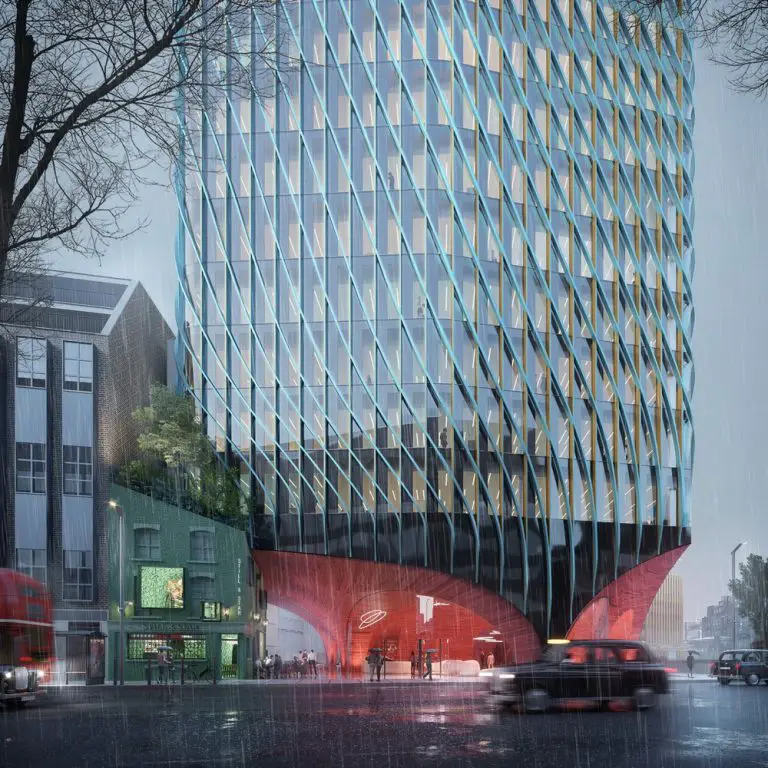 image courtesy of architects practice
60 Aldgate Building News
The Minories Masterplan is a mixed-use scheme with a refurbished hotel, a new office building and a residential building. The scheme also includes a landscaped park around the residential building and a number of urban squares with landscaping and seating areas.
e-architect
e-architect is run by Isabelle Lomholt and Adrian Welch who both studied architecture in London, at North London University and The Bartlett, UCL, respectively. Isabelle and Adrian worked for a range of architects in the UK capital city, such as Eva Jiricna (Mayfair and Islington), Conran Partners (Bermondsey) and Made by Man (Islington).
We try and select architectural designs for posting on our website that interest us – captivating designs that can be innovative, clever or inspiring, or all of these attributes. Alongside the high-end designs we do also like to mix in the major commercial developments, such as large retail developments and railway station buildings.
The focus since we studied architecture has typically been on contemporary style buildings, however we do have traditional property designs from architects such as ADAM Architecture and even Sir Quinlan Terry. Adrian's degree was taken at Manchester University where he was taught by well known architects such as Ian Simpson and Stephen Hodder.
Additions for the London Architecture Studios – UK Capital City Design Practice Listing on e-architect page welcome