London Housing, Residential Building, Architects, Flats, Images, Architecture, Development
London Housing: Properties
Major New Residential Properties in British Capital, England, UK
post updated 1 October 2022
London Housing – Latest Designs
UK Capital Residential Designs – latest additions to this page, arranged chronologically:
23 Oct 2022
Record number of UAE students apply to UK universities increasing demand for new homes from Gulf's buyers in Central London.
Data from the UCAS admissions service confirms a record number of students from the UAE have applied to UK universities in 2022.
The UK is highly regarded as being home to some of the best public schools and prestigious universities in the world. Throughout the Gulf region, wealthy Middle Easterners have long favoured setting up home in London to provide their children with a first class education. The UAE's own education system prepares students well for the transition to a UK university.
A spokesperson at UCAS commented, "Applications from UAE students to study here in the UK have increased by 17% since 2021, rising far quicker than many other countries beyond the EU. This confirms the top global rankings held by the UK's colleges and universities and the appeal for UAE undergraduates to study subject-specific degree courses, allowing them to focus on certain academic areas and benefit from small teaching groups."
London is ranked second only to New York as the largest business and financial centre. It offers extensive history, heritage and tradition, unrivalled architecture both traditional and contemporary. It's a capital with a culturally rich population offering a cosmopolitan vibrant lifestyle. Prime post codes, which include Knightsbridge, Belgravia, Mayfair, Kensington and Regent's Park have long been popular property choices for UAE homebuyers and investors. They are attracted to Prime Central London's designer boutiques, established department stores, fine dining, exclusive private members clubs, and thriving arts and cultural landscape.
Property across Prime Central London (PCL) offers very attractive business, second home and education investment for buyers from the UAE. Whether it provides a luxury family home while their children attend high-ranking independent schools, or gives their older children a safe and comfortable home, conveniently located to study at one of London's Russell Group universities.
After graduation, many choose to remain in the UK, particularly London, because leading universities such as Imperial College and the London School of Economics offer cutting-edge research opportunities. London also boasts some of the best commercial organisations and corporate talent in the world held in high esteem throughout the Gulf.
Easier international travel post pandemic, along with the pound hitting a low, its lowest against the dollar in two years and as the Saudi Riyal has risen, an increasing number of HNWI Gulf buyers are looking to invest to acquire a non-primary residence in London, or a property portfolio as a landlord.
Since 2006, Middle Eastern governments and sovereign funds have been particularly focused on the UK, buying development sites and high-value buildings worth a combined £4.4 billion. Currently, they operate nine of central London's largest development sites, equating to 28,000 new homes.
Dennis Chan, Global Head of Sales at Chestertons New Homes, commented, "In first six months of 2022, the international 'super-rich' have bought 61 properties in excess of £10m with the highest volume of sales in 10 years, exceeding £1bn total sales.
We have seen record numbers of clients from the UAE actively buying and investing in new residential developments across London, which are close to universities and often in areas of the city which are enjoying large scale investment and undergoing a significant rejuvenation, such as the Elephant & Castle, where 251-southwark is close to London South Bank University and London College of Communications; prices start from £653,000. Other new developments also close to academic institutions and available to buy off-plan from £483,000 are Orchard Wharf, near Queen Mary's York St John and University of Sunderland London. In the West End, a stylish designer-inspired new residential scheme – Tottenham Court Road West , offers a great central base convenient to study at UCL and University of Westminster, with prices starting from £1,000,000."
"Our UAE clients are happy to buy off-plan and favour new build duplex apartments and penthouses with two to three bedrooms, so that family can visit from overseas. They expect a high quality finish, excellent choice of on-site amenities, and prefer the convenience of new homes being ready to move into, and where companies can furnish immediately. Security and convenience are primary drivers when it comes to what our clients invest in London new homes – good security, gated developments, and secure private entrances to allow for low up and leave during holidays," added Dennis Chan, Chestertons Global Head of Sales.
Dennis Chan Global Head of Sales, Chestertons Global New Homes:
With over 15 years of industry experience, Dennis has been based in Dubai for the last six years in a senior management role with one of the largest real estate companies in the region, and covered projects spanning Europe, Middle East and North Africa. Before that, his credentials include Head of Sales at KOP Limited, Vice President of Sales & Marketing at Rowsley Limited and Unit Head at Savills in Singapore.
With a primary focus on international off-plan property developments and global citizenship by investment programs, Dennis is responsible for managing and growing the Global New Homes department at Chestertons, whilst supporting and assisting both owned and partner businesses to win mandates worldwide, oversee the international sales network and help provide tools and systems to enhance the ability of all partner offices to win and transact.
Dennis holds a Bachelor of Arts (Economics) from National University of Singapore, and graduated from the Real Estate Management Program at Harvard Business School in Boston, Massachusetts.
23 Feb 2022
Elmsleigh Road Homes in Staines-upon-Thames, Staines-upon-Thames, Southwest London, England, UK
Architects: Assael Architecture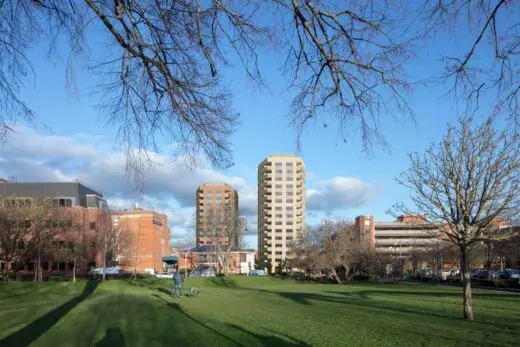 image courtesy of architects
Elmsleigh Road Homes in Staines-upon-Thames
The new scheme will consist of two mid-rise buildings, providing 206 sustainable homes, and reconnecting a currently undervalued area of the town centre into a dynamic and thriving extension of the high street. By facilitating pedestrian access, the development becomes permeable to the wider community, creating destination points and travelling routes, whilst prioritising pedestrians to create a safe and positive environment.
1 Oct 2021
Regeneration Of London's Housing Estates Will Deliver Thousands Of New Homes, Says Insight Report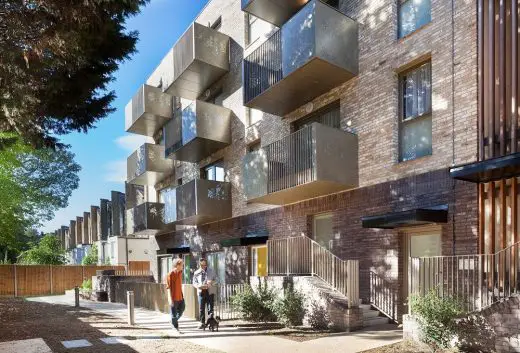 image © Pollard Thomas Edwards and Galit Seligmann
London Housing Estates Regeneration Report News
Tens of thousands of much needed new homes for London could be provided through the effective regeneration of the city's housing estates, according to a new report from planning experts.
9 Dec 2020
Clayton Road canalside homes development, Hayes, west London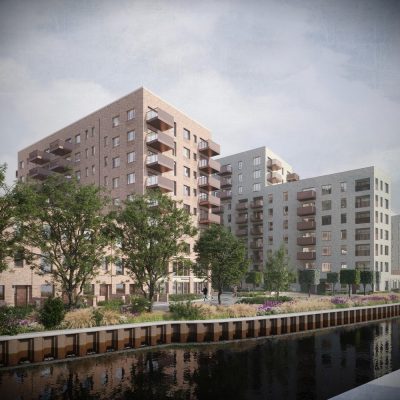 image courtesy of architects
Clayton Road Housing
A2Dominion secure planning consent for 400 canalside homes at Clayton Road, close to Hayes Town Centre. The proposals respond to the borough's local plan and the council's aspirations to open the Grand Union Canal up to the public
9 Mar 2020
Southbank Tower, Stamford Street, Southwark, south London
Design: Patrik Schumacher at Zaha Hadid Architects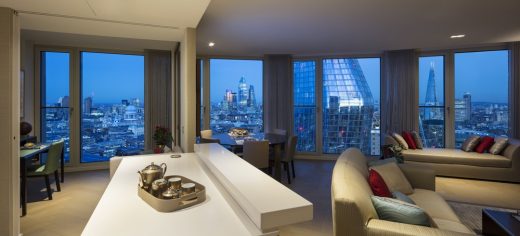 image Courtesy architecture office
Southbank Tower in London
Relaunch of one of London's most prominent riverside luxury developments. The property will be transformed with a new lobby designed by Zaha Hadid Architects and a boutique collection of apartments will be launched to the market with a series of new initiatives.
9 Mar 2020
New Alscot Road student residence, Bermondsey, Southwark, South London
Design: Greenaway Architecture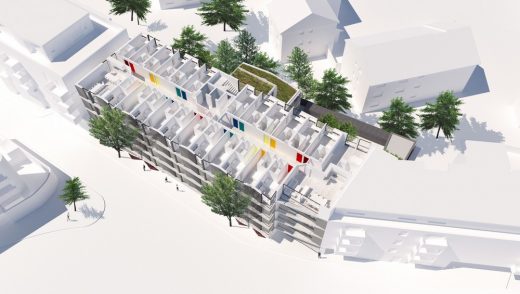 image Courtesy architecture practice
Alumno Student Residence on Alscot Road in Bermondsey
Planning permission granted for the construction of a new residence with fully integrated facilities for 143 students. These include high-quality rooms with shared amenities, such as a basement cinema lounge, study room and community area.
26 Feb 2020
Eastern Yards, Bankside, London SE1
Design: Make and PLP Architecture



image Courtesy architects practice
Eastern Yards on Bankside, London SE1
Native Land wins planning approval for new property proposals, part of the £1 billion Bankside Yards mixed-use development.
16 Jan 2020
Chiswick Apartment Buildin, Town Hall Avenue, West London
Design: Keith Williams Architects
Chiswick Apartment Building
13 Jan 2020
The Paintworks, Shoreditch, East London
Architects: DROO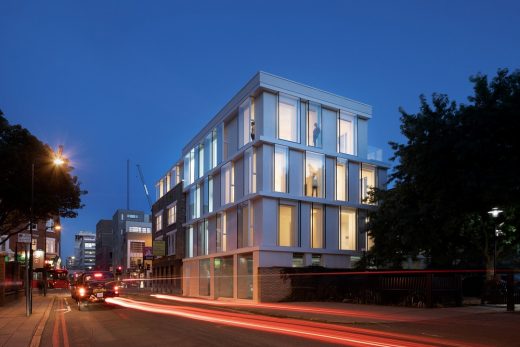 photography : NAARO
The Paintworks Apartments in Shoreditch, East London
A contemporary mixed-use building over 1550m2 in Shoreditch. The property repurposes a former artists workshops and art supplies store in a conservation area. Apartments range from one to three bedrooms, and 2 office spaces. Interiors are designed with a focus on natural light and accentuating the space.
11 Jan 2020
Inverness Terrace Apartments, Bayswater, London W2
Interior Architect: Alexander Martin Architects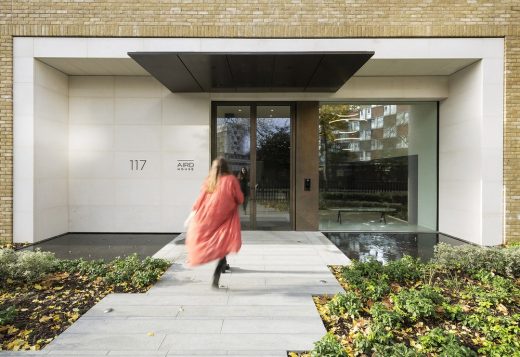 photography : Richard Chivers
Inverness Terrace Apartments in Bayswater, West London
A new residential development of twenty flats in Bayswater. The scope of works focussed on the design of the main entrance and lobby, the circulation spaces and the layout and design of the apartments together with landscaping elements of the scheme.
9 Nov 2019
Bagel Factory, Hackney, Northeast London
Architects: HWO Architects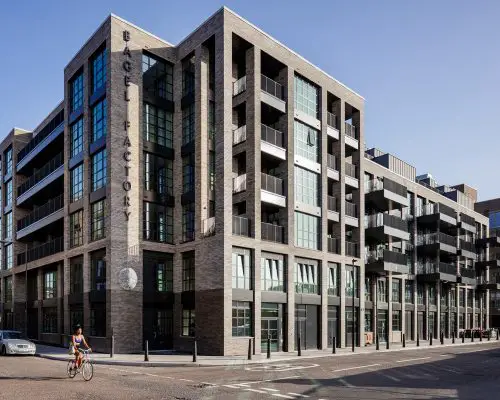 photograph : Craig Auckland
Bagel Factory in Hackney
The vision is for a real community where people live, work and play. This development balances residential apartments with workspaces for small creative businesses, all organised around a welcoming central café.
9 Nov 2019
The Old Smoke House, Tower Hamlets
Architects: HWO Architects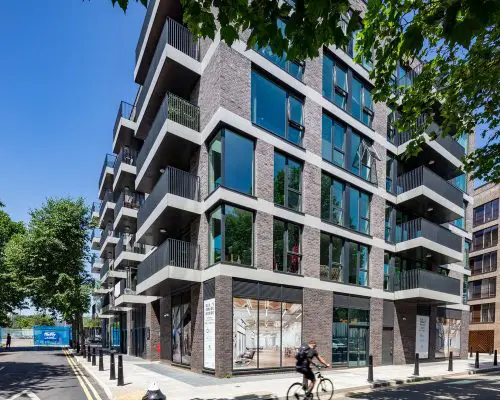 photograph : Craig Auckland
The Old Smoke House in Tower Hamlets
A vast proportion of the high-quality homes in this residential property are family units. A café and outdoor terrace will create a large, new public space. Green roofs won't just generate energy, but also benefit the local ecology.
10 Oct 2019
Tiger Way School and Homes, Hackney Downs, Northeast London
Architects: Hawkins\Brown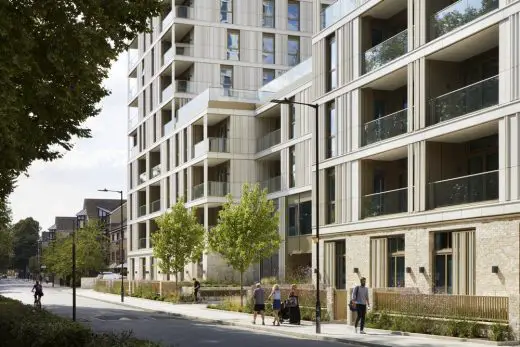 photograph : Jack Hobhouse
Tiger Way School and Homes Hackney Downs
This new development delivers a new two form entry school and nursery for 420 pupils, cross-funded by the development of 89 homes for private sale. In a boost for ecology, the west wing roof provides opportunities for horticulture with growing gardens and a bee garden.
20 Sep 2020
Royal Wharf Apartments, Newham
Royal Wharf Development Newham
A new apartment building located at the former site of Minoco Wharf on the north bank of the River Thames, in East London.
16 Sep 2019
Warehaus, Hackney, East London
Architects: Lynas Smith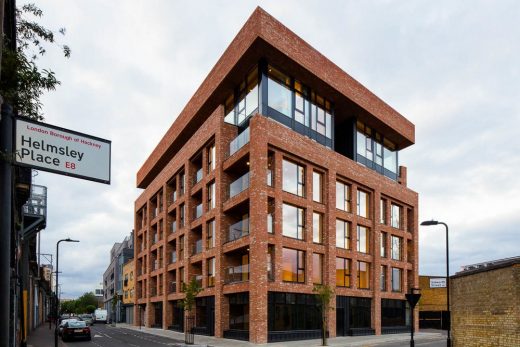 photo : Lynas Smith
Warehaus Apartments in East London
Warehaus is a renovated building in Hackney of 30 residential units off atrium circulation, 7 ground floor duplex studio spaces and a rooftop garden and swimming pool.
**************
11 Sep 2020
Regents Park Property Market Report
**************
7 Sep 2019
Peterhead Court Ealing, Southall Housing
5 Sep 2019
Vertical Living in London
29 Aug 2019
Embassy Gardens in Nine Elms, Battersea
16 Aug 2019
Wardian London
29 July 2019
Knightsbridge House in Acton
Design: Architect Wimshurst Pelleriti
Small contemporary development behind a traditional front:
New Housing in Acton
16 May 2019
Churchwood Gardens, Forest Hill, South London
Design: Bryden Wood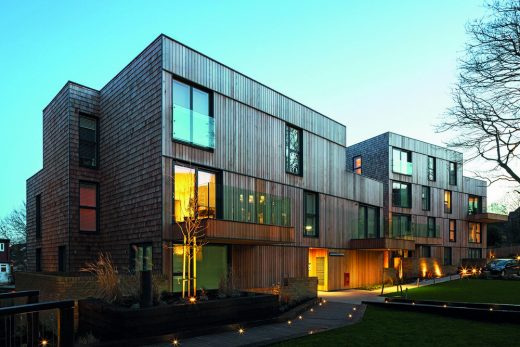 image Courtesy architecture office
A £14 million 71-unit housing scheme formed of nine cedar-clad buildings on a 8270sqm site. This rental-only development is focused on sustainable, modern living integrated within a refurbished landscaped garden.
8 Nov 2018
Agar Grove Homes, Camden, North London
Design: Hawkins\Brown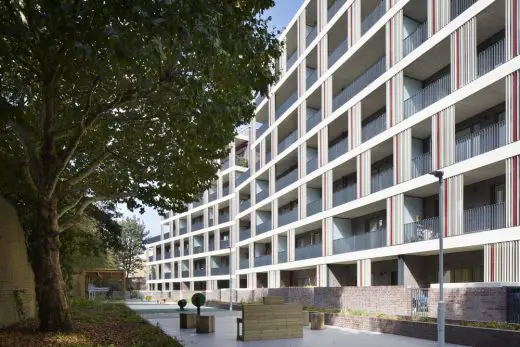 photograph © Jack Hobhouse
Agar Grove Homes
Five hundred energy-efficient, affordable homes: once complete it will form the largest Passivhaus development in the UK.
30 Oct 2018
Stratosphere Homes, Stratford, East London
Architects: Allies and Morrison / Stockwool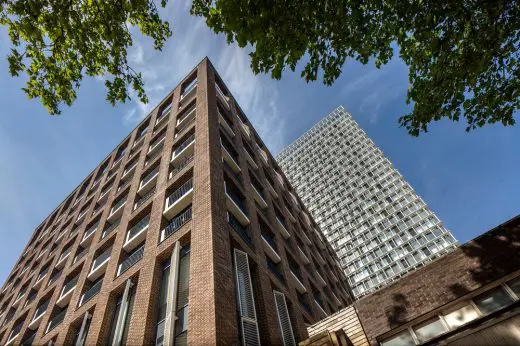 photo : Morley von Sternberg
Stratosphere Homes
This new residential development transforms a brownfield site adjacent to Stratford station into two buildings for Telford Homes.
17 Aug 2018
Christopher Boones Almshouses, Lewisham, South London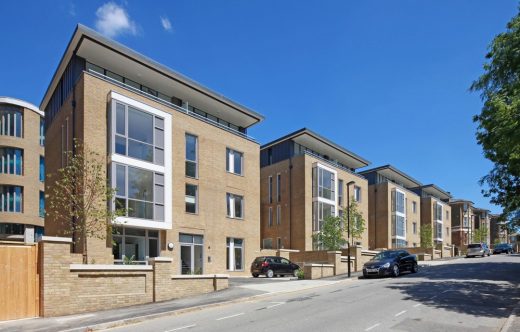 image courtesy of architecture office
Almshouses in Lewisham Homes
One Housing Group Limited (City Style) has completed a £26m scheme in Lewisham. This residential development provides 92 new homes.
4 Aug 2018
New Homes in Southall, Borough of Ealing, west London
Architects: Assael Architecture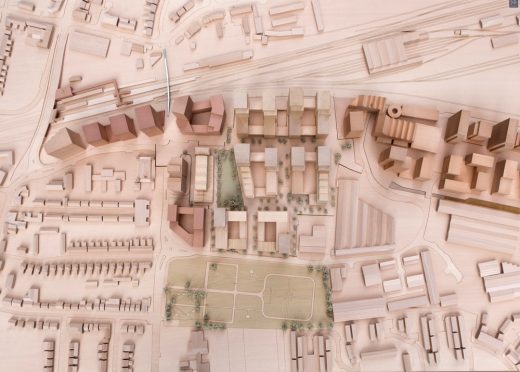 image courtesy of architecture office
New Southall Housing
Montreaux submits masterplan for over 2,000 homes in Ealing.
1 Aug 2018
Battersea Phase 3A by Frank Gehry Architect
26 Jul 2018
Kings Crescent Estate Phases 1 and 2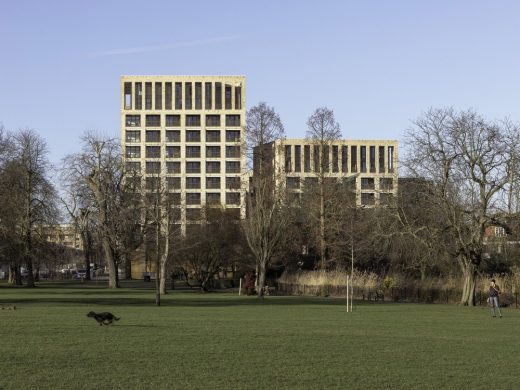 photo © Peter Landers
Kings Crescent Estate Phases 1 and 2
5 Jun 2018
Alto Residential Development, Wembley Park, Northwest London
Architects: Flanagan Lawrence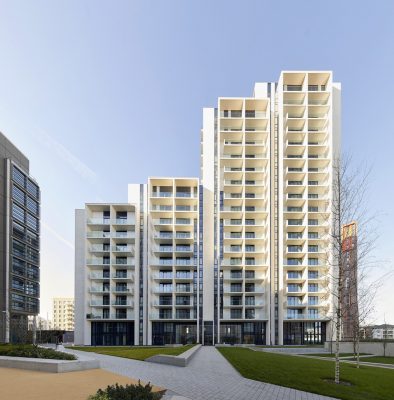 photo © Hufton+Crow
Alto Residential Development
Redevelopment of a derelict brownfield site into a dynamic mixed-use neighbourhood.
22 May 2018
Charter Square, Staines-upon-Thames, Southwest London
Architects: Assael Architecture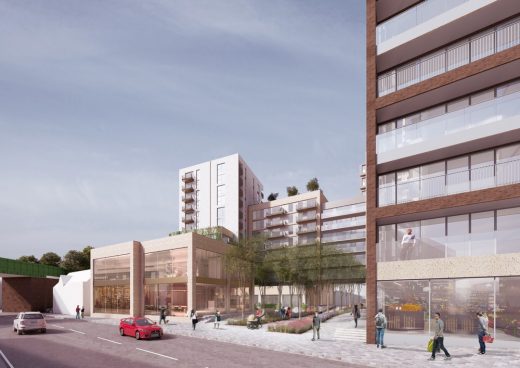 images courtesy of architects
Charter Square, Staines-upon-Thames
Second phase of £120m regeneration approval news: developer London Square has gains planning permission for town centre scheme in the heart of this suburban community.
21 May 2018
Hounslow West Housing, Cavendish Parade, Bath Road, Hounslow, West London
Architects: Colwyn Foulkes & Partners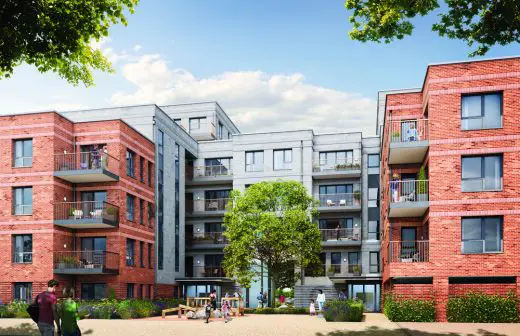 image Courtesy architecture office
Hounslow West Housing
The Mayor of London approved plans for a mix of 176 affordable homes and social housing.
17 Apr 2018
Robin Hood Gardens Housing
3 Apr 2018
Jeddo Road Housing in Acton
8 Dec 2017
Ailsa Wharf Poplar Riverside Housing
3 Dec 2017
Land Converter, London Housing Shortage
6 Nov 2017
Canaletto Tower, 257 City Road, Islington
Design: UNStudio, architects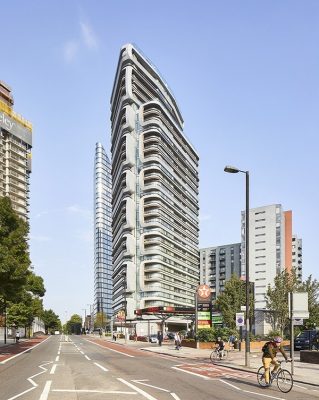 photography © Hufton+Crow, © EvaBloem
Canaletto Tower Building in Islington
22 Oct 2017
Dalston Works
Design: Waugh Thistleton Architects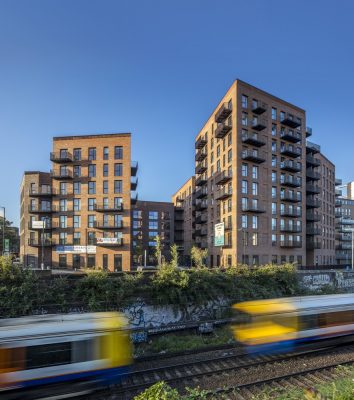 photo : Daniel Shearing
Dalston Works Mixed-Use Development in Hackney
The world's largest cross-laminated timber building for London property developer Regal London. The mixed use development, located in the heart of Dalston, showcases how the innovative use of sustainable materials like CLT can help deliver highquality, high density housing to the capital without compromising the environment.
30 Sep 2017
Stockwell Green Housing
28 Jul 2017
Brent Cross Housing
Design: Architects pH+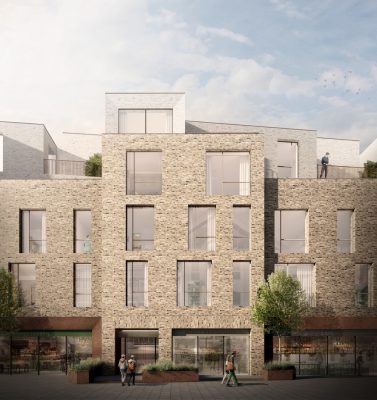 image courtesy of architects
Brent Cross Housing
27 Jul 2017
College Road Houses, Dulwich, Southeast London
Architects: Thompson + Baroni with Stephen Marshall Architects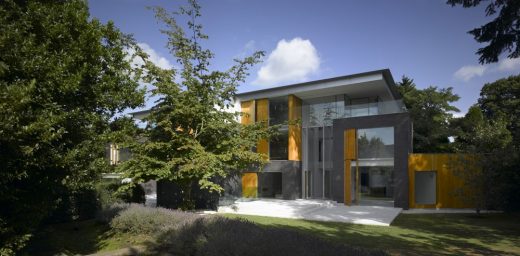 photograph courtesy of architects office
New Houses in Dulwich
28 Jun 2017
Blackwall Reach, Tower Hamlets, East London
Design: C. F. Møller Architects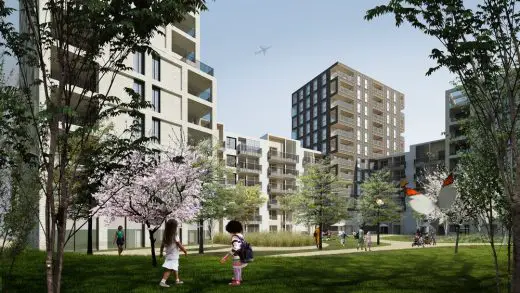 Court Yard View CGI
Blackwall Reach Development
Phase 3 of the £300m regeneration of Modernist Robin Hood Gardens (by The Smithsons) for Swan Housing Association.
28 Apr 2017
Wardian London Penthouses, Isle of Dogs
Design: Glenn Howells Architects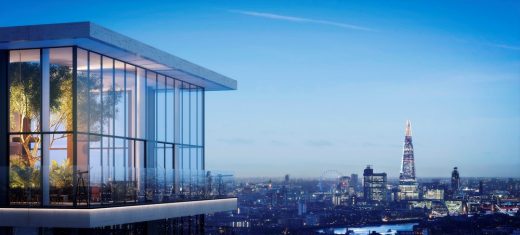 image courtesy of architects
Wardian London Property
Twelve luxury penthouses by EcoWorld Ballymore at Wardian London, offering residents panoramic views of Canary Wharf and the City. The new homes are located close to the financial districts of Canary Wharf and The City.
16 Aug 2016
St John's Hill Redevelopment, Battersea, Southwest London
Architects: Hawkins\Brown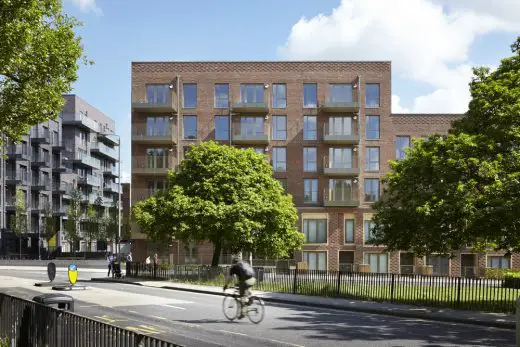 image from architect
St John's Hill Redevelopment
Peabody has completed 153 homes for social rent, shared ownership and private sale, in phase one of its masterplan for the redevelopment of St John's Hill in Battersea.
16 Jul 2013
Residential Building Victoria
Design: Avery Associates Architects



image from architect
Residential Building Victoria
Avery Associates were recently invited to submit designs for a new landmark residential building in the heart of Victoria, London. The site abuts the Victoria Railway Station and incorporates a large electrical substation and a major arterial road. Through the resolution of a number of contextual constraints, the proposal takes a prominent but awkward site and turns it into a landmark with a very distinctive character.
19 Mar 2013
Torquay House, Westminster, W2
Design: MJP Architects



image from architects
Westminster Residential Building
This 13 storey, 157 room residential tower building in Westminster for the LHA London charity, is currently on site and due for completion next year by UK national contractor Galliford Try. With the site cleared and construction of the substructure underway, the project is now at a key stage.
28 Jan 2013
New Union Wharf Housing, Isle of Dogs, Tower Hamlets, east London
Design: Jestico + Whiles



image from architect
London Riverside Housing
Planning permission granted for East Thames Group to regenerate New Union Wharf, a 189 home housing estate on the Isle of Dogs. The approval allows replacement of the 1970s built estate with modern, energy efficient homes which will make the most of its riverside location.
3 Dec 2012
Apartments and supported housing in Hackney, north east London
Design: Fraser Brown MacKenna



photograph © Tim Crocker Photography
Supported Housing in Hackney
Sites for new affordable housing are often challenging; in creating 62 high quality new homes for One Housing Group, Fraser Brown MacKenna had to overcome a complex, overlooked, landlocked former industrial site in Hackney. Fraser Brown MacKenna Architects were appointed by One Housing Group to develop the former light-industrial site.
19 Oct 2012
Boxtree Housing, North Harrow, north west London
Design: YOOP Architects



photo © Tim Crocker
Boxtree Housing
YOOP Architects announce completion of affordable housing project in Harrow. 'Fabric first' approach promises reduced energy bills for residents. The development was built according to a demanding brief from the Origin Housing Group, whose priorities include reducing fuel poverty in the borough; they also wanted the finished housing to provide privacy and security in this challenging corner position.
30 Jun 2012
Peabody Avenue, Pimlico, London SW1V
Design: Haworth Tompkins



photo : Philip Vile
Peabody Avenue Pimlico
RIBA Awards 2012 Winner
Peabody Avenue has been returned to its pre war-damaged state with a building based on an understanding of the characteristics of not only the form, texture and materiality of the estate but also of the community which wished to remain there.
The five storey blocks, organised around three vertical circulation cores, are built in warm, yellow stock bricks with windows well set back into reveals to acknowledge the robust nature of the existing Avenue. To the rear generous balconies cantilever from the circulation walkway and enliven the view from the railway and embankment.
7 May 2012
Consort Road, Peckham, South London
Design: Walter Menteth Architects



photo : Edmund Sumner
Consort Road Housing
15 Dec 2011
Unite Stratford, east London
BDP



picture from architects
London Student Housing
BDP's student housing scheme for Unite in Stratford, London has been given the go ahead by the Olympic Delivery Authority. The project will be BDP's tallest building at 28 storeys and it will be the first building to be completed on the Olympic Park post games in 2014.
15 Dec 2011
Lilian Baylis School – Housing, Lambeth, south London
Conran and Partners



image from Conran and Partners
Lambeth Housing
Conran and Partners has won an open competition to transform a historic Lambeth site into much-needed new homes in London. The architecture and design practice has been awarded the contract to develop more than three acres of prime inner London land by Henley Homes, one of the capital's leading housing groups.
Conran's design team will be tasked with creating approximately 180 to 220 homes on the site of the former Lilian Baylis School in Lollard Street, using a mix of refurbishment, conversion and new build.
London Homes – Recent Design
Wavertree Court, Streatham Hill, south London
Spratley Studios



image from architects
South London Housing
Lambeth Council has recently given the go ahead for a mixed development of 12 new homes designed by Spratley Studios for a difficult London infill site, hemmed in on all four sides by residential development.
The scheme encompasses an assortment of private houses and flats, with gained green space for residents, a focus on crime prevention and a stepped plan to maximize privacy.
Companion page : London Houses
London Housing – Key Designs
London Residential Building Projects alphabetical, listed by building:
Location: London, UK
Architecture in London
London Architecture Links – chronological list
London Architectural Walking Tours
European Residential Property
Buildings / photos for the London Housing page welcome
Website: Visit London