London Festival of Architecture Events, Building, News, Venue, 2014, Phone, Development
London Festival of Architecture
AF Events in London, England, UK
London Festival of Architecture 2017
16 Jun 2014
Festival of Architecture 2014, London
Mending Modernist Mistakes
Right now a challenging two-week showcase, is being held at the London Festival of Architecture.
Denmark is one of ten countries chosen to be represented at the showcase, which deals with creating new proposals to improve the modernistic planned area in East London called Poplar.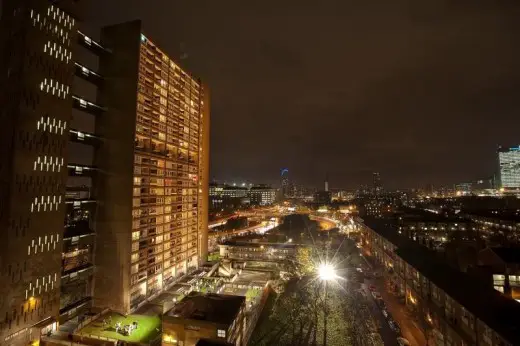 The iconic Balfron Tower in the middle of Poplar – designed by Ernő Goldfinger in 1963
BCVA, a new Danish architecture studio, has been chosen by the British Council, the Danish Embassy in London and the Danish Architectural Association to represent Denmark.
"It is a great honor for us to be involved in this task of improving such a dramatic and even brutal, but also historically interesting area" says Rune Veile, architect and partner in BCVA and the company's representative through out the showcase.
"There are a substantial number of these types of areas around the world and in Denmark. Modernist planning has important consequences for social life and human well-being, so this discussion is extremely important to have. How can we as architects help solve the problems of Modernism?"
Rune Veile elaborated on this subject in a lecture entitled 'Mending Modernist Mistakes – Regeneration of Modern Cityscapes' at the Royal Danish Embassy in London at 12 June.
During the showcase BCVA, together with the London-based architecture firm Karakusevic Carson Architects, will develop a housing project in East London near the Olympic City. This housing project has to be more than just pretty architecture. It must play an important role for the community, and upgrade the neighborhood for the future.
Like BCVA, the nine other international architecture studios are team up with British architecture companies. Together, they will make proposals for a better Poplar area. The ten teams have different focal points, such as housing, landscape, culture, transitions or urban space.
The International Architectural Showcase is one of the main events at the London Festival of Architecture and is organized by the British Council, which deals with Britain's international relations.
"The choice of this showcase is inspired by Poplar's historic relationship to the Festival of Britain of 1951
when the area was the focal point for modern architecture. The area was bombed during the World Wars and was later built after a modernist approach." Explains Niahm Tuft, Programme Manager at the British Council. "Today, the area has a number of challenges, which in principle are global, so it will be interesting to see how the 10 different international studios with their 10 different backgrounds and approaches will come up with their view on an architectural solution."
Niahm Tuft continues: "Something that also makes this assignment special is, that the ten international architects will take residence in the iconic Balfron Tower during the showcase. In that way they get a taste of what it's like to live in Poplar. "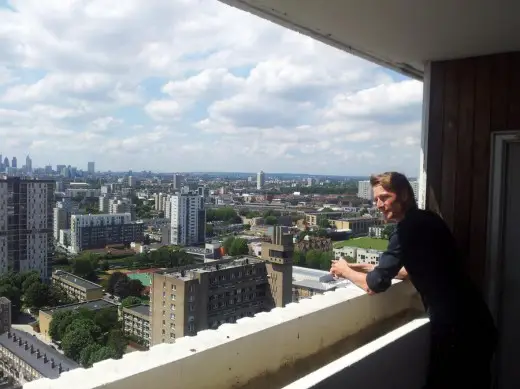 Rune Veile overlooking London and Poplar from the top of the iconic Balfron Tower
The London Festival of Architecture includes many different activities such as debates, exhibitions, film screenings, walks, bike rides, and open studios. The festival also features an active programme of architectural installations and interventions. This is meant to provoke questions about life in the city's future and promote positive change to the city's public realm.
This is the tenth year the festival has taken place, and since its inception it has grown substantially.
The current Festival runs until the end of June.
"It will be exciting to see all 10 projects when the showcase is over – I think there will be a great amount of inspiration and hopefully some provocative proposals to fuel the debate." Says Rune Veile, BCVA.
Whether there will be interesting debates, only time will tell. The showcase kicked off monday 9th of June and the results will be announced at a large event on June 21st in the Balfron Tower.
The showcase is an annual recurring event and one of the main attractions at the London Festival of Architecture
The showcase last 2 weeks where the participants will develop an architectural project that will be put on display
During the workshop, the ten participating countries will stay in Balfron Tower.
BCVA is teamed up with London studio Karakusevic Carson Architects
Among the 10 nationalities represented are such diverse countries as Chile, Latvia, Austria, Taiwan and Nigeria
28 Mar 2014
Festival of Architecture 2014 London News
CALL TO PARTICIPATE
The London Festival of Architecture (LFA), now in its 10th year, is calling for participants to explore the dynamism of the UK's capital city, through this year's central theme, CAPITAL. This theme will be used as an umbrella term to explore London in relation to:
– Cultural Capital – London's social and physical environment is shaped by its creative and artistic life.
– Human Capital – London's dynamism is powered by its talent, constantly refreshed changing the demographic of this expanding, globalized city.
– Natural Capital – as London grows, protecting and enhancing our natural environment is fundamental to our quality of life.
– Investment Capital – London's image and history is intrinsically linked to its position as a centre of global finance and inward investment.
– Digital Capital – digital technology is fundamentally reshaping London's economy, its work places and our lives.
– Social Capital – Enhancing wellbeing, happiness and prosperity through London's physical and social networks.
– International Capital – London-based practices are invited by The British Council to participate in international collaborations. See britishcouncil.org/design for more.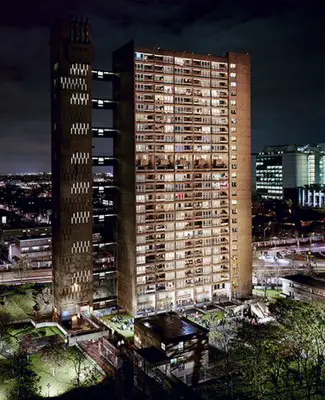 Institutions, individual practices, designers and curators are invited to submit proposals to tie-in with this year's festival, which is running for the whole month of June. Events need to be organised and funded by the submitting organisations, as official LFA events on the London Architecture Diary website. The deadline for submission is 3 April 2014. Successful project submissions will be notified by 18 April 2014. For further details and for project submissions please visit www.londonfestivalofarchitecture.org; or email: [email protected]
LFA partners, The Architecture Foundation, British Council, New London Architecture, and RIBA London, together with Chair Patricia Brown, will be joined by a wide range of cultural and professional organisations, staging a multitude of installations, exhibitions, citywide tours, performances, local interventions, and seminars. The Berkeley Group and the Mayor of London are once again generously supporting the London Festival of Architecture.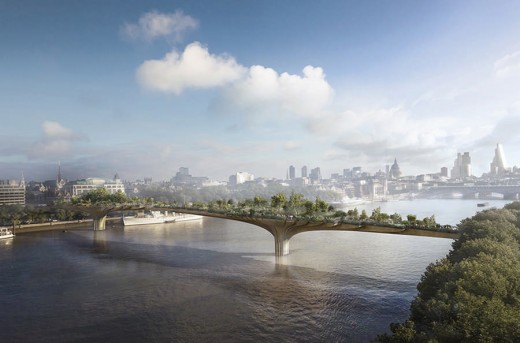 Events will take place across London, with concentrated activities organised around four focus areas on different weekends: City, Clerkenwell and Shoreditch (5 – 8 June); Thames and SE1 (14 – 15 June); London's "Villages" (21 – 22 June), and Fitzrovia, Bloomsbury and King's Cross (28 – 29 June).
Confirmed London Festival of Architecture activities include:
– The NLA, London's Centre for the Built Environment, will host an exhibition that explores the vertical growth of the city entitled London's Growing… Up! (2 April – 12 June). With over 200 towers, each more than 20 storeys, currently planned in London the NLA will hold an exhibition in the Building Centre, along with a series of one-off talks with leading architects and urban experts.
– The British Council is inviting architects from around the world to participate in a series of residencies with London based practices, as part of the International Architecture Showcase. The showcase is an annual programme organised by the British Council with London's embassies and cultural institutes. Situated around Ernö Goldfinger's brutalist icon the Balfron Tower and the Poplar neighbourhood, and in partnership with Bow Arts Trust, these collaborations will explore the themes of International Capital and émigré architecture today. The residencies will culminate in an exhibition and will be accompanied by a series of public events and presentations.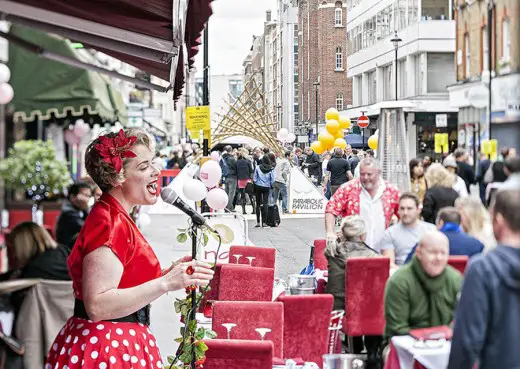 – RIBA London's Open Studios will return, with a collective of practices and RIBA members responding to the theme 'Capital' through a series of open studios, activities and events. In and around Fitzrovia practices will host a range of events, including RIBA London's open studios, and the return of Great Titchfield Street Festival. The street will be brought to life by architects, engineers and local businesses (28 June). Additionally, RIBA Open Studios Trails will feature specially curated walks, taking visitors to practices and creative studios in Shoreditch (5 June) and Fitzrovia (28 June); the walks, led by an architecture expert, will provide an insight into the ways in which architects and designers work.
– Leading investigative contemporary arts organisation Siobhan Davies Dance is staging a series of talks, events and walks (26 – 29 June) especially for LFA, as part of Human-Nature, a 10 month programme of art, horticulture and choreography. The events programme will include Thomas Heatherwick and Dan Pearson talking about the Garden Bridge, and Heather Ackroyd and Dan Harvey discussing their art interactions with architecture.
– The National Trust is organising a series of bus trips around London, led by authors and key personalities living in the capital's different areas. Design critic and author Stephen Bayley will present his architectural highlights of South London on a renovated green Routemaster bus (7 June), whilst journalist Tanya Gold will share her views on what makes North London culturally distinctive (14 June). In addition, the National Trust will offer a special late evening opening event with a chance to explore the unique Modernist home of architect Ernö Goldfinger.
– The Museum of London will present House of Muses, a new temporary structure, commissioned in partnership between the Museum of London and The Architecture Foundation, and judged by a panel of leading architecture experts. The innovative and playful structure will allow visitors to share their views on the Museum's future transformation plans. The structure will open on 6 June and will be accompanied by a programme of evening and weekend events throughout the festival.
– In a special exploration of the transport links of London, the Transport Museum will be offering walking tours of Piccadilly line stations as examples of British Modernism. In the early 1930s, concepts developed by the architect Charles Holden were incorporated into a number of District and Piccadilly line stations in west London. This tour will offer the chance to visit some of the Piccadilly line stations in west London, and see Holden's influence on their architecture.
The London Festival of Architecture's mission, since its origins in 2004, has been to reveal the potential within the city, in particular its public realm, by increasing access and suggesting alternative positive uses of the city. This year, the festival is run by five co-directors: Patricia Brown (Central), Nick McKeogh (New London Architecture), Noemi Blager (The Architecture Foundation), Vicky Richardson (British Council), and Tamsie Thomson (RIBA London) with the continued support of the festival Founder, Peter Murray.
Image Rights:
Balfron Tower 1 © Simon Terrill
Garden Bridge London 1 © Arup
London Festival of Architecture 2014 1 © RIBA London
London Festival of Architecture 2012
Location: The Barbican, London, England, UK
Architecture in London
Contemporary Architecture in London
London Architecture Links – chronological list
London Architecture Walking Tours
Architecture on Film, London : Architecture Foundation Events
The Architecture Foundation promotes and encourages the best in contemporary architecture and brings it to a wide public. It runs a rich programme comprising talks, events, exhibitions, films, design initiatives and competitions, research, policy work and films. Established in 1991 as Britain's first independent architecture centre, The Architecture Foundation actively bridges the gap between decision-makers, design professionals and the public.
London Festival of Architecture Installations 2016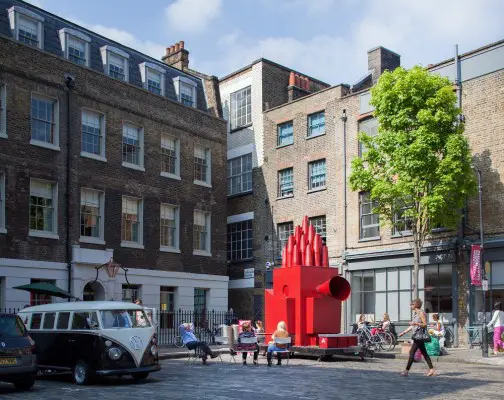 photo : Simon Kennedy
London Festival of Architecture Installations in 2016 – 18 Mar 2016
London Olympic Stadium
Architects: HOK Sport – Peter Cook
London Olympic Stadium
Athletes' Village
Design: various architects
London 2012 Olympics Village
Southwark Buildings – Architecture Foundation context
The London Festival of Architecture is produced collaboratively by London's leading architectural organisations-The Architecture Foundation (AF), New London Architecture (NLA) and the Royal Institute of British Architects London (RIBA)-in coordination with a broad range of cultural and professional partners. The Founding Director is Peter Murray and the Co-Directors are Sarah Ichioka (The Architecture Foundation), Nick McKeogh (Pipers Projects) and Tamsie Thomson (RIBA London).
Comments / photos for the London Festival of Architecture 2014 page welcome