Oxford Street Diagonals, London Building, Circus Project, Photo, News, Design Images
Oxford Street Diagonals London
Urban Development in London, England, UK: Streetscape Design, Pedestrian Crossing
2 Nov 2010
Oxford Street Diagonals
Oxford Circus crossing proving a hit one year on
In its first year more people have walked across the Oxford Circus crossing than live in the UK and Australia combined.
Since its launch a year ago on 2 November 2009 the Shibuya style crossing, which was inspired by Tokyo's famous district, has allowed more than 90 million people to cross the road diagonally in an X.
The busy intersection has given the millions of shoppers and visitors to the West End around 70 per cent more freedom to move around, and has helped boost annual sales figures in the West End which are up by 7 per cent.
Since the crossing opened last year Oxford Circus has become a must visit destination in the capital, and has doubled as an event venue hosting catwalk shows, student and arts projects and charity events.
Cllr Colin Barrow, said: "Our redesign gave Oxford Circus the X Factor last year and is still proving a hit one year on.
"It has become a destination which Londoners can be proud of and has made the West End an international talking point.
"Using inspiration from the Far East, we have made the fashion and entertainment hub a great place to shop and visit and will continue to improve the West End ahead of 2012
"In the run up to the Olympics we are resolute in our determination to ensure that we work even harder for the residents and businesses we serve in the city through our unrelenting commitment to projects which will give Londoners a lasting legacy.
"We are pleased to be partnering with The Crown Estate and Mayor of London on our next major regeneration project to transform Piccadilly Circus.
David Shaw, Head of Regent Street Portfolio at The Crown Estate said: "London hasn't seen a more significant improvement to its public realm than the Oxford Circus diagonal crossing in the last quarter of a century. The Crown Estate now looks forward to building upon this achievement with improvements at Piccadilly Circus by 2012, together with our partners, Westminster City Council and Transport for London."
Richard Dickinson, Chief Executive of New West End Company representing businesses in Bond Street, Oxford Street and Regent Street said: "Oxford Circus is one of our prime gateways to London's West End welcoming millions of visitors every year. The diagonal crossing transformed this key London landmark and has given our shoppers even more space to move with 69% more pedestrian area. It is just this sort of investment in world renowned design and public spaces that will help keep our global ranking as the world's top shopping destination."
The West End is incredibly important to London's economy, generating nearly one fifth of its GDP and more than 300,000 jobs, therefore investing in its future is essential.
The £5m crossing, which was launched last year by the Mayor of London Boris Johnson striking a 2 m high cymbal as Japanese musicians played taiko drums – and a giant X in the form of a red ribbon was unfurled by Japanese manga characters.
The redesigned road was jointly funded by the Crown Estate, which owns Regent Street, and TfL, while the work was carried out by Westminster Council and supported by NWEC.

The crossing has:
– increased the amount of pavement space by 312m2
– seen the traffic lights rephrased so that cars from all 4 directions are stopped simultaneously allowing people to walk safely across the junction diagonally
– halved the time it takes people to cross at Oxford Circus
– provided more room around the exits to Oxford Circus tube station
– seen the concrete and metal barriers which were previously at the circus ripped out
– adapted the technology used in the blockbuster films such as Lord of the Rings to ensure the crossing could cope with the people who pass through it
New West End Company and TfL, and landlords such as the Crown Estate, the crossing is part of improvements taking place across the West End ensure Britain's most popular shopping and entertainment destination, to ensure it continues to thrive and look truly world-class by 2012.
£100 million is being invested from public and private partners into sprucing up the area's public spaces and include improvements to Berwick Street, Mount Street, Regent Street and Marble Arch fountain.
The revamp at Marble Arch, and Oxford Circus, as well as cleaning up Soho, putting the sparkle back into Theatreland, modernising Leicester Square and Piccadilly Circus and making Chinatown more authentic are just some of the projects which will wow the capital's visitors to the games.
Oxford St Diagonals images / information from Westminster City Council
Oxford St Diagonals
FAR EASTERN PROMISE FOR WEST END AS WORK BEGINS ON OXFORD CIRCUS
Crossing one of the world's busiest intersections is set to be made easier as work begins this week on a £5million Japanese-inspired makeover which will allow shoppers to walk across Oxford Circus diagonally for the first time.
Taking a lead from Tokyo's famous Shibuya crossing, renowned for allowing people to cross with ease, Oxford Circus is set to get all its existing barriers and street clutter ripped out and remodelled in order to give pedestrians the freedom to move around quickly both straight ahead and diagonally – across both Regent Street and Oxford Street.
Before + After images of the Oxford Street Diagonals:



The busy intersection is one of the most popular destinations in the world with more than 200 million visitors a year, and designers have adapted the same technology used in blockbuster films such as the Lord of the Rings to ensure the layout of the new crossing can cope with the vast numbers of people who pass through it.
The redesigned road will double the amount of pavement and more space around the exits to Oxford Circus Tube station will be freed up.
As part of the works more than half a kilometre of both Regent Street and Oxford Street are being redesigned with wider pavements and new lighting.
The revamped crossing is due to reopen in time for the Regent Street and Oxford Street Christmas lights switch ons in November. This forms a key part Westminster City Council's wider plans to renew the West End ahead of 2012. The revamped Oxford Circus is being funded by The Crown Estate, which owns Regent Street in its entirety and Transport for London, and is supported by the New West End Company which represents businesses in Bond Street, Oxford Street and Regent Street.
Cllr Danny Chalkley, Westminster City Council's cabinet member for environment and transport, said: "Taking our inspiration from the Far East makes perfect sense as the Japanese have perfected the art of managing large numbers of people through good design and engineering, and the West End, like Tokyo's Shibuya district, is a fashion and entertainment hub which attracts visitors in huge numbers.
"This new crossing, which will transform Oxford Circus and ensure visitors who emerge from the Tube are impressed by what greets them, is part of a whole series of improvements taking place to ensure the West End looks truly world class in time for 2012."
David Brown, Managing Director for Surface Transport, TfL said: "TfL is pleased to be part of the partnership to fund this innovative scheme.
"The new diagonal layout will deliver a vastly improved crossing for pedestrians and upgraded public realm."
David Shaw, head of Regent Street at The Crown Estate said: "We are extremely excited by the Oxford Circus proposals which will deliver dramatic improvements for shoppers, workers and residents on Regent Street for years to come."
"Our vision for Regent Street is of a quality international shopping destination, a successful business location and a place for people."
Richard Dickinson, chief executive of the New West End Company, said: "The improvements to the Oxford Circus Diagonals are just one of many outstanding enhancements resulting from over £2bn of investment into London's West End. 250,000 people enter or leave Oxford Circus station every day so it's essential that their first ground-level view and experience of the West End is pleasing.
"We're delighted that the Oxford Circus Diagonals will allow more space for pedestrians and give the Oxford Street and Regent Street juncture back to the shoppers. Nine out of ten visitors to London come to the West End so we have a duty to ensure that it continues to be the world's top shopping destination in 2012."
As part of the work additional 'oases' will be created in nearby side roads Princes Street and Little Argyll Street, which will be part pedestrianised to allow for al fresco dining and possible street entertainment.
For the duration of the works Princes Street will act as the main support depot for the construction.
The designated pedestrian crossings on each of the four roads entering Oxford Circus will be enhanced by two diagonal crossings across the centre of the junction, which will link with each corner.
Traffic lights are set to be rephased so that vehicles from all four directions will be stopped simultaneously for 30 seconds allowing people to walk safely across the junction diagonally. The complete traffic sequence will be 115-120 seconds.
The new designs have been drawn up by engineering consultancy Atkins after discussions with Westminster City Council's transport department, using sophisticated computer software known as 'Fathom' and 'Legion' to model pedestrian movement.
Atkins project manager, Chris Greenwood, said: "By using the latest 3D modelling techniques we were able effectively to put 5000 people into the redesigned crossing area to see what would happen.
"The results we got indicated the design changes should have a massively beneficial effect.
"While this was a virtual simulation the software we're now using is so realistic we are totally confident the real world results will be just as good."
The main contractor carrying out the work is West One, which is also carrying out major work below ground as well as above it as part of the remodelling of the crossing.
Oxford Street Diagonals – Key Facts
At over £5.5billion a year the three streets Oxford Street, Regent Street and Bond Street gross a higher retail spend than Manchester and Birmingham combined.
They boast a combined tally of 6.6million square feet of retail space and more than 600 shops.
The retail industry provides employment for over 45,000 people, and 30% of all London jobs in cinema and theatre are in the West End.
200 million people visit the West End every year.
36,000 people live in the West End.
The three streets alone throw up their own challenges with up to 1,200 vehicles travelling along them every hour, around 170,000 people get on or off buses in Oxford Street each weekday and five underground stations serve the area and are used by over 100 million passengers a year.
The area also boasts:
– 40 theatres that contribute around £1 billion to the UK economy every year
– 100 million shopping visits every year.
– More retail space than Paris or Rome, with 120 international and 176 flagship stores
– 285,000 jobs with over 13,000 in the entertainment industry
Oxford Street Diagonals images / information from Westminster City Council
Location: Oxford Circus, London, England, UK
London Buildings
Contemporary London Architecture
London Architecture Designs – chronological list
London Architectural Tours by e-architect
Oxford Street shop by Future Systems
Oxford Street Diagonal Crossing
Key Building on Oxford Street:
Centre Point, tower
Richard Seifert, Architect



photo © Nick Weall
Key Shop on Oxford Street:
Selfridges Department Store, Oxford St, central London



photo © Adrian Welch
Selfridges Store
Gabriela Hearst, corner of Brook Street and Davies Street, Mayfair
Architects: Foster + Partners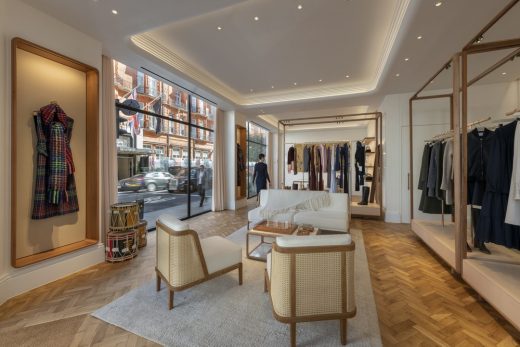 photography : Nigel Young / Foster + Partners
Gabriela Hearst London Store
Boodles at 178 New Bond Street, Mayfair, West London
Design: Eva Jiricna Architects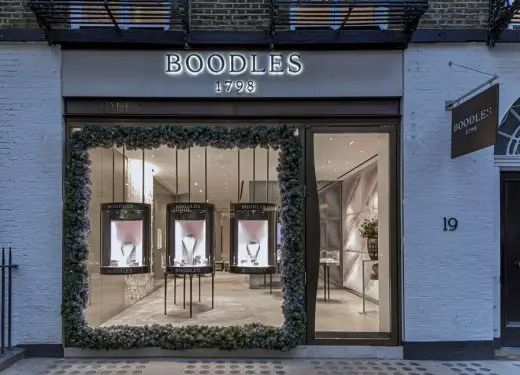 photo from architects office
Boodles on New Bond Street
Comments / photos for the Oxford Street Diagonals London – Shibuya style crossing page welcome