Chelsea Barracks Court Case, Qatari Diar, London, Verdict, CPC Group, News, UK
Chelsea Barracks London : High Court Verdict
Qatari Diar Development in west London, England
25 Jun 2010
Chelsea Barracks : Court Case
The High Court has ruled that Qatari Diar breached a contract with developers CPC Group, when it withdrew Richard Rogers' Chelsea Barracks scheme.
Chelsea Barracks as was, from Chelsea Bridge Road



photo © Nick Weall
The BBC state:
The High Court has handed a partial victory to property developers CPC Group, who demanded compensation after plans to redevelop London's Chelsea Barracks were shelved. The firm blamed an intervention by Prince Charles for giving their partners, Qatari Diar, cold feet.
Prince Charles and Richard Rogers had locked horns previously: in 1987 Prince Charles said the Luftwaffe had done less damage to London than Lord Rogers' scheme for Paternoster Square, next to St Paul's Cathedral.
But now his role has been questioned in a high-profile court case which blamed him for the demise of the Chelsea Barracks scheme for luxury apartments in one of the country's wealthiest areas.
Image of Chelsea Barracks design by Rogers Stirk Harbour + Partners



image : Hayes Davidson/Candy & Candy
The case saw property developers to the rich, the Candy brothers, accuse the Qatari royal family of dropping the £3bn plans for Chelsea Barracks in London only after the prince's intervention.
Candy & Candy sued the developers, state-backed Qatari Diar, for £81m compensation. Mr Justice Vos found the Qatari partners had breached the terms of their agreement by withdrawing planning permission for Chelsea Barracks after the intervention of the Prince of Wales.
But the judge said Candy & Candy (CPC Group) was not entitled to a payout of £68.5m under the original contract, as its lawyers had claimed.
He said the developer was entitled to damages, but did not immediately award a sum because CPC had not formally applied for them. He said the issue could be considered at a later hearing if the developer chose to pursue it.
Ahead of the Chelsea Barracks case, Lord Rogers, who designed the development, said the prince's actions were unconstitutional and called for a panel of experts to examine his misuse of power. The prince's objection to the modernist steel and glass design was expressed in a letter which was described in court as "a hand grenade".
He told the Qatari prime minister, also chair of Qatari Diar, that his "heart sank" when he saw the Chelsea Barracks design and he attached a scheme by a classical architect he preferred (see Quinlan Terry drawing below).
Chelsea Barracks alternative:



image : Hayes Davidson/Candy & Candy
At the High Court, Mr Justice Vos was told that Prince Charles and Lord Rogers "had previously crossed swords" and his opposition to modern architecture was "notorious".
The determination of Prince Charles to quash the project was revealed in an account of a phone call with his private secretary Sir Michael Peat, whose attitude was described as "hostile". He said the prince "would fight this to the finish" and make his objections public unless it were changed. There was also a suggestion the prince was trying to exert some political pressure, with the mention of a meeting with officials at the Greater London Authority.
But it seems a meeting with the Emir of Qatar over tea at Clarence House in May 2009 finally led to the scheme's failure a month later. Sir Michael Peat noted the Emir of Qatar also disliked the Chelsea Barracks design, but one of Christian Candy's Qatari Diar colleagues put it a little more bluntly, saying "the Prince of Wales pissed in his ear about how awful the scheme was".
Christian Candy described the conversation in an e-mail, saying the Emir of Qatar "went mental" at the head of the company, describing the Chelsea Barracks design as "awful" and demanding it be withdrawn. Christian Candy, who arrived at court in a Rolls-Royce, said after Prince Charles sent his letter he feared the company might withdraw "as a favour from one royal to another".
In court, the chief executive of Qatari Diar denied he had been put under political pressure to withdraw the plans for Chelsea Barracks. The company argued the plans were already doomed to fail to secure planning permission. But evidence from the prince which emerged after the judge had retired to consider his verdict shone a new light on the company's mindset.
Lawyers for Christian Candy claimed that a senior Qatari Diar employee, John Ward, deleted a series of e-mails which made reference to Prince Charles or Sir Michael Peat from the company's Doha computer server. But Qatari Diar's barrister, Joe Smouha QC, said those allegations were "entirely unjustified". The e-mails were later recovered from another server.
They showed that the company was extremely concerned about the impact of the prince's intervention at Chelsea Barracks, with one e-mail from its chief operating officer saying it "could be seen as a major embarrassment to Qatar". The same e-mail reveals fears that the Chelsea Barracks affair could undermine UK government support for projects, as Qatar had a "major financial interest" in the UK.
Another suggests Prince Charles had made personal representations re the Chelsea Barracks plans to the deputy mayor of London, Sir Simon Milton – who has responsibility for planning. Minutes from a later meeting quote Sir Michael Peat as saying Prince Charles wanted to "assist his friends in Qatar and avoid criticism of them which he feared would stem from imposing a scheme which was not popular".
He also revealed Prince Charles was "very unhappy" the matter had been made public. The reconvened court was told the e-mails were deleted to cover up the "key" involvement by Emir of Qatar and Prince Charles in the decision. Lord Grabiner for Candy  & Candy said Qatari Diar witnesses had lied when they suggested it was due to other reasons.
The Candy brothers' consortium bought the Chelsea Barracks site for £969m from the Ministry of Defence, hoping to boost their portfolio which includes One Hyde Park, boasting flats worth £100m.
The Sunday Times Rich List valued Candy  & Candy at £330m in 2009, a property empire built from a £6,000 loan used to develop a flat in Earls Court. Now based in Monaco where they own two yachts, Christian, 35, is engaged to former It girl Emily Crompton, while Nick, 37, dates Australian pop star and actress Holly Valance.
Chelsea Barracks – view from Ebury Bridge Road with the two remaining blocks awaiting demolition:



photo © Nick Weall
When the barracks scheme was dropped in May 2009, Lord Rogers called for a review of the prince's powers, saying he had broken a constitutional understanding. He told the BBC: "If we are to avoid a dangerous political clash then we need someone to solve the problem at a level which is not about this site, but at the level of royalty and their say in political matters."
The president of the Royal Institute of British Architects (Riba) said after hearing the court evidence it appeared the prince had brought "inappropriate pressure" on the planning process. "Behind-the-scenes influence would have been a huge hurdle to consider. No individual should use their position in public life to influence a democratic process such as planning," Ruth Reed said.
Chelsea Barracks – Pimlico Rd and Chelsea Bridge Rd corner



photo © Nick Weall
Clarence House declined to comment on the Chelsea Barracks court case, but this will not mark the end of the involvement by Prince Charles in architecture. Prince Charles has an educational charity called the Foundation for the Built Environment, which aims to teach and promote a "timeless and ecological approach" to planning, design and building.
Poundbury, in Dorset, is a prime example of Prince Charles' values, put forward in his 1989 book, A Vision of Britain, combining traditional design with modern town planning. Established in 1998, the foundation now works on about 25 projects a year in the UK and abroad. It now also has a commercial wing called PF Urban which takes on commissions and channels any profit back into the charity. A spokesman for Prince Charles said he hoped that PF Urban would help more communities to create "thriving, healthy and prosperous places" in which to live.
Chelsea Barracks Architect Winners
7 Dec 2009
Dixon Jones Limited + Squire and Partners + Kim Wilkie Associates
Masterplanning team selected for Qatari Diar's Chelsea Barracks Development
Qatari Diar Real Estate Investment Company ("Qatari Diar"), the sole owners and developers of the Chelsea Barracks project, have today announced their selected team to prepare a masterplan for the development. The purpose of the masterplan will be to create a design framework for the 12.8 acre site, including sustainable land use mix and public realm, ahead of any detailed design architecture. Among other issues, it will address building use, height, density and site layout, reflecting its immediate surroundings and its location within London. In particular, it will draw on the substantial number of responses from the local community.


image from architects
Following a rigorous selection process, in which submissions and presentations were considered from ten shortlisted teams, Dixon Jones with Squire and Partners and Kim Wilkie Associates have been selected to lead the masterplanning stage of the project. No detailed design architects have yet been appointed; it is likely that several firms could be involved in working on the different phases or elements of the scheme, to provide the diversity and sustainable quality merited by such an important site within Central London.
The initial submissions from the shortlisted teams were reviewed by an expert evaluation panel, including representatives from Grosvenor, The Prince's Foundation for the Built Environment, as well as renowned international and local architects and architectural commentators.
Mr Ghanim bin Saad Al-Saad, Managing Director and CEO of Qatari Diar, said:
"Qatari Diar has a long-term commitment to major investment at this site, in order to create a magnificent and sustainable new neighbourhood, respectful to the traditions, diversity and cultures of the surrounding urban fabric, and delivering the private and public spaces where people will want to be. The masterplan process continues the journey of investigation and consultation which has met with such a positive response over the past few months. We would like to continue the working partnership which has been evolving between ourselves and the local community, in order to deliver a very special place for London."
Chelsea Barracks Architect Winners information received 071209
Chelsea Barracks, London : main page on this development
Chelsea Barracks Architects – Links
About QATARI DIAR Real Estate Investment Company:
Wholly owned by the Qatar Investment Authority, QATARI DIAR Real Estate Investment Company was established in December 2004 to support Qatar's growing economy and to co-ordinate the country's real estate development priorities. Qatari Diar is currently involved in more than 30 projects in 18 countries around the world.
Qatari Diar is becoming established as one of the world's most trusted and respected real estate companies because of its commitment to quality, local community, partnership and hallmark sustainability.
Qatari Diar's hallmark vision of sustainable development places community and local traditions at the forefront. The Company aims to create and manage property investments and developments which not only comply with the best international standards, but which also strongly reflect local culture and values. As a result, Qatari Diar's projects deliver a distinctive and sustainable social, economic and environmental benefit to the community. In addition, Qatari Diar often enables local and international developers and investors to partner in its projects, and to work together in exploring other opportunities, both locally and internationally.
In the UK, Qatari Diar has a £5bn investment and development programme under way including, in addition to the Chelsea Barracks project, its recent acquisition of the US Embassy building in Grosvenor Square, London, and its involvement in the development of the iconic, 300m tall Shard Tower, designed by Renzo Piano, which will become Europe's tallest building and a catalyst for the regeneration of the area surrounding London Bridge Station, known as London Bridge Quarter.
Chelsea Barracks Architects Shortlist Update
24 Sep 2009
– Alan Baxter & Associates + Paul Davis and Partners + Liam O'Connor Architects, Heatherwick Studio + Todd Longstaffe-Gowan
– Dixon Jones Limited + Glenn Howells Architects
– Duany Plater-Zyberk & Company + KPF London + Paul Murrain + ZEDfactory + Merrill Pastor Colgan Architects + Gillespies Landscape Architects
– Feilden Clegg Bradley Studios + AHMM + Macreanor Lavington Architects + Alison Brooks Architects + Grant Associates
– Hamiltons Architects + Think Place + Patel Taylor
– Lifschutz Davidson Sandilands + Haworth Tompkins Architects + Churchman Landscape Architects
– Porphyrios Associates + Allies and Morrison + Townshend Landscape Architects
– Robert Adam Architects + Ash Sakula Architects + LDADesign
– Squire and Partners + Kim Wilkie Associates
– Terry Farrell and Partners + Panter Hudspith + Peter Barber Architects + Chris Dyson Architects
Chelsea Barracks Shortlist to be reduced to three architects in Nov 2009
Chelsea Barracks Development – Architects Boycott
18 Jun 2009
Architects are being urged to boycott the Chelsea Barracks project following Prince Charles's intervention in the design. Developer Qatari Diar is due to ask architects if they wish to submit alternatives to Richard Rogers' designs.
Labour MP Ken Purchase has tabled a Commons Early Day Motion calling on the Royal Institute of British Architects to implement a Chelsea Barracks boycott. RIBA President Sunand Prasad said "I would not enter a competition to replace an architect in these circumstances." Former RIBA President, Jack Pringle, said the Prince of Wales' "tendency to interfere in a powerful and undemocratic way…is an abuse of his position."
Chelsea Barracks – view from Ebury Bridge Road:



image : Hayes Davidson/Candy & Candy
Chelsea Barracks Development – further information
Chelsea Barracks Proposal : news reports in full from Jun 2009
Prince Charles lecture at RIBA
Chelsea Barracks Architect : Rogers Stirk Harbour + Partners
Location: Ebury Bridge Road, London, England, UK
London Buildings
Contemporary London Architecture
London Architecture Designs – chronological list
London Architecture Walking Tours by e-architect
Candy & Candy : 21 Chesham Place apartments, London
Candy & Candy : One Hyde Park, Knightsbridge
Chelsea Barracks Art Marquee : Westminster City Council Statement
Millennium Dome by Richard Rogers Partnership
Boodles at 178 New Bond Street, Mayfair, West London
Design: Eva Jiricna Architects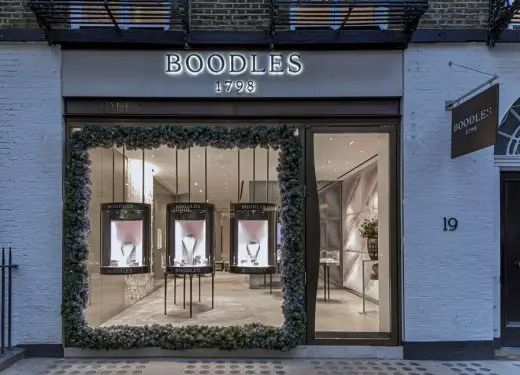 photo from architects office
Boodles on New Bond Street
Comments / photos for the Chelsea Barracks High Court Case Verdict page welcome
Website: www.chelseabarrackspartnership.com