City North London, Finsbury Park Central, Housing, New Residential Property
City North London : Finsbury Park
Islington Properties, northeast London Building – design by Benson + Forsyth, architects
27 Apr 2010
City North Site
Finsbury Park Central
Design: Benson + Forsyth Architects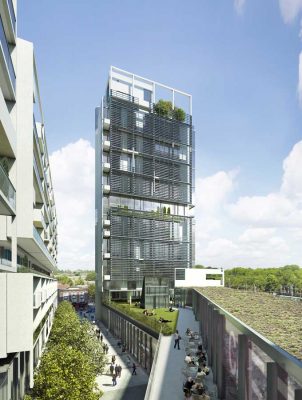 image from Benson + Forsyth Architects
Finsbury Park Central
"Placemaking through Regeneration and Design Excellence"
Introduction
Finsbury Park has long been identified by the London Borough of Islington (LBI) as an area in need of regeneration. More specifically, the Council has identified the City North site adjacent to Finsbury Park Station as a key regeneration site and a catalyst for the wider regeneration of the area.
City North Islington Ltd, the owners of the site, have been in discussion with the Council for over 4 years about the redevelopment of the site. The applicants and Council have worked together over this time to develop a sustainable, mixed use proposal and a planning application is now being prepared.



images from Benson + Forsyth Architects
Collaborative Working
City North Islington Ltd are part of the Business Design Centre Group (BDCG) who have based in Islington for over 50 years. BDCG has always taken an active interest in regeneration initiatives in the Borough and are driven by a strong design ethos. BDCG is proposing to continue their investment in the Borough through the redevelopment of the City North site.
The Station itself is one of the busiest transport interchanges outside Zone 1 and is also a vibrant multi-cultural area with a variety of uses which reflects its diversity. Finsbury Park is, however, one of the most deprived parts of Islington and large parts of the built environment are in need of investment and regeneration. The site, adjacent to Finsbury Park station, therefore represents a major strategic redevelopment opportunity within Finsbury Park.
The Council has identified Finsbury Park as being in need of a clear and proactive planning framework which encourages regeneration and has therefore produced a draft Area Action Plan (AAP). This provides a clear vision for the site, and wider Finsbury Park area, including the provision of better housing, a mix of uses, improved public spaces and high quality taller buildings.
In addition to the draft AAP, a Planning Brief was prepared for the site by the applicant in collaboration with the LBI. The Planning Brief was adopted by the Council as non-statutory development control guidance in November 2007.
The Planning Brief builds on the objectives of the draft AAP, emphasising the site's strategic importance next to a transport hub, the need for a landmark development which labels the site as a gateway location and provides Finsbury Park with a focus and identity that is currently absent. The Planning Brief also emphasises the need for high quality design, a mix of residential units, job creation and good sustainability credentials.
The Planning Brief was the subject of public consultation and over 3,000 local residents and businesses were given the opportunity to feed into the final Brief. The overall feedback was very supportive of the general development principles, proposed mix of uses, permeability improvements and creation of a landmark development.
Following the adoption of the Brief, BDCG commissioned an architectural competition which was organised in partnership with the Royal Institute of British Architects. An award-winning practice based in Islington was selected – Benson + Forsyth – to prepare a detailed planning application.
Placemaking
The existing site comprises a 'back lands' development which is poorly linked to the surrounding area and contains buildings of little architectural merit. Its pivotal location between Finsbury Park Station and Fonthill Road is currently unexploited, underutilised and impermeable.
The core objective of the proposed redevelopment is to create a new focus and a new sense of place for Finsbury Park. This will support and complement Fonthill Road. This will also be a new place where people want to live, work and spend time, as well as creating a new image, atmosphere and sense of identity for Finsbury Park.
In order to achieve this objective, Benson + Forysth has developed a transformational scheme of a high quality, signature design.
The scheme primarily consists of a podium building with retail and office units, an elevated terrace and two 22 storey landmark buildings all containing residential accommodation. The entire building group, as well as each individual component, is articulated in response to specific existing contextual considerations.
The transformational nature of the scheme works on two levels. At the ground floor local level the scheme re-establishes the site within the urban fabric and joins together the key nodes of the transport hub at Finsbury Park Station and Fonthill Road.
At the upper levels, the landmark buildings are each distinctive and are used to signpost the site from a wider London perspective. They are designed to a high quality and mark arrival points at the site, together with reinforcing wider views, "signposting" the transport hub and reinforcing Finsbury Park as a centre for investment.
As part of the transformational scheme, connectivity into the existing transport hub will be improved together with the scope for future improvements should London Underground Ltd (LUL) secure funding.
The mix of uses builds upon the diversity which exists in the area and will further enhance the experience of living in, working in and visiting Finsbury Park. The uses will provide both an evening and weekend economy.
The new streets within the scheme will create a high quality, legible public realm encouraging natural surveillance and pedestrian activity. Individual balconies, terraces, children's playspace and communal gardens are also provided.
Other Key Scheme Benefits
In summary, the creation of a new place through high quality design and landmark buildings will in turn "re-brand" the area, "signpost" Finsbury Park and ensure the wider regeneration process is driven forward.
In addition to helping transform Finsbury Park into a successful place where people will want to live, work and play and creating a new image through design excellence, the scheme will deliver a range of other benefits.
Delivery of a Mixed Community
Delivery of some 350 residential units with generous space standards.
Delivery of both social rented and intermediate units (the exact amount of affordable housing to be provided is currently being discussed with LBI through a 'Three Dragons' assessment.)
Delivery of some 75 family sized units including over 60% of the affordable housing as family sized units.
All residential units will be built to lifetime home standards and 10% will be wheelchair accessible.
Employment Generation
Delivery of approximately 10,000 sq m of Class A1 – Class A5 floorspace and 3,000 sq m of Class B1 floorspace.
Generation of some 600 jobs post development together with additional construction jobs.
Delivering of an active, permeable retail frontage and increased footfall which will assist the wider, existing retail circuit.
Accessibility and Transport Improvements
Enhanced permeability and linkages to the existing transport hub.
A potential link within the Seven Sisters Road pedestrian tunnel has been safeguarded together with the provision of a future Western Ticket Hall should LUL secure funding.
Residential, employee and customer parking will not be provided. Car parking will only be provided for disabled residents.
The development incorporates 20 parking spaces for a local car sharing scheme which will be available to all residents and the wider community.
Provision of some 600 cycle spaces.
Enhanced Amenity and Public Realm
Provision of private gardens / balconies for nearly all residential units.
Provision of playspace on site for 0 – 4 year olds and 5 – 11 year olds.
Provision of a garden terrace and enhanced public realm.
Sustainability and Energy Credentials
Delivery of a district energy plant for the wider community to utilise in the future if appropriate.
Delivery of renewable energy and high sustainable credentials (pre-assessments for BREEAM and Code of Sustainable Homes are currently being undertaken. Consideration is currently being given to suitable renewable energy provision).
Delivery of green and brown roofs.
City North, Finsbury Park images / information from Benson + Forsyth Architects
City North Finsbury Park : new London housing
Location: Finsbury Park, London, England, UK
London Buildings
Contemporary Finsbury Park Architecture
Finsbury Park Housing
Design: Sergison Bates architects LLP



photograph : Stefan Mueller
Mies van der Rohe Award Nominee 2009
Finsbury Park Station



photograph © Adrian Welch
Almington Street House in Finsbury Park
Contemporary London Architecture
London Architecture Designs – chronological list
London Architecture Walking Tours by e-architect
Website: Visit London
Buildings / photos for the City North N4 – Finsbury Park Residential Architecture page welcome