Bio Medical Research Centre, Brill Place Building, UKCMRI London Design News
Bio Medical Research Centre London
UK Centre for Medical Research and Innovation design by PLP architecture
7 Sep 2010
The UK Centre for Medical Research and Innovation – UKCMRI
Location: Kings Cross
Date: 2010-
Design: PLP architecture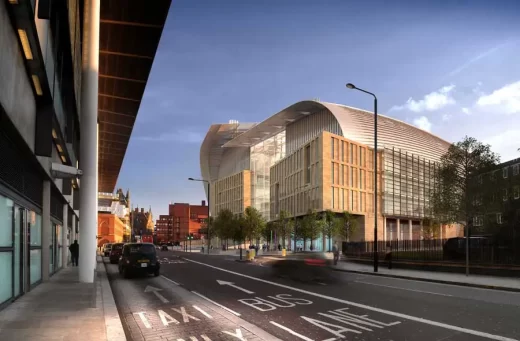 image from PLP Architecture
Bio Medical Research Centre
Plans for a new world-leading medical research institute at St Pancras and Somers Town in London have been presented to Camden Council. The UK Centre for Medical Research and Innovation (UKCMRI) will carry out ground-breaking research on the basic biology underlying human health. It will drive forward better treatment and prevention of the most significant diseases affecting people today such as cancer and heart disease.
The proposed development responds to the findings of the Cooksey Review (December 2006) a report for HM Government into the arrangements for funding health research. Against this backdrop, UKCMRI will enhance the ability of the country's leading biomedical research institutions to work together to tackle some of the biggest medical challenges facing the UK and the world.
A planning application for the institute was submitted to the Council on 1 September. It is expected to be heard by members of the Development Control Committee before the end of the year, following a formal consultation by the Council. If approved, construction will begin next year with completion in 2015.
The application follows over two years of consultation with scientists, business leaders, politicians and planners. Furthermore, the UKCMRI team has met more than 500 local people and carried out more than 70 consultation activities.
The Chair of UKCMRI, Sir David Cooksey, said: "The proposed UKCMRI building has been carefully designed to meet future scientific demands and to respond to the architectural heritage of the local area. In addition we have modified the exterior, public areas and open spaces in response to consultation"
"UKCMRI is perfectly positioned to bring together a wealth of expertise to tackle some of the biggest challenges in beating cancers, heart disease, stroke, 'flu and neuro-degenerative diseases. It sits within the extraordinary cluster of medical and scientific expertise already found in Camden."
He added "This is an unprecedented opportunity for UK science. New discoveries and technological advances have opened up countless opportunities to uncover fundamental causes of health and disease. "
UKCMRI has been founded by the Medical Research Council (MRC), Cancer Research UK, the Wellcome Trust and UCL (University College London). It will be based on the world-class research currently being carried out at the MRC's National Institute for Medical Research, Cancer Research UK's London Research Institute, and in UCL's laboratories. The Wellcome Trust has supported numerous innovative ventures in recent years including the Sanger Institute which sequenced a third of the human genome.
UKCMRI will be a substantial institute providing space for more than 1,500 staff, including 1,250 scientists from a range of disciplines. UKCMRI's location amid the cluster of outstanding research and medical institutions in Camden, many within easy walking distance, will foster the collaborations and multi-disciplinary working which are now recognised as essential for success in biomedical science.
UKCMRI will play an important national role. It will recruit from a global pool of talent, providing an opportunity for researchers to develop their careers in the UK. Through collaboration it will build extensive links throughout the UK and internationally, assisted by the excellent national and international transport links on its doorstep. UKCMRI will reinforce London's and the UK's position as a global centre of research excellence.
Plans for the new institute are open to view at an exhibition on the site of the proposed institute at Brill Place to the west of the St Pancras International Station. The exhibition is open on Tuesdays and Thursdays and one Saturday a month.
Bio Medical Research Centre London : Further Information
The UKCMRI consortium
The UK Centre for Medical Research and Innovation (UKCMRI) is an unprecedented partnership between four of the world's leading biomedical research organisations: the Medical Research Council, Cancer Research UK, the Wellcome Trust and UCL (University College London). It will carry out research of the highest quality using the latest technology to advance our understanding of human health and disease. The institute will be constructed on 3.6 acres of land at Brill Place, to the north of the British Library in the St Pancras and Somers Town area of north London.
Building on research excellence
UKCMRI will initially build on the complementary skills and research interests of two of the founders' research institutes, the MRC National Institute for Medical Research (NIMR) and the Cancer Research UK London Research Institute (LRI), together with UCL scientists focusing on physics, computing, engineering, imaging and chemistry.
NIMR is renowned for its research in a diverse range of fields, including developmental and stem cell biology, structural biology, neuroscience, immunology and infectious disease. Its 600 scientific staff are based in laboratories in north London at Mill Hill. NIMR's director is Jim Smith.
LRI has an international reputation for basic cancer biology research, focusing on cell regulation and signalling, tumour and tissue biology, and genomic integrity. Directed by Richard Treisman, LRI has some 500 scientists working at laboratories at Lincoln's Inn Fields, central London and Clare Hall, Hertfordshire.
In addition to funding the cost of building UKCMRI, the founders will provide ongoing research support to the institute. Wellcome Trust support will fund interdisciplinary research spanning biology, chemistry, physics, maths and engineering.
Key facts
1500 staff, including 1250 scientists
Annual budget of over £100m
Initial investment of £600m
3.6 acres of land
Building area: 91,000 square metres
Timeline
1 Sep 2010 – planning application submitted
Dec 2010 – Camden councillors consider application
Early 2011 – Construction starts
2015 – Construction ends
Viewing the planning application
We understand that Camden Council will publish the application on their website in due course. For more information on the project visit www.ukcmri.ac.uk
Contact: 0800 0286 731.
The partners
The Medical Research Council: For almost 100 years the Medical Research Council has improved the health of people in the UK and around the world by supporting the highest quality science. The MRC invests in world-class scientists. It has produced 29 Nobel Prize winners and sustains a flourishing environment for internationally recognised research. The MRC focuses on making an impact and provides the financial muscle and scientific expertise behind medical breakthroughs, including one of the first antibiotics penicillin, the structure of DNA and the lethal link between smoking and cancer. Today MRC funded scientists tackle research into the major health challenges of the 21st century.
Cancer Research UK is the world's leading charity dedicated to beating cancer through research. The charity's groundbreaking work into the prevention, diagnosis and treatment of cancer has helped save millions of lives.  This work is funded entirely by the public. Cancer Research UK has been at the heart of the progress that has already seen survival rates double in the last thirty years. Cancer Research UK supports research into all aspects of cancer through the work of more than 4,800 scientists, doctors and nurses. Together with its partners and supporters, Cancer Research UK's vision is to beat cancer. For further information about Cancer Research UK's work or to find out how to support the charity, please call 020 7121 6699.
The Wellcome Trust is a global charity dedicated to achieving extraordinary improvements in human and animal health. It supports the brightest minds in biomedical research and the medical humanities. The Trust's breadth of support includes public engagement, education and the application of research to improve health. It is independent of both political and commercial interests.
UCL (University College London): UCL is London's leading multi-disciplinary university, with 8000 staff and 23,000 students from 150 countries engaged in world-class teaching and research. UCL is the fourth-ranked university in the 2009 THES-QS World University Rankings and one of Europe's largest and most productive centres for biomedical science. It is ranked second in the world for neuroscience and behaviour, with more than twice as many publications and citations as any other European institution. In 2008 it established UCL Partners, Europe's largest Academic Health Science Centre, with four key partner hospital trusts – Great Ormond Street, Moorfields, the Royal Free and University College Hospital.
Francis Crick Institute : current page on this project
Location: Brill Place, London, England, UK
London Buildings
Contemporary London Architecture
London Architecture Designs – chronological list
London Architecture Walking Tours by e-architect
University College Hospital Building



picture © Adrian Welch
UCL Cancer Institute Building



picture © Adrian Welch
School of Tropical Medicine, UCL



photograph © Nick Weall
Swiss Re Building – 30 St Mary Axe
Foster + Partners
Comments / photos for the UK Centre for Medical Research and Innovation – UKCMRI page welcome
Website: www.crick.ac.uk