Nine Elms Wandsworth, NLE Development, South London Building, Property Design, Project
Nine Elms London Wandsworth
Wandsworth Development: Northern Line Extension – South London Architecture, UK
29 Jul 2016
Nine Elms SUDS News
Nine Elms Sustainable Urban Drainage Network
Plans unveiled for UK's largest sustainable urban drainage network at Nine Elms on the South Bank
An ambitious new project designed to dramatically cut the amount of clean rainwater becoming contaminated in London's sewers is set to be launched this summer across the Nine Elms on the South Bank regeneration area.
Rainwater landing on an area the size of 20 football pitches will be channelled back into the Thames to stop it entering the capital's overstretched sewers where it would mix with raw sewage.
This will reduce flood risks and save the huge amount of energy and cost involved in treating rainwater after it combines with waste from sinks, toilets and washing machines.
An artist's impression of the new Nine Elms Park – the underground pipes will be buried beneath: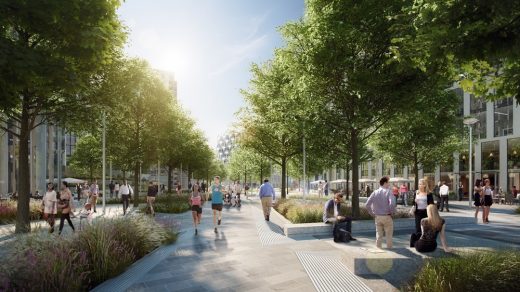 The £14m project will be the biggest sustainable urban drainage system (SUDS) in the UK and has been developed through an innovative partnership between Thames Water and the Nine Elms Vauxhall Partnership, which includes Wandsworth Council, Lambeth Council, the GLA and local developers including Ballymore.
New developments in Nine Elms have pioneered design features in new buildings and landscaping that capture rainwater, and increase evaporation before directing flows to a surface water network.
The rainwater will then drain into large underground pipes buried beneath the new Nine Elms Park which will be a new green channel through the area from Vauxhall to Battersea Power Station.
After heavy rainfall the water will be gradually pumped from this underground reservoir into the Thames via an upgraded pumping station in Ponton Road.
Thames Water sustainability director Richard Aylard said:
"By keeping the rain out of our combined sewers we are reducing the risk of flooding, pollution and pressure on our sewers, this will become especially important in the long-term as London's population continues to grow rapidly and the climate changes. It is about putting surface water back where it belongs – in the river. Development and regeneration across London is a major opportunity to do something different with surface water – to take it out of sewers, create additional capacity for new homes and businesses and allow areas like Nine Elms on the South Bank to thrive. Initiatives like this will also help to prolong the life of the Thames Tideway Tunnel."
Leader of Wandsworth Council and co-chair of the Nine Elms Vauxhall Partnership, Ravi Govindia, said:
"This is the city's most ambitious sustainable drainage network and a real step forward for London's green infrastructure. The project is another major achievement for our regeneration partnership as it transforms this old industrial part of the South Bank into a modern city centre business hub and cultural quarter.
"In Nine Elms we are creating up to 4,000 affordable homes, two new Tube stations and 25,000 new jobs. In the months ahead we will see the opening of the new US Embassy, a new Riverbus pier and the launch of the new 'village hall', shops, restaurants, bars and public spaces on the Battersea Power Station site. There is much to look forward to."
Tristan Stout, Senior Development Manager at Ballymore, which has been heavily involved in developing the project, said:
"We have ensured that Embassy Gardens integrates effective water management throughout through green roofs and rainwater gardens in the new streets of Embassy Gardens and through the landscape design of Nine Elms Park. Collaboration with Thames Water has enabled these features to be integrated into a strategic surface water network, which does not just reduce the flow, but removes it entirely from the existing network. This collaborative approach is one we hope will be replicated throughout London to make the city more resilient to the future climate change challenges."
The unique drainage network will interact with a variety of eco-friendly rainwater design features included in new developments across Nine Elms. These include green roofs, swales – ditches containing vegetation used to remove pollutants – and streets with rainwater gardens which allow water to evaporate into the atmosphere, irrigate plants and generally reduce the volume of rainwater flowing back into the river.
Other cabling for amenities to serve the area's new businesses and homes will be laid above the new drainage system at the same time, reducing future disruption to the road network.
About Nine Elms on the South Bank
As the major regeneration of Nine Elms on the South Bank progresses at a pace, the area is rapidly shaping up to become one of London's most innovative and vibrant quarters.
The new Nine Elms Park will add to the Vauxhall Pleasure Gardens and a new stretch of the River Thames Walk, lined with cafes, bars shops and galleries which will give the area a rich mix of culture and green space just a few minutes from Westminster and the City.
The area will also benefit from two new Tube stations, new schools, two town centres, around 4,000 affordable homes, health centres, a high-speed data network for businesses, a second River Bus pier and a new cycling and pedestrian network.
Other key attractions in the pipeline will included a revived Battersea Power Station, the new US and Dutch embassies and a new centre for London's foodies at New Covent Garden.
The district is being shaped by world leading architects, developers and planners to create a truly mixed-use district with real city centre vitality.
Find out more at www.nineelmslondon.com
17 Aug 2012
Nine Elms London News
Plan to extend London's South Bank culture
An ambitious plan to extend the cultural spine of London's South Bank all the way to Battersea Power Station in Nine Elms is now being developed.
A multi-billion pound investment programme has started to transform the largely industrial Nine Elms district and a cultural placemaking consultancy is being brought onboard to help ensure the area reaches its potential as a new centre for arts and culture.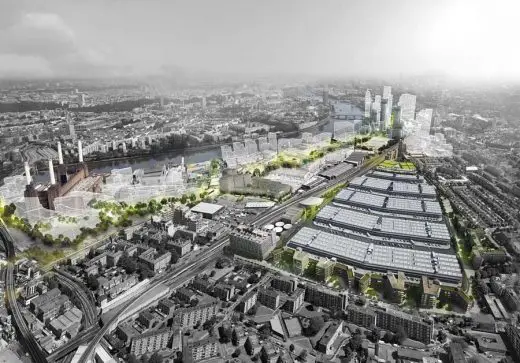 image from Wandsworth Council
Wandsworth and Lambeth Councils are now inviting expressions of interest from experts in the field of cultural masterplanning.
Nine Elms Programme Director Helen Fisher said:
"Just 40 years ago the South Bank was an industrial part of the city. Today, it's a world class cultural destination with some of London's most popular tourist attractions. The redevelopment of Nine Elms will be the final stage in this extraordinary transformation.
"As we reshape this district we want to lay the foundations for a rich, exciting cultural scene, capitalising on our central London location and riverside setting.
"A great deal of progress has already been made and we are now looking for a placemaking consultancy to take the project forward."
The successful candidate will deliver a far reaching engagement process involving local people, local businesses and the wider art and cultural world.
Battersea Underground Line Extension
24 May 2012
Nine Elms News
Examiner supports development tariffs at Nine Elms development
An independent assessment of the council's proposed development tariff system has concluded that the rates are fair and affordable.
Once brought into force the new levy will raise millions of pounds every year to improve the borough's infrastructure and local services.
The Community Infrastructure Levy (CIL) is a new tax local authorities will be able to charge on local development projects. It is being brought in across the country as part of Government reforms to the planning system.
It will largely replace the existing system whereby developers negotiate infrastructure payments on a project by project basis.
Wandsworth's CIL charging schedule has now gone through an independent examination process to ensure the levels proposed are affordable for the industry and will raise enough money to fund the improvements local communities need.
The examiner's report concludes: "…the London Borough of Wandsworth Council Community Infrastructure Levy Charging Schedule provides an appropriate basis for the collection of the levy in the area. The Council has sufficient evidence to support the schedule and can show that the levy is set at a level that will not put the overall development of the area at risk."
Wandsworth's schedule sets a levy of £250 per square metre for residential development across the vast majority of the borough, and no charge for other types of development including new retail or office space.
In the Roehampton regeneration area there will be a zero levy across all types of development to ensure the viability of the regeneration of the area.
Within 'Area A' of the Nine Elms opportunity area there will be a charge of £575 per square metre on residential development.
Throughout the rest of opportunity area – called Nine Elms Area B – a levy of £265 per square metre will be applied to new residential development. Across both Nine Elms Areas there would be a charge of £100 per square metre for office and retail space and zero for other types of development.
The higher charges in Nine Elms reflect the high and increasing property values here and the need for major transport upgrades including the planned Northern Line Extension.
The council's CIL charges will be in addition to the Mayor of London's CIL which was introduced on April 1, this year.
Wandsworth Council's cabinet member for strategic planning and transportation, Councillor Russell King, said: "This is a real step forward for the planning system. A set tariff gives the industry greater cost certainty and residents will be able to see up front how much a development project will pay towards improving the local area.
"It means an end to long and complex negotiations behind close doors which are a needless drain on councils and developers alike.
"The examiner has confirmed that our charging schedule strikes the correct balance between what developers can afford to pay and securing the funding we need to build a stronger Wandsworth and to support growth.
"In Nine Elms we have set higher tariffs that reflect the area's development potential and its central London location on the South Bank. These tax revenues will be channelled into major infrastructure schemes including the Northern Line Extension, which is the key to creating 25,000 new jobs. Several major landowners are already paying the proposed rates so we have absolute certainly that the tariffs are affordable.
"Across the rest of Wandsworth we have proposed a zero tax rate on all non-residential forms of development to ensure job creating schemes remain viable and keep coming forward."
The charging schedule was drawn up following consultation with local residents and the development industry.
A final decision on adopting the levy will be made by the council on July 11 and the charging schedule could come into effect by the end of the year.
Wandsworth's charging schedule is available on the council's website, including a map showing the different levy charge zones. Visit www.wandsworth.gov.uk/cil.
6 Mar 2012
Nine Elms Parkside
Green light for more Nine Elms development
Masterplan design: Allies & Morrison Architects
Wandsworth Council last night (Monday, March 5) approved plans for up to 1,870 homes in the Nine Elms regeneration zone alongside a brand new state primary school and a 3.3 acre public park.


image from Wandsworth Council
The mixed use scheme – called Nine Elms Parkside – would also provide space for new shops, businesses, postal services, cafés, restaurants, bars, and a variety of sports and leisure facilities.
The 13 acre site is currently occupied by the South London Mail Centre which is due to close as part of Royal Mail's ongoing restructuring programme.
As part of the scheme's Section 106 package the developer will pay approximately £50mn towards improving local transport and community infrastructure. The majority will go towards the planned Northern Line Extension which will create two new Tube stations in Nine Elms.
Other community benefits include the new primary school, up to 168 affordable rent homes, up to 112 intermediate rent homes, £200,000 towards an extension of the Barclay Cycle Hire scheme to Nine Elms, £300,000 towards a local employment initiative and new car club parking spaces.
A sports hall and outdoor sports pitches would also be created which would be used by the new school and the wider community. There will also be 2,414 cycle parking spaces across the site.
The scheme's masterplan, by Allies & Morrison Architects, would create seven distinct plots with building ranging in height from 5 to 23 storeys.
The development is set around new public squares, courtyards, gardens and a new 3.3 acre public park which would run the full length of the site from east to west.
This new green space will form a key link in the Nine Elms Linear Park – a continuous green corridor that will run right the way through Nine Elms, from Battersea Power Station in the west to Vauxhall Cross in the east.
Nine Elms programme director Helen Fisher said:
"More than 1,000 homes are now under construction in Nine Elms along with brand new offices, shops, a new riverside walk and acres of new park land. The scale of the transformation is truly remarkable and this latest planning approval adds further momentum to our regeneration programme.
"The proposal would see this vast site brought back into use after the mail centre closes and more than three acres of new park land created. "It provides another £50mn towards the Northern Line Extension and brings the rebirth of this forgotten part of central London a significant step closer."
The Royal Mail site lies at the heart of the Nine Elms regeneration zone. Immediately to the east is Ballymore's Embassy Gardens development which last month (Feb) achieved planning consent for a mixed use scheme including almost 2,000 new homes.
To the north is St James Homes' Riverlight development which is now under construction and to the south is New Covent Garden Market where a planning application has been submitted for another major regeneration project.
Across Nine Elms more than 1,000 new homes are currently being built and this latest approval brings the number of homes with planning consent to 9,296. Proposals for a further 4,566 are in the pipeline which would bring the total number of new Nine Elms homes to 13,862.
Planning permission has also been granted for more than a quarter of a million square metres of new commercial and community space across Nine Elms. This includes a new shopping hub, office buildings, hotels, leisure centres, a primary school, galleries, GP practices and community buildings.
A further 130,000 square metres of commercial space is currently working its way through the planning pipeline.
Nine Elms Parkside image / information from Wandsworth Council
19 Feb 2012
Nine Elms Development
Tube link to unlock billions in growth
A leading economic consultancy says extending the Northern Line to Nine Elms could deliver between £1.6bn and £7.9bn in growth to the UK economy.
The independent report by Volterra Partners says the economic benefits of building the two new Tube stations would pay for the scheme between three and nine times over.
The top rate of return could be achieved if the scheme generates a high level of foreign investment in the Nine Elms regeneration area.
The figures compare well to the Crossrail project which delivers a return on investment of between 4 to 1 and 5.9 to 1 using the same Department for Transport (DfT) cost benefit model.
According to the report, the Northern Line Extension (NLE) would enable the underdeveloped Nine Elms district to support the same high levels of commercial activity as the rest of central London.
This subsequent rise in economic outputs and inward investment means the scheme offers exceptionally high value for money.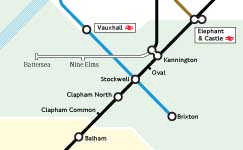 image from Wandsworth Council
Nine Elms is a 450 acre regeneration area on the South Bank of the Thames, opposite Westminster. A multi-billion development programme has now begun transforming this industrial district into a high density residential and business quarter.
The NLE will provide the extra transport capacity the area needs to support its growing uses and will speed up the regeneration process, according to Volterra.
A fully developed Nine Elms could provide up to 25,000 new jobs, 16,000 new homes and will include the new home of the US Embassy and a redevelopment New Covent Garden Market.
The Volterra study was commissioned by Transport for London (TfL) and Wandsworth and Lambeth Councils. The findings add to the scheme's business case and will be included in its planning application – called a Transport and Works Act Order (TWAO) – which is now being prepared by TfL.
The project is backed by Her Majesty's Treasury and the Mayor of London as a key measure to drive up economic growth.
The TWAO application could be submitted in early 2013 subject to agreeing funding and financing arrangements. The new Tube stations could be open by 2018.
Key findings from the Volterra report:
• The NLE would expand the Central London Activity Zone – one of the most productive commercial districts in the world.
• The NLE would generate approximately £4.5 billion in additional tax revenue for the Exchequer.
• The money spent delivering the NLE would be repaid between three and nine times over through increased economic outputs and increased foreign investment in the UK.
• The NLE would more than treble the number new of jobs created in the area – 25,000 compared to 8,000 without the NLE.
• It would almost double the number of new homes in the area – 16,000 compared to 7,500 without the NLE.
• The NLE would mean Nine Elms could support an additional 20,000 new residents. Approximately 1,500 of the new jobs created could go to local people who would otherwise be out of work. This would represent a 25 per cent drop in local unemployment.
The report concludes:
"The Vauxhall, Nine Elms, Battersea Opportunity Area offers the capability of providing an extension to London's Central Activity Zone. This is the area of London which provides the highest density of activity and the highest productivity and economic added value. Facilitating such investment [through an extension of the Northern Line] is thus a contribution to economic growth as a whole.
"…the real benefit is in its potential to catalyse development [in Nine Elms] by providing accessibility and enabling more productive jobs to be created, increasing the overall effectiveness of London's high productivity area."
Volterra chairman Bridget Rosewell said:
"Nine Elms sits within the most productive commercial territory in the UK. The Northern Line Extension will unlock its clear potential as an international business district with a high level of employment density.
"The new Tube link would give Nine Elms the transport capacity it needs to close the gap on its neighbours and would effectively expand the engine room of the UK economy. In terms of value for money the scheme compares well with much larger investments such as Crossrail and the benefits would start to be realised quite quickly."
Leader of Wandsworth Council Ravi Govindia said:
"This scheme would expand one of the world's the most productive commercial centres and create 25,000 new jobs. A large proportion of the construction costs will be met directly by private development in Nine Elms and the public investment will be repaid many times over.
"We're not talking about a far-off scheme like High Speed 2 or the Estuary Airport – the design, planning and consultation work is well advanced and work could begin at the end of next year."
Leader of Lambeth Council Steve Reed said:
"As well as creating 25,000 jobs and providing a major boost to the UK economy, this scheme is going to bring fantastic benefits for people in south London, including a new tube station in the borough at Nine Elms, homes, leisure facilities and public spaces. It's a huge opportunity that we want to see realised as soon as possible."
Boris Johnson, the Mayor of London, said:
"This report really rams home just how much potential there is in the Nine Elms area, which offers the greatest potential for growth and development in London since Canary Wharf. Developers have been reluctant to build there without adequate transport links; but the Government have outlined their support for an extension of the northern line and we hope to have submitted a formal planning application by early next year."
Nine Elms
About the NLE
The NLE would provide two new Tube stops in the Vauxhall, Nine Elms, Battersea (VNEB) Opportunity Area. One would be located on Wandsworth Road and another at Battersea Power Station.
The construction of the new underground tunnel and stations is expected to be funded largely through a levy on private development sites in VNEB.
The Government is considering the creation of a Nine Elms Enterprise Zone which will enable further funding to be raised through borrowing against future growth in business rates.
The scheme is expected to cost around £900 million.
Three years of detailed planning and design work are already complete and the scheme received widespread backing during its first and second round public consultation.
The Transport and Works Act Order could be submitted in 2013 subject to agreeing funding and financing. The Tube link could open for business by 2018.
The scheme is supported by TfL, Wandsworth Council, Lambeth Council the Mayor of London and was backed by Chancellor George Osborn in his 2011 Autumn Statement as a key measure to drive growth.
About VNEB
The VNEB Opportunity Area includes 450 acres of land between Battersea Park and Lambeth Bridge on the South Bank of the Thames.
Property value is expected to rise faster in Nine Elms than in any other part of London according to property agency Knight Frank. The company has forecast growth of 140 per cent by 2016.
The London plan anticipates up to 16,000 new homes and 25,000 new jobs will be created as Nine Elms changes from a light industrial zone to a mixed residential and business district. 12,000 of these new homes are already in the planning pipeline.
A new pedestrian and cycle bridge across the Thames will create another link to neighbouring Westminster.
Work is now underway on major developments in the area including St George's Vauxhall Tower scheme and St James Group's Riverlight development.
Enabling works are also underway on the site of the new US Embassy which is expected to open in Nine Elms in 2017.
The area also includes Battersea Power Station which has planning permission for more than 4,000 new homes and a new town centre development.
Location: Miles Street, Vauxhall, London, England, UK
London Building Designs
Contemporary London Architecture Designs
London Architecture Designs – chronological list
London Architecture Tours – tailored UK capital city walks by e-architect
One Nine Elms Context – Vauxhall Square Development
Vauxhall Square



image from developer
Vauxhall Square
One Nine Elms
Design: Kohn Pedersen Fox Associates



image from Wandsworth Council
Embassy Gardens Nine Elms
Design: Sir Terry Farrell + various architects



picture from Wandsworth Council
Nine Elms and Pimlico Bridge Competition, London
Nine Elms Over Site Development: OSD Housing
Battersea Park Housing in Nine Elms
Nine Elms and Pimlico Bridge Competition
US Embassy London Building at Nine Elms
Nine Elms Wandsworth Development
Vauxhall Developments
Vauxhall Tower
Design: Broadway Malyan Architects



image from architect
Vauxhall Tower
The Octave
Design: Make Architects
Vauxhall Bondway
St Georges Wharf Development – incl. Vauxhall Tower
Design: Broadway Malyan Architects
St Georges Wharf Development
Battersea Power Station – redevelopment masterplan
Design: Rafael Viñoly Architects
Battersea Power Station Development
Comments / photos for the Nine Elms London – Wandsworth Development page welcome