Thames Estuary Airport Building, London Britannia Design, LBA, Location
London Britannia Airport : Thames Estuary Terminal
Hub Project, England, UK – design by Gensler
5 Dec 2013
London Heathrow Airport Redevelopment
Heathrow: worth more dead than alive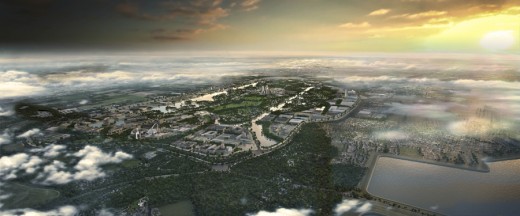 London – Today London Britannia Airport's promoters, TESTRAD (Thames Estuary Research and Development Company), have released new concept images and surface access plans outlining the key economic and regenerative benefits that could be realized from a £45bn development value, should an Estuarine Airport be one of the proposed schemes selected for further consideration by Sir Howard Davies Aviation commission recommendations next week.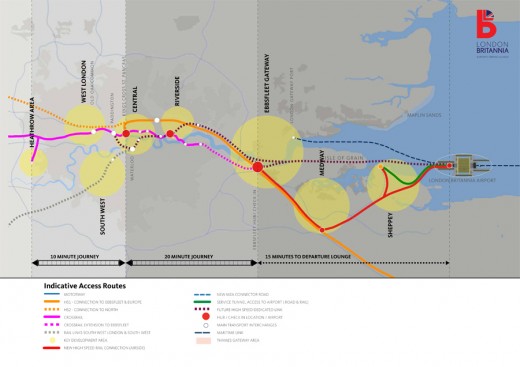 "Over the next forty to fifty years, as the world continues to develop and grow, London will continue to be attractive and could well grow by another 3 million people or even more. This would require at least another 1 million dwellings and probably more. This strain on capacity could be met by the reuse of Heathrow, while the airport could operate much more effectively where there are no residents. What's not to like?" Bridget Rosewell, OBE, Technical Director London Britannia Airport.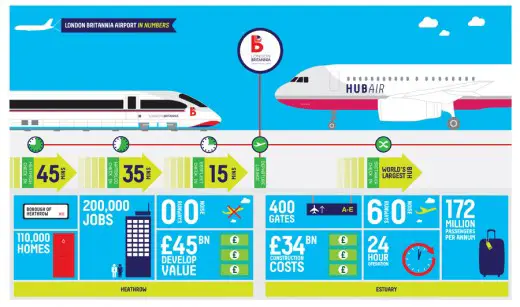 "As significant questions emerge over the feasibility and practicality of the Isle of Grain as a possible location, the London Britannia Airport scheme in the Thames Estuary appears to be the only credible alternative to Heathrow. With zero noise disruption, zero demolition and only 30 minutes from central London the £47bn scheme. " Ian Mulcahey, Technical Director London Britannia Airport.
20 + 19 Jul 2013
London Britannia Airport News
east London, England, UK
London Britannia Airport would be the worlds largest hub offering global travellers 24/7 convenience with the minimum disruption to London
Design: Gensler
LONDON – 19th July 2013, TESTRAD Consortium, following a schematic merger with global architectural design firm Gensler, responded to the call from the Airports Commission, with plans for a new airport in the Thames Estuary, London Britannia Airport. The six runway London Britannia Airport would position London as the gateway for Europe by offering travellers a European hub airport able to operate around-the-clock. Built on a new island in the Estuary, the proposed new airport would also minimize disruption to London residents.
new image of London Britannia Airport proposal:



image : Vyonyx
The Mayor of London, Boris Johnson, said: "This is further welcome argument in favour of the feasibility of having a new hub airport in the Thames estuary. With so many options available for a multi-runway hub airport in a new location, it would be folly for the Airports Commission to give countenance to the prospect of expanding Heathrow, the most noise-polluting airport in Europe."
Skies across the world are becoming increasingly overcrowded. In Europe, flights are expected to increase to between 70 and 120 percent above 2007 levels by the year 2030. Figures from the Department of Transport indicate that if capacity could be provided in the south East of England passenger numbers could increase from 127 to 300 million per annum by 2031. London Britannia Airport would be able to accommodate 172 million passengers per annum (MPPA) with the potential for expansion to 200 MPPA at a total cost of £47.3 billion and delivered in seven years after planning approval.
new image of London Britannia Airport interior concourse: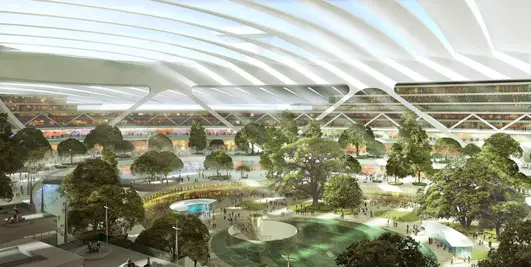 image : Vyonyx
"In many respects this is the most ambitious of all the airport proposals, the least contentious, the easiest and the most cost effective solution." commented Ian Mulcahey, Project Director and Managing Director, Gensler. "Our professional team have spent many months identifying the optimum location in the Estuary for the new airport. Unlike the historic Maplin Sands site and the Isle of Grain we have settled on a location that avoids the sensitive land adjacent to the Estuary and instead will create a new island." continues Mulcahey.
new image of indicative access routes for London Britannia Airport proposal: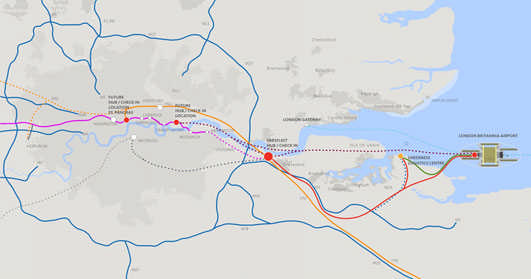 image : Gensler
Traditional, land-locked airports cannot expand sufficiently to meet dramatic global increases in flights and passengers. Heathrow is already causing immeasurable expense in losses related to delays, complicated flight routes and increasing fuel consumption, all of which result in higher operating cost for airlines, higher ticket prices for passengers, and unnecessary increases in noise and greenhouse gas emissions. Passengers would be able to access the new six runway hub airport via existing high-speed rail, a one stop extension to Crossrail, an enhanced direct rail link to Waterloo and a dedicated direct high speed link to a central London check in.
The runway system has been planned to allow triple and quadruple independent landings and takeoffs using proven air traffic control technology, thereby ensuring sufficient aircraft movement capacity to safely serve peak hour demand for the long-term future on a 24-hour basis under all-weather conditions. The innovative runway layout avoids all active runway crossings and minimizes taxiing times, while ensuring that all noise impacts occur over water and avoid populated areas.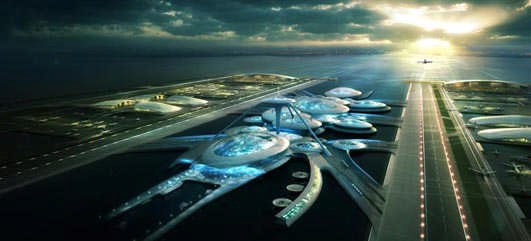 image : Vyonyx
This innovative approach to the UK's connectivity challenge takes major airport planning and delivery truly into a new 21st century. Britannia's maritime location lessens noise contours over high density population centres in London, reduces the environmental impact by organizing flight paths over low to zero density housing and provides ample space for future expansion without disrupting existing urban areas.
Vehicular access would be dispersed to all the landbased departure/arrival terminals and rail gateways with the main landside gateway terminal located at Ebbsfleet. All the primary logistics are provided at a separate dedicated land based logistics park at Sheerness.
London Britannia Airport will also be the most significant catalyst for the regeneration of the Thames Gateway. This £47 billion investment will bring longterm employment opportunities for the entire Thames Estuary community and provide a boost for the next stage in the regeneration of the East End of London.
Bridget Rosewell OBE, CEO TESTRAD commented "The new London Britannia Airport master plan gives London the airport it will need to support it's world city status into the 21st century. It also provides a solution to the challenge of incorporating London's expected growth in population of 2m and a facilitiy which can be linked to the whole of the UK while both the East and West of London will each benefit from regeneration.
TESTRAD also propose a new future for Heathrow, transforming it into a major new city district utilising existing infrastructure to provide additional homes for 300,000 people and employment for over 200,000.
Gensler's Managing Principal and Creative Director of London Britannia Airport Chris Johnson said "TESTRAD are committed to a common vision, to redefine the airport of the future. Learning from Britain's historic legacy for groundbreaking engineering concepts we will capitalise on today's best of British skills and innovation to create the most efficient and convenient airport in the world."
Background Information:
TESTRAD Consortium: TESTRAD, Royal HaskoningDHV, Gensler, Lawrence Graham, HR Wallingford
About TESTRAD (The Thames Estuary Research And Development Company) Testrad was founded to develop better use of the Thames Estuary potential. Aviation is central to this vision as well as the need to regenerate the traditionally industrial east of London. Over the last decades London has once again pushed east and closer to Europe. This proposal develops that potential to the advantage of the whole of the UK. www.testrad.co.uk
5 Sep 2012
Thames Airport News
London, England, UK
New Vision for Thames Airport Revealed
Design: Gensler
The world's largest floating airport would be faster and cheaper to build; London Britannia Airport could provide the UK with its first 24/7 airport within the next decade.
London – Today global design firm Gensler reveals its concept for a new London aviation hub. London Britannia Airport (LBA) would position the capital as the global gateway for Europe in what would be the world's most innovative infrastructure development this century – whilst reducing environmental impact, cost and disruption to London.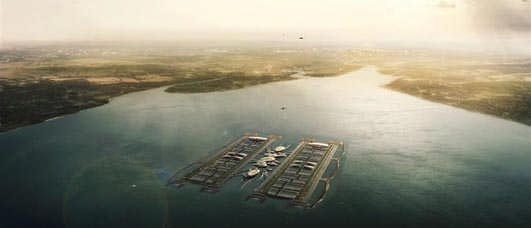 image : Vyonyx
Providing a further endorsement to the Thames Estuary as the preferred location for London's new airport, Gensler have designed a unique solution creating an entirely new approach to modern airport design and construction with a clear focus on convenience and accessibility.
The proposals also envisage a new future for Heathrow as the largest urban expansion project in Europe with the development of an eco city – Heathrow Gardens – on the former airfield that can utilise the existing infrastructure to provide additional homes for 300,000 people and employment for over 200,000.
Chris Johnson, Gensler managing principal and the creative director for the airport said "This is a once in a century project that will build on the capital's reputation for innovation and creativity and provide a new symbol of national pride. This is a fantastic opportunity to rethink the problems created by a redundant 20th century airport model and provide a genuine 21st century airport that creates a new standard for the world, minimising nuisance and maximising environmental benefits."
Ian Mulcahey, Project Director "This will be a 'national' infrastructure project that can inject new pace and dynamism into our economy. The airport can be quickly manufactured in the ship yards and steel works across the UK and can be floated by sea and positioned in the Estuary. This isn't a London Airport it is a Global Airport, designed, manufactured and built in the UK."


image © Gensler
London Britannia Airport Thames Estuary – Further Information
Environmental Benefits
The relocation of a UK hub airport to the Thames Estuary will provide a state-of-the-art facility that will transform the quality of life for millions of Londoners and will provide London with the space and infrastructure to grow and thrive over the next century. The marine location not only minimises noise disruption to existing communities whilst enabling 24hour passenger arrival and departure, but it also avoids any demolition of homes.
Building upon the UK's capability as a world leader in marine construction, London Britannia Airport includes four, five kilometre, floating runways. To minimise environmental disruption the runways are tethered to the sea bed and to the final departure concourse which provides access to the marine rail tunnels that connect directly to central London and the European High Speed Rail Networks.
The design's inherent flexibility creates a platform whereby runways can be floated in as required and taken away for maintenance in the future. The concept allows for future expansion to accommodate 6 runways when required.
By floating the runway and its associated hard standing it is possible to avoid the negative effects of land reclamation in the sensitive estuarine waters of the Thames. The location of the airport can then be optimised to avoid the key feeding and migration areas between high and low water.
London Britannia will have a sustainable access strategy with unparalleled accessibility to the UK and Europe through a combination of rail, ferry and jetfoil connections. Vehicular access will be dispersed to three new land based Departure/Arrival terminals, two located north and south of the estuary, and a third Central London terminal proposed between Canary Wharf and the Olympic Park. The airport has also been designed to generate much of its own power from marine turbines situated within, and adjacent to the floating runways.
Thames Estuary Airport images / information from Gensler
Thames Airport London architects : Gensler
Comment received re London Britannia Airport proposal – 10 Sep 2012:
Thames Airport
Another crazy idea for the Kent people to live with, Stansted one of the nicer airports is running at less than 50 per cent capacity and Manston at even less, with the advantage its near to the channel ports and fast rail link to London. and the added capacity could be up and running today not in 10/15 years time.
Don't put all your eggs in one basket, what about the fog you get in the estuary.
The SS Montgomery is a real problem, again sorry for the people of Kent, because why is it OK to make the wreck safe for an airport but not for the people in Kent, don't they matter?
See:- Facebook SS Richard Montgomery (the wreck)
Location: Grain, south east of London, England, UK
London Buildings
Contemporary London Architecture Designs
London Architecture Designs – chronological list
London Architecture Tours by e-architect
Thames Hub, England



image © Foster + Partners
Thames Estuary Airport in London – 7 Nov 2011
Includes new airport, Thames flood barrier and orbital rail route
Thames Hub design : Foster + Partners
Thames Valley University Buildings
The Gherkin – Swiss Re London – 30 St Mary's Axe, City of London, England, UK



photograph © Adrian Welch
Swiss Re Building
Comments / photos for the Thames Estuary Airport Development – London Britannia Airport page welcome