Architecture Competition 2021, Design Contests, Architectural Prizes, Student Awards, Ideas
Architecture Competitions
International Architectural Contest deadlines / prizes / contact details / news
post updated 31 July 2021
Architectural Competitions : links
We feature the latest Architecture Competitions from around the world, updated daily to weekly.
e-architect list the latest architecture tenders and requests for architectural services around the World.
Architecture Competitions in 2021
Recently Added Architectural Contests – listed chronologically
UIA-HYP CUP 2021 International Student Competition in Architectural Design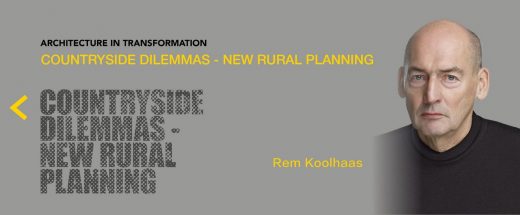 Jury Chairman: Rem Koolhaas
Theme: Architecture in Transformation
Topic: Countryside Dilemmas-New Rural Planning
20 Sep 2021, 24:00 (GMT+8) : Registration Deadline:
10 Oct 2021, 24:00 (GMT+8) : Submission Deadline:
UIA HYP Cup 2021 International Student Competition
The Drawing Board Architecture Competition
The 6th edition of The Drawing Board – an annual international competition for architecture & design students. One who is currently studying or has recently graduated from architecture or design course can participate in this architectural competition. There is no entry fee and 3 winning teams receive prizes worth Rs. 1,10,000/-.
This year's challenge is about understanding and taking pride in Maharashtra's 800-year-old tradition called 'Wari', which involves a journey to a significant place of religious importance. The brief document has been attached with this email. For more information, please visit – www.thedrawingboard.in
TDB was conceptualized by Mr. Suhas Lunkad, CMD, Rohan Builders and Ar. Sanjay Mohe, Partner, Mindspace Architects to provide a platform for budding architects and designers, to test and enhance their understanding and skills in shaping the way communities live and thrive while preserving local heritage.
The design challenge allows the students to put their creativity into action to find architectural solutions for real-life situations. The designed solutions are then judged by renowned & respected architects. Hosted annually, the competition finale is a gala affair where eminent juries from different countries guide students and eventually help them become the star architects that they aspire to be.
Young Visionary Architecture Competition 2021
(27 July 2021: Standard Registration deadline – 45 EUR/team)
18 Aug 2021: Late Registration deadline- 55 EUR/team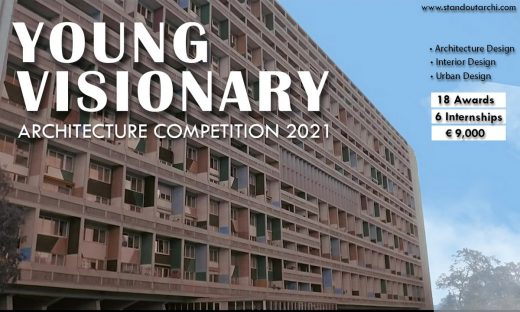 This Internships competition is international and involves unbuilt projects that were designed by students and graduates from all over the world during their career, and can be expressed as university projects, personal projects or graduation projects.
Young Visionary Architecture Competition 2021
Reviving Silk Route | A Cultural Center for all
(30 July 2021: late registration)
31 July 2021: submission deadline
As one of the most important trade exchange channels, the Silk Road was also a "cultural bridge" between Asia and Europe. The system has existed for over 2,000 years.
Prize total: EUR 2500
Reviving Silk Route Architecture Competition
AUGUST
August 2021 Architecture Competitions
arch8 Re-Vision Design Competition 2021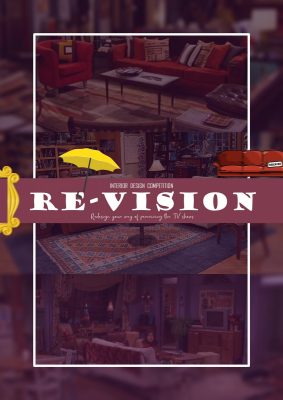 15 August 2021: registration deadline
20 August 2021: submission deadline
Total cash prize worth 15,000 INR
arch8 Re-Vision Design Competition 2021
REVERENCE: Memorial Structure Design Competition
31 August 2021, 2200 hrs: registration deadline
31 August 2021, 2359 hrs: submission deadline
As the stealthy novel coronavirus lashed out at the world, several hands came together to fight it. Clad in PPE kits and putting their lives at risk, our very own Avengers assembled.
We were protected by the conscious efforts of health workers, the police, local businesses, paramedics, pilots, the milk delivery guy, garbage collectors: the list is truly endless. The catastrophe is nowhere near an end, but our frontline workers put on a happy face and strive on.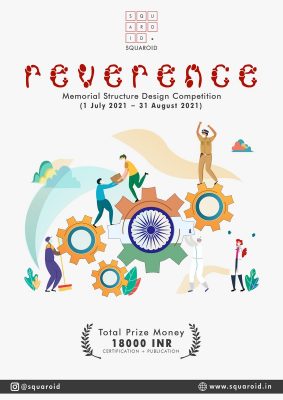 REVERENCE: Memorial Structure Design Competition
SEPTEMBER
September 2021 Architecture Competitions
2A Continental Architectural Awards in 2021
1 Sep 2021: submission closes
The 2A Continental Architectural Awards (2ACAA) is a stage designed to appreciate the pioneering works of architecture, planning practices, and design. Through the relentless efforts of Ahmad Zohadi, the Award seeks to recognize and encourage architecture concepts that effectively address the needs and objectives of societies – all over the globe.
2A Continental Architectural Awards 2021
Sirius seafront promenade design competition
Location: Sirius, Krasnodar Krai, south western Russia
3 Sep 2021: application deadline
22 Nov 2021: submission of competition proposal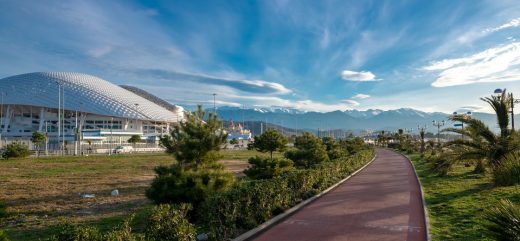 Architects from across the globe are invited to create the concept of a seafront promenade for an emerging Black Sea urban area.
The prize money amount is 26 million rubles.
Sirius seafront promenade design competition
WARMING Competition by arch out loud
4 Sep 2021 (11:59pm EST): regular entry deadline
5 Sep 2021 (11:59pm EST): submission deadline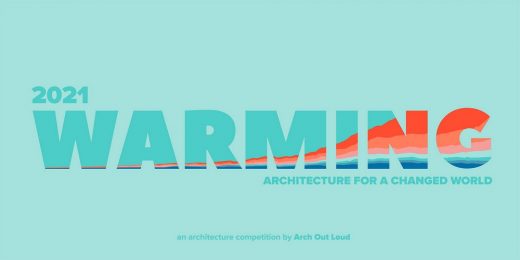 Overall Winner prize: $5,000 + Book Feature + Press Publications
Our world is changing.
Imagine Mumbai and Miami permanently underwater, hurricanes frequently clashing against Manhattan and Manila, devastating droughts in Los Angeles and London, and fires running rampant in Sydney and San Francisco.
Epidemic Urbanism Initiative Design Competition
6 Sep 2021: deadline
Call for Submissions
The Epidemic Urbanism Initiative (EUI) is pleased to announce a forthcoming design competition, "Designing for Health and Equity: Supporting Vulnerable Communities in the Post-Pandemic Age," with submissions due September 6, 2021. We write to you in the hope of sharing this call with students, faculty, and colleagues at your school.
The goal of this design competition is to provide a setting for collaboration between students, teachers, designers, thinkers, architects, artists, and practitioners from a range of disciplines and fields in order to create and discuss conceptual design ideas that explicitly promote healthy places for vulnerable communities.
This design competition will seek submissions in four categories: senior housing, community clinics, neighborhood schools, and public parks. Each design category will be reviewed by three jurors consisting of faculty and professionals from various countries and disciplines.
Shortlisted projects will be announced on October 1, 2021 and will be discussed by the jury and guest commentators in final review meetings for each topic on:
• Friday, October 8, 12-1pm US Eastern Time: Senior Housing
• Saturday, October 9, 12-1pm US Eastern Time: Community Clinics
• Friday, October 15, 12-1pm US Eastern Time: Neighborhood Schools
• Saturday, October 16, 12-1pm US Eastern Time: Public Parks
Deadline: September 6, 2021
Fondation Jacques Rougerie Architecture Competition
15 Sep 2021: deadline
International Call for projects – pushing the boundaries of the imagination
Opening of the 11th International Architecture Competition of the Jacques Rougerie Foundation – Institut de France
Passion and boldness are the key words of the 11th International Architecture Competition of the Jacques Rougerie Foundation – Institut de France.
The call for projects is now open until September 15, 2021.
When and how will we be able to live under the sea? What kind of architectural proposals will meet the challenges of the sea level rise? How will we manage a human centered space exploration?
The international community of young architects, engineers, designers, students or professionals is invited to imagine visionary architectural projects, addressing the great challenges of humanity. Biomimetic, bio-inspired the projects will put together form, function and environment and will place humans at the heart.
The projects, expected from all over the world, must imperatively consider the environmental preservation and contribute to the integration of the sea and space in the future of our planet.
The candidates are invited to build multidisciplinary teams combining sciences, arts and new technologies and to use the constraints of the sometimes extreme environments as new creative force.
The competition is free and open to students and professionals from all over the world.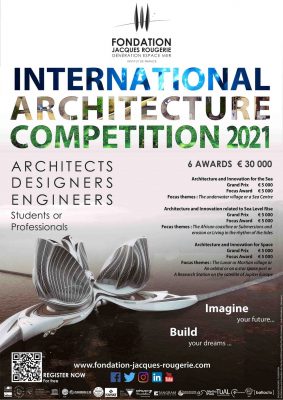 The prizes are rewarded with a global amount of 30,000 euros in 3 categories:
Architecture and Innovation for the Sea
Architecture and Innovation related to sea level rise
Architecture and Innovation for Space
The only way to submit projects is online until September 15, 2021:
https://fjr.wiin-organizers.com/en/applications
The awards ceremony will take place on December 1, 2021 at the Institut de France in Paris.
Since its creation in 2011, almost 10 000 candidates from 135 countries have registered to the competition
The call for projects
As a visionary you are passionate and daring, fully committed to tackling today's and tomorrow's immense environmental and social challenges on the planet. You commit to act providing solutions creating meaningful new living environments and developing innovative biomimetic architectural projects for the sea, the coastlines and for space. You want to drive change towards a resilient, sustainable and human centered future.
Call on your imagination and build the worlds of tomorrow in a different way, respecting biodiversity and integrating the new way of living of our societies for the common good of all.
Submit your biomimetic, multidisciplinary architectural project in one of the 3 categories:
Architecture and Innovation for the Sea
• A Grand Prix, free subject (you choose your subject)
• A Focus Award among one of the following themes: "The underwater Village " or "A Sea Centre"
Architecture and Innovation for Space
• A Grand Prix, free subject (you choose your subject)
• A Focus Award among one of the following themes: "The Lunar or Martian Village" or "An orbital or on a star space port " or "A Research Station on the satellite of Jupiter Europe"
Architecture and Innovation related to the Sea level rise
• A Grand Prix, free subject (you choose your subject)
• A Focus Award among one of the following themes: "The African Coastline", or "Submersions, erosion" or "Living in the rhythm of the tides"
Every Grand Prix and every Focus Award is rewarded with € 5 000.
Jacques Rougerie Foundation
Created in 2009, housed by the Institut de France, the Jacques Rougerie Génération Espace Mer Foundation, under the honorary presidency of HSH Prince Albert II of Monaco, encourages daring and architectural innovation at an international level as well as artistic creation linked to the world of Sea and Space in order to discover new visionaries and to reveal the Leonardo da Vinci, Jules Verne, Gustave Eiffel, Frank Lloyd Wright, Le Corbusier, Klein… of the 21st century.
Through its International Architecture and Art Prizes, the foundation aims to foster vocations, promote awareness and action by everyone towards a new relationship between humans and their environment.
Fondation Jacques Rougerie – Institut de France
Péniche St-Paul – Port des Champs Elysées – Paris 8e
Office + 33 (0) 1 42 66 53 37
OCTOBER
October 2021 Architecture Competitions
CUBE Design Competition 2021
June 2021: Registration opens
October 2021: Launch
November 2021: Competition begins
October 2022: End of the Competition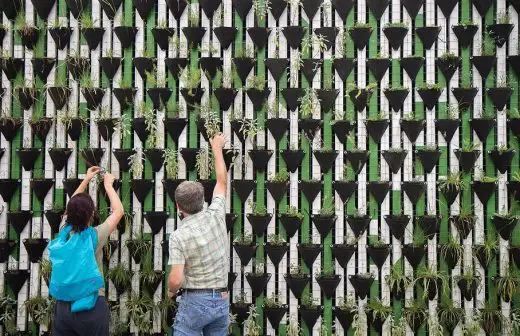 New architecture competition set to deliver significant energy savings in commercial buildings launches in the UK
CUBE, an innovative architectural competition that enables commercial buildings to make a genuine contribution to net zero, has launched in the UK. Organised by Ampersand Partners alongside founders A4MT, the competition introduces gamification for energy consumption, cutting energy usage and equivalent costs by an average of 12% and up to 55% in a single year.
Disaster Relief Shelter-Reinventing The Tents
20 Oct 2021: registration deadline
20 Nov 2021: submission deadline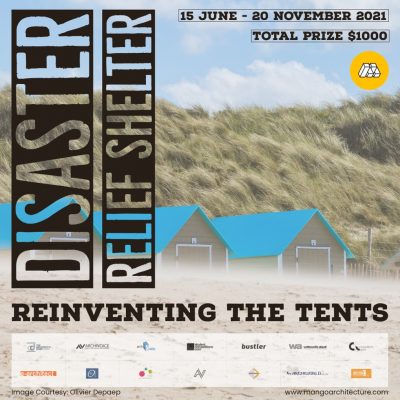 When disaster strikes, the need for short-term housing is immediate and urgent.
The challenge is to design a transportable, sustainable shelter that can support a sizable community and requires little maintenance. Making it ideal for deployment to any disaster-stricken area lacking basic facilities and it also helps restore personal space and a sense of dignity for the victims.
Prize Money: $1000
Registration deadline: 20 October 2021
Submission deadline: 20 November 2021
Results on: 15 December 2021
Competition website link: https://www.mangoarchitecture.com/disaster-relief-shelter
Ecopolis in Sakhalin Open International Competition
26 October 2021 deadline
Russia
A new ecopolis is to be built in the south of Sakhalin Region, which has political, strategic and economic importance for Russia. An Open International Competition for the development of an architectural and urban planning concept for the new city in Sakhalin Region was announced.
The competition will be held from May 12 to October 26, 2021.
The goal of the competition is to develop a concept for a fundamentally new city model. It is planned to construct the ecopolis on the territory of the Korsakov urban district, within the Yuzhno-Sakhalinsk metropolitan area in the southern part of the island, as an example of an innovative fast developing city in the Asia-Pacific region.
Ecopolis in Sakhalin Competition
NOVEMBER
November 2021 Architecture Competitions
Architecture Thesis Of The Year 2021: ATY
30 Nov 2021: entry deadline
1 Dec 2021: submission deadline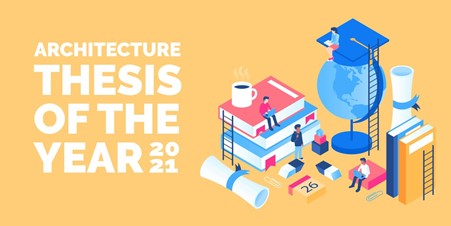 ATY 2021 is open to architecture students of all nationalities and institutions. All Undergraduate/Bachelors and Graduate/Masters Thesis conducted in the calendar year 2016 – 2021 are eligible to participate. Group, as well as individual entries, are allowed. The official language of the competition is English.
Architecture Thesis Of The Year 2021
The Shelter Competition by arch out loud in 2021
Both literally and figuratively, humanity resides in the midst of two distinct trends. While we yearn to be closer to nature and experience her beauty, we are being increasingly brutalized by her harshest elements.
We watch as the changing climate brings natural calamity and damage to a larger group of people and a wider swath of geography. We watch the increasing frequency and strength of nature wreaking havoc among our communities.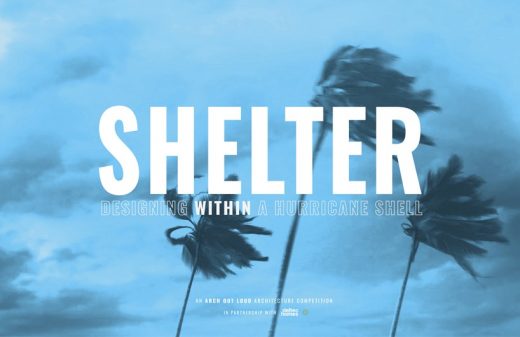 Shelter Architecture Competition
Kaira Looro 2021 competition, Senegal, Africa
African architectural contest organised by International Nonprofit Organization Balouo Salo for the design of a Women's House in Senegal. The home will be built with the proceeds of the architecture competition. The design will make it possible to promote gender equality and reduce discriminations in favor of rural development.
Win an Architect Design Competition News
High Profile Panel Join the Search for Creative Culture and Heritage
Award winning art & architecture studio Wignall & Moore, have launched a competition to seek out the most innovative client briefs and architectural proposals, judged by an expert panel:
Win an Architect Design Competition
DECEMBER
Architecture Thesis Of The Year
10 Dec 2021: Late registration deadline
10 Dec 2021: Submission deadline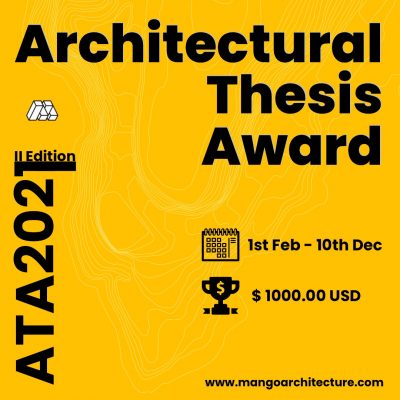 Mango Architecture is happy to announce their second edition of the annual Architectural Thesis Award, after great success in ATA2020 with 350+ registrations from around the globe. The International Thesis Award, launched with the aim of promoting and giving a global platform to showcase the talents of Young Graduates and Post Graduates, acknowledging the projects amongst young and influential industry professionals. The award includes a Prize Money of INR 75,000 equivalent to USD 1000.00 Where 30 Honourable Mentions, 20 Special Mentions and Few Select Mentions will get a chance of media publication on our website and social media handles.
The award competition is open to all recent/past graduates or post graduates in architecture who have developed their thesis project in the following areas: –
• Architectural design and rehabilitation/conservation
• Landscape architecture & Urban planning
• Structures and technological systems
• Transport Terminal
• Mixed Use
Competition Link: https://www.mangoarchitecture.com/architectural-thesis-award-2021
REGISTRATION & TIMELINE
Participants can be from any batch or year are most welcome as there is no specific calendar year for this Thesis Award Competition.
30 April 2021: Early Bird Registration deadline
31 July 2021: Standard registration deadline
31 October 2021: Extended Registration deadline
10 December 2021: Late registration deadline
10 December 2021: Submission deadline
Result: 31st December 2021
*All deadlines are 11:59 PM- 00:00 IST (India)
Participants may register by filling the registration form and submitting it with appropriate payment through our secure payment gateways at www.mangoarchitecture.com
The participants will receive their unique registration code within 24 hours of completing the payment successfully.
Unique registration code will be sent primarily to the email address provided to RAZORPAY/PAYPAL.
AWARDS
Winning participants will receive prizes totalling INR 75,000 with the distribution as follows:
• First prize- INR 35,000/- + Certificate
• Second prize- INR 25,000/- + Certificate
• Third prize- INR 15,000/- + Certificate
• 30 Honourable mentions
• 20 Special Mentions
• few select mentions
*All registered participants will get an E-Certificate of participation in Architectural Thesis Award 2021 organized by Mango Architecture.
Website: www.mangoarchitecture.com
Facebook: https://www.facebook.com/mangoarchitecturegroup
Instagram: www.instagram.com/mango_competition/
Archiol A4TC Architecture Thesis Competition
31 December 2021: registration deadline
1 January 2022: submission deadline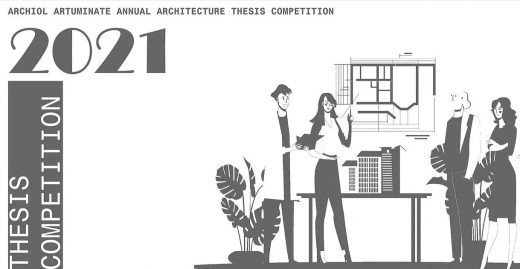 Archiol A4TC Architecture Thesis Competition
Architectural Awards
Offsite Construction Awards
The Concrete Centre is delighted to be sponsoring the Best Use of Concrete Technology category for another year in the Offsite Construction Awards. The 2021 entries are now open, so please ensure you submit your project or innovation by the 28th May deadline.
More about the category – Best Use of Concrete Technology
This category will reward the exemplar use of precast concrete in a project across any UK construction sector. Including floor and wall panels, cladding, volumetric and pod technology, pre-stressed units and formwork systems, the entrant will have used concrete as a major factor in delivering quality, factory-controlled, robust and sustainable offsite manufacture.
Special attention will be given to material performance levels and any project should clearly demonstrate how cost-predictability, economy, accuracy, transportability, speed of installation and principles of lean manufacture have been achieved.
Last year's winners – Kier Integrated Team – New Build Prison at Wellingborough
Winners of the category in 2020 were Kier Integrated Team – New Build Prison at Wellingborough. This vast £253m project delivers 1,680 prison places and is the first in a series of schemes to reform and modernise the prison estate to make it more efficient, safer and focused on rehabilitation.
Wellingborough is the perfect blend of digital and DfMA advancement; providing direct project benefits, wider economic gains, as well as programme-wide improvements through standardisation, digital integration and MMC leaving a legacy that will transform the way the Ministry of Justice deliver future prisons.
Why enter the Offsite Construction Awards?
Benefit from free publicity within Offsite Construction Awards promotion.
All categories are free to enter.
Stand out as a leader in the industry.
Have your projects/companies assessed by a distinguished panel of industry experts and receive quality feedback and recognition for your outstanding work.
Receive a specially commissioned winner's trophy – giving recognition to your staff and team that their hard work is acknowledged and rewarded by the industry.
For more information, please visit www.offsiteawards.co.uk
The Concrete Centre provides material, design and construction guidance. Our aim is to enable all those involved in the design, use and performance of concrete to realise the potential of the material. The Concrete Centre provides published guidance, seminars, courses, online resources and industry research to the design community.
For more information visit: www.concretecentre.com
YAC Competition
Arquine Competition No.23 Pavilion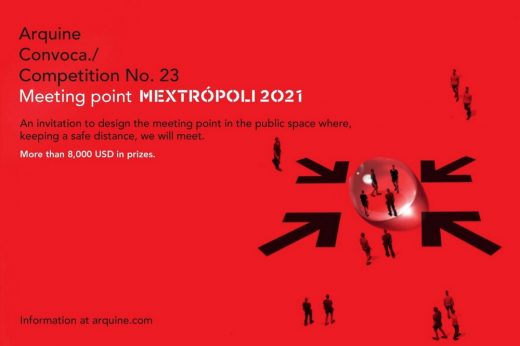 Arquine call out for design of a meeting point in the public space, keeping a safe distance.
Architecture Competitions 2020 Archive
Past Architecture Competitions
Radical Urban Intervention Competition
Winter Stations Competition 2020
Leeds City Square Redevelopment Competition
Q-Village Architecture Competition
Photodemic Architecture Photography Competition
Central City Square of Rahovec Architecture Competition
Camden Highline Architecture Competition
Winter Pavilion London Architecture Competition
2020 Bcome International Ideas Competition
Future offices Architecture Competition
Gorky Central Park Krasnoyarsk Competition
2A Continental Architectural Awards 2020
eVolo 2021 Skyscraper Competition
eVolo Magazine invite architects, students, engineers, designers, and artists from around the globe to take part in the 2021 Skyscraper Competition. Established in 2006, the annual Skyscraper Competition is one of the world's most prestigious awards for high-rise architecture.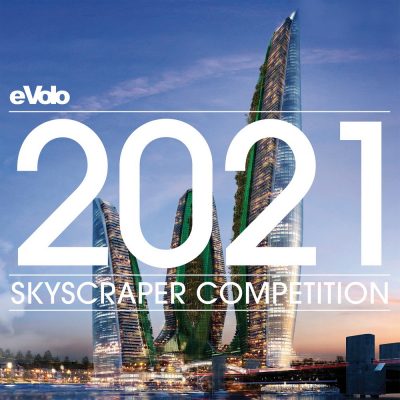 eVolo 2021 Skyscraper Competition
Alternate Realities 2020 Architecture Competition
Network Rail Re-imagining Stations Competition
Thamesmead Waterfront Competition
Render Battle Architecture Competition
Micro Nation Challenge 3 Inhabit Competition
Urban Adaptation Architects' Competition
Visual Art Gallery Florence Architecture Competition
Vietnam Ricefield Lodge architecture competition
*****************
Architecture Competitions Links
Architectural Contests – links to cyclical architectural competitions:
24h competition
24H Competition
eVolo Skyscraper Design Competition
eVolo Skyscraper Architecture Competitions
Reuse the Roman Ruin: Piscina Mirabilis Design Competition, southern Italy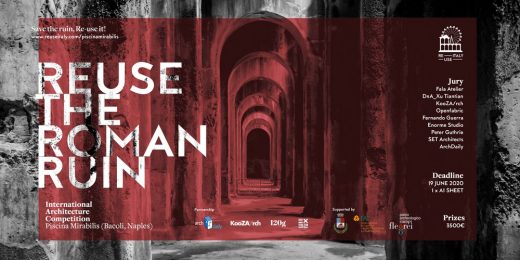 The second edition of the cultural project Reuse Italy promotes an international architecture competition on the reuse of Piscina Mirabilis, a Roman reservoir located in the countryside of Naples.
Reuse the Roman Ruin: Piscina Mirabilis Design Competition
Major Architecture Awards
World Architecture Festival Awards
More architectural contests are welcome – please mail info(at)e-architect.com for details
London Architecture Competitions
https://homecarechoices.org/ – unbiased guides, reviews and solutions
Recent Architecture Competitions
Architecture Competition – Design Contest Archive for 2017
Architects Competitions – Design Contest Archive for 2016
Architectural Competition : Design Contest Archive
Organising an Architectural Competition? please mail us: info(at)e-architect.com
Comments for the Architecture Competitions 2021 page welcome