Thames Hub London, Boris Island, Estuary Airport Building, Design, Location
Thames Hub : Estuary Airport
Aviation Project in England, UK – design by Foster + Partners, architects
27 + 26 May 2014
Thames Estuary Airport News
Design: Foster + Partners
Thames Hub Airport response submitted to Airports Commission
The Foster + Partners team has submitted a detailed response to the Airports Commission's call for evidence, addressing surface access, costs, delivery and an analysis of the environmental, economic and social impacts of a new airport on the Isle of Grain in the Thames Estuary.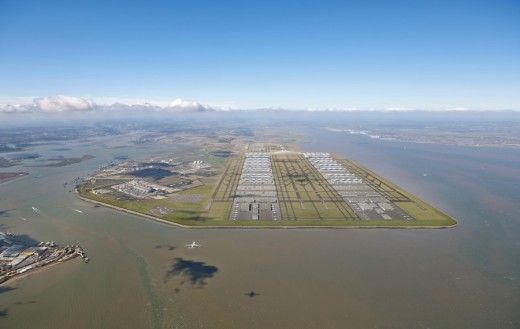 Increasing hub capacity in the Southeast is vital in ensuring that Britain has the global connectivity needed to support the future growth of its economy. One million people will live within Heathrow's noise contour – a third runway would expose the capital to even more unacceptable levels of risk, noise and pollution, aside from the impact on its urban neighbours. The country's hub airport must also be able to operate 24-hours a day and this is only possible in the Thames Estuary.
Heathrow's third runway will cost £11 billion – a brand new airport with four runways and the capacity for future expansion will cost £15 billion. The planning processes for both are identical and construction time is only slightly more. A third Heathrow runway would be full within a decade of opening, necessitating a fourth runway.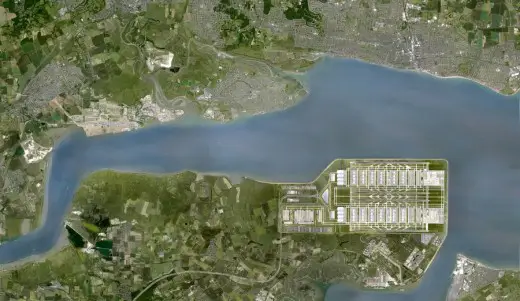 The Thames Estuary already has high capacity public transport links. By creating a short connecting spur, the Isle of Grain can benefit from high-speed rail links to the rest of the UK and the new airport will be less than 26 minutes by train from St Pancras. There is rising demand for new homes and jobs, in line with population growth – London is growing 20% in the next 20 years and the thrust of development is to the east. The new airport underpins this, and can balance the economies of east and west London, unlocking sites for housing. Heathrow can be transformed into a redevelopment site the size of an inner London borough, in anticipation of London's inevitable further growth.
The Environment Agency is currently identifying and funding more than 800 hectares of new habitats for wildlife in the estuary, which are being displaced by rising sea levels – this is work that the Thames Hub can help to fund. Rather than spending £1bn to move the M25 to enable Heathrow's expansion, this money could be better used to protect and replace habitats already under threat.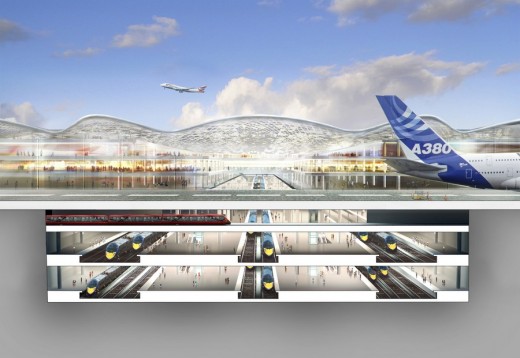 Lord Foster said:
"Since the Airports Commission submission a year ago, the need for increased airport capacity has become even more urgent. Britain will need to plug-in to the network of major new hub airports being built and planned around the world, for example in Istanbul, Doha, Dubai, Beijing and Mexico City. If you cannot fly through London and connect to the destinations these new hubs offer, then trade will simply go elsewhere.
It is time to get serious about the issue of airport capacity. Britain needs an effective long-term solution, not the usual short-term fix that is Heathrow's proposed third runway. Rather than boosting growth, expansion at Heathrow would have the opposite effect. The unacceptable levels of risk, noise and pollution would threaten London's leading reputation as a world city.
Heathrow would play a major role in the transition to a true hub airport in the Thames Estuary. Our experience in Hong Kong proved that it was feasible to relocate overnight from Kai Tak, in the heart of the city, to the new Chek Lap Kok airport, on a man-made island with a fast rail connection to the centre. As in Hong Kong, Heathrow would unlock much needed space for London's long-term growth.
In terms of connectivity alone, the Thames Hub would serve 191 long-haul destinations, compared to Heathrow's 126. London today needs to follow in the footsteps of its nineteenth century forebears and invest boldly in infrastructure. Only long-term thinking will properly serve the demands of our future generations."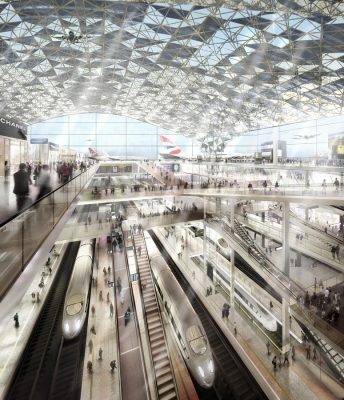 Thames Estuary Airport images / information from Foster + Partners Design
11 May 2012
Thames Estuary London Airport News
Location: London, England, UK
Boris Johnson calls on Government to build a new airport for London
Design: Foster + Partners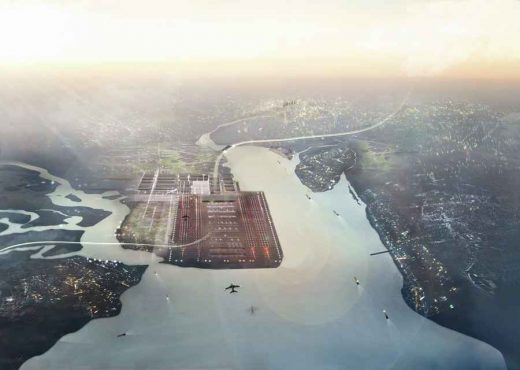 image © Foster + Partners
Boris Johnson yesterday called on the Government to build a new airport in the Thames Estuary and told David Cameron: "This is a moment for greatness."
The London Mayor appealed for "bravery" and "dynamism" from Downing Street ahead of a Government announcement on its aviation strategy.
Mr Johnson said his favoured solution of a new hub airport in the Thames Estuary – dubbed Boris Island – would boost jobs and growth in London, the key aim for his second term.
But he conceded that "the Government is yet to be persuaded" despite pre-election suggestions that Mr Cameron would offer his provisional support for the scheme.
23 Jan 2012
Thames Estuary Airport
London, England, UK
Design: Foster + Partners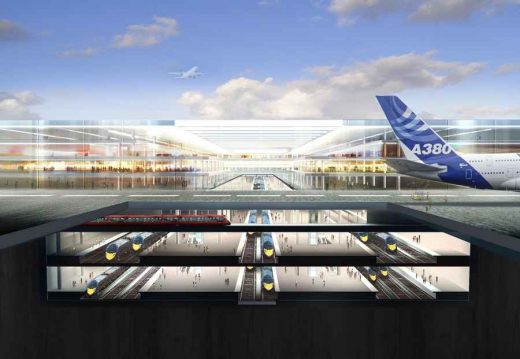 image © Foster + Partners
The team behind proposals for the Thames Hub have welcomed reports that the government is considering a Thames Estuary Airport when it launches its consultation on options for retaining the UK's aviation hub status.
Reports last week suggested that Prime Minister David Cameron is expected to offer his "provisional support" for an airport in the Thames and that a public consultation on proposals for the scheme could begin within weeks.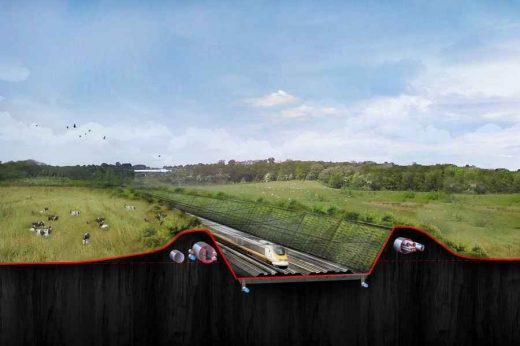 image © Foster + Partners
Foster + Partners, Halcrow and Volterra are behind plans for a new £20 billion, 150 million passenger estuary airport, a four track orbital rail line and utilities spine and a new Thames crossing and barrier.
Previously:
3 Nov 2011
Thames Hub
London, England, UK
2011-
Design: Foster + Partners, architects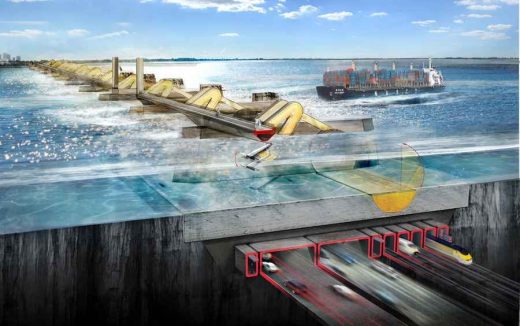 image © Foster + Partners
Main Components of the Thames Hub
– A new barrier crossing that extends the flood protection to London and the Thames Gateway into the 22nd century. The barrier harnesses tidal power to generate carbon-free energy
– A four-track, high-speed passenger and freight Orbital Rail route around London, which links London's radial lines, a future high-speed rail line to the Midlands and the North, the Thames Estuary ports, High Speed 1 (Channel Tunnel to London), and European networks
– An estuary airport, capable of handling 150 million passengers per annum, thus enabling the UK to retain its global aviation hub status. Associated with the airport is a major renewable energy source in the estuary
– The airport is integrated within a logistics matrix that connects by rail the Thames Estuary Ports and the ports of Liverpool, Southampton and Felixstowe
– A new utilities and data spine in the Thames Barrier, Orbital Rail line and high-speed networks, with applicability across the UK
– A comprehensive environmental management strategy that minimises the impact of development and provides opportunities to create significant new wildlife habitats to more than offset losses elsewhere. The project can also be the catalyst to reduce pressure on foreshore habitats from rising sea levels and storm activity
Vital Statistics
Rail Orbital
– The Orbital Rail is 185km long, of which approximately 30% will be in tunnels
– Orbital Rail will reduce many rail journeys across London by 1 hour
– Passenger trains will have operating speeds of up to 350 kilometres per hour
– Over 2 million live within 10km of the proposed stations on the Orbital Rail
– The integrated rail station, beneath the Estuary Airport passenger terminal, will be the UK's busiest station with 300,000 arrivals and departures every day
– Orbital Rail will allow a 30% modal shift from road to rail for the transportation of freight containers from south east seaports
– Orbital Rail will take an estimated 4,000 lorries per day from the M25
– To allow for interoperability, the new Orbital Rail route will be built to accommodate continental European-gauge freight trains
Estuary Airport
– Flights operated twenty-four hours a day
– Capacity for 150 million passengers per year
– Four runways, each 4 kilometres long, providing more than double the capacity of Heathrow
– 30 minutes from central London by high-speed rail
– 95% reduction in people suffering 57dB or more aircraft noise compared to Heathrow today
– Up to 60% of passengers will use rail to access the Estuary Airport from all UK regions
– No flight paths to/from the new Estuary Airport over central London
– The Estuary Airport will offer more international routes than Paris and Frankfurt airports which currently have flights to more destinations than Heathrow
Energy
– Hydropower in the Thames Estuary has the potential to provide electricity for 250,000 households
– Over a yearly cycle, Hydropower produced in the Thames Estuary would be enough to supply 100% of the needs of the Estuary Airport, where demand is estimated as 400-600 GWh/year
– Excess power to be fed back into National Grid
– Hydropower has zero carbon emissions
Links to the Thames Hub
– Manchester and Leeds will have direct trains services to the airport with journey times of approx 1 hour 50 minutes
– Direct trains from Paris to the Estuary Airport will take 2 hours
– Up to 40 train departures per hour from the Estuary airport to destinations across the UK
– Up to 60% of passengers using the Estuary airport will be able to reach the airport by direct rail services to UK regions
General
– Orbital Rail route, the Thames Barrier and the new Estuary Airport will deliver up to £150 billion of projected benefits as follows:
– £35 billion from rail and road transport
– £35 billion from the airport, including tax revenues
– £2 billion from environmental management
– £75 billion from growth in the Thames Hub area
Thames Hub – Credits
Architect: Foster + Partners
Infrastructure Consultants: Halcrow
Economists: Bridget Rosewell, Volterra Partners
Thames Hub Project images / information from Foster + Partners
Thames Hub design : Foster + Partners
Location: Grain, south east of London, England, UK
London Buildings
Contemporary London Architecture Designs
London Architecture Designs – chronological list
London Architectural Tours – tailored UK capital city walks by e-architect
Multi Runway Hub Airport, London, England
Mayor of London appoints experts to develop plans for a multi runway hub airport
Multi Runway Hub Airport
The Mayor of London has appointed a world-class team of experts to develop the plans that will address the nation's aviation crisis. He has made it very clear that he wishes to see the speediest possible resolution to the debate on where to build a multi runway hub airport.
Thames Valley University Buildings
Key London Building by Foster + Partners
The Gherkin – Swiss Re London Address: 30 St Mary's Axe, City of London, England, UK
Date: 2004



photograph © Adrian Welch
Swiss Re Building
Thames Hub architects – Foster + Partners
Key Buildings by Foster + Partners
Comments / photos for the Thames Hub Development – London Estuary Airport page welcome