Endless Stair London, Tate Modern Architecture, Architect, LDF Building, Picture, Design
Endless Stair, London
London Design Festival Landmark Project design by dRMM architects
16 Sep 2013
Endless Stair in London at Tate Modern
Endless Stair opens at Tate Modern, Bankside
Location: front lawn of Tate Modern, London, England, UK
Crowds of visitors have taken to the Endless Stair over the weekend, exploring the intricacies of the structure, enjoying elevated views of the River Thames and St Paul's Cathedral, and adopting the flights for photography. The structure was officially opened last Friday, animated by New Movement Collective dancers who used the composition as a stage for their performance.
The Endless Stair press launch took place this morning at the Tate Modern gallery where the UK Ambassador of the USA, Matthew W. Barzun, spoke of his delight at the creativity of the project, both in terms of material experiment and whole life cycle analysis. Following his address, London Design Festival director Ben Evans chaired a discussion with the main production team (dRMM, ARUP, AHEC, Imola Legno), examining key design isues around the production of the world's first cross-laminated hardwood construction.
dRMM director Prof Alex de Rijke described staircases as the place in architecture of social and spatial potential. He went on to explain the meaning behind the name of this project as 'not a literal stair without end, but as a staircase design intended to be endlessly reconfigured'.
10 Sep 2013
Endless Stair in London
Endless Stair climbs into production phase as project location is moved to Tate Modern, Bankside
The Endless Stair, landmark project for this year's London Design Festival, will be sited on the lawn in front of the world-renowned Tate Modern.
Professor Alex de Rijke, director of dRMM, the architects leading the design for the structure, said, "Endless Stair is a temporary sculpture designed to be endlessly reconfigured. After initially considering a site at St Paul's Cathedral, the London Design Festival team has decided the best location for the Stair's debut is outside Tate Modern, Bankside. The programme of modern art and architecture, combined with the Thames panorama of London, provides a context to which dRMM's Escher-inspired installation can make a distinctive contribution."
Render of proposed installation: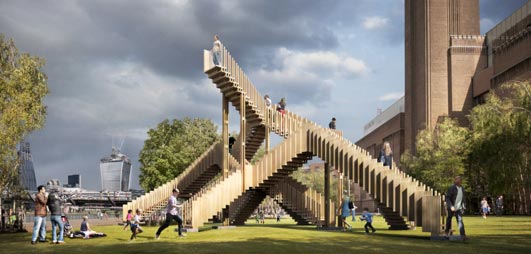 image : Cityscape
The construction of the Endless Stair, which will be the first-ever such structure to use American tulipwood cross-laminated timber (CLT), is now progressing in Italy and Switzerland. The project, which was conceived in January 2013, is pushing the boundaries of hardwood in construction.
Starting from a fantasy Escher-inspired drawing utilising, for the first time, tulipwood cross-laminated timber (CLT), dRMM and Arup have worked with specialist teams in Italy and Switzerland to research and test the strength of the material and develop the design to allow public access to the structure at this exciting cultural destination. Expert teams at dRMM and Arup have met the challenges of bringing this intricate design to fruition and fabrication is now underway.
Helen Groat, Senior Structural Engineer, Arup, leading on the design of the Endless Stair commented, "The most fascinating aspect about this project is that we are going beyond typical analysis and code justification methods. We are constantly experimenting, analysing and testing. This is such a great opportunity to apply pure engineering principles to this unique artistic installation, using a material that we firmly believe should be used in more mainstream buildings in the near future."
In Italy, Imola Legno, a long-established family owned timber specialist, has been making the CLT panels in its factory, one of the most 'green' in the country. With a large installation of photovoltaics (solar panels) and either by burning or selling the timber waste as pellets, the plant is a net exporter of electricity.
To produce the cross-laminated timber, Imola Legno cuts, planes and finger-joints the American tulipwood lumber and assembles the timber into sheets. Three of these sheets are subsequently glued together into a sandwich to make one CLT panel.
Chad Cole, Production Director of Imola Legno, is fascinated by the potential that the process shows for using the lower grades of a widely available timber. He is sorting the material so that the best timber appears on the outer surfaces, and the lowest quality forms the 'filling in the sandwich'. "My idea was to produce an A grade, a B grade and a C grade," he said. "This means that, from a sustainability point of view, waste can be minimised by using all of the material's natural colour and grain variations."
Nüssli, an international company specialising in temporary, permanent and modular structures, has been commissioned to construct the installation. Nüssli has previously worked on numerous projects, such as the London 2012 Olympics and other large global events, and is currently constructing a 'test flight' of Endless Stair at its Swiss headquarters. "We are delighted to be involved in this ground-breaking project, using the versatile medium of tulipwood CLT," said Martin Joos, Director at Nüssli. "We are currently conducting load tests and making other technical evaluations in conjunction with Arup, and look forward to seeing the finished structure outside Tate Modern."
Once all the panels arrive from Italy, Nüssli will build all the flights, complete with their balustrades, non-slip nosings and other elements. After some further testing, Nüssli will load the pre-fabricated panels onto four trucks at the beginning of September, to start the final journey from Zurich to London. Between six and eight Nüssli carpenters, will erect and fix the stair, using a telescopic forklift, to lift the elements into place.
The striking installation will be ready to open to the public on 13 September. With the highest step 7.7m above the ground, visitors will be at approximately the height of a three-storey building, providing an opportunity to experience both Tate Modern and the river from a unique setting. Endless Stair will offer an additional complementary interactive experience to an already vibrant cultural area.
The staircase will be closed at dusk each day. By night, the installation will be artistically bathed in light, evolving into an intriguing piece of art for passers-by to enjoy. The lighting scheme, designed by Seam Design, promotes various interactions within the structure by enhancing the juxtaposition and relationship between the surface/solid, solid/void and disorientation/configuration through the use of carefully placed and aimed luminaires provided by Lumenpulse. The lighting controls and sequencing will enhance particular features to express these contrasts creating an interactive play between the physical structure and the ephemeral nature of light.
The Endless Stair is the second hardwood structure that AHEC (American Hardwood Export Council) has commissioned for the London Design Festival in collaboration with Arup. While providing a unique public experience to celebrate imaginative design in London, these collaborations have an important technical design legacy and challenge current thinking within the construction industry.
In autumn 2011, Timber Wave, designed by AL_A, was gracefully located outside the Victoria & Albert Museum, showcasing the design and engineering merits of American red oak. Now, building on recent developments within the wood industry and innovations with the use of CLT, Endless Stair introduces the structural potential of American tulipwood CLT. The research and development process will be recorded in a project publication which will inform and inspire architects and engineers for years to come.
Chris Dercon, Director, Tate Modern said: "Tate is delighted to support the London Design Festival with a location for Endless Stair and we look forward to the installation, on Tate Modern's north landscape, being a major attraction of the Festival this September."
Endless Stair Facts
 American tulipwood (Liriodendron tulipifera) is one of the most abundant timbers in North America. It has excellent structural properties.
 There is a total of 11.4 tonnes of tulipwood in the Endless Stair, but none of it will be wasted. The project has been designed to be reconfigured and re-used.
 Cross-laminated timber is an increasingly popular construction material. It is normally made from softwood. This pioneering use of hardwood cross-laminated timber reduces the amount of material needed and the thickness of the elements.
 The total length of all the panels in the endless stairs is 436m – equivalent to 4.5 times the height of Big Ben.
 The Endless Stair has a total of 187 steps. The shortest route to the top is 48 steps.
 Arup estimates that a maximum of 93 people will be on the Endless Stair at any one time.
 The Endless Stair will be accessible during daylight hours. At night it will be lit with a lighting scheme by Seam Design.
 Endless Stair will have a full environmental profile; all the material, transport and manufacturing processes are being recorded and Sustainability Consultants, PE International, will produce a report to identify the life cycle impacts.
Endless Stair will be open to the public from 13 September – 10 October, located on the riverside of Tate Modern, Bankside, SE1 9TG
Opening Hours
13 September – 10 October
Monday – Sunday 9am-dusk
Credits
Client: London Design Festival
Design: dRMM Architects – timber studio, ARUP Engineering Structures, Material and Fire Specialists
Sponsor: American Hardwood Export Council (AHEC)
Contractor: Nüssli
CLT production: Imola Legno
Lighting Designer: SEAM
Lighting: Lumenpulse
American tulipwood kindly donated by:
Allegheny Wood – www.alleghenywood.com
Blue Ridge Lumber – www.blueridgelumber.com
J&J – [email protected]
Northland Corporation – www.northlandcorp.com
Northland Forest Products – www.northlandforest.com
Pike Lumber Company – www.pikelumber.com
Shenandoah Hardwood Lumber Co – www.shlco.net
Verde Wood International – www.verde-wood.com
Thanks to TMX Shipping – www.tmxship.com
Words: Ruth Slavid
Render credit: Cityscape
Architectural plan credit: dRMM
Endless Stair Background
About American Hardwood Export Council
The American Hardwood Export Council (AHEC) is the leading international trade association for the U.S. hardwood industry, representing the committed exporters among U.S. hardwood companies and all the major U.S. hardwood product trade associations. AHEC concentrates its efforts on providing architects, specifiers, designers and end-users with technical information on the range of species, products and sources of supply.
AHEC produces a full range of technical publications which are available free of charge by visiting www.americanhardwood.org
About Arup
Arup is the creative force at the heart of many of the world's most prominent projects in the built environment and across industry. From 90 offices in 35 countries our 11,000 planners, designers, engineers and consultants deliver innovative projects across the world with creativity and passion.
About dRMM
dRMM is a London-based studio of architects and designers, founded in 1995 by Alex de Rijke, Philip Marsh and Sadie Morgan. The practice takes pride in carrying out work that is innovative, high quality and socially useful. We have a track record of creating extraordinary architecture within the standard constraints of the construction industry. Our radical projects are led by site, client needs, concept and construction, rather than formulaic or style-based decisions.
Since 2000 dRMM has pioneered the use of, and applications for, engineered timber as a relevant material for 21st century architecture.
About Imola Legno
Imola Legno is Italy's leading timber distribution company with a great passion for wood and for its enormous versatility. The company offers customised semi-finished products suitable for different industries. Imola Legno is aware of its environmental responsibility towards the world's forest resources and therefore is committed to deliver only products that are legally sourced.
About London Design Festival, 14 – 22 September 2013
The London Design Festival was conceived by Sir John Sorrell and Ben Evans. Building on London's existing design activity, their concept was to create an annual event that would promote the city's creativity, drawing in the country's greatest thinkers, practitioners, retailers and educators to a deliver an unmissable celebration of design. First staged in 2003, the London Design Festival is now one of the world's most important annual design events. The Festival programme is made up of over 300 events and exhibitions staged by hundreds of partner organisations across the design spectrum and from around the world.
The London Design Festival works closely with, and receives financial support directly from, the Mayor's Office – having transferred support from the London Development Agency. The Festival also receives support from Arts Council England, as a National Portfolio Organisation 2012-15.
About Nüssli
Nüssli is a leading, globally operating supplier of structures for events, trade fairs, exhibitions and in other applications in which temporary space is required. The combination of long-standing expertise, in-depth know-how and an international network ensures the focused, cost-efficient delivery of every Nüssli project. Nüssli's success is driven by its reliability and commitment to excel. The company delivers individually tailored, integrated solutions whose hallmarks are high quality and quick turnaround time – from concept to final implementation.
Key products include grandstands, modular stadiums, trade fair stands and pavilions. Nüssli can also provide the entire infrastructure for individual events. The company's wide-ranging products and services, combined with in-house planning and production capabilities, make Nüssli unmatched as a solutions provider to the worldwide events industry.
Endless Stair images / information received 09+10/09/13
Location: Sumner Street, Bankside, London, SE1 9TG, UK
London, England, UK
London Buildings
Contemporary London Architecture Designs
London Architecture Designs – chronological list
London Architecture Tours by e-architect
Tate Modern Extension
Herzog & de Meuron Architects
Tate Modern, London
Herzog & de Meuron Architects



photo © Adrian Welch
London Festival of Architecture
Another architectural project by dRMM in London on e-architect:
Clapham Manor Primary School : Stirling Prize shortlisted
Comments / photos for the Endless Stair London page welcome