Prince's Foundation for the Built Environment, British Architect Design News, Attack, Buildings
Prince of Wales : Prince's Foundation for the Built Environment
Prince Charles Architecture News, Lectures, Information: UK Buildings
6 Feb 2012
Prince of Wales Attacks Modern Buildings
Prince of Wales hits out at glass, steel and concrete modern buildings
The Prince of Wales has criticised modern buildings as "energy guzzling glass boxes" which will be "ripe for demolition" within 30 years, reports The Daily Telegraph.
In a lecture to the UK's leading engineers, the Prince of Wales has told them that glass, steel and concrete structures are not sustainably produced.
Swiss Re Building – 30 St Mary's Axe, aka the Gherkin:



photo © Adrian Welch
London's skyline is dominated by buildings featuring these materials, including the Gherkin in the City and the Shard in Southwark – which will become Europe's tallest building when it is completed later this year.
Prince Charles now claims famous architects are coming around to his way of thinking. "Many noted architects, some of them very well known Modernists, are now openly talking about the need to move away from creating enormous, energy-guzzling glass boxes and towards a more environmentally sensible approach," he said.
In a lecture to the Institute of Civil Engineers, the Prince said the use of concrete, glass and "eco-bling" is creating buildings that are old and tired within a few decades.
"I'm afraid if a building is of a fashionable design today it almost inevitably condemns it very quickly to becoming unfashionable – tired looking, outdated, no longer 'contemporary. And so, within thirty or forty years, they are ripe for demolition and replacement."
The Prince even blamed building methods for some of the floods of recent years because water runs off paved areas rather than being absorbed by gardens and green spaces. He said paving over an area 22 times bigger than Hyde Park since the 1970s has caused more surface water run off rather than being absorbed naturally. He called for more Sustainable Urban Drainage that brings back wetlands, meadows and other natural systems.
"In the course of countless visits to flooded areas in this country it became apparent that so many of them were caused by the way we had ignored Nature's way of alleviating these problems and not understanding enough how Nature herself deals with water."
Prince Charles said engineering will be in the "front line" of coping with climate change and the growing human population in future by creating buildings and machines that use less energy and carbon. "We have, by default, engineered something of a looming disaster and we need all the ingenuity we can muster to pull back from it."
Angela Brady, President of the Royal Institute of British Architects, said there is nothing wrong with glass and steel. "Too often Prince Charles' comments on architecture can unfortunately be seen as an attack on style not substance. There is nothing intrinsically wrong with modern buildings and materials; in fact traditional looking buildings can be as wasteful and energy and inefficient as their contemporary counterparts.
"What matters is the way in which materials are used. Glass, concrete and steel can lead to magnificent environmentally friendly solutions which when designed well will last generations – look at the fantastically sustainable Eden Project or the new Olympic Velodrome.
"Architects and construction professionals throughout the UK are delivering projects that are durable and long-lasting – Prince Charles is in danger of attacking those who are already doing so much to improve our environment for future generations."
Views welcome for publication: info(at)e-architect.com
122 Leadenhall Street
Rogers Stirk Harbour + Partners


image : Cityscape
The Cheesegrater: 48 storeys
construction work recommenced on site in Jan 2011.
The Pinnacle – aka Helter Skelter
Kohn Pedersen Fox Associates



image : KPF and Cityscape
The Pinnacle : 60 storeys
Heron Tower – 110 Bishopsgate – complete
Kohn Pedersen Fox Associates



photo © mattchungphoto.com
Heron Tower : 46 storeys
Previously:
Prince of Wales RIBA Speech re Buildings
e-architect Editor Adrian Welch talked briefly with Peter Ahrends ahead of the lecture by Prince Charles at the RIBA in London:
Peter Ahrends summarised the position thus, "It is not a personal matter, not a matter of architectural style or idiom on my part. It is entirely a matter of guarding the democratic aspect of the planning application procedures.
Prince Charles' intervention in relation to the Chelsea Barracks scheme shows all the signs of an attempt to influence the direction in which the scheme should go that would be against normal planning procedures".
Prince of Wales Speech : RIBA Speech in full – posted 12 May 2009
RIBA Prince of Wales Lecture : Letter to The Guardian
Prince of Wales – Links
Angela Brady : former RIBA President
Letter to Prince Charles
20 Apr 2009
Public letter to Prince Charles from list of famous architects and key figures involved in architecture, re Chelsea Barracks : Letter to Prince Charles
Previously:
20 Aug 2009
Prince's Foundation for the Built Environment Investigation
The Prince of Wales is the subject of an investigation by the Charity Commission, after a complaint that he is using the Prince's Foundation for the Built Environment as a private lobbying firm.
The Daily Epxress report today that the heir to the throne is under the spotlight, according to the Evening Standard, after it was alleged that he has repeatedly used it to try to lobby Government ministers, developers and others to support his traditionalist views on designing major architecture projects.
The Charity Commission, which regulates 190,000 organisations will look into a complaint made about Charles's architecture body, the Prince's Foundation for the Built Environment.


picture © Nick Panagakis
Republic, a group that campaigns for an elected head of state, is to lodge a formal complaint, arguing that the foundation is in breach of commission guidelines that stipulate campaigning should not damage the reputation or independence of a charity or become the main reason for its existence.
Chelsea Barracks



image : Hayes Davidson/Candy & Candy
The complaint follows a series of controversies about the role of Prince Charles and the foundation in lobbying to have contemporary architects removed from key projects, including the £3 billion Chelsea Barracks project and the £500 million One New Change by Atelier Jean Nouvel next to St Paul's Cathedral in London.
One New Change


photo © Nick Weall
Last week, Roger Madelin, chief executive of developers Argent, told the Guardian that the Prince now has a similar stature as a consultee as statutory bodies including English Heritage, the Commission for Architecture and the Built Environment and professional bodies including RIBA and the Royal Institute of Chartered Surveyors.
RIBA President Sunand Prasad said this week that the Prince of Wales' intervention in architecture was 'brazen' and 'pernicious' and that the democratic process should be followed.
But the list of lobbying increases: The Guardian also report that the Prince Charles threatened to resign as president of the National Trust unless it altered the design of its headquarters : National Trust headquarters
The Guardian also reports that celebrated British architects Bennetts Associates and Feilden Clegg Bradley Studios separately claimed their bid to design a new building for the Soil Association, whose patron is the Prince of Wales, ended when the Prince's Foundation for the Built Environment intervened.
"The Prince's Foundation let it be known that modernist architects were not what was required for this job," said Rab Bennetts.
Comments welcome: info(at)e-architect.com
Address: Prince's Foundation for the Built Environment, 19-22 Charlotte Road, London, EC2A 3SG
Location: 19-22 Charlotte Road, London, EC2A 3SG, UK
Architecture in London
London Architecture Links – chronological list
London Architecture Walking Tours
Chelsea Barracks Architect (originally) : Rogers Stirk Harbour + Partners
UK Capital City Architectural Designs
London Architecture Designs – architectural selection below:
The Royal College of Art, Howie Street, SW11 4AY
Architects: Herzog & de Meuron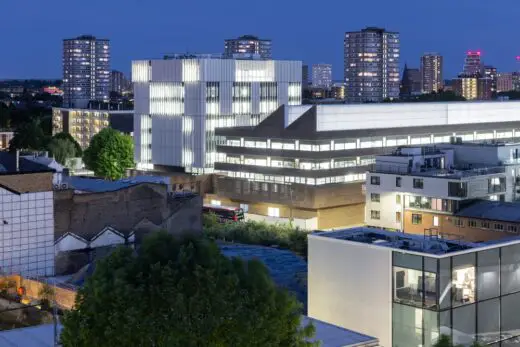 photo © Iwan Baan
Royal College of Art Battersea Campus
Houses of Parliament Restoration and Renewal Programme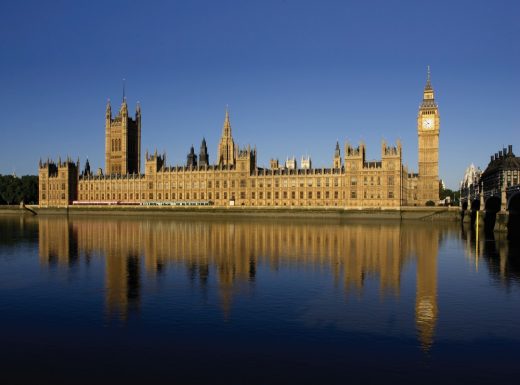 photograph © UK Parliament
Houses of Parliament Restoration and Renewal
Comments / photos for the Prince's Foundation for the Built Environment Investigation page welcome.