Triumph Pavilion London, Bethnal Green Design Competition, Architect, Images
Triumph Pavilion London
Bethnal Green Architecture Contest Summer Showcase Pavilion – Design Competition
29 Apr 2013
Triumph Pavilion London Design Competition
Special Mention:
Design: Amin Taha Architects
Amin Taha Architects have received a special mention for their Peace Pavilion design in Archtriumph's Annual Showcase "Triumph" Pavilion in east London, UK.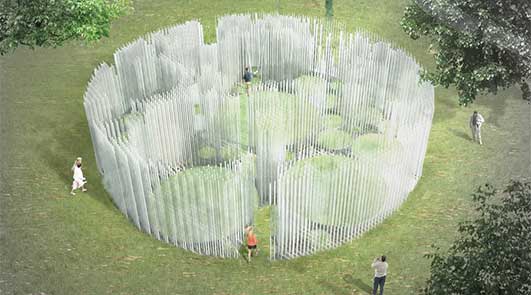 image from designer
The pavilion is more than a symbol for peace, it is an example of creating positive moments within an atmosphere of conflict. PEACE is the stage in which all parts of a whole are in equilibrium and stability, lacking violent conflict. Peace is not an absolute, but rather a constant search. This idea of a constant search, dynamism and the presence of conflict, are the fundamentals of Amin Taha's Peace Pavilion.


image from designer
The pavilion is an accumulation of vertical elements surrounding various focal points, as if it were a map or an abstract interpretation of people gathered in groups within this portion of the park. Although the pavilion creates some cleared areas to pass through, one can push and force their way through the flexible silicone tubes and discover a variety of densities and qualities of light while introducing moments of physical conflict within the pavilion.
For example, when one encounters a person moving in the opposite direction or you reach one of the voids already occupied. The goal is to create these circumstances of coexisting conflict, which we tend to avoid in our daily lives, with the hope that amongst the variety of vertical tubes of different light and shadows, we can resolve these moments of conflict in a peaceful and jovial way.
Circular areas of the base-case will be covered with different coloured loose river gravel according to the diagram representing the different conflicts in the world. Information will be written in each corresponding circle. Purple circles highlight the 60 countries involved in war today. Orange circles represent the total of 392 militias-guerrillas and separatist groups that exist worldwide.
Yellow circles represent the 35 regions and autonomous provinces in the world that are struggling for independence and green circles express daily conflicts such as domestic violence, child / elder maltreatment and targeted violence. The last phase is the installation of the silicon pipes, a total accumulated density of 4m2 distributed across the circular plan.
A total of 1700 4m high silicone tubes will form our pavilion creating delightful and unique spaces with plenty of shadows, transparencies and surprises. Silicone has been rigorously researched and tested for it's sustainable qualities. More than 1000 studies have been conducted to assess the safety of silicones for workers, consumers and the environment.
Silicones extend the useful lives of consumer goods, materials, building and society's infrastructures, serving as more environmentally sound alternatives to volatile organic compounds and other chemicals – reducing dependence on petroleum-based organic materials, raw materials and embodied energy / water consumption in manufacturing processes thus promoting energy efficiency and reducing or eliminating air or water polluting emissions.
Despite the conflicts and crises throughout the world Amin Taha's design proposal relies on the good nature of people to not create conflict but to coexist peacefully.
Triumph Architectural Treehouse Award 2014
Previously:
16 Apr 2013
Triumph Pavilion Bethnal Green
Summer Showcase Pavilion Contest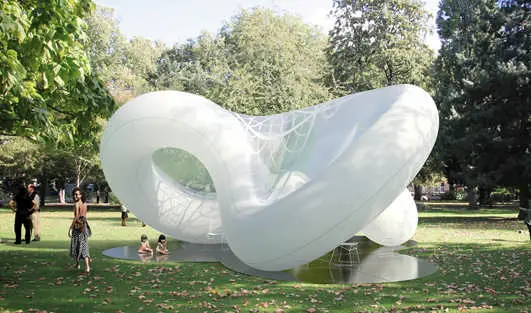 image from designer
1st prize
Gregoire Zundel, Irina Cristea, Adrià Misereachs
Interdisciplinary team
France
The Peace Pavilion
The Museum Gardens, and nature in general are perfect settings to promote peace, to encourage the sharing of joyful stories and to provoke discussions about architecture and design.
We propose a Pavilion which is visually and aesthetically engaging. It is capable of providing an ideal contemporary space offering a sense of tranquility, beauty and an exceptional aesthetic value at the very heart of the Museum Gardens.
Peace is one of the highest human ideals. It is a state of equilibrium; it means NO WAR, but also harmony, silence, pureness, kindness, happiness, appeasement, calm, reconciliation, serendipity, tranquillity…
To express these ideas, we have created a perfect and symmetrical sculpture, obtained by a precise geometrical manipulation. The beauty of the shape lies in its perfect symmetry and fluidity; the pavilion speaks to everyone. Upon viewing the volume for a moment you get a sense of the pavilion and its layout with minimum effort.
The geometry of the pavilion blurs our notions of inside and outside, the simple act of moving through the exterior and interior spaces bring an understanding to the visitor.
Our project is a self-supporting structure with 4m in height and 20m² in area, designed entirely with lightweight materials – 77.96m² of PVC membrane and 20m3 of air.
To achieve such an APPARENTLY complex shape, we unite advanced tools of parametric design: in the study of tensile membranes and in the geometric conception of double curved surfaces, and digital fabrication: in the accurate manufacturing of the pavilion using CNC cutting machines.
PROJECT DETAIL
Site Use – Site Area (m²): 32
Building Area (m²): 20
Gross Floor Area (m²): 32
Building Coverage Ratio (%):0.3
Gross Floor Ratio (%):0.3
Stories above Ground: 1
Stories below Ground: 0
Structure: inflatable tube, tensile membrane; inox platform
Maximum Height (m²): 4
Landscape Area: 1.05 hectares
Parking Lot: 0
Exterior Finish: PVC, Polished Inox
2nd prize


image from designer
Gcarchitetti (Beatrice Comelli + Carlo Gaspari + Riccardo Scattolin)
Architect
Italy
The project wants to show the steps to achieve the peace: Peace is not just the aim two people or two cultures have reached, but it's the way these two people, two cultures, two countries go through to reach the goal; In this Idea the project is not a static space but it's a promenade, a "path" to peace.
It's an uphill way to track, made by steps, that suggest the idea of a personal process of knowledge and acceptation of his own neighbor, a path of research.
People must struggle and take time to get to peace.
The way must be walked through from both sides, as both cultures must do the same effort to arrive to peace. For this reason the project is symmetrical.
The center of the project is practically the moment where two people, coming from opposite sides, meet each other. It's a box where two people, approaching to each other, can find right intimate and comfortable atmosphere to stop, sit and start a dialogue.
This is, ideally, the moment of peace: a space where you have to sit (that's the reason because the ceiling is on a lower level) and communicate with each other.
In the project, light has an important rule: from a sunny and open space (external part of the pavilion), progressively the person come to a darker and darker place, that recalls the trip on his own conscience more and more intimate.
PROJECT DETAIL
Site Use – Site Area (m²): 671 m2
Building Area (m²): 20 m2
Gross Floor Area (m²): 19 m2
Building Coverage Ratio (%): 0.03%
Gross Floor Ratio (%): 0.03%
Building Scale: na
Stories above Ground: na
Stories below Ground: na
Structure: timber
Maximum Height (m²): 4 m
Landscape Area: 20 mq
Parking Lot: na
Exterior Finish: red cedar
images from designer
3rd prize
Sergey Kudryashev
Architectural Graduate
London, UK
SAND OASIS PAVILION
Concept/Use
The "Sand Oasis" project responds to the challenge of explaining complex political notions of secession and national sovereignty through design and adventure.
The Inspiration for the form of the pavilion comes from Sudanese Pyramids of the Kush era – a protruding pure geometrical shape standing tall in the vastness of the desert with immense solidity and mass. In very much the same way this is how the pavilion is intended to be perceived from a distance; a grotesque sand castle, its mass and volume too great to remain intact.
The Sand Oasis Pavilion is a welcome diversion from the surrounding luscious greenery, an exotic provocation to the eye. It projects sun and desert landscapes from far away. In this way the concept playfully inverts the traditional vision of an oasis (wakha) into the « adapted » oasis that offers a soothing sandy retreat in the middle of a park.
If curiosity will drive you to explore further as you make your way down the winding park path you would realize that the castle has spilt its sandy mass from the inside to form an ascending spiral entrance. As you follow the sand spiral into the structure the pavilion reveals what being on the inside of a sandcastle feels like.
The sand dune that flows around the pavilion is nested within a concave topography giving it varying degrees of density from edge to centre. This shape makes the sand naturally flow towards the lower middle of the structure separating the deep central leisure and play area from the shallower perimeter "walkway".
It is only when one gets close enough to the sand shell that rises from the dune that his perception of the object shifts. Something that appeared heavy and solid on the outside turns to be light and translucent from within, as you are able to look through the thin grain layer of the sand keep walls.
The Sand Oasis is intended to act as an inspiration for those playing and making their own sculptures and forms within and around it; as a journey of exploration of a curious new entity in a familiar space; and as symbol of an object that is now split in two, where both half's coexist enriching and enhancing each other.
Dedicated to the newly created Nations of South and North Sudan.
PROJECT DETAIL
Site Use – Site Area (m²): Recreation 17.7m2
Building Area (m²): 17.7m2
Gross Floor Area (m²): 17.7m2
Building Coverage Ratio (%): na
Gross Floor Ratio (%): na
Building Scale: na
Stories above Ground: 1
Stories below Ground: na
Structure: timber frame, plywood, sand, glass/sand/glass sandwich
Maximum Height (m²): 3 m
Landscape Area: 20 mq
Parking Lot: na
Exterior Finish: red cedar
Previously:
Triumph Pavilion Competition
PROJECT:
Triumph Pavilion – LONDON (Summer Showcase Pavilion)


image : ArchTriumph
LOCATION:
Museum Gardens, Cambridge Heath Road, Bethnal Green, London, E2 9PA, England, United Kingdom next to the V&A Museum of Childhood.
PROJECT SPONSOR:
ArchTriumph
THE PROPOSAL:
To design a freestanding transportable temporary contemporary showcase Pavilion that reflects peace and its unique location. The Pavilion will reflect a peaceful space, encourage hope and highlight the need for ecological and sustainable architecture and design principles.
It should provide an inspirational space where visiting architects, designers, families or general public can stand, seat around to admire, embrace diversity and engage with each other to share discussions about design, importance and benefits of peace and co-existence or other stories in a peaceful setting.
This year's Triumph Pavilion entitled "The Peace Pavilion" will be dedicated to the newly created South and North nations of Sudan as we encourage a peaceful future through architecture.
The planned Pavilion structure will be designed by a selected architect or design team through our Pavilion competition and our panel will select a project winner from the submitted entries that most satisfies the brief and is befitting of the Museum Gardens.
Pavilion should not exceed 4 meters in height and 20 square meters in area.
BUILD / FABRICATION COMMENCING:
1 Apr 2013
CONSTRUCTION / FABRICATION COMPLETION:
Completed and in place by 12 May 2013
REALISATION:
The winning individual or project team may be assigned to an architectural office or co-architect to collaborate with to further develop the construction drawings and prepare it for construction where the individual or team lacks the experience. It is to be built on a site elsewhere and assembled or placed in position in the Gardens.
REGISTRATION:
One Registration per Project Proposal. Each proposal is assigned a Unique Registration Number (URN).
FEES:
Every entrant shall be required to pay an entry fee as follows:
– Special Registration: $180 US from 31st October 00:00 (GMT) to 16th November 2012 23:59 (GMT)
– Early Registration: $200 US from 17th November 00:00 (GMT) to 13th December 2012 23:59 (GMT)
– Standard Registration: $250 US from 14th December 00:00 (GMT) to 27th February 2013 23:59 (GMT)
– Late Registration: $300 US from 28th February 00:00 (GMT) to 08th March 2013 23:59 (GMT)
All deadlines are 23:59 Hours (GMT)
ELIGIBILITY:
Architects
Architecture graduates
Architecture students
Team of architects
Inter-disciplinary teams (engineers, designers in-conjunction with an architect).
Submissions can be the work of an individual or a group up to 4 members.
Registration and participation in the competition implies an immediate acceptance by entrants of all terms & conditions governing the site and competition.
INELIGIBILITY:
Employees, consultants, agents of ArchTriumph.
Employees, partners, friends, family, personnel, office practice or studios associated with any of the panel.
Persons who have taken part in the organisation of the Competition or the writing of the architectural brief.
Persons involved in the establishment or in the preparation of the program (including any feasibility for the Competition site or topic).
RESTRICTION:
Participants must be aged between 18 or over on date of registration for this competition.
SUMBMISSION DEADLINE
8 Mar 2013 – Closing Date for Proposal Submission.
For more details of the competition please visit:
www.archtriumph.com
Triumph Pavilion Architecture Competition – information received Nov 2012
Location: Museum of Childhood, Bethnal Green, London, England, UK
London Buildings
Contemporary London Architecture Designs
London Architecture Designs – chronological list
London Architecture Tours by e-architect
Triumph Pavilion Bethnal Green 2016
Museum of Childhood Bethnal Green
Museum of Childhood Refurbishment – V&A, Cambridge Heath Road
2007
Design: Caruso St John Architects



photo © Adrian Welch
Museum of Childhood
Buildings close by to the Museum of Childhood in Bethnal Green include:
Geffrye Museum, Kingsland Road, Shoreditch



photo © Adrian Welch
Town Hall Hotel & Apartments, Tower Hamlets



photo © Adrian Welch
Keeling House, Bethnal Green



photo © Adrian Welch
The Blue house, Garner Street, off Hackney Road



photo © Adrian Welch
Comments / photos for the Triumph Pavilion London – Architecture Contest Bethnal Green page welcome