Stratford Station, DLR Extension, London Building, Olympic Games Gateway Project
Stratford Regional Station, London
Public Transport London Architecture Information, England, UK – Gateway
1 Jun 2011
Stratford DLR Extension
'Public transport Games' on track: Gateway station to the Games complete with test ride on DLR extension
Stratford Regional Station – photograph © Adrian Welch, taken on 17 Sep 2011:

The transport 'Big Build' that will help spectators and the rest of London keep moving during the Games is complete with works at the main 'Gateway' station for the Games now finished the Olympic Delivery Authority (ODA) confirmed today.
The ODA announced that work was complete at the main 'Gateway' station for the Games, Stratford Station, as guests and media also took a test ride on the newly completed Docklands Light Railway (DLR) extension from Stratford International Station for the first time. The DLR extension will open to the public this summer and Transport for London (TfL) is on track to complete the Jubilee line signalling upgrade in July, a year ahead of the Games.
Together, the upgrades and improvement works mean that 10 different rail routes will serve Stratford station during and after the London 2012 Games, making it one of the most connected parts of the capital.
The vast majority of upgrades required for the Games are already operational and form part of a £6.5 billion transport improvement package across the UK to increase capacity and bolster services, enabling 100 per cent of spectators to travel to the Games by public transport, walking or cycling.
The milestone was marked today as the Mayor of London, Transport Secretary and Culture and Olympics Secretary, LOCOG Chair Seb Coe and ODA Chief Executive Dennis Hone showcased the routes that many spectators would use to arrive at the Olympic Park next summer. These routes included the Javelin® service to Stratford International, the new DLR extension linking Stratford International to Canning Town and also the new Northern Ticket Hall that will serve the Westfield shopping centre when it opens in September.
Boris Johnson, the Mayor of London said: "Thanks to the Games and the massive settlement we've secured from central government, London is seeing a neo-Victorian age of investment in its transport infrastructure. East London now has arguably some of the best transport connections in the world and they are here for all Londoners to take advantage of, a year ahead of the Games."
Transport Secretary Philip Hammond said: "London 2012 has been the catalyst for permanent transport improvements which will benefit millions of people, not just for the Olympics, but for generations to come. This investment will ensure that the thousands of athletes and spectators attending the world's biggest sporting event travel safely and efficiently around the UK.
"But crucially it will also allow us to minimise the disruption for those who are not attending the Games and are going about their everyday business during July and August next year. Obviously, with hundreds and thousands of additional passengers in town, I can't promise that there will be no disruption to normal travel patterns. And some people will need to think differently about how they travel, possibly working from home, shifting journey times or avoiding the capital at particularly busy times. But I can guarantee that the Government, the Mayor and London 2012 are doing everything possible to get people to the Games, whilst ensuring the rest of the country keeps moving."
ODA Chief Executive Dennis Hone said: "Working together with TfL, Network Rail and others, we have delivered a positive transport legacy for London a year before the Games. New trains, improved services and upgrades to infrastructure such as at Stratford Station, the main 'Gateway' station to the Games, will mean spectators can get to and from venues in 2012 and will leave East London better connected for decades afterwards."
LOCOG Chair Sebastian Coe said: "We have seen over the last five or six years a collective spirit from all of our stakeholders who are focused on not just making London 2012 a huge success, but also creating a fantastic legacy for generations to come. The work on the transport infrastructure which has been completed is a great example of how organisations have come together to ensure that the venues are well connected for Games-time, giving spectators a fantastic experience next summer. And when the Games have left town, London will be left with an enhanced transport system which will benefit communities for generations to come."
Peter Hendy, London Transport's Commissioner said: "We're on track to deliver all transport improvements well ahead of the Games and Londoners are already benefitting from this early legacy.
"Transport networks will be busier than usual, which is why we're urging businesses to plan ahead now for how and when they travel, and have their goods delivered, during the summer of 2012. But working together, I'm confident we'll keep London moving and deliver a fantastic Games of which the city and nation can be proud."
Andrew Altman, Chief Executive of the Olympic Park Legacy Company, said: "As with every great city, the transport infrastructure will play a fundamental role in defining the success of the future Queen Elizabeth Olympic Park. Stratford has become one of the best connected destinations in London and is a central reason why we are already seeing a great deal of commercial interest in investing in the Park after the Games."
Upgrades and enhancements have been delivered through partnership working and a united effort between the ODA, Transport for London (TfL), Network Rail and the Department for Transport, resulting in substantial improvements to London's rail networks, particularly across the ten lines serving the 500-acre Olympic Park and its three stations – Stratford, Stratford International and West Ham. Together, these stations will accommodate just under 80 per cent of visitors to Stratford.
The latest edition of the London 2012 Transport Plan, which gives a comprehensive overview of the Games-time transport arrangements across the UK, was also launched on the day.
Transport improvements across London and the UK will leave behind a lasting legacy after London 2012. During the Games, enhancements will help handle expected capacity, with the three stations expected to handle around 80 per cent of spectators between them.
To increase capacity and improve routes leading to the Olympic Park, the ODA was required to manage a programme with stakeholders to upgrade lines, infrastructure and rolling stock. The bulk of this has now been introduced, with concentrated investment at Stratford Station, which will handle close to half of all Olympic Park spectators to the Olympic Park.
The station has benefitted from more than £125 million of upgrades and enhancements, with capacity trebled to accommodate 120,000 people during the morning peaks in 2012, when more than 200 trains will pass through the station each hour. This has been achieved through upgrades including dual-side opening doors on the Central Line at Stratford station, the introduction of three-car trains on the DLR, and mainline rail service improvements, including the North London Line, Lea Valley lines, Great Eastern Main Line and East London Line (see full list of improvements in factfile below).
Meanwhile, the establishment of the Javelin service at Stratford International will also help meet demand, as will investment in improving capacity at West Ham, where the ODA has built a new temporary bridge that will take spectators directly from the District and Hammersmith & City Line platform to the Greenway walking route and into the Olympic Park. This will also allow regular commuters to follow their usual route through the station with less disruption.
As the ODA concludes its management of Games-time investment, the baton has now been passed to Transport for London (TfL), Network Rail and the nations' train operating companies to run services next summer.
78 per cent of spectators are expected to travel to and from the Olympic Park by rail.
Jul 2010
Stratford Station
Main London 2012 station on track to take 120k peak passengers and 200 trains per hour
Upgrades to Stratford Regional Station – the main transport hub for London 2012 – will accommodate 120,000 passengers and enable 200 trains every hour to call there during the Games.
The main station works, which are on track to complete by the end of the year, are among a list of ten transport milestones detailed in Connected – a document released today by the Olympic Delivery Authority (ODA).
Stratford Regional Station, which first opened in the 1830s, is benefitting from more than £200 million investment throughout.
Plans to treble capacity by 2012 are being achieved as lines are improved – allowing longer and faster trains – while new platforms are built and the station is reconfigured to maximise the increased numbers using it.
Hugh Sumner, ODA Director of Transport, said:
"Our robust plan to improve transport is one of strongest physical legacies from the Games and is being delivered now – before they have even started. Significant investment in Stratford Regional Station is an example of how we are working with our partners to greatly increase capacity and improve frequency through a mixture of improving existing services and creating new infrastructure where needed.
"While the bulk of these works have been accelerated because of the Games, the benefits are far wider reaching and will leave a lasting transport legacy in this part of London."
Mayor of London, Boris Johnson, said:
"Thousands of citizens from around the world will descend on our great city in 2012 and my vision is that whether they arrive by rail, road or air when they get here they find an array of swift and efficient transport options to move them between our venues, attractions and hotels. Improvements like those happening at Stratford Regional Station, the doubling in capacity of the DLR and the superb new East London Line will be essential to the Games but are already delivering an early legacy of improvements for Londoners."
Peter Hendy, London's Transport Commissioner, said:
"These transport improvements at Stratford, and across London, will enable us to support a fantastic Games and keep London moving during 2012. But the local community, Londoners and visitors are already benefiting. Stratford is now one of the most important interchanges in London and is an excellent example of how investment in transport can boost communities and the economy, now and in the future. Working with our partners at the ODA and across London, TfL is on track deliver its transport projects and improvements well ahead of the 2012 Games."
The ODA has contributed more than £125 million to the cost of improving Stratford Regional Station, with the remainder being invested by partners including Transport for London – comprising London Underground and Docklands Light Railway – and National Express and Network Rail.
By the Autumn, 19 lines will be running at Stratford Regional – compared to 17 at Clapham (18 once the East London Line arrives). When work started, about 125 trains passed through the station each hour. This will have risen to over 200 on completion of the Anglia Route Utilisation Strategy.
Passenger demand at the station is trebling. Having risen to 55,000 passengers per hour from a base of 35,000 three years ago – when improvement works commenced – it is expected that during the London 2012 Games, 120,000 people will be using the station at peak times, while the morning commute will see 80,000 people use the station by 2016.
It is not only those travelling to the Games who will benefit from the improvements; today's rail users are benefitting from a less cluttered station and improved services. In the medium and long-terms, the improvements will form part of a wider transport benefit after the Games, and will better connect people with London, including jobs.
Aside from Stratford Regional Station, other projects detailed in the Connected document include:
– Introduction of three-car trains on the DLR
– Completion of Stratford International Station
– Running of the high speed Javelin® service
– Extension of the Docklands Light Railway from Canning Town to Stratford International
– Improved frequency and capacity on the North London Line
– New East London Line
– Kings Cross Northern Ticket Hall for Eurostar and mainline services
– Walking and cycling services and facilities
– Improved river transport
Stratford Regional Station images / information from ODA Jul 2010
Stratford DLR Station
Will Alsop



image from architects
Stratford DLR Station
Location: Stratford, London, England, UK
London Buildings
Contemporary London Architecture
London Architecture Designs – chronological list
London Architecture Tours by e-architect
London railway station : Euston
Stratford Building Designs
Stratford Properties
Stratosphere Homes, Stratford, East London
Architects: Allies and Morrison / Stockwool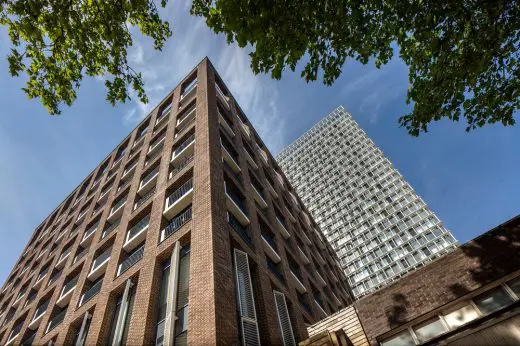 photo : Morley von Sternberg
Stratosphere Homes
Icona Stratford
Stock Woolstencroft
Icona Stratford
Stratford DLR Station architects : SMC Alsop
Comments / photos for the Stratford Regional Station Building page welcome