NLA Exhibition, Architecture, Buildings, Images, Dates, Venue, Planning, Suburbs
NLA Exhibition London : Architecture
Shaping the Polycentric City, England – Architectural Event UK
26 Sep 2008
From Pizza to doughnuts: How the new Mayors planning policies will change the flavour of London
NLA Exhibition
A major new exhibition at the New London Architecture centre (NLA) that explores the future of the London suburbs opened today. Londons Towns: Shaping the Polycentric City examines Boris Johnstons election promise to ensure that outer London can play a full part in the citys economic success.
Speaking at the opening of the exhibition, Peter Murray, chairman of NLA, compared the past and present mayors planning strategies for London to pizzas and doughnuts. Ken Livingstone was accused of being a 'zone one mayor' with little interest in places like Romford, Cricklewood or Ealing. The former mayor, advised by Richard Rogers had a vision of a dense European city as a model for the development of London. This pizza model or centric city positions Londons Towns as dormitories feeding into Central London.


Cricklewood
The new Mayors blue doughnut strategy won him the mayoralty. Johnson was elected not by central London, but by the outer districts like Bexley, Bromley, Kingston and Barnet. Boris Johnson makes it clear that outer London will be a higher priority than it was with his predecessor.
Planning for a Better London, published in July, outlines Johnsons approach. Although he will target disadvantage areas in inner London more emphasis will also be given to issues affecting outer London and ways of realising untapped potential there. Outer London is the place where most Londoners live and work, so the new approach is aiming to improve the liveability of the huge variety of places and neighbourhoods that make up outer London.
Whether defined as suburbs or towns in their own right, these areas will make a huge contribution to the future of the capital. Johnsons desire to give greater autonomy to the boroughs recognises that London is polycentric; a city of villages and a network of town centres each with its own character and style. This exhibition looks at plans and projects already underway to support the Londons economies as a polycentric city.
Opening the exhibition, Councillor Merrick Cockell, Chairman of London Councils said: The world changed in May when Boris came into power. Previously the suburbs or outer boroughs did not have the confidence or assertiveness to identify themselves in comparison to central London. They were very much associated with traditional suburban family living in a house with a garden. Now, the outer boroughs have moved on. They have the justification to change; to take control of their own identity and commission their own urban regeneration and new developments. The challenge is for the boroughs to deliver sustainable communities with regeneration opportunities and employment.
The selection of towns and urban centres under the spotlight in the exhibition include: Barking Barnet Bromley Clapham Croydon Ealing Greenwich Hammersmith and White City Harrow Hounslow Ilford Kingston Lewisham Park Royal Romford Stratford Upper Lea Valley Uxbridge Wandsworth Wembley.
NLA Architecture Exhibition – 'London's Towns: Shaping the Polycentric City
23 Sep 2008
A major new exhibition at the New London Architecture centre (NLA) explores the future of the suburbs under Boris Johnson. London's Towns: Shaping the Polycentric City looks at the Mayor's election promise to 'ensure that outer London can play a full part in the city's economic success'.


Croydon Third City by SMC Alsop
Examining Boris Johnson's election promise and looking at the conundrums facing the newly established Outer London Commission, the exhibition and related conference and talks programme will inform, inspire and encourage debate about the role of London's towns.
Significant plans to reinvigorate the suburbs have been underway for some time. Towns such as Croydon, Walthamstow, Woolwich, Tottenham Hale and Wembley are investing billions in their local areas. However, in recent years outer London has been feeling the pinch and the present economic situation is not going to help.
Far from being a dormitory for central London's workers, the vitality and success of outer London is inextricably linked to that of London as a whole.
The word suburb may conjure up images of 'The Good Life's' Margot and Jerry, safe in their middle-class bubble, earning their livelihood in central London but living in leafy suburbia. However, the reality of life outside central London in the 21st century is very different:
Some 4.1million people live in London's outer boroughs, more than half of London's population
42% of the capital's jobs are there
London is a scattered city, with a population far less dense than that of our European counterparts
London's population is predicted to grow by 800,000 by 2016, the equivalent of the entire population of Leeds moving south
Peter Murray, exhibition director, New London Architecture comments: "The massive spread of London that took place in the 1930s absorbed towns like Kingston, Croydon, Harrow and Romford into the metropolis. These areas of London seem to have come off second best in recent years, when compared to investment in the central boroughs and regeneration areas like the Thames Gateway.†The Mayor realises that the vitality and success of outer London is inextricably linked to that of London as a whole. This exhibition celebrates the way London's towns are being transformed. Boris was elected by the voters of Bexley, Bromley and Barnet. What can he offer the suburban 'blue doughnut' in return?"


Priory Manor by Duggan Morris Architects
Mayor of London, Boris Johnson comments: "Making sure outer London lives up to its full potential as a place to work, live and enjoy is vital if London is to meet the challenges of population and employment growth while also acting on imperatives like climate change. 'London's Towns' raises many of the questions we will have to address, and shows what can be achieved with imagination and hard work. It is a good start to the discussion, exchange of ideas, policy-making and delivery on the ground that we will need to make the kind of change our city – and its towns – needs."
The selection of towns and urban centres to be put under the spotlight: Barking, Barnet Cross, Bromley, Croydon, Ealing, Greenwich, Hammersmith, Harrow, Hounslow, Ilford, Kingston, Lewisham, Park Royal, Romford, Stratford, Upper Lea Valley, Uxbridge, Wandsworth, Wembley.


Brunel University Harrow by YRM architects
With CrossRail, Stratford International, the 2012 Olympics and Stratford City, Newham is forging its identity as the 'new heart' of London. Next in line for redevelopment will be Stratford High Street and Angel Lane, as well as some 50,000 homes over the next 20 years. As the population density rises, existing deficiencies in public open space in the area become more acute – so a new 26-mile linear park proposed by architects 5th Studio, is a necessity, not a luxury.
Croydon is thinking big. Already London's most populated borough, with 337,000 residents, the council's Vision 2020 plan sets out aspirations for Croydon to be London's 'third city'. Over £2 billion of investment is expected over the next decade. Will Alsop has been commissioned to create an iconic town plan that is as bold as the original vision for the town in the 1950 and 60s. Can it deliver?


Sundridge Park by Robert Adams Architects
With more VAT registered businesses in Ealing than in any other West London borough and a 14.3% increase in number of businesses in the last five years, Ealing is nothing if not enterprising. Masterplans for Ealing, Southall and Acton town centres are underway and the 'Good for Greenford' project aims to deliver a vibrant local town centre. Will these be enough to compete with the big retail centres in Kingston, Richmond and Brent Cross, all within striking distance?
Far from going to the dogs, Walthamstow has grand plans for new business and community opportunities, devised in partnership with The Prince's Foundation for the Built Environment. Neighbouring Wood Green will be buoyed by the Haringey Heartlands regeneration scheme, with plans for up to 2,500 new homes as well as small business space, a 20-storey landmark tower, and open spaces and play areas. Dubbed an outer London borough with inner London challenges, Haringey's total target for extra homes is 6,800 inside 10 years.
London's Towns: Shaping the polycentric city – 25 September – 15 November at New London Architecture, The Building Centre, 26 Store Street, London, WC1E 7BT. Opening times, Monday – Friday, 9am – 6pm and Saturday, 10am – 5pm. Admission free. T: 020 7636 4044, E: [email protected]
The exhibition will be accompanied by a series of half-day conferences and breakfast briefings bringing together decision-makers and the architecture, development and planning communities to set the agenda and debate the issues. For further information visit www.newlondonarchitecture.org/londonstowns


Abbey Mills – Lea River Park by 5th Studio architects
Five free breakfast briefings on Wednesday mornings throughout the exhibition will focus on the projects and research transforming outer London's towns, urban centres, high streets and suburbs.
New London Architecture (NLA) at The Building Centre is an exhibition centre dedicated to the future of the built environment in London that is open to the public free of charge six days a week. The capital is undergoing a period of†massive change and NLA is a place where everyone – professionals, politicians and the public – can find out more and get involved in what is happening to the city. NLA has over 2500 visitors a week to the public exhibitions, events, talks and lectures that are organised to encourage constant debate, learning and networking across the profession and local communities
Location: London, England, UK
NLA Posts
NLA London Industrial & Logistics Sector Report
NLA London Industrial & Logistics Sector Report
NLA London Tall Buildings Survey 2022
NLA London Tall Buildings Survey 2022
NLA London Tall Buildings Survey 2020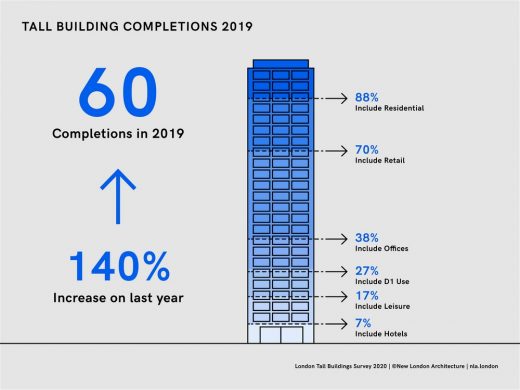 image courtesy of NLA
NLA London Tall Buildings Survey 2020
New London Architecture Conference – NLA Talk
London Buildings
Contemporary London Architecture
London Architecture Links – chronological list
London Architecture Tours by e-architect
New London Architecture Charity Cycle Ride
Andrea Palladio Architecture Exhibition 2008
New Palladians London Exhibition 2008
Comments / photos for the NLA Architecture Exhibition page welcome
Website: www.newlondonarchitecture.org