Wimbledon Retractable Roof London Tennis Building, Centre Court Design, 2017 News
Wimbledon Retractable Roof : Centre Court
Major Tennis Venue in London design by Populous architects, England, UK
post updated 23 August 2021 ; 10 Jul 2017
Wimbledon Centre Court Retractable Roof
The All England Club took the unusual decision to shut Centre Court roof to protect turf amid a safety row, report The Independent.
Wimbledon Centre Court Roof
The last time the roof was closed for reasons other than heavy rainfall was in 2015, but clear skies and temperatures approaching the 30° symbol convinced the Wimbledon organisers to act.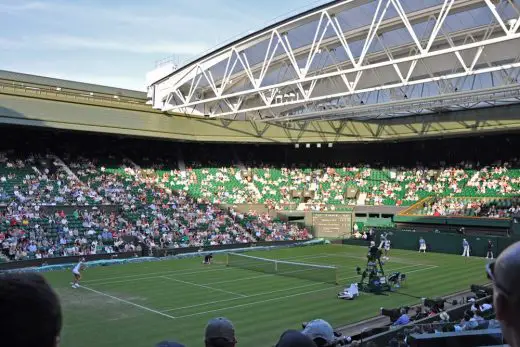 photo By Albert Lee (Photo) [GFDL (http://www.gnu.org/copyleft/fdl.html) or CC BY-SA 4.0-3.0-2.5-2.0-1.0 (http://creativecommons.org/licenses/by-sa/4.0-3.0-2.5-2.0-1.0)], via Wikimedia Commons
Officials confirmed on Friday that the decision was taken to protect the court from the unusually high temperatures, ahead of Heather Watson's third round match against Victoria Azarenka.
Wimbledon's grass courts came under fire on Thursday night. French player Kristina Mladenovic criticised the surface on Court 18 after her defeat by Alison Riske, claiming the court was not fit to be used.
Wimbledon Centre Court Retractable Roof in London: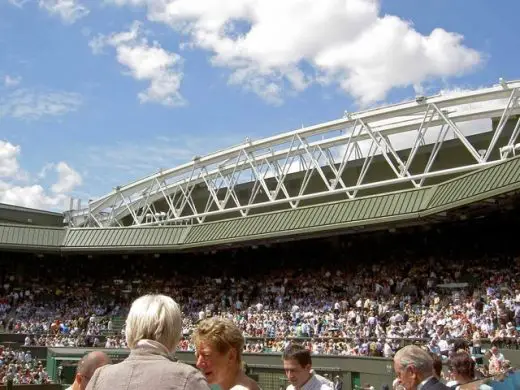 photo Steve F [CC BY-SA 2.0 (http://creativecommons.org/licenses/by-sa/2.0)], via Wikimedia Commons
source: Wimbledon Centre Court Roof.
10 Jul 2015
Wimbledon Retractable Roof News
Wimbledon's Court No 1 Retractable Roof
Wimbledon's Court No 1 is to have its own retractable roof by 2019 after a £70m modernisation of the All England Club was given the green light, reports the London Evening Standard.
A seven-year masterplan to upgrade the home of tennis at SW19 was backed by Merton council on 11 December 2014, heralding a "defining moment" in the site's 137-year history.
The roof design by Grimshaw architects can be closed in 10 minutes when rain starts to fall, with play resuming within half an hour after it stops — minimising hold-ups for the court's 11,500 spectators.
Wimbledon Court No 1 retractable roof.
page updated 26 Jun 2014
Wimbledon Centre Court Retractable Roof, London
June 23, 2014 – Rod Sheard on the Architecture Behind Wimbledon's Centre Court Retractable Roof for CNN
With Wimbledon beginning today, CNN sat down with Populous' Rod Sheard, Senior Principal, to discuss the architecture behind the iconic All England Lawn Tennis and Croquet Club's (AELTC) new retractable roof for Centre Court.
Wimbledon Masterplan
Design: Grant Associates, Landscape Architects
Grant Associates adds to Wimbledon Master Plan
Holistic landscape and public realm design for finest stage in world tennis – 18 Jun 2013
8 Jul 2012
Wimbledon Retractable Roof Design
Design: Populous
Wimbledon Centre Court Roof News
Wimbledon's Centre Court roof is in use again today as Andy Murray plays in the Men's final against Roger Federer.
Centre Court Retractable Roof in position:
Mixed Doubles: Andre Agassi & Steffi Graf v Tim Henman & Kim Clijsters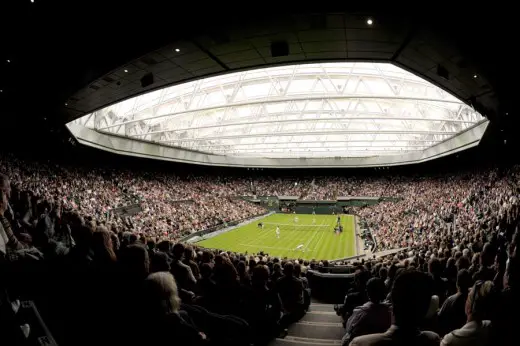 Wimbledon Retractable Roof photo : Neal Simpson/ AELTC
Structure : hydraulic operation
Material: translucent fabric – Tenara, 40% transparent
Supports : steel trusses
Fabric supplier: W.L. Gore & Associates, Germany
Structural Engineer: Capita Symonds
Time to close the roof: max. 10 minutes
Default position: open
Centre Court Roof in position
A Centre court celebration at the All England Lawn Tennis and Croquet Club Wimbledon.
Date: Sunday 17/05/2009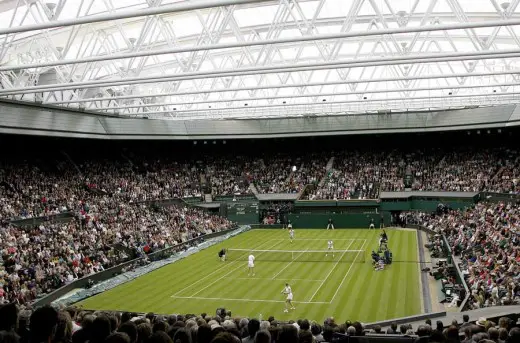 Wimbledon Centre Court Retractable Roof photo : Neal Simpson/ AELTC
Andy Murray was involved in the first tennis match under the retractable Centre Court roof in 2009, against Stanislas Wawrinka during a weather interruption. Despite beating the Swiss player in five sets he found the humidity and slower pace of the tennis balls inside less than enjoyable. The 2012 final started at 2pm, with Andy Murray aiming to become the first British man since Fred Perry (in 1936) to win the men's singles trophy and Roger Federer attempting to earn a record-equalling seventh title.
24 Jan 2012
Wimbledon Masterplan News
Design: Grimshaw
Wimbledon:



Wimbledon image : All England Lawn Tennis Club
Wimbledon Tennis Club Masterplan
After a competitive selection process Grimshaw is delighted to announce that it has been selected by The All England Lawn Tennis Club to design their "Wimbledon 2020" masterplan for future development requirements.
Wimbledon Retractable Roof
Centre Court + Museum + Offices
2009
Design: Populous – formerly HOK Sport Venue Event
20 Jun 2011
Wimbledon Centre Court Roof Design
Wimbledon's controversial Centre Court roof is poised to be put to use again today following a forecast of rain but the home nation favourite – Andy Murray – has refused to repeat criticism of the innovative structure after an unhappy experience when it was first used in 2009.
Wimbledon Centre Court:



London Wimbledon Retractable Roof image : AELTC
Andy Murray was involved in the first tennis match under the retractable Centre Court roof, taking on Stanislas Wawrinka during a weather interruption. Despite beating the Swiss player in five sets he found the humidity and slower pace of the tennis balls inside less than enjoyable.
The fourth-seeded Andy Murray will probably play his first-round tennis match today against Spain's Daniel Gimeno-Traver indoors, with south-west London having been beset by consistent showers since late last week and more set for today.
Murray was careful not to criticise the use of the Centre Court Retractable Roof but explained that its closing dramatically altered the conditions for tennis usually expected on grass. "It's more humid. It slows the conditions down and the balls become heavier," he said.
"At the time I was the first one to play a match under it, and that is what the indoor court does. It was a new experience for me, it was obviously great to get the match finished, if you can."
Wimbledon Centre Court Retractable Roof
Client : All England Club
Structure: hydraulic operation
Air control: 600 air distributors pump dry air into Centre Court to prevent condensation and excessive humidity
Unveiled: Centre Court Celebration event, 17 May 2009
Original building dates from 1922, south facade retained
Wimbledon in southwest London is the world's premier tennis event and takes place every Summer in June.
Previously:
Wimbledon Centre Court Roof Plans
Centre Court Retractable Roof
Final phase of plan to transform the Centre Court
London, UK, Tuesday 21 April 2009: The All England Club, Wimbledon, confirmed today that its new Centre Court retractable roof is on schedule to be ready in time for the Centre Court Celebration matches on Sunday 17 May, when Andre Agassi, Stefanie Graf, Tim Henman and Kim Clijsters will be the first players to play under the new structure.
Final testing of the roof and air-management system is being carried out.
The air-management system has a vital role in controlling and stabilising the internal environment within the bowl – essentially controlling humidity and preventing either condensation on the inside of the roof or sweating of the grass – either of which would make the court slippery and unsuitable for play.
Ian Ritchie, Chief Executive of the All England Club, said: "We set out to make Wimbledon the world's premier tennis event; the tournament the players most want to win, the tournament spectators most want to come to and the tournament everyone wants to watch.
"The new Centre Court roof project has been a sophisticated engineering feat. Much of the testing is complete and we are now making final adjustments ahead of the Centre Court Celebration event on 17 May. That event is an important part of the testing procedure and will enable us to see how both the roof and air-management system actually perform under live conditions with a capacity crowd."
Wimbledon Centre Court Retractable Roof – Technical Information
8 Litres per second of fresh air per person pumped into the bowl to manage the environment
9 Chiller units required to cool the air
10 Minutes (maximum) that the roof takes to close
10 Trusses holding up the roof
16 Metres – height of the roof above the court surface
30 Minutes – maximum time expected before play can start/continue after the roof is closed and the internal environment is controlled and stabilised
43 Miles per hour – wind speed up to which the roof can be deployed/retracted
77 Metres – the span of the moving roof trusses (width of football pitch = 68m)
70 Tonnes – weight of each of the 10 trusses without extra parts
100 Tonnes – weight of each of the 10 trusses with all extras – eg motors, locking arms
100 Percent of the roof's fabric which is recyclable
214 MM per second – maximum speed of truss deployment
1,200 Extra seats installed in 2008
3,000 Tonnes – combined weight (both fixed and moving) of the roof
5,200 Square metres, area of retractable roof when fully deployed
7,500 Wimbledon umbrellas, needed to cover the same area as the retractable roof
15,000 Maximum spectator capacity
143,000 Litres per second – total amount of conditioned air that the air-management system supplies to the bowl
290million Tennis balls – number that could fit in the Centre Court with the roof closed
Wimbledon Centre Court Retractable Roof – System Information
– Type of folding fabric concertina, which allows the roof to be folded into a very compressed area when not in use.
– Fabric (Tenara) is a special waterproof structural material that is very strong, highly flexible and at 40% translucent is not transparent for players/spectators but will let in natural light. Around 5,200 square metres of fabric used.
– Key element of the design allows natural light to reach the grass – brought about by re-contouring the fixed roof.
– An airflow system removes condensation from within the bowl to provide good court surface conditions conducive to the playing of tennis when the roof is closed.
– Roof is divided into two sections, with a total of nine bays of tensioned fabric – four bays in one section and five in the other. Each of the nine bays of tensioned fabric is clamped on either side to prismatic steel trusses. There are 10 trusses spanning approximately 77 metres across the court. Ends of each truss are supported by a set of bogies that move along parallel tracks positioned at either side within the new 'fixed' roof.
– In preparation for closing the roof, one section is parked in its folded state at the north end of the court while the other is parked at the south end.
– The coordinated electro mechanical movement moves the trusses apart and, at the same time, unfolds and stretches out the fabric between the trusses over the court until the two sections meet in an overlapping seam above the middle of the court.
– The arch shape to the tops of the trusses helps the structure to withstand their own dead weight and loading from elements such as snow and wind when the roof is stretched and closed over the court.
– The roof has been designed to close in a maximum of 10 minutes. If the roof is being closed for rain, court covers will protect the grass in the usual way while closure is in progress.
– After the roof has been closed, play can resume after a period of around 30 minutes, depending on climatic conditions.
Countdown to a new Centre Court – The Roof Timetable
Championships Activity
2001
Centre Court Clubhouse renovated, new balconies added
Centre Court South Stand terracing replaced
Royal Box, TV/radio commentary boxes refurbished
2002
Centre Court terracing rows A-H replaced
2003
Gate 3: Demolition of old Wimbledon Museum Shop, Barclays Bank and turnstiles to make way for new Museum Building including Club offices
January 2004 " Announcement of new Centre Court retractable roof, increase in capacity to 15,000, new wider padded seats (470mm seat spacing) and new restaurants/bars for public and debenture holders
2004
Gate 3: Museum, Turnstile and Club Offices building concrete structure complete to ground floor level
New ticket booths operational from Church Road
2005
Gate 3: Museum, Turnstile and Museum Building (Club Offices) concrete structure continues
Diversion of essential services under and around Centre Court
Centre Court terracing (rows J-T) replaced
Design work on the new roof, North and East Stands well advanced
2006
Enabling and infrastructure works start to strengthen the court foundations and prepare for air-management system
AELTC staff relocate to Gate 3 Museum Building (Dec 2005)
New Museum opens (Apr 2006)
2007-09
Roof model testing carried out in Rotherham
2007
Demolition of East Stand and old Club offices
Removal of existing roof
Piling and construction of new East Stand frame and floors
East Stand rebuilt and terraces operational
No roof on Centre Court
Extra six rows of terracing completed
Centre Court restaurants/bars in situ but not open – used as rain shelters
2008
Installation of new fixed roof
East Stand building finished and fully operational
Refurbished North Stand including Centre Court Debenture Rooms operational
Completion of new public and debenture facilities within East and North Stands, including enhanced and extended dining/lounge areas for Centre Court Debenture Holders and 400-seat Wingfield Restaurant for public, 10 new hospitality suites
Capacity rises to 15,000 with addition of 1200 new seats
Installation of the first two moving roof trusses
No.2 Court shell complete
2009
Completion of moving roof trusses
Erection and completion of moving roof
Fit fabric covering to sliding roof
Commissioning and testing of roof and environment of Centre Court.
Construction of new permanent Gatehouses at Gates 4 and 5
Retractable roof and air-management system operational.
All new wider, padded and more comfortable seats installed on Centre Court
No.2 Court complete and operational
Wimbledon Centre Court Retractable Roof – Additional Information
The new Centre Court roof comprises two distinct roof forms: the main fixed roof to the perimeter of the Court which is surmounted by a translucent retractable steel and fabric "concertina like" structure.
The design for the fixed perimeter is modelled on the 1922 dodecahedron form which provides the distinct intimate Centre Court atmosphere with a droop down leading edge to focus spectators' eyes to the action on the grass court. The use of the translucent fabric for the retractable element affords natural light into the arena and in part retains the open-to-air quality of the 1920's stadium.
The relatively lightweight steel truss and fabric retractable roof is set above the fixed perimeter roof so as not to impinge on the spectators' view and perception of the grass court in either the open or closed mode. It also retains the 1922 dodecahedron roof form when viewed from the terraces below.
The roof is designed to provide appropriate playing conditions when the roof is deployed in adverse summer weather conditions; specifically:-
– Light – the translucent Tenara fabric will permit adequate levels of light for play in most daylight conditions; where natural light fails to meet the levels required, it is supplemented by a bespoke design sports lighting system (permanently installed on the trusses), which has been designed to provide compliant light conditions both for play and for media coverage. There are 72 indirect, truss mounted sports luminaires and 48 direct truss mounted sports luminaires. On the turf, horizontal lighting level is 3,200 lux and on the vertical (for service and shots in the air) is 1,900 lux.
– Wind – the roof can be safely deployed in wind conditions of up to 43 mph (69 kph).
– Rainfall – the roof is designed to be weathertight. Rainfall on the fabric roof is rapidly dispersed to the two sides as the top profile of the roof is a curve; at the sides the water falls into gutters and then into the main surface water drainage system.
– Internal environment – the air systems are designed to firstly control and then stabilise the internal bowl environment at the specified levels (24 degrees C +/- 2 degrees C, with 50% +/- 10% relative humidity based on ambient conditions of 27 degrees C with 72% RH; if ambient temperatures rise, the bowl temperature will be maintained provided ambient RH levels fall), to prevent condensation on the inside of the roof or sweating of the grass, and to provide a fresh air allowance into bowl of eight litres/second/person.
– Seats – the new seats are padded and more comfortable. The seats are wider and the spacing between them (centre to centre) has also been increased.
Wimbledon Centre Court Retractable Roof images / information from Populous, Architects
Location: Wimbledon, south west London, England, UK
New AELTC Indoor Courts, Somerset Road, southwest London, England, UK
Design: Hopkins Architects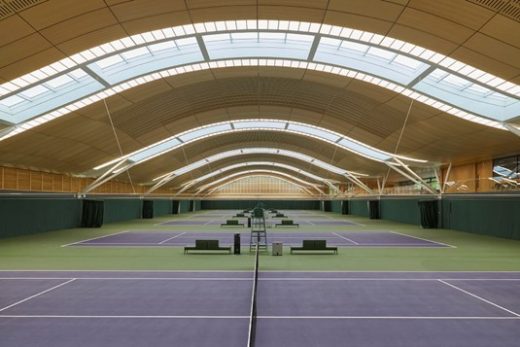 photo : Janie Airey / Airey Spaces
New AELTC Indoor Courts, Somerset Road
Architecture in London
London Architecture Links – chronological list
London Architecture Walking Tours
Wimbledon Centre Court Retractable Roof architect : Populous
Sports Stadium Buildings
Tennis Centres
Tennis buildings by Populous, the designers behind Wimbledon Centre Court in London:
Zhuhai Hengqin International Tennis Centre, China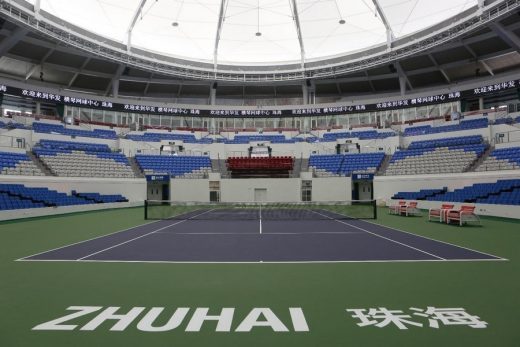 image courtesy of architects
Zhuhai Hengqin International Tennis Centre
Margaret Court Arena, Melbourne, Victoria, Australia



image from Victoria Government
Margaret Court Arena Tennis Court in Melbourne
Tennis Center Buildings
Tennis Venues for Rio 2016 Olympic Park
Sydney Olympic Park Tennis Centre
Tennisclub IJburg Amsterdam by MVRDV
Wimbledon Retractable Roof architect : HOK Sport
Comments / photos for the Wimbledon Retractable Roof London – 2017 Centre Court News page welcome