20 Fenchurch St, Walkie Talkie Building, London Skyscraper, Height, Photo
20 Fenchurch St London
Walkie Talkie Building, City of London Skyscraper – design by Rafael Vinoly Architects
9 May 2011
20 Fenchurch Street London
20 Fenchurch St Building
Design: Rafael Viñoly Architects
Land Securities and Canary Wharf Group have asked the City of London Corporation to use special powers to ensure its "Walkie Talkie" development can go ahead, reports The Guardian.
The corporation's planning committee will decide on Wednesday 11th of May whether to protect the 37-storey tower at 20 Fenchurch Street from "rights-of-light" claims that could endanger the development, which is under construction and due to be completed in 2014.
Rights of light have become a contentious issue following the recent Heaney case in Leeds, where a court ordered a mandatory injunction, rather than damages, to remove part of the top two floors of a recently completed office block as they interfered with a right of light enjoyed by a neighbouring office building. The case was expected to set a legal precedent, but was settled out of court in March before reaching the court of appeal.
"Rights of light are a big issue after the Heaney case. The implication is that people could get an injunction and tear your building down," said James Abott, a corporation spokesman.





images : Rafael Viñoly Architects
Donal McCabe, a spokesman for Land Securities, said: "When we got planning consent on 20 Fenchurch Street in 2009, we did quite a lot on resolving rights of light matters, but the Heaney case has muddied the waters for all developers."
There are seven buildings whose owners could raise objections to the Walkie Talkie following the Heaney case, including Scottish Widows, the owner of Sackville House on Fenchurch Street, Munich Re, which owns 25-26 Lime Street, and CCLA Investment Management, a manager of charity and Church of England investments, which owns 10-12 Eastcheap.
Worried about further delays to the Walkie Talkie, which was put on ice during the property slump, the developers enlisted the help of the City planning officer, Peter Rees. He has outlined the problems in a report, asking the corporation's planning committee to use powers under section 237 of the Town and Country Planning Act to give the building immunity from any rights-of-light claims.
The committee already invoked section 237, which is designed to protect developments that provide economic benefits to the surrounding area, last month to protect Helical Bar's 1 Mitre Square development. To do the same for the Walkie Talkie, the corporation must have an "interest" in the site – for example it could acquire the freehold. The tower will have 690,000 sq ft of office space as well as 23,000 sq ft of retail space.
20 Fenchurch St
City of London
2008-10
Design: Rafael Vinoly Architects
Walkie Talkie Building : main page on the 20 Fenchurch Street tower
15 Jan 2011
20 Fenchurch Street
20 Fenchurch Rises
Construction of the long-awaited commercial skyscraper at 20 Fenchurch Street, more affectionately known as "Walkie Talkie", designed by Rafael Viñoly Architects, is finally underway. It was announced in October that Land Securities had formed a joint venture with Canary Wharf Group (CWG), splitting the cost in half between the two development groups. CWG subsidiary, Canary Wharf Contractors, has been appointed to be the project's construction manager. With 20 Fenchurch, Viñoly has put forth a dynamic plan for a new, 37-story tower that breaks with the perceived boundaries of common architectural expression. While engendering the plans, Mr.Vinoly was sure to keep in mind the context of the lot's surroundings: "We designed 20 Fenchurch Street to respect the city's historic character, following the contour of the river and the medieval streets that bound the site, while further contributing to the evolution of the high-rise building type."
20 Fenchurch's unique aesthetic comes together for reasons both lucid and logical: the floor plates widen at the top of the building instead of the bottom, adding incremental public space at ground level, providing extra leasable floor area on the valuable upper stories, and generating a large public Skygarden at the pinnacle of the building – London's first publicly accessible skyscraper observation deck. From the outside, the building is drawn back from its maximum possible footprint to mirror the city street pattern while simultaneously establishing a visual connection to the emerging cluster of high-rises, receding from nearby historic building, and opening views through the site to contribute meaningfully to the immediate public realm. The skyscraper will provide a new home for developer Land Securities.
20 Fenchurch St London – Building Information
• THE SPECTACULAR DESIGN WILL PROVIDE OVER 6OO,OOO-SQ FT OF PREMIER OFFICE SPACE
• ALL GLASS FAÇADE WITH COMMANDING VIEWS ACROSS LONDON
• STUNNING PRESTIGIOUS ENTRANCE
• I75MM RAISED FLOOR
• I.5M PLANNING GRID, 9M X 9M STRUCTURAL GRID
• ENHANCED CAPACITY FOR TRADING
• FLEXIBLE AND EFFICIENT FLOORS
• FAN-COIL OR CHILLED BEAM AIR CONDITIONING
• 2.75M FLOOR TO CEILING HEIGHT
• DOUBLE-DECK LIFT SYSTEM WITH SIX LOW-RISE AND SIX HIGH-RISE PASSENGER LIFTS
• SPACE FOR TENANT'S STAND-BY GENERATION AND UPS
• PARK BY THE SOUTH ENTRANCE WITH A CAFÉ
• LONDON'S HIGHEST PUBLIC PARK, OFFERING AN OUTSIDE ROOF TERRACE, BOTANICAL GARDENS, RESTAURANT, PRIVATE DINING AND A 36O DEGREE PANORAMA
• VERY GOOD" MINIMUM BREEAM RATING
• AT LEAST 8O% OF THE DEMOLITION MATERIALS WILL BE RECYCLED AND REUSED.
• THE PROJECT SUSTAINABILITY CHARTER WILL SET A TARGET OF IOO% OF ALL TIMBER USED
• TO BE FROM DEMONSTRABLY SUSTAINABLE SOURCES
• 377 SECURE BICYCLE PARKING SPACES WITH ASSOCIATED SHOWER AND CHANGING FACILITIES
• GREY WATER RECYCLING AND RAIN WATER HARVESTING WILL BE IMPLEMENTED FOR SKY GARDEN IRRIGATION
• EXTERNAL SOLAR SHADING AND SOLAR CONTROL GLAZING
• LIMIT SOLAR HEAT GAIN ON THE EAST AND WEST ELEVATIONS WITH HIGH PERFORMANCE TRIPLE GLAZED EXTERNALLY VENTILATED SOUTH FAÇADE
• THREE ALTERNATIVE LOW CARBON AND RENEWABLE TECHNOLOGIES ARE UNDER CONSIDERATION; TRI-GENERATION CHP, FUEL CELL CHP AND BOREHOLE COOLING. THE TECHNOLOGYSOLUTION FINALLY SELECTED WILL BE SUPPLEMENTED WITH PV CELLS ON THE SOUTH FACING ROOF FINS
5 May 2009
Walkie Talkie London
Planning permission granted for revised Walkie Talkie tower.
– Previously permission granted in 2007 for original design.
– Various Conservation groups have objected to this unusual building design.
– Permission window set at 5 years, as requested by Land Securities, given economic situation work is not due to start imminently.
Walkie Talkie building architect : Rafael Vinoly
Height: 177m high (previously 192m high / 509ft high)
Storeys: 36 (previously 38 and before that 45)
Developer: Land Securities
Public inquiry held in early 2007
Sky Garden proposed for top of the building with public access to 360 degrees view
Office tower with retail down at the Pocket Park and restaurants / cafes up at the Sky Garden
Size – est. 1 million sqft
Location: 20 Fenchurch Street, London, England, UK
London Buildings
Contemporary London Architecture
London Architecture Designs – chronological list
London Architectural Tours by e-architect
City of London Buildings
1 Undershaft Tower
Design: Eric Parry Architects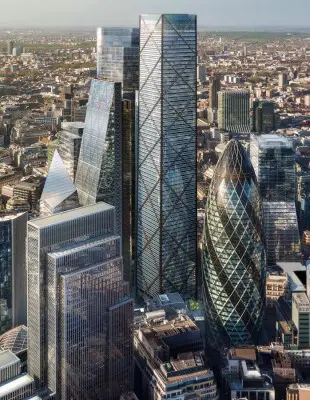 image : DBOX, courtesy Eric Parry Architects
1 Undershaft Tower City of London
The Scalpel
Design: Kohn Pederson Fox – KPF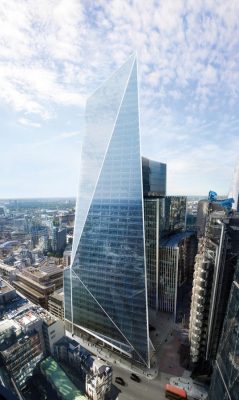 image courtesy of the architects
The Scalpel City of London Skyscraper
Comments / photos for 20 Fenchurch Street London – Walkie Talkie Building page welcome