American Developments, Buildings USA, Project, News, Design, Property
American Developments
US Architecture Information – Built Environment Designsin United States of America
post updated February 20, 2022
American Building Developments
USA Architectural Projects + Key New Property Designs, alphabetical:
American Architecture Links – chronological list
Recently added posts:
Best architecturally designed cities in Florida
Casa Costanera, Florida Mansion For Sale
Center for Developing Entrepreneurs, Charlottesville
Cholla Hillside House in Paradise Valley, Arizona
Courtyard House on a River in Greenwater
La Dueña Residences Austin, Texas
Miller Park in Chattanooga, Tennessee
One of The Kids Campus, North of Austin, Texas
Pierce Brosnan's House, Malibu Beach
Portola Valley Barn, California
Quintessa Pavilions in Napa Valley
Railway Residence, Whitefish, Montana
Registrar-Recorder/County Clerk Elections Operations Center in Santa Fe Springs
Sophia Gordon Center for the Performing Arts in Salem
State Theatre on Congress Avenue, Austin
Studhorse Outlook in Washington
Sunshine Canyon Residence, Colorado
Taylor Residence on Malibu Beach, California
The Hemsworth Brothers' Malibu Mansion
The Pond House At Ten Oaks Farm, Hammond
The Shenandoah Valley Discovery Museum in Winchester
Troon Modern Residence in Scottsdale, Arizona
Alphabetical list:
[Bracketed Space] House in Austin
1200 Intrepid in Philadelphia
15 Degrees House in Arkansas
1619 Phillippi Passive House Offices in Boise
1653 Residence in Kansas City
219 West Syracuse
230 Halsey Street Newark
480 Ocean Blvd in Florida
510 HOUSE, Fox Point, Wisconsin
58th Street Residence in California
615 South College in Charlotte
62nd Residence, Oakland House, California
9342 Sierra Mar Residence in Hollywood Hills
ACC Tower Philadelphia
AIA Architecture Firm Award 2009
AIA Architecture for Humanity Partnership
AIA Architecture Honor Awards 2009
AIA Living The Box Competition
Alabama Architecture
Allandale House
Alpine Courthouse Texas
American Airport Buildings
American Architect
American Art Center Buildings
American Bridge Designs
American City Hall Buildings
American Concert Hall Buildings
American Convention Center Buildings
American Court Buildings
American Factory Buildings
American Home Designs
American Homes
American Hospital Buildings
American Hotel Buildings
American House 08
American House Designs
American Houses
American Housing
American Housing Designs
American Library Buildings
American Memorial Buildings
American Museum Architecture
American Museum Buildings
American Museum Building Designs
American Office Architecture
American Office Buildings
American Railway Station Buildings
American Religious Buildings
American Residences
American Retail Buildings
American School Buildings
American Science Buildings
American Skyscraper Architecture
American Skyscraper Buildings
American Skyscrapers
American Stadium Buildings
American Theater Buildings
American University Architecture
American University Architecture Designs
American University Building Designs
American University Buildings
Arab Cultural Center
Arabian Library Scottsdale
Aria Resort Las Vegas
Arizona Architecture
Arkansas Architecture
Arritt Farm House
Artfarm New York
Arthouse Dallas
Arthouse Omaha Nebraska
Atlanta Arch
Atlanta Architects
Atlanta History Center
Atlantic City Boardwalk Holocaust Memorial
Baton Rouge Library
Baton Rouge Municipal Dock
Beaumont Hospital
Beechwood Residence
Berkshire Residence
Bienville House in New Orleans, Louisiana
Bradley Residence
Branson Fine Arts Center
Branson Student Commons
Bridge View Residence in Paradise Valley
Brittlebush Taliesin
Bryant University Interfaith Center
Buda Mill & Grain Co., Texas Building
Burchfield Penney Art Center
California Architecture
California Architecture Designs
Californian Architects
Californian Building Designs
Californian Building Developments
Cambridge Architecture, Massachusetts
Campbell Soup Company Employee Center
Canterbury School Aquatic Center
Carmel Valley Residence
Carmelo K Anthony Basketball Training Center
Casa Caldera in Patagonia
Casper College Wyoming
Cathedral Christ Light
Centrifugal Villa
Charity Hospital New Orleans
Chihuly Collection
Child of the Sun Florida
City Vista Civic Center
Citycenter Development
Citycenter Las Vegas
Citycenter Las Vegas Buildings
Citycenter Las Vegas Development
Cleveland Museum Art
Cleveland State University Center
Cloud House Colorado
Clyde F. Barker Penn Transplant House
Clyfford Still Museum Denver
Coeur D'Alene Garage House in Los Angeles
College New Rochelle
Colorado Architecture
Colorado Residence
Commons Mt Burdell
Connecticut Architecture
Contemporary Art Museum Raleigh
Courtyard Residence Phoenix
Crystal Bridges Museum American Art
Crystal Bridges Museum Arkansas
Crystals at CityCenter
Curtis Hixon Park Tampa
Dali Museum Florida
Dallas Architect
Dallas Buildings
Darla Moore School of Business
Delaware Architecture
Denver Airport Building
Denver Architects
Denver Warehouse Conversion
DePaul University Theatre School
Destination Universitas
Discovery Green Houston
Discovery Tower Houston
Downtown Art Gallery Atlanta
Dublin Grounds of Remembrance
Dublin Grounds of Remembrance Ohio
Duplantier Volunteer Pavilion
E.J. Ourso College of Business
El Paso Housing
El Paso Housing Texas
Ellsworth Residence
Emerson College Building
Empac Troy
Empac Troy Building
Fallingwater Cottages
Fallingwater Cottages Design
FAU College of Engineering and Computer Science
Florida Architecture
Florida Pool House
Fort Worth Buildings
Fortaleza Hall
Franklin Woods Hospital
Frick Chemistry Laboratory
Galveston Seawall Design Competition
George Segal Gallery
George W. Bush Presidential Center
Georgia Architecture
Girls Club Gallery
GISB Indiana University
Glen Lake Tower Michigan
Glendora Residence
Global Vascular Institute Buffalo
Gouverneur New York
Grand Rapids Art Museum
Greenwich House
Gregorio Towers Linden
GSA Field Office Houston
Guesthouse Ancram New York
Harvard University Graduate Residence
Harvard University Northwest Science Building
Hawaii Buildings
Heinz Architectural Center
History Colorado Center
Hockessin Library
Holley House
Holley House Photos
Holly Grove Mansion Restoration
Holy Rosary Church
Holy Rosary Church Building
Home on the Intracoastal Waterway in Rehoboth
Houston Architect
Houston Ballet
Houston Buildings
Howard Hughes Medical Institute
HSBC North American Headquarters
HSU House
Hunt Library
Hyatt Regency Atlanta
Idaho Architecture
Illinois Architecture
Illinois Holocaust Museum
Indiana Architecture
Indianapolis Airport Terminal
Institute for Contemporary Art VCU
International Business Park
Iowa Architecture
James B. Hunt Jr. Library
James Swenson Civil Engineering Building
Jefferson Hall Library
John Spoor Broome Library
Johnson House New Canaan
Kansas Architecture
Kansas City Architect
Kansas City Sustainable Residence
Kent State Roe Green Center
Kennedy Homes Affordable Housing
Kentucky Architecture
Kesher Synagogue
KETV Burlington Station Omaha
Kimball Art Center Building
Kimball Art Center Utah
Kirkwood Library
La Muna Aspen
Lake Superior House
Las Colinas Convention Center
Las Vegas Library
Lawless Retreat in Jones, Michigan
Levin Residence
Lewis Katz Building
Loblolly House
Louisiana Architecture
Louisiana Cancer Research Centre
Louisiana State Sports Hall Fame
Lower 9th Ward House
M2 House Michael Jantzen
Main Street Garden Dallas
Make It Right
Make It Right Duplex
Make It Right Float House
Make It Right House
Mandarin Oriental Hotel CityCenter Las Vegas
Margaret Hunt Hill Bridge
Maricopa Court Complex
Martin House Complex Buffalo
Maryland Architecture
Massachusetts Architecture
MD Anderson Cancer Center at Cooper in Camden
Meinel Optical Science Building
Menil Collection Houston
Miami Valley Hospital Heart Tower
Michigan Architecture
Michigan Buildings
Milka Bliznakov Prize
Miller House Columbus
Mineta San Jose Airport
Minnesota Architecture
Missouri Architecture
Mitchell Cancer Institute
Molloy College Campus Center
Mondri Elano Hotel
Montecito Residence
Moore Square Raleigh
MSM Office Dallas
Museum of Contemporary Art Cleveland
Museum of Fine Arts Houston Expansion
Museum Plaza Louisville
Natick Collection
National Museum African American History Culture
Natural History Museum of Utah
Nebraska Architecture
Nelson Atkins Museum Art
Nerman Museum Contemporary Art
Net Zero Energy House
Nevada Architecture
Nevada Museum Art
New Canaan Residence
New Hampshire Architecture
New Jersey Architecture
New Mexico Architecture
New Mexico Highlands University Student Union
New Orleans Healthcare Buildings
New Orleans House
New Orleans Houses
New Orleans Make It Right
New Orleans Make It Right International Architects
New Orleans Make It Right Local Architects
New Orleans Make It Right National Architects
New York State Architecture Designs
New York State Architecture
New York State Buildings
New York State Houses
Newark Visitor's Center
Newseum Washington Dc
North Carolina Architecture
North Carolina Biotechnology Center
North Carolina Museum of Art Building
North College Rice University
NYS Homeland Security
Oak Hall Connecticut
Observation Tower Circuit Americas
Oeschger Weehouse
Ohio Architecture
Ohio Buildings
Oklahoma Architecture
One Arts Plaza
Orange County Great Park
Orange County Groundwater
Oregon Architecture
Original Restaurant Portland
Oscar Ekdahl Memorial Lecture
OSU East Regional Chilled Water Plant
Paul Rudolph Hall
Penn State Student Health Center
Pennsylvania Architecture
Performing Arts Hall Jackson
Perkins+Will Office North Carolina
Perot Museum Nature Science
Perot Museum Nature Science Building
Pharrell Williams Resource Center
Philadelphia Buildings
Philadelphia Urban Voids
Philip Johnson Glass House
Phoenix Observation Tower
Piedmont Residence North Carolina
Pittsburgh Buildings
Pittsburgh Residence
Porsche Headquarters Atlanta
Poydras Residential Tower
Princeton Arts Campus
Princeton Building
Princeton Residence
Public Restroom
Putney Mountain House
Quarry Street Princeton
Queen City Square
Raleigh-Durham International Airport Terminal 2
Red Rock Canyon Visitor Center
Renzo Piano Pavilion Kimbell Art Museum
Rhode Island Architecture
Rice University BioScience Research Collaborative
River Bank House Montana
River House Virginia
RIT Institute Hall
Rochester Institute of Technology Building
Rupp Arena Masterplan Lexington
Rupp Arena Lexington
Ruth Lilly Visitors Pavilion
SAC FCU Headquarters Papillion
Saint Joseph Regional Medical Center
Saint Louis Art Museum
Saint Louis Art Museum East Building
Saint Nicholas Antiochian Orthodox Christian Church
San Diego National Wildlife Refuge
Santa Monica Buildings
Schindler Offices
Semper Fidelis Memorial Chapel
Shelby Farms Park Memphis Buildings
Simons Center Geometry Physics Suny
SITE Santa Fe New Mexico
Slice House
Smithsonian Institute
Solaris Residences Vail
Southern Methodist University Buildings
Spaceport New Mexico
St Petersburg Buildings
St Petersburg Pier
Stage Shell
Steven Alan Portland Store
Stockton College New Jersey
Subcat Studios 219 West
Sun Valley Center Arts
Suncover Residence
Sunrise Mountain Library
Suny Building
Swell House
Swiss Embassy Washington DC
Tampa Covenant Church
Tampa International Airport Airside C
Tampa International Airport Expansion
Taubman Museum Art
Taunton Trial Court
Tea Building
Teachers Village Newark
Tennessee Architecture
Tesoro World Headquarters
Texas Architecture
Texas Exes Alumni Center
The Ascent Kentucky
The Crystals Las Vegas
The Grove Houston
The Interchange Minneapolis
The Phoenix House
Toro Headquarters Bloomington
Translational Research Center Penn
Tred Avon River House Maryland
Tryon Bridge Beacons Charlotte
Tucson Mountain Retreat
Tucson Mountains Residence
Turner Industries
Two New Science Laboratories Washington State University
University of Arizona Poetry Center
University of Baltimore Building
University California San Diego
University of Iowa Arts Building
University of Iowa Visual Arts Building
University of Iowa Building
University Medical Center Princeton Hospital
University of Florida Clinical Translational Research Building
University South Florida Polytechnic
UR22 Residence Dallas
US Air Force Academy CCLD Colorado
US Architecture News
US Arts and Humanities Committee
Utah Architecture
Utah Museum Natural History
Van Andel Institute Building
Van Andel Institute Grand Rapids
Vanguard Residence
Vdara CityCenter Las Vegas
Vdara Hotel Las Vegas
Vermont Architecture
Versailles Residence
Vertical Constructions
Victor l Regnier Visiting Chair
ViILA NM New York
Virginia Architecture
Virginia Beach Convention Center
Virginia Museum Fine Arts
Virginia Museum Fine Arts Richmond
Vukovich Center Allegheny College
Wabi Sabi House
Walker Art Center
Walloon Lake House
Washington Architecture
Washington DC Architecture
Washington University St Louis
Wee House
Weill Hall Cornell University
Weisman Art Museum
West Lake Hills Residence
Westchester Community College Building
Westmoreland Museum of American Art
Westmoreland Museum in Pennsylvania
Westridge Residence in Austin Texas
Wexner Center Arts
Whitney Water Purification Facility
Wilkinson Residence
Winspear Opera House
Wisconsin Architecture
Wisconsin Institutes Medical Research
Wolfe Center for the Arts
Working Artists in Ventura
Wyly Theatre Dallas
Wyoming Architecture
Yogi Berra Museum and Learning Center
Location: USA
American Architecture Developments
USA is a country of fifty states covering a vast swath of North America, from the Atlantic Ocean to the Pacific Ocean.
Major American cities include New York, Chicago, Los Angeles, Boston, Miami, Dallas and San Francisco. The U.S. capital city is Washington, DC. on the East coast.
Lee's Summit School District R-7 – Missouri Innovation Campus, Missouri building design by Gould Evans with Associate Architects: DLR Group: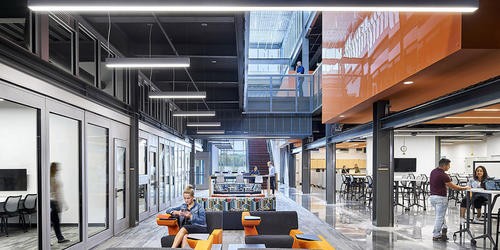 picture courtesy of Chicago Athenaeum
New Missouri Building
Touted as the most accelerated K-16 program in the country, the Missouri Innovation Campus advances competencies-based learning and challenges many outdated conventions about learning environments. The MIC program is the result of a unique partnership among Lee's Summit School District, Metropolitan Community College, and the University of Central Missouri.
DRIFT, 2020, Dallas, Texas sculpture design by Gerry Judah, UK: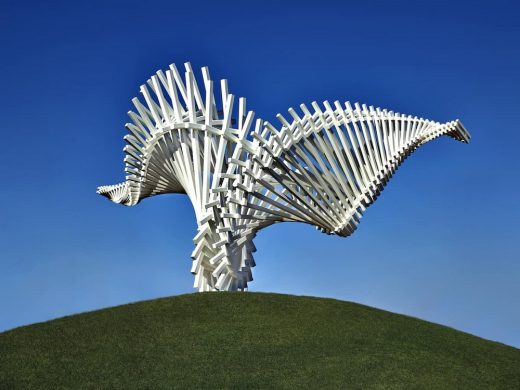 photo : Dan Sellers
DRIFT, Dallas, Texas sculpture by Gerry Judah
In Texas, the Belt Line Road stretches thirty miles in a straight line through the hills and valleys between Dallas and Fort Worth. If you pause at the Olympus crossroad to North Lake, you will find DRIFT, the latest sculpture by Gerry Judah, dazzling in the sun like the bleached bones of an ancient leviathan.
Comments / photos for the American Architecture Information page welcome