American House, Architecture, Building, Architects, Home, Property, United States of America
American Houses : US Residential Architecture
Key Real Estate Developments – Homes in the USA: Best Contemporary Residential Property
American Architectural Designs : links
post updated June 21, 2020
American House Designs
This page contains a selection of major American residential building designs, with links to individual project pages. We've selected what we feel are the key examples of American houses. We cover completed US residential buildings and new property designs across the USA. The focus is on contemporary US properties.
American House – Residences from 2020
Residential Architecture USA, chronological:
June 15, 2020
Riverbend Residence, Jackson, Wyoming
Design: CLB Architects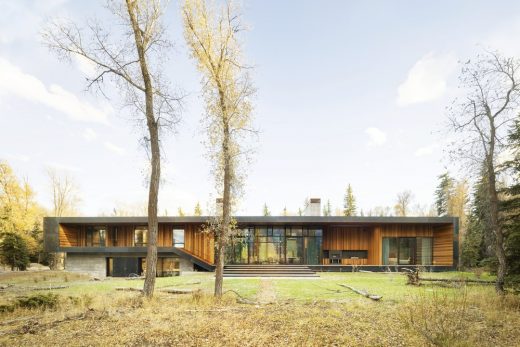 photo : Matthew Millman
Riverbend Residence in Jackson, Wyoming
For the Riverbend Residence a spectacular site, artistic freedom and clients with vision came together to create the perfect opportunity for Carney Logan Burke Architects to design a modern art piece on the banks of the Snake River.
June 14, 2020
Enchanted Point Residence, Miami, FL
Architects: SDH Studio Architecture + Design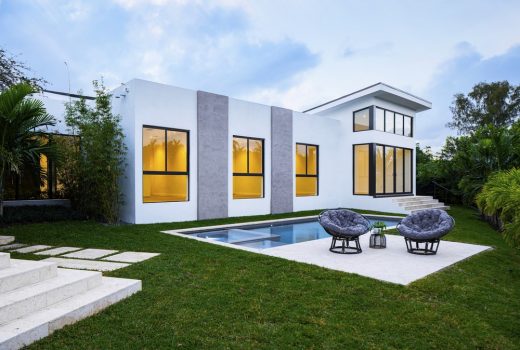 photograph : David Hernandez
Enchanted Point Residence in Miami
This family home is nestled on a magnificent radial lot surrounded by over 200 feet of water in Miami, Florida.
June 14, 2020
Red Rocks Residence, Camelback Mountain, Phoenix, Arizona
Architect: The Ranch Mine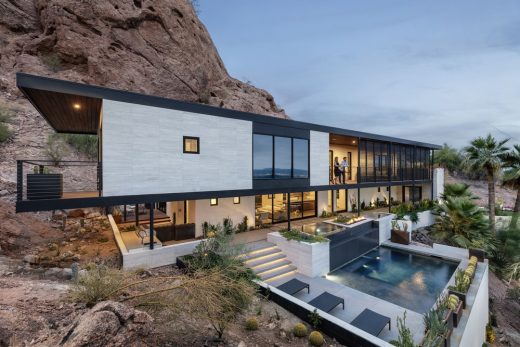 photograph : Roehner + Ryan
Red Rocks Residence in Phoenix, Arizona
Clinging to the side of Camelback Mountain in Phoenix, Arizona, a Spanish Colonial Revival style house has been transformed into a modern dwelling that creates and elevates a variety of experiences with both the natural and man-made environment.
June 10, 2020
Kayak Point House, Stanwood, Snohomish County, Washington
Architects: Christopher Wright Architecture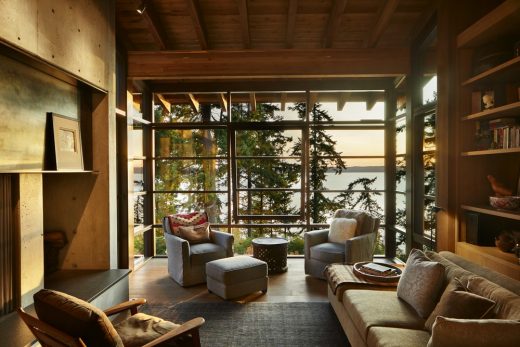 photo © Benjamin Benschneider
Kayak Point House in Stanwood, Washington
This modern American home is nestled lightly between trees on the coast Christopher Wright Architecture created a gem grounded in nature to last generations.
Jun 3, 2020
The Preston Hollow Home, north Dallas, Texas
Architects: Specht Architects, interior design Magni Kalman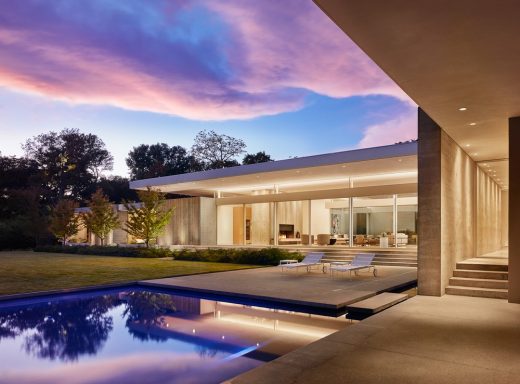 photo : Casey Dunn
The Preston Hollow Home in North Dallas
The design of this contemporary Dallas house was driven by the desire to blur the lines between inside and outside while providing a sense of privacy and seclusion from the street and surrounding neighborhood, at the homeowners request.
June 4, 2020
Westport Residence, Lake Champlain, upstate New York
Architect: Jill Porter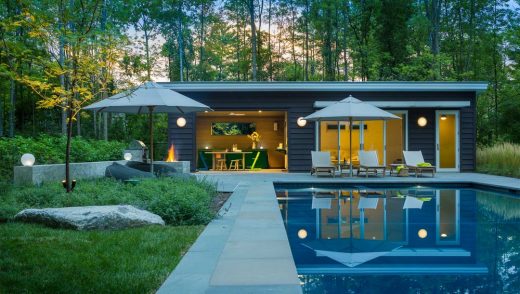 photo © Jim Westphalen
Westport Residence on Lake Champlain
Situated on Lake Champlain in upstate New York, the 3,500 sf residence was built in the 1950s, and was added onto several times over the years. The clients purchased the waterfront home for long weekends away from city life in Brooklyn, NY.
May 31, 2020
Cheng Brier Residence, Tiburon, Marin County, California
Design: Swatt | Miers Architects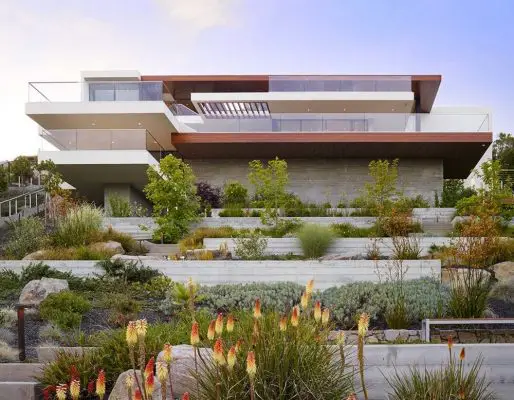 photography : Marion Brenner and Russell Abraham
Cheng Brier Residence in Tiburon, California
This contemporary US residence is a 6,000-sqft home terracing down a steep sloped lot in Tiburon with dramatic views of the bay. The material palette elegantly combines bright white stucco, teak and gray limestone, with the street-facing facade featuring a dramatic teak screen.
May 22, 2020
Preston Residence, Venice, California
Design: Montalba Architects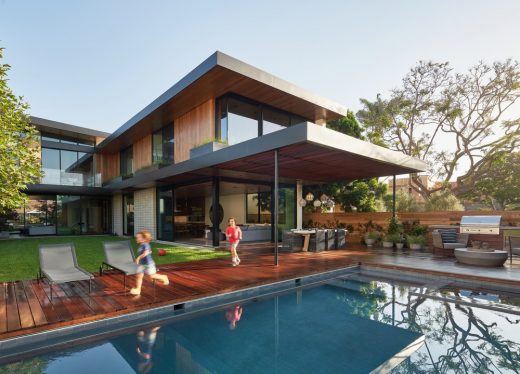 photography : Kevin Scott
Preston Residence in Venice, California
The design for this new US property began with its exterior so that the family could enjoy the perks of Southern California weather year-round. Woven into the home's design are three 'gardens' varying in scale and function.
May 21, 2020
Rustic Canyon Residence, Santa Monica, California
Design: Conner + Perry Architects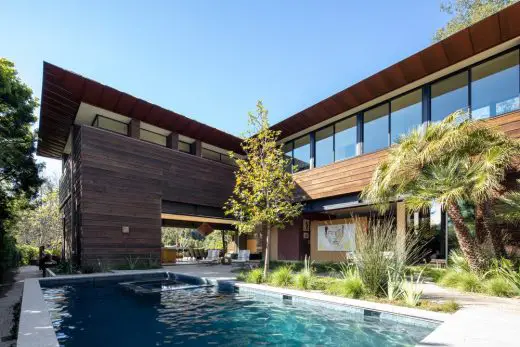 photography : Taiyo Watanabe
Rustic Canyon Residence in Santa Monica
Organic architecture experts Kristopher Conner and James Perry of Conner + Perry Architects were commissioned by a deeply-rooted Los Angeles couple to design a home that seamlessly fits their family and lifestyle, while also showcasing a world-class art collection and effortlessly blending into a beloved section of Santa Monica Canyon.
May 18, 2020
Collywood Residence, West Hollywood, California
Architects: Olson Kundig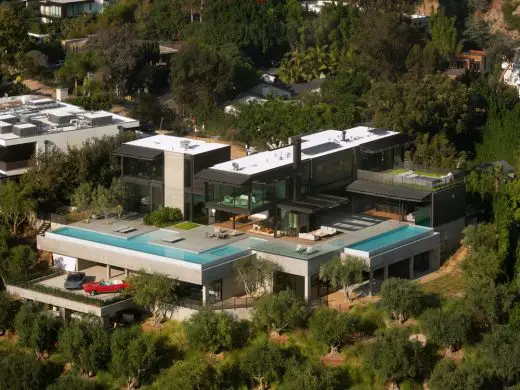 photography : Nic Lehoux
Collywood Residence in West Hollywood, CA
A high-tech West Hollywood retreat is located just above the Sunset Strip and overlooks Los Angeles with sweeping views that stretch from the San Gabriel Mountains to the Pacific Ocean. Maximizing access to these breathtaking views from all parts of the home was a key design directive.
May 13, 2020
Taylor Beach House, Malibu, California
Design: SPF:architects


photography : Matthew Momberger
Taylor Residence on Malibu Beach, California
Renovation of a Malibu beach house, a 1977 home originally designed by noted California modernist Jerrold E. Lomax.
May 12, 2020
Mitt Romney's Utah Mountain Ski Home, Deer Valley Ski Resort, Park City, Utah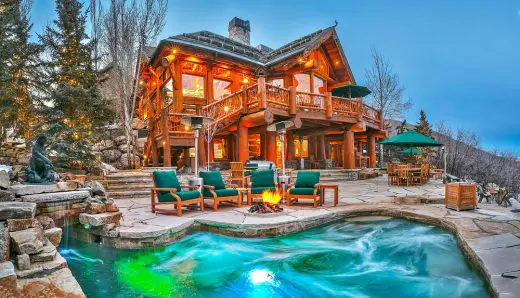 photography : Engel & Volkers
Mitt Romney's Utah Mountain Ski Home
Soon after his first unsuccessful presidential campaign, former GOP presidential candidate and current Utah Senator, Mitt Romney, sold his luxury Park City mountain home he had built for his family.
May 5, 2020
LR2 Residence, Pasadena, California
Design: Montalba Architects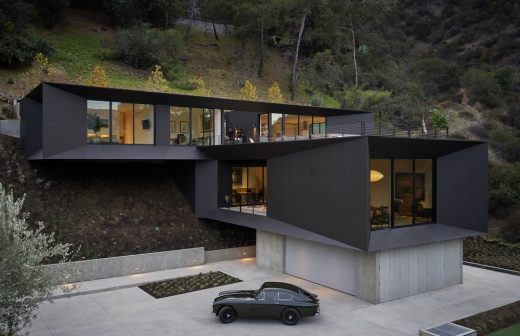 photography : Kevin Scott
LR2 Residence in Pasadena, California
The modern American esidence overlooks Pasadena and its adjacent mountains from its hillside perch. This new 4,200-sqft house is made up of several distinct living volumes and programs.
May 5, 2020
Little House, Seabeck, Kitsap County, Washington
Architects: mwworks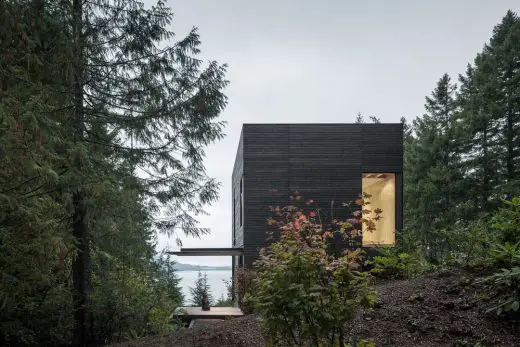 photography : Kevin Scott
Little House in Seabeck, Washington State
Situated on a 1.7 acre site, this US home is nestled into a lush second growth forest on a north facing bluff overlooking Hood Canal with distant views to Dabob Bay. Designed to repurpose an existing foundation, the new building is just over 20 feet square.
Apr 21, 2020
Yellowstone Residence, Big Sky, Montana
Architects: Stuart Silk Architects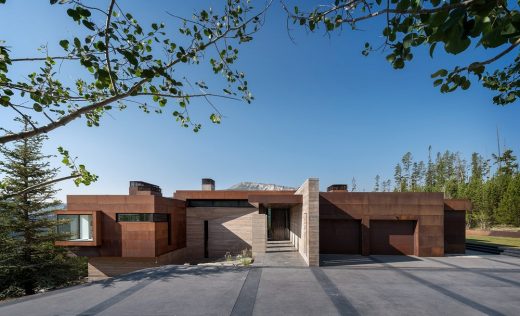 photo © Aaron Leitz
Yellowstone Residence in Montana
Perched at 8,100 feet on the side of a mountain in Montana's Madison Range, the massing and materials of this residence are derived from the powerful landscape.
Apr 20, 2020
Boxy Bridge, Fayetteville, Arkansas
Architects: SILO AR+D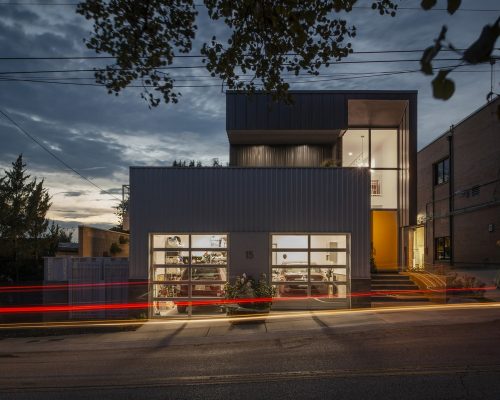 photo © Aaron Kimberlin
Boxy Bridge House in Fayetteville, Arkansas
This multi-story urban infill house is located near the town center of Fayetteville, Arkansas. The architecture emerges from unique interactions between a compact and highly constrained site, a diverse local context, and the client's demands for both a private enclave and extensive interior/exterior connections.
Apr 20, 2020
Heads House, Goshen, Arkansas
Architects: SILO AR+D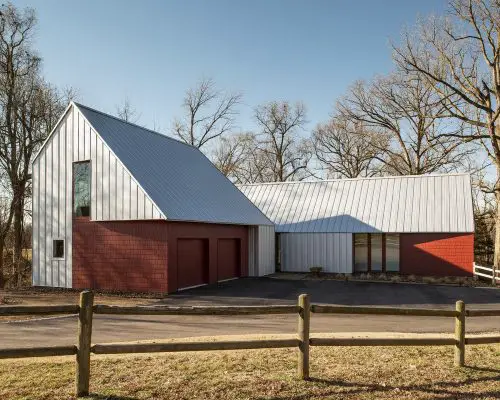 photo © Aaron Kimberlin
Heads House in Goshen, Arkansas
Heads House derives its name from a series of sculptural heads created by the client's father, Richard Staples Dodge, who was a painter and sculptor. Many of these cardboard heads, with their playful often triangulated shapes, have adorned the client's houses over the past 50 years.
Feb 16, 2020
Edgecliff Residence, Austin, Texas
Architecture: Miró Rivera Architects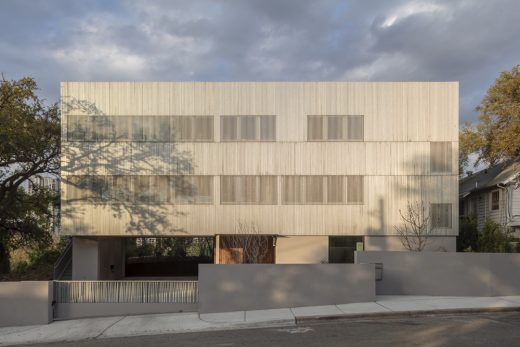 photography : Ibai Rigby and Miró Rivera Architects
Edgecliff Residence in Austin, Texas
Taking advantage of its unique site in Austin's eclectic Travis Heights neighborhood on the southern shores of Lady Bird Lake, this contemporary residence is a play on contrasts: light and shadow, open and closed, organic and orthogonal.
Feb 6, 2020
Kingsbury Residence, Needham, Massachusetts
Design: SMOOK Architecture & Urban Design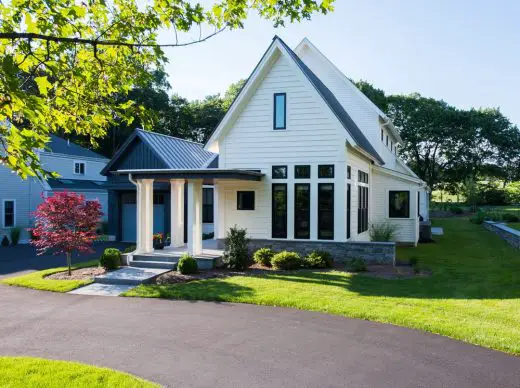 photography : Benjamin Cheung
The residence is a 2,800-sqft design interrupts the status quo of the greater Boston neighborhood with a fresh perspective.
Feb 6, 2020
Bouldin Creek Residence in Austin, Texas Home
Feb 4, 2020
San Diego Garage Remodel, California
Feb 4, 2020
Sazerac House in New Orleans, Louisiana, USA
Overview:
We have 5 pages of American Residential Architecture selections with links to many individual project pages.
American Houses : main page with key residences + new residential designs (this page)
American Homes : projects from A-F
American Residences : projects from G-M
American Home Designs : projects from N-R
American House Designs : projects from S-Z
Modern American Houses – post from March 17th, 2016
Possibly the most famous American House
Farnsworth House, Iliinois
Design: Mies van der Rohe, Architect
Farnsworth House
This residence is a classic example of 20th century modern architecture, one of the most significant works by one of the most celebrated architects of recent times.
American House Designs in 2019
Oct 23, 2019
Big Pine Retreat, Mazama, Washington
Design: Prentiss + Balance + Wickline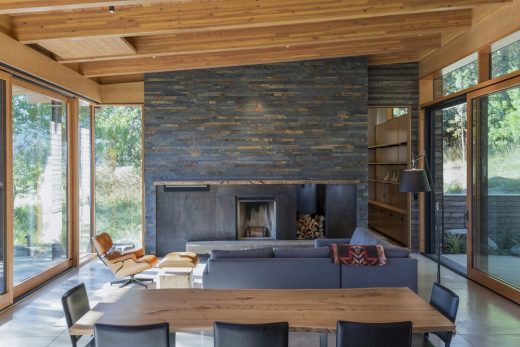 photo : Eirik Johnson
Big Pine House in Mazama, Washington
Located in Washington's Methow Valley, the Big Pine Retreat is nestled into a sloping site that is reigned over by a large, six-foot-diameter Ponderosa pine tree.
Oct 16, 2019
Nims Bezaitis Residence in Portland, Oregon
Mar 11, 2019
Mood Ring House, Fayetteville, Arkansas
Architects: SILO AR+D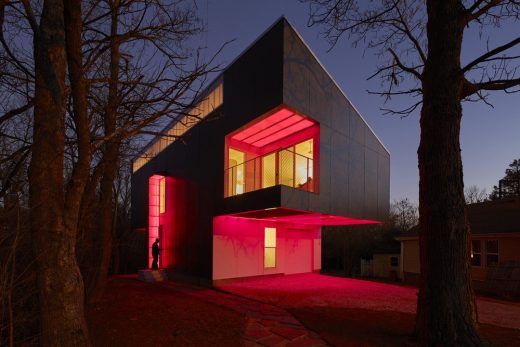 photo : Timothy Hursley
New House in Fayetteville
A low-cost single family live-work house at walking distance from the city center.
Jan 19, 2019
Wilkinson Residence, Oregon
Design: Robert Oshatz, Architect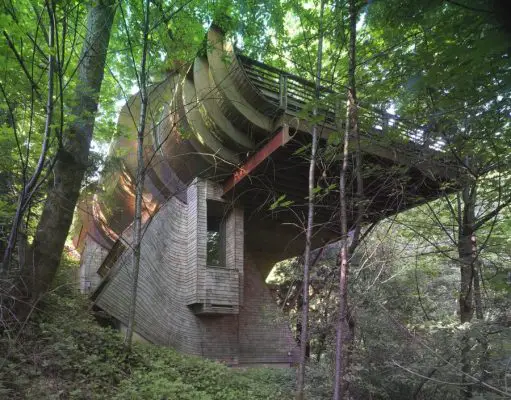 photo : Cameron Neilson
Oregon Residence
The Wilkinson House by Robert Oshatz, completed in 2004, is an example of modern architecture at peace with its site. The house occupies a wooded Pacific Northwest site, on a steep slope which allows the main level of the house to sit among the tree canopy.
American Houses 2018
Nov 13, 2018
Trousdale Residence, Beverly Hills, California
Architects: Mayes Office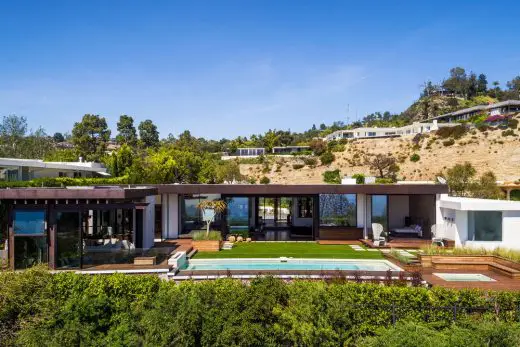 photograph : Nathan Irick
Trousdale Residence in Beverly Hills
Located at the top of Beverly Hills is the newly constructed 7200 SF home on Trousdale Place. The property offers sweeping views from the Pacific Ocean to downtown Los Angeles.
Nov 11, 2018
Franklin Mountain House, Texas
Design: hazelbaker rush, Architects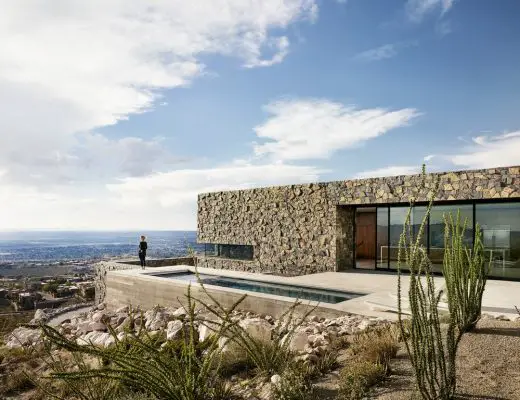 photograph : Casey Dunn
Franklin Mountain House in El Paso
The Franklin Mountains extend into the north end of El Paso like a peninsula of rocky wilderness into the urban landscape of the city.
Nov 12, 2018
Stinson Beach Lagoon House, Marin County, California
Design: Turnbull Griffin Haesloop Architects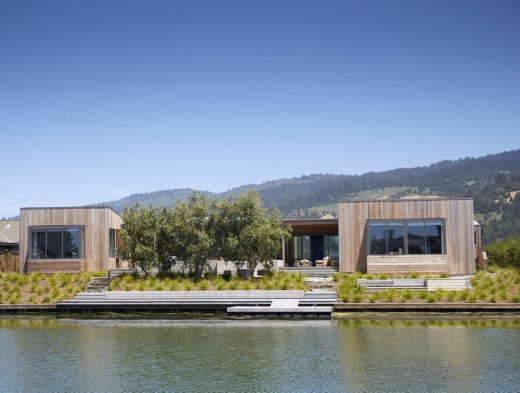 photograph : Shaun Sullivan Photography
Stinson Beach Lagoon House in California
Located in Stinson Beach, the site offers a southern exposure to the Seadrift Lagoon and a view to the north of the Bolinas Lagoon. This house creates an indoor / outdoor retreat.
Aug 13, 2018
Casa de Sombra, Rollingwood, Travis County, Texas
Design: Bade Stageberg Cox, Architects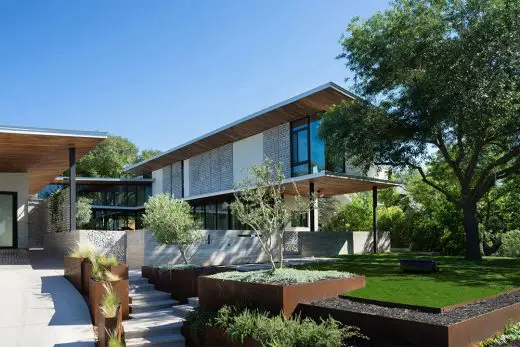 image from Chicago Athenaeum
Contemporary Rollingwood House
Jul 31, 2018
Neal Creek House, Hood River, Oregon
Design: Paul McKean Architecture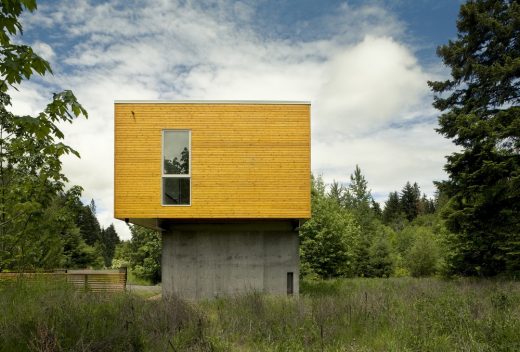 photo : Stephen Tamiesie
New House in Hood River
This modest weekend retreat in Hood River treads lightly upon its surroundings, maximizing valley and water views with minimal impact to the natural environment. The windsurfing and snowboarding owners were interested in a simple sustainable weekend retreat.
Jun 16, 2018
Shapeshifter Reno House, Reno, Nevada, USA
Architect: OPA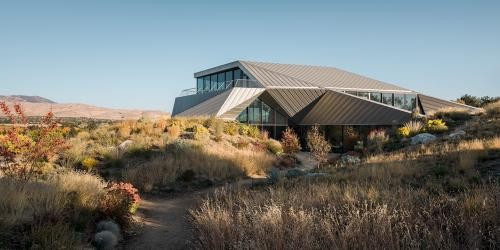 photograph : Joe Fletcher
Reno House, Nevada
Two art collectors and dealers specializing in contemporary art and art of the American West decided to move from the arid high desert outside of Reno to a less remote site overlooking the city. They wanted a house that would both reflect the contemporary moment and be explicitly of the West.
Jun 15, 2018
Lot 6 House, Winthrop, Washington
Architects: Prentiss + Balance + Wickline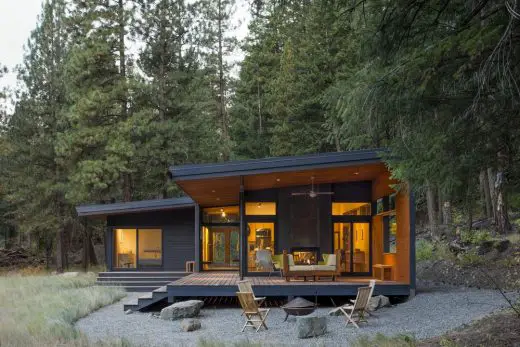 photograph : Eirik Johnson
House in Winthrop, WA
Sited at the toe of a dramatic, wooded slope, the long, low cabin appears to hover just above the surrounding meadow grasses. This 1,100 sqft cabin was designed for two outdoor enthusiasts who placed equal value on exterior and interior spaces.
Jun 14, 2018
Bailer Hill Residence, Friday Harbor, Washington
Architects: Prentiss + Balance + Wickline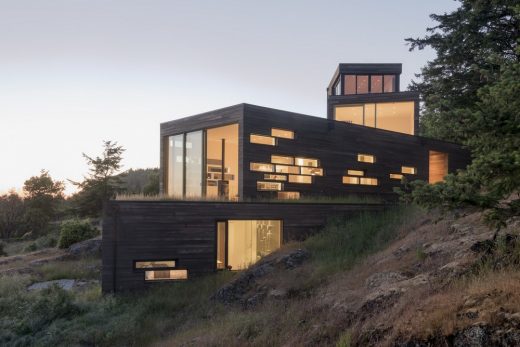 photography : Eirik Johnson
Residence in Friday Harbor, WA
Anchored to a rocky slope and looking out over expansive water views, this house is the expression of the clients' desire to connect to both the immediate landscape and the view beyond. This new American house Cascades organically down the hill yet remains firmly rooted to the earth.
Jun 4, 2018
Barrio Historico House, Tucson, Arizona
Architect: HK Associates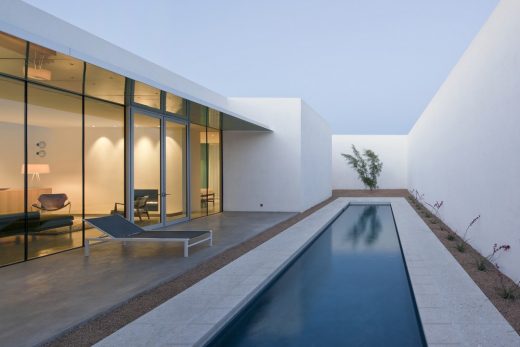 photo : Bill Timmerman
Contemporary Home in Tucson
Located in Tucson's Barrio Historico, this residence is a modern interpretation of the neighborhood's traditional courtyard architecture. From the street, the house is anonymous, fitting into the Barrio context with façade proportions and door and window openings in keeping with neighborhood guidelines.
May 22, 2018
Laguna Street Residence, Californian
Design: Michael Hennessey Architecture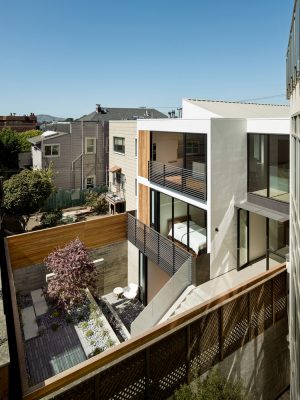 photograph : Joe Fletcher Photography
Laguna Street Home
Apr 4, 2018
New Houston House, Louisiana
Design: Viviano Viviano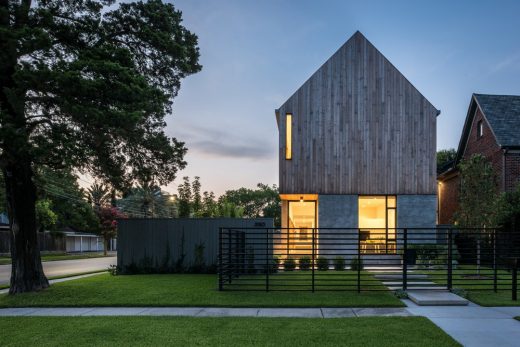 photo : Peter Molick and Jack Thompson
New Houston House
The massing of the house and choice of materials would need to maintain a dialogue with familiar house typologies and vernacular forms. The interior would be set up as a clean, streamlined backdrop for antique and vintage furnishings.
Feb 22, 2018
Home 901, Sabino Springs, Tucson, Arizona
Design: Kevin B. Howard Architects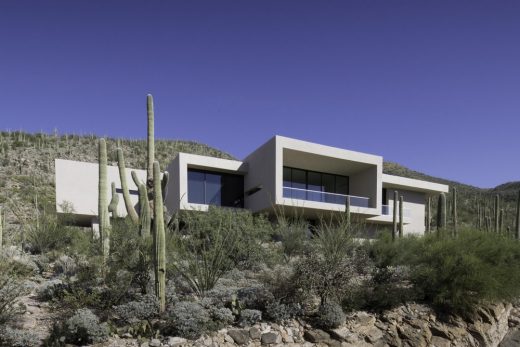 photograph : Matt Winquist and Robin Stancliff
Sabino Springs House
Kevin B. Howard Architects were very fortunate to work with a couple who, devoted to the ideals of minimalism's stark allure, asked us to design a house in the foothills of Tucson, Arizona, located in the profoundly diverse Sonoran Desert.
American Houses 2015 – 2017
Jan 26, 2017
Los Altos Hills II House, CA
Design: Feldman Architecture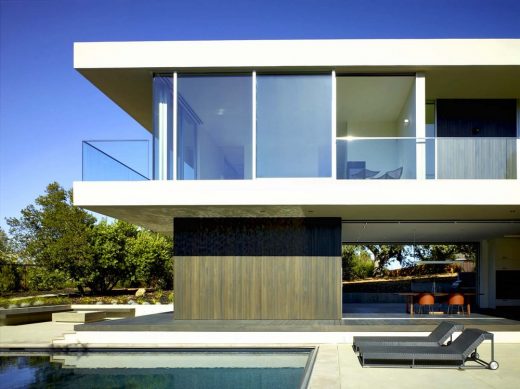 photograph : John Linden
Los Altos Hills Residence
Nov 10, 2016
Threshold House in Austin
Oct 13, 2016
Edgeland Residence in Austin
Oct 13, 2016
Annie Residence in Austin
Aug 28, 2016
Carved Cube House in West Austin
American Houses up to 2014
Jun 23, 2014
Mill Valley House, California
Design: CCS Architecture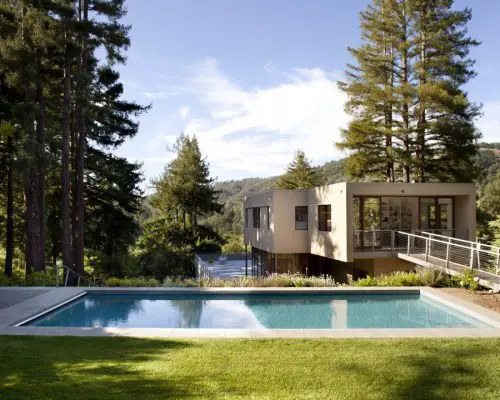 image from architect
Mill Valley House in California
Oct 24, 2013
Clifftop House Maui, Hawaii, USA
Design: dekleva gregorič arhitekti



photo © Cristobal Palma
Clifftop House Maui
This house is dug into the ridge of an escarpement on the windswept north coast of the island. The 'Roof house' is for a windsurf sail designer who had moved with his family from Europe. They fell in love with this unpopulated area with high cliffs at the coast, fresh onshore breeze and undisrupted views to the ocean. Having found the perfect spot it took them three years to buy the land and several more to finish the house.
Oct 13, 2013
New House in Omaha, Nebraska
Design: TACKarchitects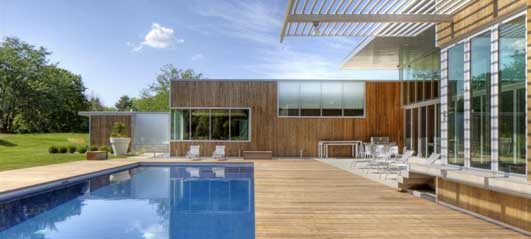 photo from architects
New House in Omaha
This is an expansive timber-clad American residence which is inspired by the elegant residential projects by Richard Neutra.
Sep 20, 2013
Net Zero Energy House, Cupertino, California
Design: Klopf Architecture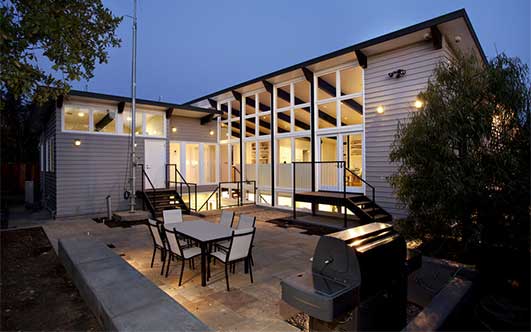 photo : Mariko Reed
Net Zero Energy House
A partially-submerged lower level was designed with a pulled-back floor plate to create a light-filled atrium. In conjunction with the mechanical engineer, Klopf designed a net-zero energy home featuring insulated concrete forms, structural insulated panels, high-performance windows, cementitious siding and a solar photovoltaic system sized to cover all the energy usage.
Aug 20, 2013
Tred Avon River House, Maryland
Design: Robert M. Gurney Architect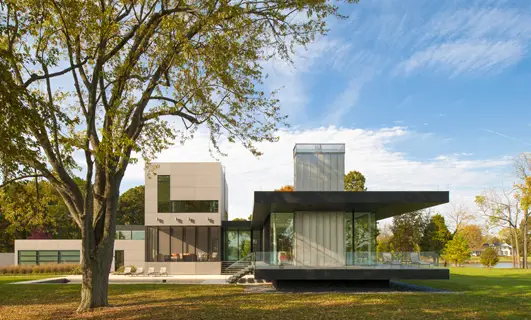 photo : Maxwell MacKenzie Architectural Photographer
Tred Avon River House
This contemporary American house is crisply detailed and minimally furnished to allow views of the picturesque site to provide the primary sensory experience. The house was designed as a vehicle to experience and enjoy the incredibly beautiful landscape, known as Diamond Point, seamlessly blending the river's expansive vista with the space.
Jul 15, 2013
Levin Residence, Arizona
Design: Ibarra Rosano Design Architects



photo : Bill Timmerman
Levin Residence
Three simple volumes hover above the desert, responding to the challenges of the site and to an ethic of building with minimal disruption to the natural environment. The site slopes toward the west into a wash and is split by a smaller tributary valley, splitting the buildable area in half.
Jun 3, 2013
Glen Lake Tower
Design: Balance Associates Architects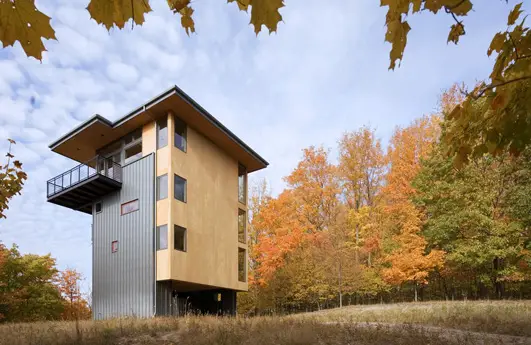 photo : Steve Keating Photography
Glen Lake Tower House
Directed to create "a sustainable retreat that reflects the timeless beauty and simple comforts of the area," the architects responded by raising the primary living space above the dense surrounding woods in order to gain light, air and views of Glen Lake and Lake Michigan beyond. The central idea is to sandwich a 1400 sqft three-story plywood box between two metal-clad walls: this plywood box is then suspended a full story above ground level.
May 27, 2013
Capitol Hill Residence, Seattle, Washington
Design: Balance Associates Architects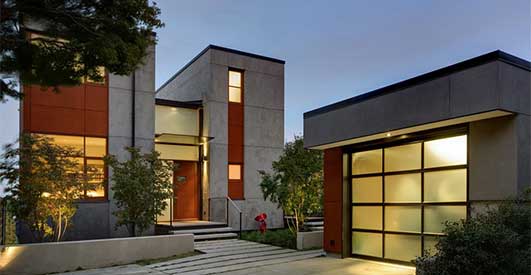 photo : Steve Keating Photography
Capitol Hill Residence
With a compact form and several integrated sustainable systems, this residence achieves the client's goals to maximize the site's views and resources while responding to its microclimate. The roof rainwater collects into a steel entry water feature, day light penetrates deep into the house through a central translucent slot, and exterior mounted mechanical shades can prevent excessive heat gain.
May 23, 2013
New Canaan Residence, Connecticut
Design: Specht Harpman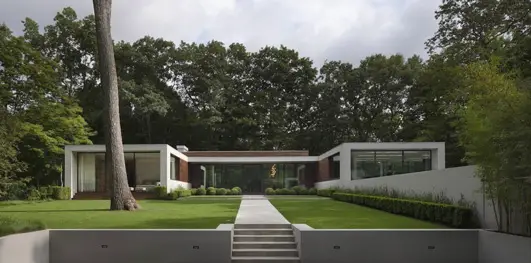 photo : Elizabeth Felicella
New Canaan Residence
This residence is nestled into a lush hilltop site in a forested part of the state. The property is a renovation of a 1950's house which had a series of unsympathetic additions, and whose owners originally wanted only a kitchen upgrade.
May 23, 2013
West Lake Hills Residence, Austin, Texas
Design: Specht Harpman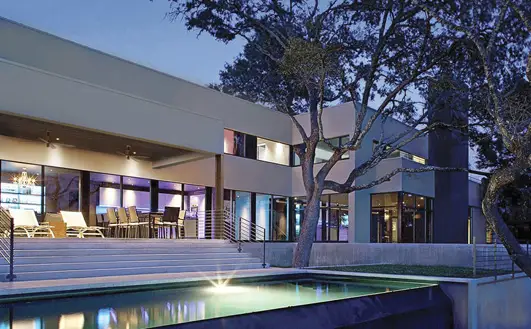 photo: Taggart Sorensen
West Lake Hills House
This project on a densely tree-covered site was a renovation and expansion of a modest 1970's house. The alterations sought to erase all visible traces of the original house whilst retaining most of the structure.
May 22, 2013
Walloon Lake House, Michigan
Design: DUDZIK Studios
Walloon Lake House
May 21, 2013
Tucson Mountain Retreat, Arizona
Design: DUST Architects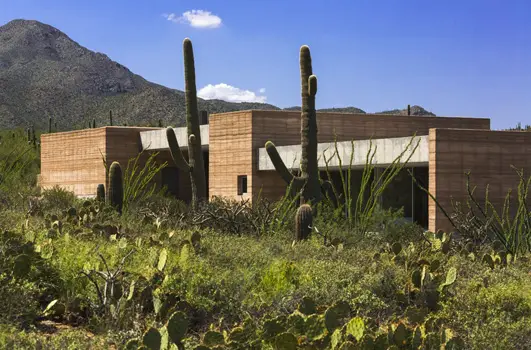 photo © Jeff Goldberg / Esto
Tucson Mountain Retreat
Elegant rammed earth house for Karen and David Francis whose primary residence is in San Diego. David grew up in Arizona so the Tucson Mountain Retreat and living in the desert are like a homecoming for him.
Modern American House News
Philip Johnson Glass House, New Canaan, Connecticut, USA – news
Philip Johnson Glass House
Miller House, Columbus, Indiana : Eero Saarinen – opens to public
photo Courtesy of the Indianapolis Museum of Art
Miller House
Recent American Houses
Apr 24, 2013
The Phoenix House, Arizona
Design: Messana O'Rorke



image from architect
Contemporary Arizona House
This vast and strikingly beautiful desert landscape is the inspiration for this simple contemporary residential design. The tectonic mechanisms responsible for the landscape, where mountain ranges seem to slide past each other, is emulated by massive parallel walls of the house.
Dec 3, 2012
Olnick Spanu House, Garrison, New York
Design: Alberto Campo Baeza
Olnick Spanu House
This is an elegant contemporary American house by a famous Spanish architect – the solid base is recessed into the ground whilst the upper storey is glazed and protected only by a delicate roof.
Apr 13, 2012
Cloud House, Colorado Plateau
Design: Axis Mundi
Cloud House
This new American residence is a weekend retreat, situated on a promontory high along a ridge, affording wonderful views. The house nestles in a grove of dramatic Aspen trees.
Modern American House
The Richard and Dion Neutra VDL Research House
Design: Richard Neutra Architect; Richard and Dion Neutra Architects
The Richard and Dion Neutra VDL Research House
More US Houses online soon
Location: USA
House Designs
American House 08, Cranbrook, Bloomfield Hills, Michigan
New American House
Buildings / photos for the American Houses pages welcome
Website: United States of America