SITE Santa Fe New Mexico, US Architecture Contest, Building, Architects, United States of America
SITE Santa Fe : New Mexico Architecture Competition
US Design Contest – American Architectural Development, USA
Mar 5, 2013
SITE Santa Fe – Call for Proposals
SITE Santa Fe Announces:
AN INVITATION TO ARCHITECTS AND DESIGNERS
The landscape is the ground on which multiple histories collide; it is a basic resource and the origin of systems of living and labor, both literal and metaphoric. SITE Santa Fe is pleased to present an opportunity for innovative and experimental architects and designers to submit proposals for a temporary structure that explores the many connotations of the "landscape" as these relate to ideas about "siting" in place, "siting" in history, "siting" in territorial infrastructure, and "siting" in land-based economies.
Aerial photo of SITE Santa Fe: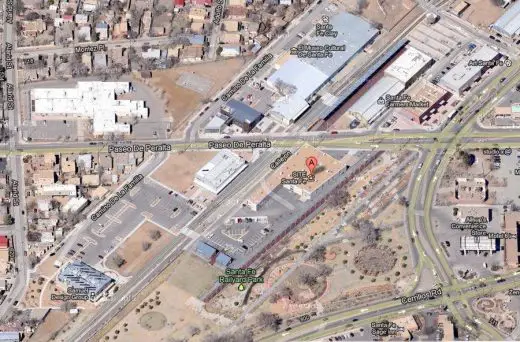 images from competition organiser
The winning proposal will be constructed on the grounds in front of SITE's building in Santa Fe, New Mexico and will be a highly visible component of SITE's newly-defined biennial exhibition in the summer of 2014 for which it will function as the exhibition's information and knowledge-exchange center. The project will be part of the exhibition and will be featured in the exhibition catalogue. It will have the distinction of creating a signature feature of what will be a highly-anticipated and widely publicized and reviewed six-month-long exhibition.
We seek proposals that encourage sociability, conversation, and gathering within flexible structures that allow for a variety of uses without sacrificing functionality and sustainability. Designs will be judged on the basis of innovative design, adaptability, compatibility, integration with SITE's existing building, as well as thoughtful consideration of Santa Fe's environmental conditions, such as landscape, temperature, and humidity.
About SITE Santa Fe
SITE Santa Fe is dedicated to presenting the most innovative visual art of our time. SITE's year-round exhibitions and educational programs carry forward the region's tradition of fostering avant-garde art. SITE Santa Fe was founded in 1995 to organize the only international biennial of contemporary art in the United States. SITE Santa Fe and has since presented eight international biennial exhibitions, each of which has drawn global attention.
SITE Santa Fe is currently redefining its Biennial with a new exhibition series that will make connections and points of confluence between Santa Fe's layered histories, cultures, mythologies, and languages with regions throughout the Western Hemisphere.
SITE Santa Fe is housed in an 18,000-square-foot warehouse space, converted by architect Richard Gluckman, into a flexible exhibition space that allows for a wide variety of exhibitions. SITE Santa Fe has a celebrated history of commissioning architects and designers to produce innovative new interior and exterior designs that interact with the existing building and explore new directions in exhibition design. GRAFT, David Adjaye, Greg Lynn FORM, and Tod Williams & Billie Tsien (recipients of the 2013 AIA Architecture Firm Award), are among those who have produced projects with SITE.
Views of SITE Santa Fe (low quality images, all we have):




images from competition organiser
Project Brief
We are seeking a temporary structure (s), to be situated in front of SITE Santa Fe's building fronting a main thoroughfare. The structure (s) will serve as the first point of arrival for the exhibition and will function as a transitional space between the street and as part of the entry sequence to SITE's interior galleries. Successful proposals should express the following qualities: innovative design, hospitality (addressing visitor comfort from seating to temperature control), compelling aesthetics, creative use of materials, flexible format, (e.g. capable of expansion/opening and closing/transformation) and minimal impact (responsive to the environment and the existing building).
Special attention to be paid in the design to the integration between SITE's existing building and the temporary structure(s). An elegant and efficient relationship between visitor functions housed in the temporary structure and those existing immediately within SITE's existing building is encouraged. (Interior functions in the front lobby include ticketing, bookstore space, bathrooms, and gallery space.)
Successful proposals will address two critical needs: The need for a shade device and for an enclosed structure for public use.
SHADE: A shade device, canopy, or shelter is desired over a large space of SITE's 'front yard' (approximately 3,200 square feet). This area should include conversational seating arrangements for gathering and signage for vehicular and pedestrian way finding.
ENCLOSED STRUCTURE: An enclosed space (approx. 400 square feet) to allow for the following visitor-relation functions:
Welcome center that includes an information counter
Biennial Mini Store and Snack Bar
Discussion/gathering/seating space for up to 20 people
Archive/Biennial projects presentation space
Presentation Space (e.g. space that can accommodate a flat screen monitor with shifting exhibition-related content)
Desk space for attendant staff
Project Details
The estimated budget for building construction, conceptual engineering, and site restoration is in the range of $30,000-$35,000. This includes design honorarium.
Implementation of the selected design will be executed by SITE Santa Fe.
The final design must include construction documents that can be approved, stamped, and sealed by a local professional architect or engineer as required by United States law.
The design must protect and promote public health, safety and welfare, and should comply with the International Building Code.
Proposed construction methods should minimize impact on the site during installation and deinstallation of the structure(s).
Project cannot require excavation but may propose a hardscape plan. (The site currently includes a wide concrete pathway from the sidewalk to the entrance of the building, which is surrounded by crusher fines ground cover.)
Project will be installed from July 2014-January 2015. Temperatures during this time range between 95 and 15 degrees Fahrenheit. Santa Fe is a high desert climate where the relative humidity can fall below 20%, but can reach up to 70 % in the wettest months when there can be heavy seasonal rains.
The structure(s) should be freestanding and not attach to SITE's building.
The structure(s) can draw electricity from the main SITE building but alternative energies should be considered.
The height of the structure/s cannot exceed 26 feet. An additional 2 feet could be added for "unoccupied towers or spires"
There are no setback requirements.
The review board of the Railyard Community Commission (who will review the winning design for final approval) prefers structures to be earth tones, however, white or other colors are allowed for accent colors.
Site-specific issues such as weather, maintenance, security, and programming will need to be addressed in the proposal.
Design should consider visitor comfort, appeal, and accessibility for all ages.
Submission Process
There are two phases to submission: Preliminary Phase and Final Phase.
1. Preliminary Phase
Submissions should be made following the requirements below. From these submissions up to four finalists will be selected by SITE's Biennial curatorial team. One member of each design team will be invited to make a visit to Santa Fe (expenses paid by SITE) to review the project site and meet with SITE curators and Facilities Manager in Santa Fe.
Preliminary Phase Submission Requirements:
Name and full contact information
Résumé for each team member outlining professional accomplishments
Portfolio of up to 3 completed projects and up to 3 proposed or in process projects
Statement (500 words or less) describing design proposal
Design proposal drawings/renderings including elevations and floorplans
Scope of design, including materials and construction methods etc.
Three references
Proposals should be submitted in both a PDF and Autocad 2010 (or later) format Please email [email protected] to request project site images, site plans, and diagrams.
2. Final Phase
After traveling to Santa Fe, the finalists will be given approximately two weeks to provide a second, more refined design proposal (construction drawings and other final details are not necessary at this time). Winning design will be selected from these four proposals by SITE's Biennial curatorial team in consultation with SITE's facilities team, which will assess feasibility. The winner will be publicly announced in May 2013.
Schedule
2013
– March 11, 2013 Deadline to submit questions to SITE via email
– March 22, 2013 Deadline to submit design proposal
– Early April, 2013 Finalists contacted
– April 2013 Finalists invited to make site visit and are provided additional project information for design refinement
– May 3, 2013 Deadline for final design refinements
– Summer 2013 Final design announced 2014
– May-June 2014 Time-frame for construction
– July 2014 Structure(s) complete and ready for public opening
Questions (until March 11) and Proposal Materials (due March 22) and can be submitted to:
Irene Hofmann
SITE Santa Fe
1606 Paseo de Peralta
Santa Fe, NM 87501
[email protected]
*Please send proposal materials via email in PDF and Autocad 2010 (or later) format or via mail on CD/DVD disc.
SITE Santa Fe New Mexico images / information from SITE Santa Fe
Location:Santa Fe, New Mexico, USA
American Architecture
Neighbouring State/Country Architecture to New Mexico
Arizona Buildings
Colorado Buildings
Oklahoma Buildings
Texas Architecture
New Mexico Architects – Antoine Predock : practice with office based in Albuquerque
Winspear Opera House, Dallas
Foster + Partners



photo : Iwan Baan
Winspear Opera House
Perot Museum of Nature & Science, Dallas
Morphosis



picture from architect
Perot Museum of Nature & Science
Comments / photos for the SITE Santa Fe New Mexico Architecture page welcome
SITE Santa Fe
Website: The American Institute of Architects