Massachusetts architecture news 2023, Boston building designs, MA architects, United States of America real estate
Massachusetts Architecture: Buildings
Key Architectural + Property Developments in MA, New England, USA
post updated August 28, 2023
American Architectural Designs : links
Massachusetts Architecture News, chronological:
May 12, 2023
Doris Duke Theatre, 358 George Carter Rd, Becket, MA
Architects: Mecanoo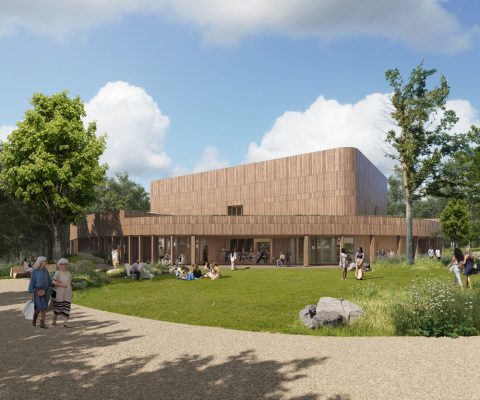 renders by Mecanoo and Marvel
Doris Duke Theatre, Becket, Massachusetts
Jacob's Pillow is excited to announce building plans for the reimagined Doris Duke Theatre, a flexible theatre on the site of the original Doris Duke Theatre, which was lost to a fire of undetermined cause in November 2020. In replacing what was lost while looking to the future, Jacob's Pillow seeks to create a future-forward dance theatre as it looks ahead to its second century.
March 31, 2023
Minimalist Glass House, The Berkshires, Sheffield, MA
Design: Specht Architects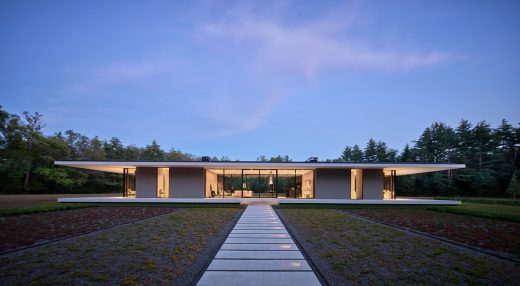 photo : Dror Baldinger
Minimalist Glass House in Berkshires, MA
The homeowners had a unique agenda for what they wanted in their new home. They had been living in an ornate, immaculately decorated 18th century historic mansion on a large 40-acre property in Mansfield, MA.
Massachusetts Building News 2022
Aug 11, 2022
523 Washington Street, Brookline
Design: Kripper Studio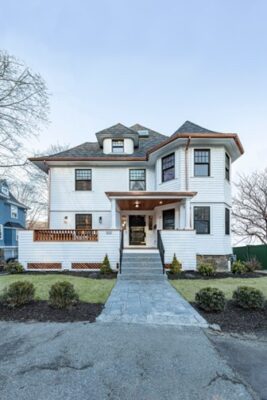 photo : Pablo Gerson
523 Washington Street, Brookline
ADCO Realty engaged Kripper Studio to restore and completely re-imagine this historic Victorian-style residence and turn it into a contemporary and elegant duplex with expanded living space. The original single-family residence was converted to a two-family residence in the 1990s.
Jun 15, 2022
Cultivate, 1023 Southbridge Street, Worcester, MA
Design: Kripper Studio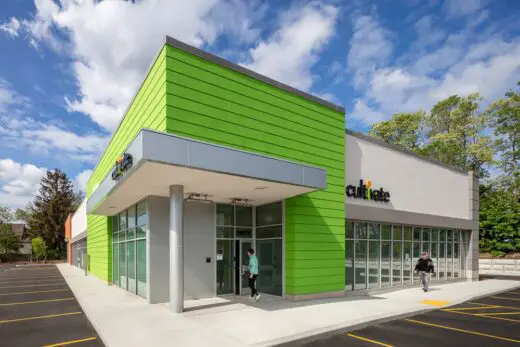 photo : John Horner Photography
Cultivate Shop, Worcester, MA
The Worcester, Massachusetts location for Cultivate represents the second collaboration with Kripper Studio following architect Amir Kripper's design of the Framingham, MA location.
Building bridges, not silos
A new study reveals how MIT's campus design and architecture influence interaction among researchers.
CAMBRIDGE, Mass. — The MIT campus is built to connect people. Some structures, like the Stata Center, the Sloan building, or the Media Lab building, offer large lobbies, flexible labs, and common spaces to enhance collaboration. MIT's Infinite Corridor — which is one-sixth of a mile long — mixes thousands of people together daily. Aerial walkways connect campus research buildings.
MIT's Infinite Corridor — which is one-sixth of a mile long — mixes thousands of people together daily: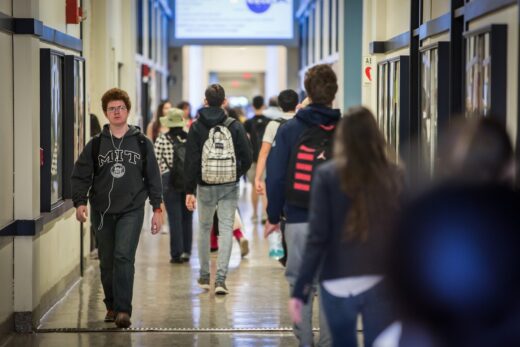 photograph : Jake Belcher
Do all these design elements truly help people to work together? A study led by MIT scholars reveals new details about collaboration on the Institute's campus. Overall the study, which looks at email traffic between faculty, researchers, and staff on campus, confirms that physical proximity does matter for workplace collaboration, but it adds new wrinkles about how this happens.
People are more likely to communicate via email after running into each other at a campus eatery, for instance, than in a crowded corridor. The study also found that email exchanges occur more often among researchers whose workspaces are connected through indoor halls rather than outdoor paths. And greater physical proximity may not replace email communication among people who don't know each other well — they are more likely to email each other even when working in close proximity.
"Studying how spatial relationships may influence social ties has been of interest to scholars of the built environment and sociologists alike for a long time," says Andres Sevtsuk, an associate professor in MIT's Department of Urban Studies and Planning (DUSP), and co-author of a new paper detailing the study's results. While past work often used survey data to account for interactions, here the campus email information added hard data to the research.
"We were interested in taking this idea of spatial relatedness further and examining its more nuanced aspects that have not been well-covered in prior research," Sevtsuk notes.
Those findings apply to not only MIT but other organizations as well.
"These ideas could be explored analogously in other work environments beyond MIT, such as companies, organizations, or even public sector institutions," says Bahij Chaucey, a researcher at the MIT City Form Lab and a co-author of the paper.
The paper, "Spatial structure of workplace and communication between colleagues: A study of E-mail exchange and spatial relatedness on the MIT campus," was published in advance online form in March, by the journal Social Networks.
The authors are Chancey; Rounaq Basu, a doctoral candidate in DUSP; Martina Mazzarello, a postdoc at the MIT Senseable City Lab; and Sevtsuk, the Charles and Ann Spaulding Career Development Associate Professor of Urban Science and Planning in DUSP and head of the MIT City Form Lab.
The Allen Curve and onward
A large body of scholarship has examined workplace interactions — often influenced by the late Thomas Allen, a professor at the MIT Sloan School of Management whose interest in the subject was spurred in part by a stint working at Boeing. Allen's research in the 1970s and 1980s found that greater proximity has a strong relationship with greater collaboration among engineers, a phenomenon represented by the "Allen Curve."
To conduct this study, the researchers used anonymized email data collected by MIT's Information Systems and Technology group in February 2020, a month before the Covid-19 pandemic altered campus routines. The data track how many bilateral email exchanges occurred between research units on campus, such as departments or labs; the scholars examined the number of individuals in a unit to estimate the typical amount of person-to-person exchange.
The team then examined the spatial relationships between research units, to see how the built environment might interact with email patterns. Overall, the study spanned 33 different departments, labs, and research groups, and 1,455 office occupants.
The scholars also modeled the likely walking routes to the office or lab of MIT workers, based on MIT's 2018 Commute to Work survey, while also estimating the total foot traffic or crowdedness of each corridor and eating venue on campus. Sevtsuk's research has included extensive modeling of pedestrian routes in city settings using such methods.
More food for thought
Many specific, granular findings emerged from the study — especially the idea that proximity matters along with the specifics of the built environment. For starters, other things being equal, workers in research units located near the same dining facilities are more likely to email and interact.
"Cafeterias are spaces where verbal and visual communication is an important part of eating culture, especially in a research environment like MIT," says Basu.
Not having to venture outside also influences behavior — at least, it did during the wintery Massachusetts weather during the study period. For research units that are basically an equal distance apart, those linked by interior corridors tended to communicate more than those separated by outdoor space, even when that communication was in the form of email.
"We clearly saw that if people's offices are linked via the indoor Infinite Corridor system, they are more likely to engage in email exchange than if the logical connections between their offices require outdoor paths," Basu says.
As an added wrinkle, however, really busy corridors seem to generate brief greetings more than exchanges that lead to follow-up communication. "We found that if the corridor where person A may be walking past person B's office on the way to work tends to be more crowded, then it reduces the likelihood of A and B engaging in email exchange," Sevtsuk says.
However, this does not seem to be the case with very crowded cafeterias, which if anything seem to encourage more subsequent contact. "A more crowded cafeteria could provide more opportunities to engage in group conversations, where new social ties can emerge between people who are introduced by mutual connections," Sevtsuk observes.
Not least, the effects of physical proximity are themselves related to preexisting relationships. For people already familiar with each other, the research suggests, proximity leads to more face-to-face interactions; for those previously unfamiliar with each other, meeting people due to proximity tends to lead to a greater proportion of emails being exchanged, at first.
Many pathways ahead
The researchers believe their methodology could suggest ways to place new faculty or staff in useful spots where they would be able to interact easily with others.
"It is possible to use our findings to identify where such locations are within each department and school," Sevtsuk says.
Campus planners could also continue to build on ideas evident in the Stata Center and Sloan building, which have large ground-floor cafeterias and "strategically position social lounges or dining facilities at locations where access from surrounding offices, and the likelihood of passing [by] is highest," Sevtsuk adds.
In universities and tech-firm campuses, Sevtsuk suggests, when new building projects are being considered, it makes sense to "strategically evaluate their locations and circulation systems vis-a-vis spatial connectivity to surrounding departments with which they have the most potential for joint research."
Certainly, MIT, other universities, and large companies cannot always quickly reconfigure themselves. But over time, good planning and design can enhance interdisciplinary work, collaboration, and generate serendipitous meetings between people. Or, as the authors state in the paper, "Planning environments to encourage greater interaction across different groups may offer a pathway to bridge siloed social networks and encourage information exchange between otherwise unlikely parties."
Written by Peter Dizikes, MIT News Office
Paper: "Spatial structure of workplace and communication between colleagues: A study of E-mail exchange and spatial relatedness on the MIT campus"
https://www.sciencedirect.com/science/article/pii/S0378873322000375
More contemporary Massachusetts Architecture News on e-architect soon
Massachusetts Architecture News 2020 – 2021
Nov 20, 2021
House II, Cambridge MA, Cambridge, MA, USA
Design: Kyu Sung Woo Architects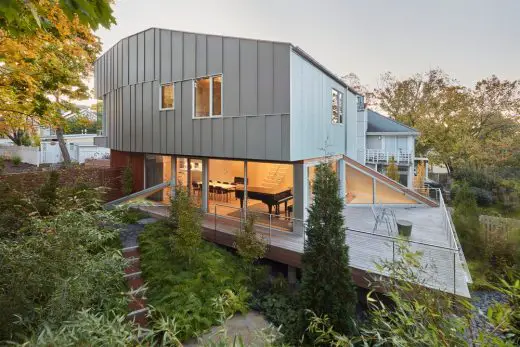 photograph : Jane Messinger Somerville, MA, USA
House II, Cambridge, Massachusetts
Architect Kyu Sung Woo designed House II for his wife, a concert pianist, and himself: a couple in their late seventies who are still active, but starting to think about their changing needs. It is located on a small street in West Cambridge, next door to the home they built 30 years ago (House I) where they raised their two children.
Dec 4, 2020
Blackstone Visitor's Center, Worcester
Design: designLAB architects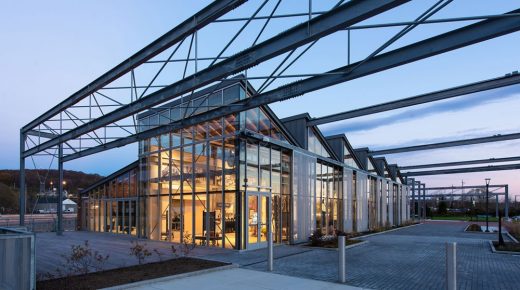 photo : Chuck Choi
Blackstone Heritage Corridor Visitor Center
Blackstone Visitor's Center in Worcester, MA, was originally planned as an adaptive reuse renovation of the former Washburn & Moen wire mill in Worcester's Quinsigamond Village. Then, in 2010, a fire swept through the original mill building, burning it to the ground and prompting a radical redesign for an entirely new building.
More Massachusetts Architecture News online at e-architect soon
Massachusetts Architecture News 2017 – 2019
Jul 16, 2019
Pond Ave Residence, Wellfleet, Cape Cod
Architects: Hundred Mile House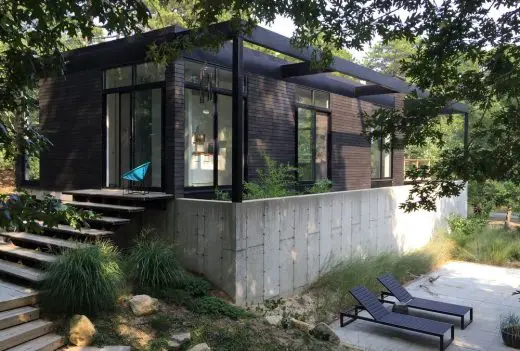 photo courtesy of architects office
Pond Ave Residence in Wellfleet on Cape Cod
This new property on Cape Cod was inspired by the mid-century modern heritage in the area (architects like Marcel Breuer and Walter Gropius did a lot of work here) as well as more natural elements found throughout Cape Cod.
Apr 16, 2019
Isenberg School of Management Building, Amherst
Design: BIG-Bjarke Ingels Group with Goody Clancy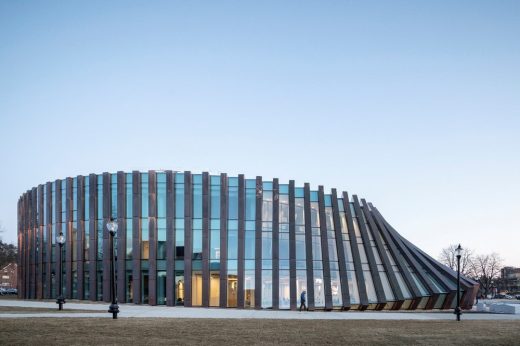 photo © Laurian Ghinitoiu
Isenberg School of Management Building
Business Innovation Hub building at the University of Massachusetts Amherst adds 70,000 sqft of hyper-collaborative study and social space to one of the top-30 public business schools in the United States.
Jun 18, 2018
Fisher Hill Reservoir Gatehouse & Comfort Station, Brookline, MA
Design: Touloukian Touloukian Inc.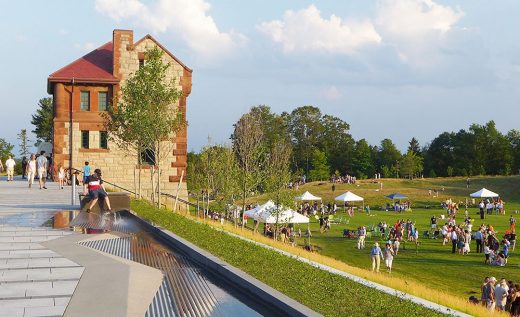 photo courtesy of The Chicago Athenaeum
Fisher Hill Reservoir Gatehouse & Comfort Station
The project is a rehabilitation and restoration to the 1887 Fisher Hill Reservoir Gatehouse in part with the larger transformation of the existing reservoir into a public park.
Feb 22, 2018
MassDOT Research and Materials Lab is LEED Gold Certified
Design: Elkus Manfredi Architects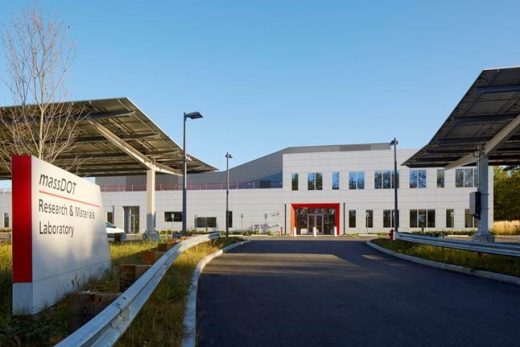 photograph : Bruce T Martin
MassDOT Research and Materials Lab
First MassDOT Building to be Nationally Recognized for its Environmentally Friendly Features. The Massachusetts Department of Transportation (MassDOT) is pleased to announce that the MassDOT Research and Materials Lab in Hopkinton, MA has been nationally recognized for its environmentally-friendly features.
Sep 25, 2017
Franklin County Justice Center, Greenfield, MA
Design: Leers Weinzapfel Associates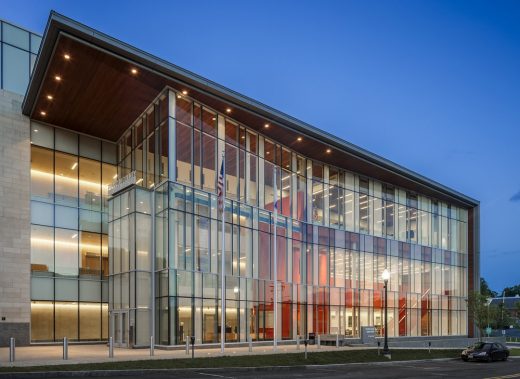 photograph © Brad Feinknopf
Franklin County Justice Center Building in Massachusetts
This Massachusetts architecture office has completed the $66M Franklin County Justice Center in Greenfield, MA. Located on Main Street in a historically attentive town, the 109,080-sqft building combines the renovation of the 1930s Franklin County Courthouse with a new addition.
Sep 6, 2017
Perles Family Studio, Jacob's Pillow Dance, Becket
Design: David Croteau of Flansburgh Architects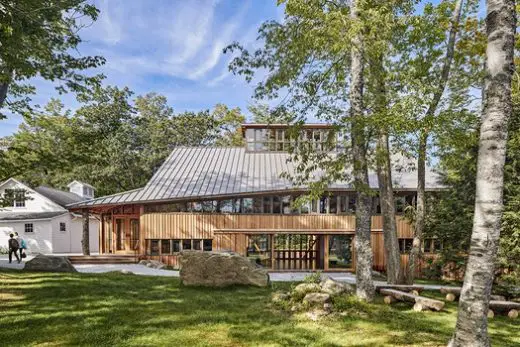 photo : Robert Benson Photography
Jacob's Pillow Dance Building in Becket
New $5.5 m dance studio at home of the internationally acclaimed dance festival. The Perles Family Studio is an integral part of the Pillow's five-year strategic plan, Vision '22, which launches the Pillow as a year-round campus for programs, research, and development.
Apr 23, 2017
Massachusetts College of Art and Design – Design and Media Center
Design: Ennead Architects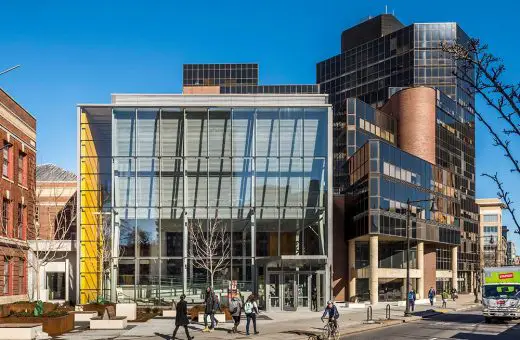 photograph © Peter Vanderwarker
Massachusetts College of Art and Design Building
More current Massachusetts Architecture News online here soon
MA Building Updates 2006 – 2013
Oct 22, 2013
Lunder Arts Center, Lesley University, Cambridge
Design: Bruner/Cott & Associates, Architects



image by architects practice
Lunder Arts Center
Construction starts on Lesley University's Lunder Arts Center in Porter Square, Cambridge. The 70,000-sqft, LEED Gold-designed project marks a bold new chapter in the history of the university's College of Art and Design, the new name of the century-old Art Institute of Boston.
Aug 14, 2013
Peabody Essex Museum Building, Salem
Architects: Ennead Architects



photograph Courtesy Peabody Essex Museum
Peabody Essex Museum Building
The PEM selected Ennead Architects to design the museum's $200m, 175,000-sqft expansion. The architects have strong museum experience having designed the renovation and expansion of the Yale University Art Gallery, as well as work at major US museums such as the Natural History Museum of Utah.
Oct 20, 2012
John W. Olver Transit Center, Greenfield
Design: Charles Rose Architects



photo : Peter Vanderwarker
John W. Olver Transit Center Massachusetts
This is a 24,000 sqft zero-net-energy building – a combined transit center and government office. Designated as a future train depot the building is designed to generate all the energy that it uses through renewable sources.
May 30, 2012
Taunton Trial Court
Design: Leers Weinzapfel Associates



photo : © Anton Grassl / Esto
Taunton Trial Court Massachusetts
This building in Taunton won a 2012 American Institute of Architecture/Academy of Architecture for Justice (AIA/AAJ) Justice Facilities Review (JFR) Program Award of Excellence Merit.
Massachusetts Architecture
e-architect try to select the best examples of Massachusetts Buildings, USA. We aim to include major completed Massachusetts buildings plus new building designs across the state.
Major Massachusetts Building Designs, alphabetical:
Autodesk AEC Solutions Group Customer Briefing Center, Waltham, Cambridge
Design: KlingStubbins



rendering courtesy of KlingStubbins
AEC Solutions Group Headquarters
Chesterwood Barn Gallery & Visitor Center
Design: Francoise Bollack Architects



picture from architects
Chesterwood Barn Gallery Building
Harvard University Graduate Housing
Design: Kyu Sung Woo Architects



image © Timothy Hursley, The Arkansas Office
Harvard University Graduate Housing
Harvard University Northwest Science Building
Design: Skidmore Owings & Merrill (SOM)



photograph courtesy of SOM © ESTO/Anton Grassl
Harvard University Northwest Science Building
Natick Collection, Natick
Design: Beyer Blinder Belle



photo : Chuck Choi
Massachusetts Building
Major Massachusetts Building Developments, no images, alphabetical:
Arthur M. Sackler Museum, Harvard University Fogg Museum Extension
1984
JSMWA with Perry Dean Rogers and Partners
Baker Dormitory, MIT campus, Boston
1947-48
Alvar Aalto
Boston Tower
2007-
Design: Renzo Piano Building Workshop (RPBW)
Breuer House I, Lincoln
1939
Marcel Breuer Architect
Carpenter Center for the Visual Arts, Harvard University, 24 Quincy St, Cambridge
1963
Le Corbusier
Chamberlain Cottage, Wayland
1940
Marcel Breuer Architect
Davis Museum, Wellesley College, 106 Central St, Wellesley
1991-93
Rafael Moneo Architects
Genzyme Center Building
2005
Behnisch, Behnsich & Partner
GKD-USA Building, Cambridge
–
Dominique Perrault
Gropius House, 68 Baker Bridge Road, Lincoln
1938
Walter Gropius
Walter Gropius home
ICA Boston, Boston, Massachusetts
2006/7
Diller Scofidio + Renfro
Jewett Art Center, Wellesley College, 106 Central Street, Wellesley
1958
–
J. Ford House, Lincoln
1939
Marcel Breuer Architect
John Hancock Tower, 200 Clarendon Street, Boston
1976
I.M. Pei and Partners
John Hancock Tower : tallest New England building
Kresge Auditorium Building, Massachusetts Institute of Technology
1955
Eero Saarinen
Laboratory for Integrated Science & Engineering, Harvard Campus
2007
Rafael Moneo
Massachusetts Institute of Technology – MIT, Media Arts & Sciences Building
2009
Maki And Associates
MIT Chapel Building, 77 Massachusetts Avenue, Cambridge
1955
Eero Saarinen, Architect
Peabody Essex Museum, East India Square Salem
–
Moshe Safdie Architects
Piano Row Residence Hall, Emerson College
2007
KlingStubbins Architects
Emerson College Building
Robinson House, Williamstown
1947
Marcel Breuer Architect
Schlesinger Library – Renovation, Harvard University, Cambridge
2004
Venturi, Scott Brown and Associates
Simmons Hall – undergraduate residence, MIT, Boston
2000-03
Design: Steven Holl Architects
Springfield Civic Buildings
–
Moshe Safdie Architects
Stata Center for Computer, Information and Intelligence Sciences, MIT, Boston
2004
Frank Gehry
Trubek House, Nantucket Island
1972
Venturi, Scott Brown and Associates
More Massachusetts Buildings online soon
Location: Massachusetts, USA
US Architecture
Boston Buildings : Boston
Neighbouring State/Country Architecture to Massachusetts
New York State Architecture Designs
MIT School of Architecture Events, Cambridge, Massachusetts
Frank Lloyd Wright house : Zimmerman House Manchester, New Hampshire
Massachusetts building – Harvard
Schlesinger Library – Building Renovation, Radcliffe Yard, Harvard University, Cambridge, Massachusetts
2004
Arthur and Elizabeth Schlesinger Library for the History of Women in America
Location: Radcliffe Yard, Harvard University
Client: Radcliffe Institute for Advanced Study
Construction Cost: $5m
Area: 26,000 sqft
Massachusetts Institute of Technology Chapel architect : Eero Saarinen
Alvaros Siza – Teaching Positions include
University of Pennsylvania, USA
Graduate School of Design, Harvard University, Massachusetts, USA – Kenzo Tange Visiting Professor
Massachusetts Architect : Gunnar Birkerts, Canadian/Latvian based in Wellesley
Massachusetts Institute of Technology Baker Dormitory architect : Alvar Aalto
Popular Massachusetts House Styles
Buildings / photos for the Massachusetts Architecture News page welcome