Minneapolis Transportation Hub, Minnesota Architecture, Building, The Interchange Design
The Interchange in Minneapolis, USA : North Loop Building
Minnesota Transport Development – design by EE&K a Perkins Eastman company
Jul 11, 2012
The Interchange in Minneapolis
Minneapolis North Loop Building
Design: EE&K a Perkins Eastman company
KNUTSON CONSTRUCTION SELECTED BY HENNEPIN COUNTY FOR 'THE INTERCHANGE' IN DOWNTOWN MINNEAPOLIS
Design-build Contract for $79.3 million Transportation Hub Will Connect Transit with Culture
New York, NY – EE&K a Perkins Eastman company joined Knutson Construction and representatives of Hennepin County to announce the start of The Interchange in Minneapolis' North Loop neighborhood adjacent to Target Stadium. Led by architect Peter Cavaluzzi FAIA, the multidisciplinary team envisions a state-ofthe- art transit station with complementary mixed-used development and year-round activated public space. The $79.3 million design-build contract is scheduled to begin in July with expected completion in 2014.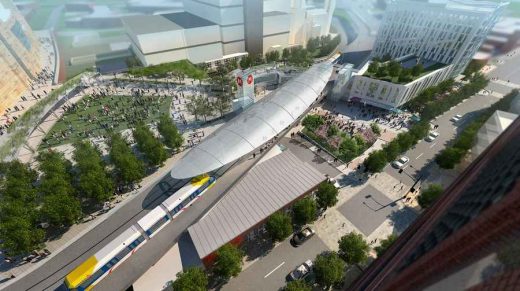 pictures Courtesy EE&K a Perkins Eastman company/Knutson Construction
"The Interchange will be the nexus of transit and culture in Minneapolis, a high-quality mix of development and a series of places for residents and sports fans to arrive at, connect, circulate, and gather," said Peter Cavaluzzi FAIA, Principal at EE&K a Perkins Eastman company. "It will be the heart of urban life in the city and North Loop. We are proud to be able to work so closely with Hennepin County, Knutson Construction, and the rest of the dynamic team to create a world-class destination for residents and visitors alike."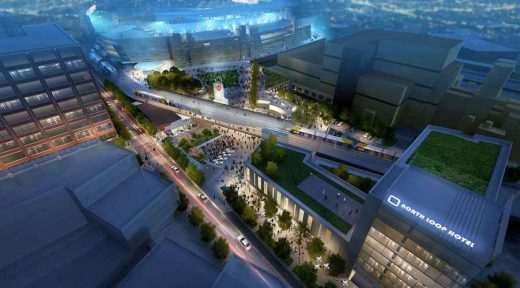 At the doorstep of Target Field, The Interchange will become the new "central station square" for Minneapolis, inspiring a new civic identity and community pride in its mix of uses, central location, and iconic, purposeful design—ultimately creating one of the first spaces in the country to truly integrate transit and culture. Taking inspiration from Minneapolis' distinct seasons and love of the outdoors, the public spaces have been designed to support a variety of activities, ensuring maximum use and comfort. For example, the Cascade, a grand stair reminiscent of Minneapolis' Saint Anthony Falls, connects the upper and lower plazas and serves as both a movement system for large crowds and a space for smaller social interactions/ performances.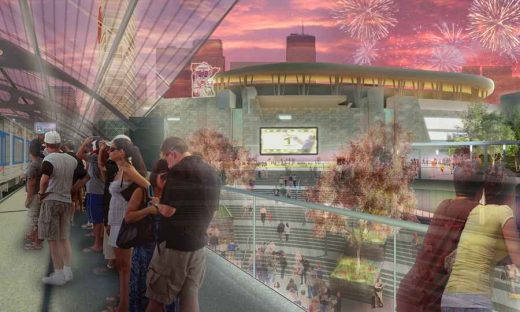 Other features of The Interchange include a Great Lawn, which will be the heart of development: a green 'stage' providing new opportunities for large pre-game events, community concerts, and seasonal events, as well as a space for individual activities. The Great Lawn will create valuable green space and a new park for downtown and 250 parking spaces underneath. In the winters, steam from the Hennepin Energy Recovery Center will melt snow and ice from walkways, paths, and stairs. The site development will also include an urban neighborhood plaza with areas for neighborhood bars and eateries, cultural and entertainment spaces, and community events.
The Interchange simultaneously will be a bustling urban park, transit station, and neighborhood gathering space. This one-of-a-kind destination will connect more than 500 trains arriving and departing daily via the METRO Blue Line (Hiawatha LRT), METRO Green Line (Central Corridor LRT) and Northstar Commuter Rail, as well as more than 1,900 daily bus trips, and miles of bike and walking trails.




pictures Courtesy EE&K a Perkins Eastman company/Knutson Construction
About EE&K a Perkins Eastman Company
Perkins Eastman is among the top architecture and design firms in the world. The firm prides itself on progressive and inventive design that meets client goals and enhances the human experience. Because of its depth and range, Perkins Eastman works seamlessly with developers and owners on assignments from niche buildings to complex projects that enrich whole communities. Projects range from high-end residential, commercial, hotels, retail, office buildings, and corporate interiors, to schools, hospitals, museums, senior living, and public sector facilities. In 2011, Perkins Eastman merged with Ehrenkrantz Eckstut & Kuhn Architects (EE&K), significantly strengthening both practices with an international total of more than 650 employees.
About Peter Cavaluzzi FAIA
Peter Cavaluzzi FAIA is a Principal at EE&K a Perkins Eastman company and is based in the firm's New York office. Peter's unique approach to architecture considers the buildings and public spaces together as a complete design. To that end, his designs are sparked by understanding the unique characteristics of each site and place. His designs for CityCenter, which brought urbanism for the first time to the Las Vegas strip, and other transformative large-scale projects including Baltimore Inner Harbor, Science City Union Station, and his contributions to New York New Visions addressing the rebuilding of Lower Manhattan following 9/11, have garnered national recognition and numerous national awards. A Ralph Rapson Fellow, Cavaluzzi has great enthusiasm for the future of Minneapolis, a testament to The Interchange designbuild team's level of commitment to creating an urban place of world-class quality.
The Interchange in Minneapolis images / information from EE&K a Perkins Eastman company
Minneapolis Transportation Hub design company : Perkins Eastman
Location:Minneapolis, Minnesota, USA
Minnesota Architecture
James I Swenson Building
Ross Barney Architects



photo : Kate Joyce Studios
Lake Superior Weekend House, near Schroeder
Julie Snow Architects



photo : Peter Kerze
Walker Art Center, Minneapolis
Herzog & de Meuron with HGA, Inc.



photo : Paul Warchol
American Railway Station Buildings
Michigan Buildings
GRAM Michigan, Grand Rapids
Design: wHY architecture



photo : Chris Barrett@Hedrich Blessing
Van Andel Institute Building, Grand Rapids
Design: Rafael Vinoly Architects



image © Brad Feinknopf
Comments / photos for The Interchange in Minneapolis page welcome
The Interchange in Minneapolis