weeHouse, America Building, Prefabricated Residential Property Design USA, Photo, News, Image
weeHouse America : American Prefab Home
US Prefabricated Home: Modular Residences – design by Alchemy Architects
–
weeHouse
WeeHouse – prefabricated house designs:
Design: Alchemy Architects
This architecture practice is known for its series of prefabricated homes and modular dwellings across the United States of America.
Arado WeeHouse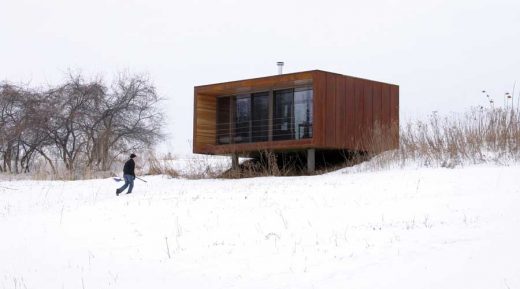 Location: Lake Pepin, Wisconsin, USA
Desciption: Vacation Retreat
Construction Type: Prefabricated Modular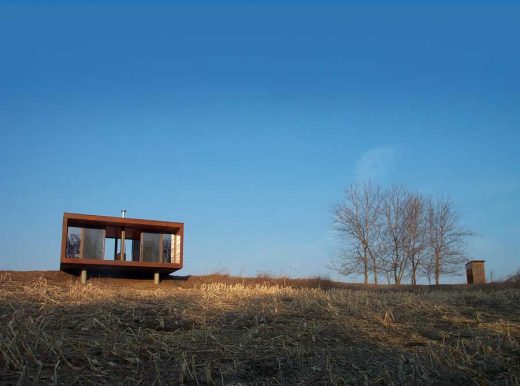 Size: 336 sqft.
Est Cost. 50k
Actual Cost: 56k
6 Month Delivery
Cawaja WeeHouse
–
Marfa WeeHouse
–
Location: Texas, USA
Desciption: Vacation Retreat
Construction Type: Prefabricated Modular
Size: 490 sqft.
Est Cost. 130k
Actual Cost: 150k
9 Month Delivery
Currently, the weeHouse is not available outside of the United States as a built structure, but this US architecture practice is always happy to work as designers for people anywhere in the world.
More US prefabricated house designs by Alchemy Architects:
Phillips Garden WeeHouse
2007
Location: Minneapolis, Minnesota, USA
Urban WeeHouse
–
Location: Minneapolis, Minnesota, USA
Oeschger House
Desciption: Residence
Construction Type: Prefabricated Modular
Size: 2100 sqft.
Est. Cost: TBD
Actual Cost: TBD
Young WeeHouse
–
Location: Florence, Montana, USA
Desciption: 2 Bedroom Vaction Retreat
Construction Type: Prefabricated Modular
Size: 784 sqft
American Prefabricated Homes images / information from Alchemy Architects
American Prefab Home design : Alchemy Architects
According to the company, they draw on timeless, classic design principles to create homes with character and charm. Each residence reflects the vernacular style of its surroundings and never compromises on functionality or energy efficiency.
You can be comfortable in the knowledge that your home will comply with government dwelling house standards and, due to enhanced building envelope insulation, heating and hot water bills are as little as £400 per year.
They are committed to creating homes that are long-lasting, beautiful and robust. The focus on providing great service means that they can guide you through the whole process from design to completion.
From the very beginning, the company has recognised the importance for businesses to create a positive social impact. The Building Skills Initiative allows us to educate and involve young people through hands-on training, alongside our own experienced craftsmen.
Alchemy Architects
While Alchemy is known internationally for our design of the weeHouse, a large portion of Alchemy's business is more traditional architectural design services including new builds, commercial projects, remodels, renovations, and general design consultation. As architects, our job is to solve design problems and help bring your ideas to reality.
Alchemy's completion of the first weeHouse in 2003, then just an inexpensive prefab cabin, gained international attention as a symbol of architectural optimism. Since then, Alchemy has widened its scope, developing the weeHouse as a prefabricated answer for cabins, houses, offices, rooftop studios, and multi-unit developments, and has completed over 3 dozen prefabricated projects around the United States.
Whether you are looking to build a single site-built 200 square foot studio or a 75 unit prefab condominium, be sure to contact us and we will further evaluate your project needs. We work on both a project fee and hourly basis depending on project specifics.
source: Alchemy Architects USA
Location:Florence, Montana, USA '
America Residential Property
American Houses – Selection
Martin House, Buffalo
Frank Lloyd Wright, architect



photo : Biff Henrich / courtesy MHRC
Bradley Residence, Arizona



image : Bill Timmerman
Comments / photos for the weeHouse America Architecture – American Prefab Houses page welcome
weeHouse Building, USA
Website: www.weehouse.com