Stage Shell Design, FMU Building, South Carolina Concert Hall Project, Image
Stage Shell Design America : Francis Marion University
Development at Francis Marion University, South Carolina design by Holzman Moss Architecture, USA
Mar 12, 2009
Stage Shell Francis Marion University
Address: 4822 E Palmetto Street, Florence, SC, USA
Holzman Moss Architecture Designs Multi-Use Performing Arts Center for Francis Marion University
(Revolutionary Stage Shell Design Transforms Traditional Concert Hall to Showpiece for Touring Productions at the Push of a Button)
Holzman Moss Architecture is pleased to announce that Francis Marion University (FMU) will break ground on its new, $32.8 million, 68,000-sq. ft. Performing Arts Center on January 30, 2009. This multi-use facility is designed to promote the flexibility needed for a wide variety of programs, from University music performances to national touring music, dance, and theater productions, while incorporating superior acoustics that adapt to individual performance needs. Construction on the new Center will take 22 months, with an expected completion date of fall, 2010.
Francis Maron University Performing Arts Center, multi-purpose hall interior: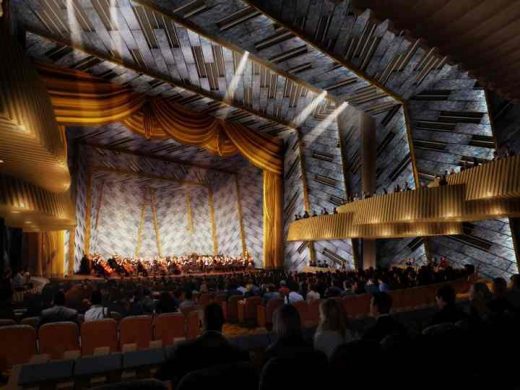 Rendering by Studio AMD, courtesy of Holzman Moss Architecture
The Center encompasses a 900-seat multipurpose hall (pictured above) featuring adjustable acoustics and staging options to accommodate a broad scope of music programs from solo performances to 80-person orchestra ensembles. The incorporation of a fly tower and orchestra pit also allows for a full range of music, dance, and drama productions.
Topping the list of innovative performance staging solutions developed by Holzman Moss Architecture over the years is the Center's built-in, single-piece, automated orchestra shell enclosure. In mere minutes and at the push of a button, the mechanized shell transforms the stage and fly loft from a tuned musical environment to an open and flexible stagehouse for theatrical events.
Marking a dramatic departure from the traditional use of a pre-fabricated orchestra shell in a proscenium framed stage tower, the customized Actuated Stage Shell (patent pending) incorporates the design and materials of the surrounding theater. Its intricately configured geometry extends into the interior of the room, enveloping both the stage and audience in a single cohesive enclosure.
A hand-operated, motorized gantry crane transports the acoustical shell from storage to stage in less than five minutes, radically upgrading a process that normally requires a large crew many hours to complete resulting in substantial operations cost–savings. A series of large roller wheels distribute the weight of the 20-ton shell in order for it to move easily along the surface of the stage floor.
Adapted from an overhead mechanized bridge crane built by the firm for the Globe-News Center for the Performing Arts in Amarillo, Texas, (pictured left) the refined floor-mounted system also allows for the maximum width desired for stage rigging and electrics so that when the shell is tucked away in its garage, the open stage and fly-loft can accommodate large theatrical touring shows.
Fronted by a two-story, 9,000-sq. ft. lobby, the Center contains a 100-seat black box theater, and an academic wing comprised of offices, classrooms, and support spaces. The theater serves as a flexible teaching space, a music rehearsal room, and as an experimental performance space. While featuring technical galleries and catwalks, the theater's enlarged control room can also be used for instruction.
The academic teaching wing encompasses a large-scale rehearsal room, a computer lab, as well as medium- and small-sized practice rooms. The multi-level lobby is scaled to accommodate all types of community events, while the front lawn can host a variety of arts exhibitions and festivals. Additional design amenities located on the 4.57-acre site, and separately funded by the local community, include a sculpture court, a fountain, and a 300-seat recessed amphitheater.
According to Delia Lewellis, project architect at Holzman Moss Architecture, "our firm's commitment towards design innovation and excellence within academic and civic contexts is about creating memorable, engaging spaces through distinctive compositions of form, space, color, texture, and choice of materials. In conceiving FMU's Performing Arts Center, we designed flexible theaters, along with indoor and outdoor performing and exhibition spaces that convey both a sense of discovery and a compelling, physically tangible sense of community."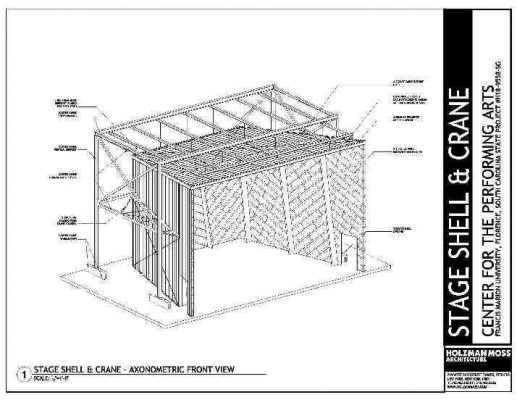 In keeping with Holzman Moss Architecture's commitment to sustainability, the design reflects and reinforces community pride and participation through the use of regional materials and symbols. With the exception of the lobby, the building is composed of South Carolina Winnsboro blue granite.
Though used for over 100 years on many distinguished projects around the nation, this stone was reclaimed from a defunct quarry making the Center the last structure to be built from this material. Remnant White Cherokee Georgia marble, normally recycled into calcium carbonate when unsuitable for use, is inset into the granite walls to accentuate its depth, dimension, and profile.
Donated tongue-and-groove pine boards milled from local trees form the large hall balcony fascias and soffits in addition to the lobby ceilings. Stained pieces of oriented strand board (OSB), produced in South Carolina and also donated, cover all of the principal hall's walls, ceiling surfaces, and stage shell. Custom-fabricated elements, such as the lobby's terrazzo floor and unique, suspended light fixtures feature spherical, funnel shapes that allude to South Carolina's rich musical heritage as embodied by its legendary Jazz trumpeter Dizzy Gillespie, and also subtly suggest the form of Yellow Jessamine, the State flower.
A glass-enclosed lobby (pictured) connects the building's primary granite-clad structures; the rich blue coloration and vigorous texture of the stone wraps these forms outside and inside. Large curved openings located in the lobby's second floor in combination with the glass curtain wall frame expansive views and provide multiple vantage points that link the interior and exterior as well as the first and second floors.
"I envision the Performing Arts Center as a place where people can experience national and international dance, musical, and theatrical groups. Eventually the building will be bustling with activity from classes, workshops, performances, and other community events." said Laura Sims, Director, FMU Performing Arts Center.
Located on an urban brownfield site, the project features systems that meet and exceed ASHRE 90.1 and has an exterior envelope with an insulation system that is twice as efficient as a typical wall system. Sustainable elements also include the use of remnant granite for building cladding, recycled content building materials including terrazzo, marmoleum, tectum, and materials containing rapidly renewable resources including wool carpeting, linoleum flooring, and OSB millwork.
Project Background
The Center is one of two building projects that encompass a public-private, multi-partnership agreement that include land exchanges and financing involving the City of Florence, the State of South Carolina, McLeod Health, Drs. Bruce and Lee Foundation, and Francis Marion University. It is part of an ongoing community-wide effort that began in 2004 with the opening of the Drs. Bruce and Lee Foundation Library to transform downtown Florence, a 70- square-block area encompassing some 500 acres, into the cultural and economic center of the entire Pee Dee region. Once complete, the Center will serve as an anchor to attract people and private businesses to the downtown area. Both the land, currently owned by the City, and the Performing Arts Center building will be deeded to FMU.
Francis Marion University design images / information from Holzman Moss Architecture
Address: 4822 E Palmetto St, Florence, SC 29506, USA
Phone: +1 843-661-1362
Francis Marion University Performing Arts Center – Further Information
Holzman Moss Architecture
Holzman Moss Architecture is a national architectural, interior design, and planning firm specializing in the design of evocative cultural, civic, and academic buildings that welcome public use. The firm achieves architectural excellence through environmentally responsible and technically innovative solutions that focus on enriching the human experience.
Engaging clients in a process of visualization, dialogue, and inquiry, Holzman Moss Architecture projects surpass aspirations by responding to the needs of each institution and by celebrating the identity of the community it serves.
Holzman Moss Architecture was established in 2004 by Malcolm Holzman, FAIA, and Douglas Moss, AIA, LEED AP, as a successor firm to Hardy Holzman Pfeiffer Associates (HHPA). Building on HHPA's adventuresome spirit, Holzman Moss's distinctively inquisitive approach to architecture is based on rooting buildings and spaces in their communities, evoking moments of unexpected joy, and respecting financial and environmental resources. In five short years, the firm has tripled in size and has gained national recognition for its expertise in the programming, planning and design of libraries, facilities for student life, and performing and visual art centers.
New York Architect Office – Holzman Moss Architecture contact details
Francis Marion University
Francis Marion University is a four-year public institution established in 1970 by the state of South Carolina. It is located in the northeastern part of the state near the city of Florence and has approximately 4,000 students. Its purpose is threefold: to provide students with an excellent education, stimulate inquiry and research, and serve the Pee Dee region of South Carolina.
Another South Carolina building on e-architect:
Darla Moore School of Business, University of South Carolina
Design: Rafael Viñoly Architects



picture from architects
Darla Moore School of Business
American University Architecture
Comments / photos for the Stage Shell Design America – Francis Marion University Building page welcome
Website: Francis Marion University