Philadelphia buildings, Pennsylvania architects news, US houses, PA property design images
Philadelphia Architecture : Buildings
Key Property + Architectural Developments, PA: United States of America Real Estate Projects
post updated August 21, 2023
Philadelphia Building News
Contemporary Philadelphia Architectural Projects, chronological:
Aug 13, 2023
Ravenhill House
Architects: Studio Robert Jamieson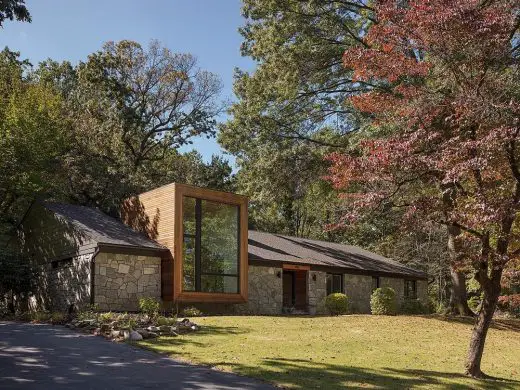 photos : Sam Orberter, August Haeuser and Studio Robert Jamieson
Ravenhill House, Philadelphia
When the owners purchased this 1950s ranch home outside of Philadelphia, it bore most of the original elements. This PA property had nearly 3,500sf of single level living space, but the rooms were closed off from each other and had low 8′ ceilings throughout.
Apr 27, 2021
Rittenhouse Square Historic Townhouse
Design: Voith and MacTavish Architects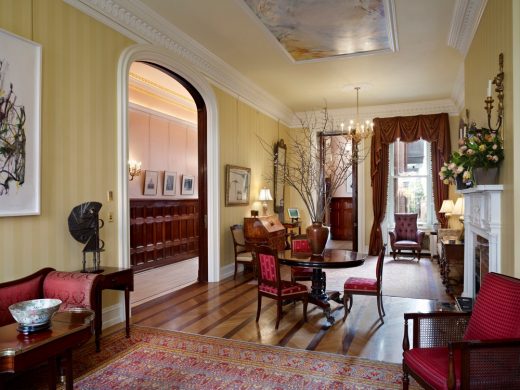 photo : Jeffrey Totaro
Historic Townhouse, Rittenhouse Square
Voith and MacTavish Architects completes a decade-long renovation, restoration, and reconfiguration of a 19th century townhouse in Center City, Philadelphia. Now finished, it conveys the traditional character of the original architecture while producing an extraordinary personal expression of the owners' tastes.
July 16, 2020
Perelman Auditorium
Architects: MGA Partners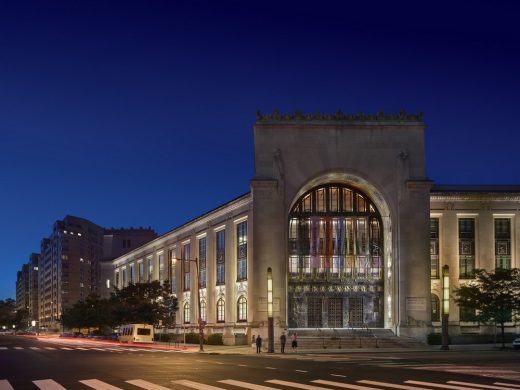 photo © Halkin | Mason Photography
Perelman Auditorium at the Philadelphia Museum of Art
The Philadelphia Museum of Art is sited on the axis of Benjamin Franklin Parkway that connects the city center with Fairmount Park, the largest urban park in the world. Many prominent institutions and notable buildings line the great diagonal boulevard to create a remarkable cultural corridor.
More Philadelphia Buildings on e-archtect soon
Philadelphia Buildings 2006 – 2019
Oct 24, 2019
Comcast Technology Center
Architects: Foster + Partners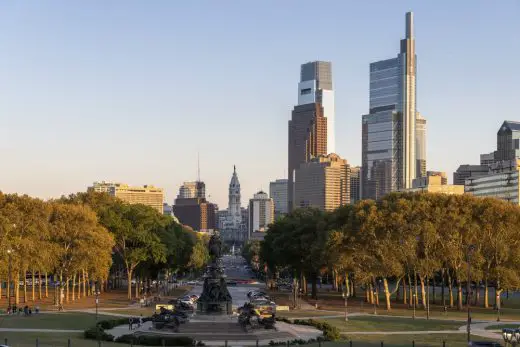 photography © Nigel Young / Foster + Partners
Comcast Technology Center Philadelphia Building
Located next to the existing Comcast Center, the Comcast Technology Center rises 1,121 feet (341 meters) as the city's tallest building. The Comcast Technology Center is vertically stepped, with loft-like work spaces and state-of-the-art television studios for NBC10 and Telemundo62, with a 12-story Four Seasons Hotel above.
Aug 10, 2019
Buerger Center for Advanced Pediatric Care
Buerger Center for Advanced Pediatric Care
Feb 8, 2019
Office Tower in Philadelphia Sports Complex
Design: Beyer Blinder Belle Architects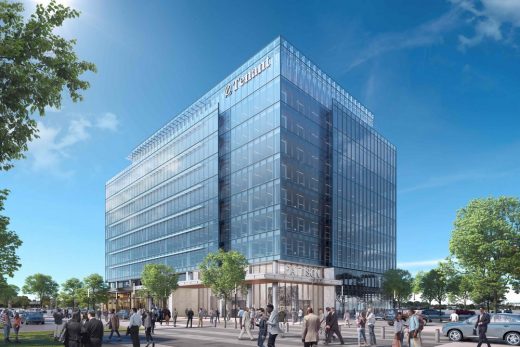 images courtesy of architects
Pattison Place – Philadelphia Sports Complex
200,000 Square Feet of New Construction, Class-A Office Space Including 20,000 sqft of Ground-Floor Retail.
GSK Offices Building – Navy Yard Philadelphia
Mar 19, 2018
Philadelphia Museum of Art to Renovate and Update Chinese Galleries
Six Galleries to Close on April 11, 2018, Reopening in Early 2019
The Philadelphia Museum of Art will soon begin the first comprehensive renovation and reinstallation of its galleries of Chinese art in many decades. This initiative will enable its staff to reimagine the presentation of this important part of the Museum's collection and interpret it in new ways for the benefit of visitors. This represents the next step in an ongoing series of reinstallations of the Museum's collection that began with the Rodin Museum in 2012 and continued with the renovation of its galleries of South Asian art in 2016. Beginning April 11, 2018, six galleries in the wing of the Museum devoted to Asian art will close for approximately ten months and then re-open to the public in early 2019.
Installation view, Gallery 234. Photo courtesy of Philadelphia Museum of Art, 2018: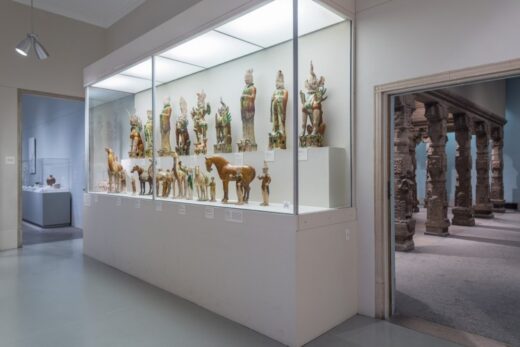 photo : Joseph Hu
Timothy Rub, The George D. Widener Director and Chief Executive Officer, said: "This once-in-a-generation project follows the success of our new galleries of South Asian art, and is proceeding in tandem with the implementation of the next phase of our Facilities Master Plan. It will transform the experience of one of the most important, but still underappreciated parts of our collection. In addition to renovating these galleries, a step that is long overdue, this project will enable us to re-present and reinterpret our extensive holdings of Chinese art for the benefit of our visitors and will also serve as the basis for a new, purpose-built curriculum taught by our educators. These efforts will create relevance, deepen understanding, and renew our visitors' appreciation for different cultures and artistic traditions around the world."
Scope of work
A $2 million initiative, this project on the second floor of the main building will promote improved visitor engagement with Chinese art through the implementation of significant physical improvements, including new gallery furniture and the creation of better sight lines. Select windows will be enclosed, improving conditions for the display of light-sensitive textiles and paintings not previously exhibitable in these galleries, while new lighting will enhance the viewing experience. The Museum's exhibition team is designing purpose-built casework, some equipped with internal lighting that will dramatically improve viewing clarity. These changes will allow for greater flexibility in the rotations of works of art, giving curators the opportunity to regularly refresh the installations and offering returning visitors new works to experience. The project will also benefit from a multi-year study of interpretation strategies, including the development of new learning resources and training, for teacher workshops and new school visits.
Musicians on Horseback, Tang dynasty (618-907), mid-7th century. Earthenware with traces of pigment. Height of tallest 12 5/16 inches. Gift of Charles H. Ludington from the George Crofts Collection, 1923: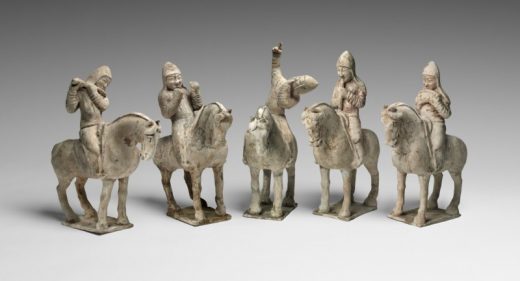 photograph courtesy of The Philadelphia Museum of Art
Reinstallation
The reinstallation is led by project director Dr. Hiromi Kinoshita, The Hannah L. and J. Welles Henderson Associate Curator of Chinese Art, supported by staff specialized in Exhibition Design, Education, and Publishing. Dr. Kinoshita's interpretive plan is arranged around key themes through which four thousand years of art can be understood. It will present a new comprehensive display of Chinese art in all media, including paintings, sculpture, porcelains, ceramics, carvings, metalwork, costume and textiles, furniture, and contemporary works.
The galleries will focus on key concepts in Chinese culture, and groupings will be arranged thematically and chronologically. The first two galleries dedicated to The Afterlife: Tombs and Immortality will highlight the collection's strength in Chinese funerary art to explore ideas of life after death and filial piety. The next gallery will focus on Fascination with Nature: Expressing the Self Through Art, with works having been made, used, or collected by Chinese scholars and artists, from the Song Dynasty (960-1279 CE) onwards. A gallery will focus on Exchange and Globalization: China and the West from the 16th century to the present, encouraging visitors to think about the enduring Western interest in the materials and techniques of Chinese art and highlighting the evolution of the export market. Another gallery will be dedicated to the importance of Ordering the Universe: The Imperial Court, which will feature works of art collected and used by the imperial court emphasizing the highly symbolic nature of Chinese art. Colors, auspicious symbols about in silk robes, porcelain, and other art will be displayed as the formal side of court life (ruling), contrasted with the informal, private side.
This new installation will also make direct interpretive connections to the Museum's three celebrated Chinese architectural interiors in adjacent galleries, all from Beijing. These include a 17th-century Chinese Reception Hall from an official residence, an 18th-century Scholar's Study, and the Ceiling from the Hall of Wisdom Transformed at the Zhuhai Temple, an early Ming Dynasty Buddhist monastery. The Museum has recently completed an innovative, digital interpretive resource for this remarkable 15th-century temple ceiling. It greatly enhances the opportunity for visitors to understand more fully the imagery and iconography of this elaborately carved work from one of the earliest and best-preserved examples of Chinese monastic architecture. Conservation and analysis of the paint surface of a Seated Luohan (enlightened monk) displayed in this gallery has provided more information about later Buddhist wood sculpture, a relatively understudied area. Rotating displays from the Museum's rich collection of textile sutra covers are also planned for this space.
When the renovated galleries devoted to Chinese art reopen next year, the Museum will host a family and community festival, along with Final Fridays performances and a classical music series in the Reception Hall. New in-gallery demonstration kits will also be available for visitors, offering tactile experiences of porcelain, ink painting, and lacquer ware to help deepen their understanding of the creative process. These kits will encourage social engagement and will be available to school and tour groups and to visitors during Pay-What-You-Wish hours and events.
Dr. Kinoshita stated: "Updating these galleries will make a significant impact on our visitors' experience of this part of our collection, allowing them to fully appreciate the breadth and richness of Chinese art. This will also provide us with a great opportunity to introduce works of Chinese art held in other departments—for example, Costume and Textiles and Contemporary Art—and integrate them with the collections for which I am responsible."
Publication
Coinciding with the reopening of its galleries of Chinese art, the Museum will publish Chinese Art: Highlights from the Philadelphia Museum of Art, in association with Yale University Press (256 pp.) This lavishly illustrated book will feature one hundred highlights ranging from antiquity to the present day. It will include an introductory essay by Dr. Kinoshita about the collection's formation, illuminating its unique character and importance. The volume will be available for purchase in the Museum Store or online via philamuseum.org.
Support
The reinstallation of the Museum's galleries of East Asian Art was made possible by Hannah L. Henderson, Marguerite and Gerry Lenfest, Maxine de S. Lewis, June and Simon K. C. Li, Joan Thalheimer, Sueyen and Gene Locks, Peter A. Benoliel and Willo Carey, E. Rhoades and Leona B. Carpenter Foundation, Cynthia L. Johnson, Frank S. Bayley, and other generous donors.
(Credit as of February 16, 2018)
About the Collection of Chinese Art
The Philadelphia Museum of Art houses one of the country's earliest Chinese art collections, initially established through purchases made at the Centennial International Exhibition held in Philadelphia in 1876. Today it includes more than 7000 works in a wide range of media spanning more than 4000 years. Strengths include Tang dynasty (618–907) tomb figures, Song dynasty (960–1127) ceramics as well as Ming (1368–1644) and Qing dynasty (1644–1911) imperial art and Buddhist sculpture. The collection includes more than 500 paintings, dating from the 12th to the 20th centuries, as well as costumes and textiles, furniture, jades, lacquer wares, and cloisonné. It also features three remarkable architectural interiors: an early 15th century coffered ceiling from an imperial Buddhist temple, a 17th century painted wood reception hall, and an 18th century scholar's study that provide context for the collection and an exceptional immersive experience.
Mar 31, 2017
The Philadelphia Museum of Art Breaks Ground on Frank Gehry-Designed "Core Project"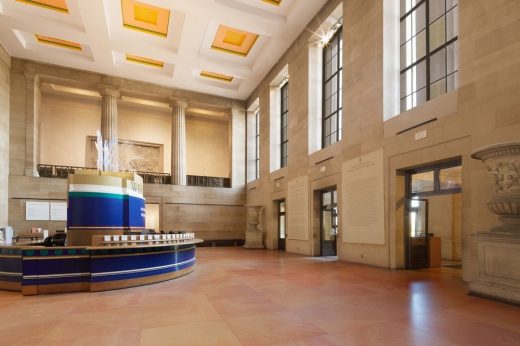 image courtesy of architects
Philadelphia Museum of Art Building by Frank Gehry
The Philadelphia Museum of Art begins a new phase of transformation and renewal, supported by a $525 million campaign. A key part of this campaign, the Core Project will create a significant amount of new public space within the footprint of the landmark building and add 23,000 square feet of new gallery space for the display of the collection.
Sep 9, 2016
New College House at the University of Pennsylvania in Philadelphia
Design: Bohlin Cywinski Jackson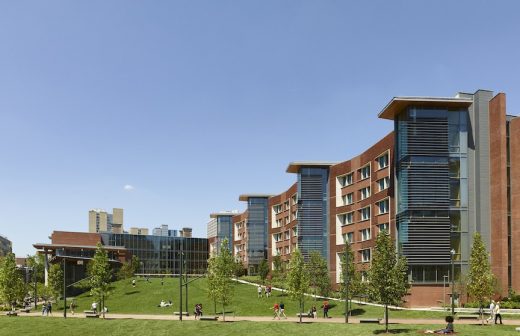 image from architects
University of Pennsylvania Building in Philadelphia
The opening of New College House, a purpose-built college house in Penn's college house system designed to bring together undergraduates, faculty, staff and graduate students in a shared community.
Mar 14 + 11, 2016
Philadelphia Schuylkill Yards Master Plan
Design: Team SHoP + West 8 Urban Design & Landscape Architecture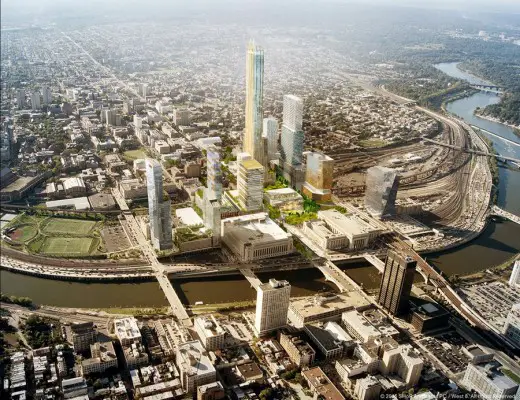 image courtesy West 8 and SHoP Architects
Philadelphia Schuylkill Yards Master Plan
Initial phases of the projected 20-year development plan will consist of 5 million square feet of mixed-use real estate on a 10-acre site next to Drexel's main campus and adjacent to Amtrak's 30th Street Station and Brandywine's Cira Centre.
Jan 25, 2016
The Buerger Center for Advanced Pediatric Care, Children's Hospital of Philadelphia – CHOP
Design: Pelli Clarke Pelli Architects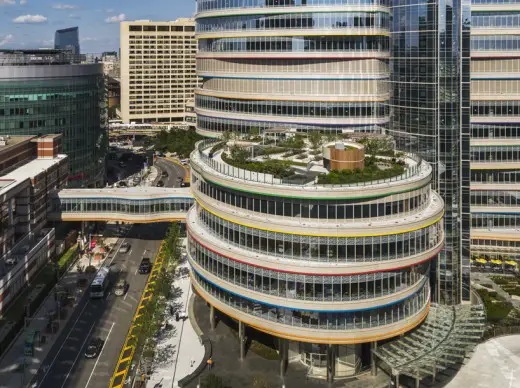 photograph : Jeff Goldberg, Esto
Buerger Center for Advanced Pediatric Care Building
Apr 19, 2013
GSK Offices Navy Yard
Interiors design: Francis Cauffman ; Core and shell architect: Robert A.M. Stern Architects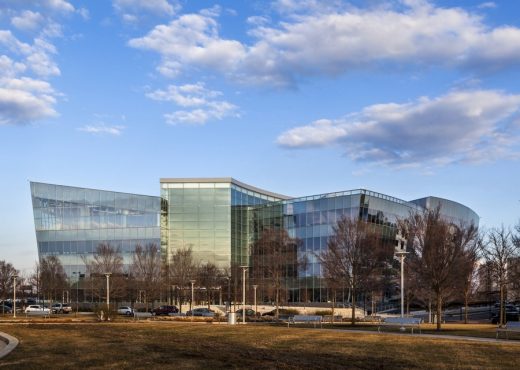 photo : Francis Dzikowski / Esto for Robert A.M. Stern Architects, LLP
GSK Offices Navy Yard
GSK has been transforming its workspace throughout the world, and evolving and enhancing the collaborative model with each project. The Navy Yard is the first office built and designed from the ground up to meet GSK's needs for a flexible, interactive, healthy, and productive workspace. Prior to the move, Francis Cauffman created three pilot projects where GSK employees tested furniture and technology solutions. The employee feedback on furniture and ergonomic features was incorporated into the final design.
Oct 30, 2011
Annenberg Public Policy Center
Design: Maki and Associates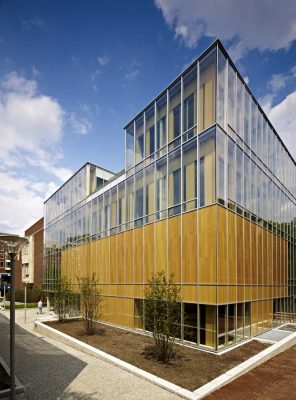 photo SCHOTT USA © Jeffrey Totaro
Annenberg Public Policy Center Philadelphia
Having received the contract to build an open and modern building for the Annenberg Public Policy Center (APPC), the renowned communication science institute of the University of Pennsylvania in Philadelphia, the architect's office of Maki and Associates developed a compact block completely of glass. Wood was used to complement the glass shell and add warmth and liveliness to the cool, sober façade material.
May 10, 2011
Translational Research Center at Penn, Philadelphia
Design: Rafael Vinoly Architects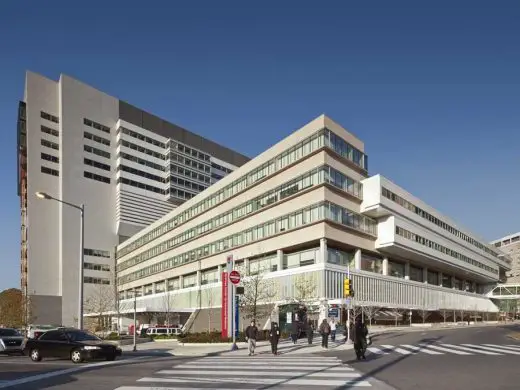 image from architects
Translational Research Center at Penn
Nov 23, 2010
National Museum of American Jewish History
Design: Ennead Architects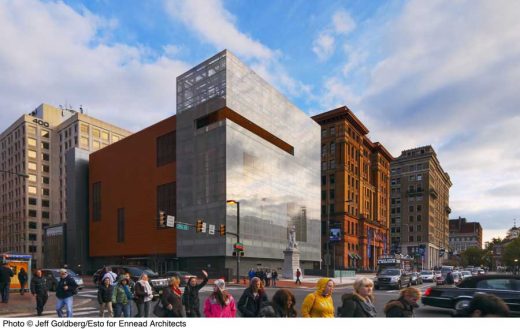 photo © Jeff Goldberg/Esto for Ennead Architects
National Museum of American Jewish History
Philadelphia Buildings
We've selected what we feel are the key examples of Philadelphia Buildings, USA. We aim to include projects that are either of top quality or interesting, or ideally both.
We cover completed Philadelphia buildings, new building designs, architectural exhibitions and architecture competitions across the state. The focus is on contemporary buildings but information on traditional buildings is also welcome.
Major Philadelphia Building Designs, alphabetical:
American Commerce Centre – ACC Tower
Design: Kohn Pedersen Fox (KPF)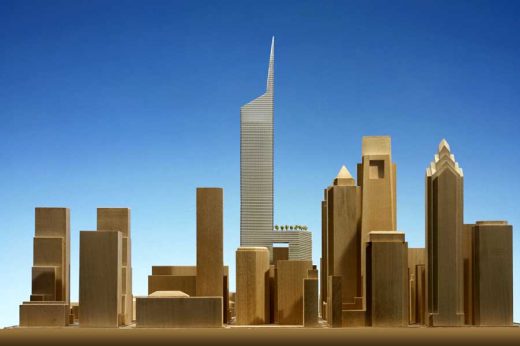 model : Awad Architectural Models Inc.
ACC Tower Philadelphia
Center for Human Rights Education
Design: Moshe Safdie and Associates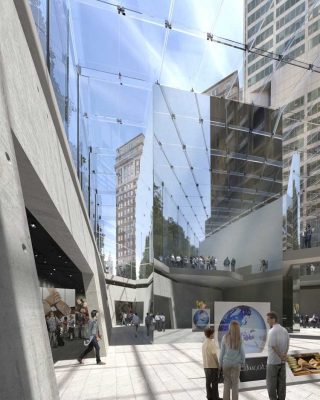 image : Moshe Safdie and Associates
Center for Human Rights Education Philadelphia
Clyde F. Barker Penn Transplant House
Design: Rafael Viñoly Architects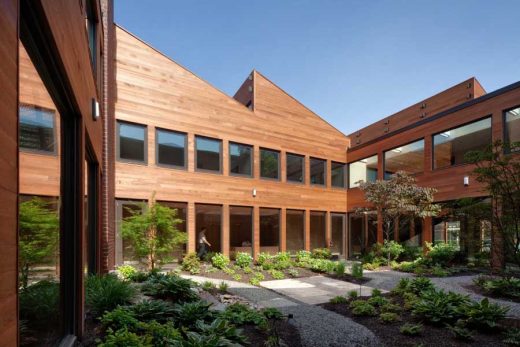 photograph : Ty Cole
Clyde F. Barker Penn Transplant House
More Philadelphia Buildings online soon
Major Philadelphia Architecture, alphabetical:
Barnes Foundation – proposed new building, Merion, Pennsylvania
–
Tod Williams and Billie Tsien Architects
Central Library – Renovation & Expansion
–
Moshe Safdie Architects
Cherry Lane House, East Falls
–
Richard Neutra
Comcast Center, 1701 John F. Kennedy Blvd
2007
Robert A. M. Stern Architects
975 ft high
37storeys
Architect of Record: Kendall/Heaton Associates, Inc., Houston
Esherick House, Chestnut Hill
–
Louis Kahn
Guild House
–
Venturi, Scott Brown & Associates
Holiday Home, ICA
2006
UN Studio Architects
Institute for Scientific Information
1979
Venturi Rauch Scott Brown
Jewish History Museum
2007-
Polskek Partnership Architects
For National Museum of American Jewish History
Kimmel Center for the Performing Arts
–
Design: Rafael Vinoly Architects
Norman Fisher House
1960
Louis Kahn
Philadelphia mixed-use development – proposal
–
ShoP Architects
The Philadelphia Museum of Art new galleries – Ruth and Raymond G. Perelman Building
2004-07
Gluckman Mayner Architects
$90m
Richards Medical Center
1957-61
Louis Kahn
University of Pennsylvania Health System – Penn Medicine
2008
Design: Rafael Vinoly Architects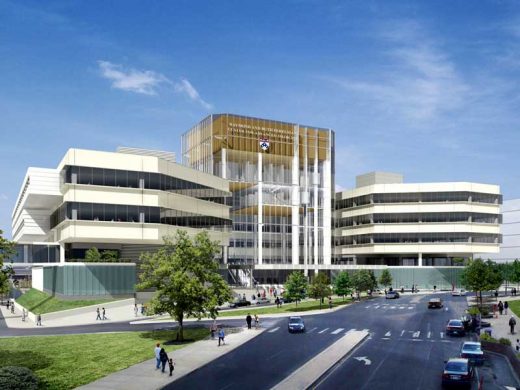 image from architects office
Center for Advanced Medicine : CAM
Vanna Venturi House
1962
Venturi, Scott Brown & Associates
More Philadelphia Building Designs online soon
Location: Philadelphia, PA, USA
Architecture in Philadelphia
Contemporary Pennsylvania Architectural Projects
Philadelphia Architecture Designs – chronological list
Louis Kahn Architect : Jewish architect born in Estonia, he lived and worked in Philadelphia, Pennsylvania
Philadelphia Urban Voids by ecosistema urbano arquitectos
Comments / photos for the Philadelphia Architecture page welcome