American Home, Houses United States, Residences, Real Estate, Buildings
American Homes : US Residential Property
Key United States Real Estate Developments – Houses in the USA
post updated May 4, 2021
American Architecture Links : links
American Home Designs
This page contains a selection of major American home designs, with links to individual project pages. We've selected what we feel are the key American Houses, but building additions are always welcome.
We've selected what we feel are the key examples of American Homes. We aim to include projects that are either of top quality or interesting, or ideally both.
We cover completed US residential buildings, new property designs, architectural exhibitions and architecture competitions across the USA. The focus is on contemporary US properties but information on traditional houses is also welcome.
We have 5 pages of American Residential Architecture selections with links to many individual project pages.
American Houses : main page with key residences + new residential designs
American Homes : projects from A-F (this page)
American Residences : projects from G-M
American Home Designs : projects from M-R
American House Designs : projects from S-Z
American Homes – Recent Designs
US Residential Designs, chronological:
American Houses up to 2014
Jun 23, 2014
Mill Valley House, California
Design: CCS Architecture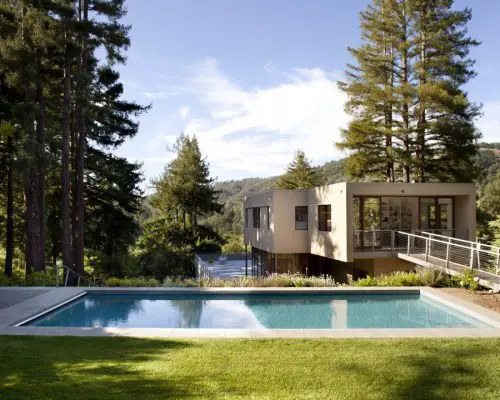 image from architect
Mill Valley House in California
Oct 24, 2013
Clifftop House Maui, Hawaii, USA
Design: dekleva gregorič arhitekti



photo © Cristobal Palma
Clifftop House Maui
This house is dug into the ridge of an escarpement on the windswept north coast of the island. The 'Roof house' is for a windsurf sail designer who had moved with his family from Europe. They fell in love with this unpopulated area with high cliffs at the coast, fresh onshore breeze and undisrupted views to the ocean. Having found the perfect spot it took them three years to buy the land and several more to finish the house.
Oct 13, 2013
New House in Omaha, Nebraska
Design: TACKarchitects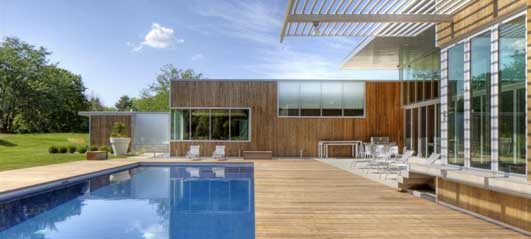 photo from architects
New House in Omaha
This is an expansive timber-clad American residence which is inspired by the elegant residential projects by Richard Neutra.
Sep 20, 2013
Net Zero Energy House, Cupertino, California
Design: Klopf Architecture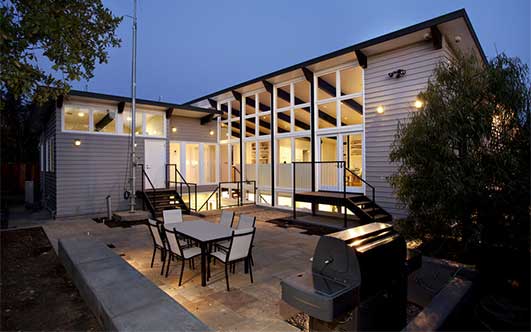 photo : Mariko Reed
Net Zero Energy House
A partially-submerged lower level was designed with a pulled-back floor plate to create a light-filled atrium. In conjunction with the mechanical engineer, Klopf designed a net-zero energy home featuring insulated concrete forms, structural insulated panels, high-performance windows, cementitious siding and a solar photovoltaic system sized to cover all the energy usage.
Aug 20, 2013
Tred Avon River House, Maryland
Design: Robert M. Gurney Architect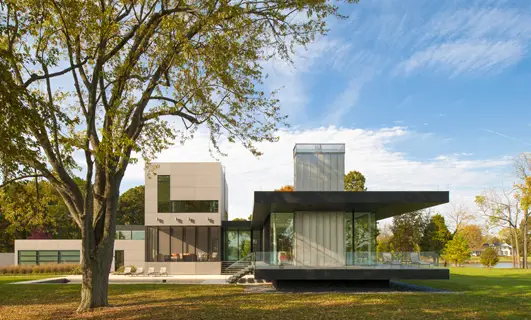 photo : Maxwell MacKenzie Architectural Photographer
Tred Avon River House
This contemporary American house is crisply detailed and minimally furnished to allow views of the picturesque site to provide the primary sensory experience. The house was designed as a vehicle to experience and enjoy the incredibly beautiful landscape, known as Diamond Point, seamlessly blending the river's expansive vista with the space.
Jul 15, 2013
Levin Residence, Arizona
Design: Ibarra Rosano Design Architects



photo : Bill Timmerman
Levin Residence
Three simple volumes hover above the desert, responding to the challenges of the site and to an ethic of building with minimal disruption to the natural environment. The site slopes toward the west into a wash and is split by a smaller tributary valley, splitting the buildable area in half.
Jun 3, 2013
Glen Lake Tower
Design: Balance Associates Architects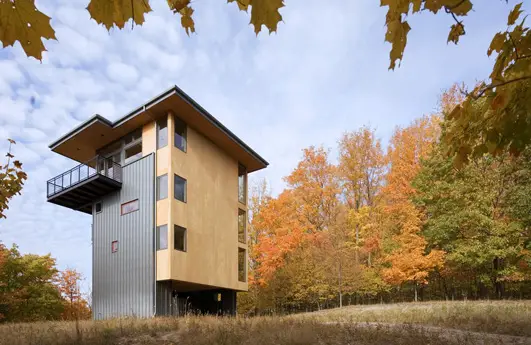 photo : Steve Keating Photography
Glen Lake Tower House
Directed to create "a sustainable retreat that reflects the timeless beauty and simple comforts of the area," the architects responded by raising the primary living space above the dense surrounding woods in order to gain light, air and views of Glen Lake and Lake Michigan beyond. The central idea is to sandwich a 1400 sqft three-story plywood box between two metal-clad walls: this plywood box is then suspended a full story above ground level.
May 27, 2013
Capitol Hill Residence, Seattle, Washington
Design: Balance Associates Architects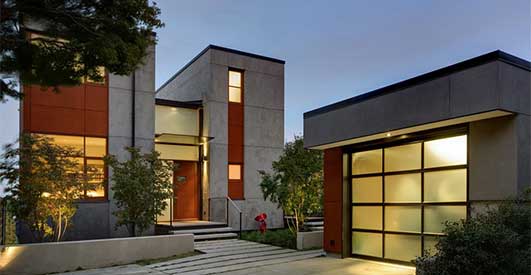 photo : Steve Keating Photography
Capitol Hill Residence
With a compact form and several integrated sustainable systems, this residence achieves the client's goals to maximize the site's views and resources while responding to its microclimate. The roof rainwater collects into a steel entry water feature, day light penetrates deep into the house through a central translucent slot, and exterior mounted mechanical shades can prevent excessive heat gain.
May 23, 2013
New Canaan Residence, Connecticut
Design: Specht Harpman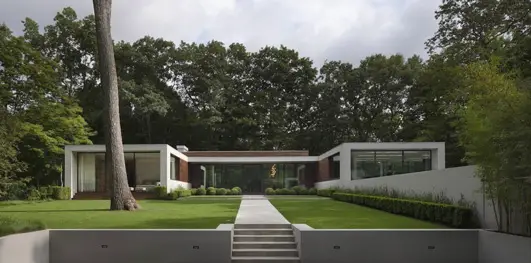 photo : Elizabeth Felicella
New Canaan Residence
This residence is nestled into a lush hilltop site in a forested part of the state. The property is a renovation of a 1950's house which had a series of unsympathetic additions, and whose owners originally wanted only a kitchen upgrade.
May 23, 2013
West Lake Hills Residence, Austin, Texas
Design: Specht Harpman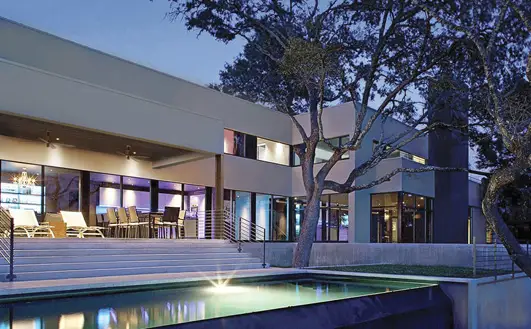 photo: Taggart Sorensen
West Lake Hills House
This project on a densely tree-covered site was a renovation and expansion of a modest 1970's house. The alterations sought to erase all visible traces of the original house whilst retaining most of the structure.
May 22, 2013
Walloon Lake House, Michigan
Design: DUDZIK Studios
Walloon Lake House
May 21, 2013
Tucson Mountain Retreat, Arizona
Design: DUST Architects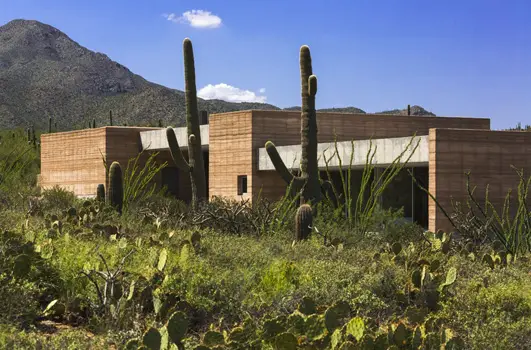 photo © Jeff Goldberg / Esto
Tucson Mountain Retreat
Elegant rammed earth house for Karen and David Francis whose primary residence is in San Diego. David grew up in Arizona so the Tucson Mountain Retreat and living in the desert are like a homecoming for him.
Philip Johnson Glass House, New Canaan, Connecticut, USA – news
Philip Johnson Glass House
Miller House, Columbus, Indiana : Eero Saarinen – opens to public
photo Courtesy of the Indianapolis Museum of Art
Miller House
Recent American Houses
Apr 24, 2013
The Phoenix House, Arizona
Design: Messana O'Rorke



image from architect
Contemporary Arizona House
This vast and strikingly beautiful desert landscape is the inspiration for this simple contemporary residential design. The tectonic mechanisms responsible for the landscape, where mountain ranges seem to slide past each other, is emulated by massive parallel walls of the house.
American Homes up to 2013
Dec 3, 2012
Olnick Spanu House, Garrison, New York
Design: Alberto Campo Baeza
Olnick Spanu House
This is an elegant contemporary American house by a famous Spanish architect – the solid base is recessed into the ground whilst the upper storey is glazed and protected only by a delicate roof.
Apr 13, 2012
Cloud House, Colorado Plateau
Design: Axis Mundi
Cloud House
This new American residence is a weekend retreat, situated on a promontory high along a ridge, affording wonderful views. The house nestles in a grove of dramatic Aspen trees.
Carrillo Residence, Pacific Palisades, Los Angeles, California
Design: Ehrlich Architects



photograph : Barry Schwartz
Pacific Palisades House
This residence occupies a long narrow site on the rim of Santa Monica Canyon with distant views of the Pacific Ocean. Designed for a young couple with two children, the house addresses the formal and informal needs of the family while taking advantage of the Southern California climate and views. The orientation of the house reinforces the geometry of the site. A series of stone masses define the ground floor program of the home while a pristine floating white box houses the bedroom wings and slides over and past the stone to gesture towards the canyon and the views.
Bigger is Better House, Los Angeles, California
Design: WROAD



image from WROAD
Bigger is Better House
This is a 10,000 sqft residence. The "Bigger is Better House" does not merely scale a typical American house resulting in an inflation of space but rethinks its programmatic composition and infuses it with informal programs. The home has the girth of a sumo wrestler and the ecological footprint of a geisha – proving that bigger is also better in regards to sustainability.
Allandale House, Mountain West
Design: William O'Brien Jr.



picture from architects
Allandale House – added Jan 17, 2012
Diamondhouse, Santa Monica, Los Angeles, California
XTEN Architecture



image from architects
Santa Monica house
New American Homes
US Home Designs, alphabetical:
Arritt Farm House, Virginia
Design: OnSite



image from architects
Bradley Residence, Arizona
Design: Michael P. Johnson Design Studios



photo : Bill Timmerman
Blue Rock House, New York
Design: anmahian winton architects


image from architect
Brittlebush, Taliesin, Wisconsin
Design: Simón De Agüero



photograph from architect
Carmel Valley House, California
Design: Turnbull Griffin Haesloop



photo : Matthew Millman
Cedar Park House Seattle, Washington
Architect : Peter Cohan



picture : Lara Swimmer Photography
Centrifugal Villa, Southampton, New York State
OBRA Architects


picture from architect
Claremont House, Illinois
Design: Brininstool + Lynch



picture : Christopher Barrett, Hedrich Blessing
East of Market House, Washington
COOP15 Architects



photo © Lara Swimmer
Enatai House, Washington
COOP15 Architects



photo © Gregg Krogstad
Ellsworth Residence, Arizona
Design: Michael P. Johnson Design Studios



image : Bill Timmerman
First & McGraw, Washington
Architect: COOP15



photo © Lara Swimmer
More US Homes online soon
Location: USA
Architecture in USA
Contemporary Architecture in USA
Buildings / photos for the American Homes pages welcome