AIA Architecture Honor Award Winner Architect News, USA Buildings Prize 2009
2009 AIA Architecture Honor Awards
AIA Architectural Prize, USA – Buildings + Architects
Jan 12, 2009
AIA Architecture Honor Awards
Basilica of the Assumption Restoration, Baltimore, Maryland, USA
–
John G. Waite Associates, Architects PLLC
Cathedral of Christ the Light, Oakland, California, USA
–
Skidmore, Owings & Merrill
Cathedral of Christ the Light
Charles Hostler Student Center, Beirut, Lebanon
–
VJAA
The Gary Comer Youth Center, Chicago, Illinois, USA
–
John Ronan Architects
The Gary Comer Youth Center
Museo del Acero, Monterey, Mexico
–
Grimshaw Architects
Museo del Acero
The Lavin-Bernick Center for University Life, New Orleans, Louisiana, USA
–
VJAA
The New York Times Building, New York City, USA
–
Design: Renzo Piano Building Workshop (RPBW) / FXFowle Architects
The New York Times Building
Plaza Apartments, San Francisco, California, USA
–
Leddy Maytum Stacy Architects
Salt Point House, Salt Point, New York, USA
–
Thomas Phifer and Partners
2009 AIA Honor Awards Recognize Excellence in Architecture, Interiors, and Urban Design
Washington, D.C. – January 8, 2009 – The American Institute of Architects (AIA) have selected the 2009 recipients of the AIA Institute Honor Awards, the profession's highest recognition of works that exemplify excellence in architecture, interior architecture and urban design. Selected from over 700 total submissions, 25 recipients located throughout the world will be honored in April at the AIA 2009 National Convention and Design Exposition in San Francisco.
2009 Institute Honor Award for Regional and Urban Design
Six projects were selected to receive the 2009 Institute Honor Award for Regional and Urban Design. The projects range from singular buildings with an impact on the urban context, to zoning codes and master plan projects, to designs for entirely new cities. The 2009 Institute Honor Awards for Regional and Urban Design Jury included: Jury Chair Jonathan J. Marvel, AIA, Rogers Marvel Architects PLLC; Samuel Assefa, Assoc. AIA, City of Chicago, Department of Planning and Development; Tim Love, AIA, Utile Inc. / Architecture + Planning; Ivenue Love-Stanley, FAIA, Stanley Love-Stanley PC; and Stephanie Reich, AIA, City of Glendale, Planning Division.
Orange County Great Park, Irvine, California
TEN Arquitectos
Orange County California's Great Park will bring over 1,400 acres of urban parkland to the city of Irvine and the surrounding region. Planned on the former site of El Toro Air Force base, this large tract of undeveloped land will include a man-made canyon that runs through the park and will support a diverse range of active and passive programs. A great lawn, sports park, botanical gardens, and several arts and cultural facilities, including a large outdoor amphitheater will be programmed into the park.



image from architect
Orange County Great Park
Foshan Donghuali Master Plan, Guangdong, China
Skidmore, Owings & Merrill LLP
With unremitting high-rise development threatening Foshan's Old Town, city officials sought ways to conserve the ancient area while simultaneously creating a sustainable, modern central district able to meet the inevitable need for growth of a burgeoning city of 3.5 million.  The plan is built at a density able to support a new, transit-oriented, mixed-use downtown while at the same time defraying the costs of preserving and restoring the vibrancy of the city's historic Old Town and Temple. The Foshan Plan aims at providing a new model for historic conservation and revitalization that can apply throughout China.
Between Neighborhood Watershed & Home, Fayetteville, Arkansas
University of Arkansas Community Design Center
This 43-unit Habitat for Humanity residential project is a pilot LEED-Neighborhood Development (LEED-ND) to be built for $60/sq ft plus infrastructure costs. The objective is to design a demonstration project that combines affordability with best environmental practices as designated by the U.S. Green Building Council. Porchscapes is a Low Impact Development (LID) project funded under the U.S. Environmental Protection Agency's Section 319 Program for Nonpoint Source Pollution. LID is an ecological stormwater management approach that sustains a site's predevelopment hydrologic regime with treatment landscapes distributed throughout the project.
Southworks Lakeside Chicago Development, Chicago
Sasaki Associates, Inc. and Skidmore, Owings & Merrill, LLC
Located in Chicago's historic Southside neighborhood, the former South Works steel mill site is the largest vacant site for redevelopment in the city. At more than 600 acres and with 1.5 miles of Lake Michigan shoreline, the site offers a milestone opportunity to create an innovative and sustainable new community that will be compact, pedestrian-oriented, and closely tied to transit, which will connect people to the lakefront for the first time in over a century.
The Central Park of the New Radiant City, Guangming New Town, China
Lee + Mundwiler Architects
The Central Park of the New Radiant City covers 2.37 km2 in Shenzhen, China. The city was selected as Communist China's first foray into capitalism because of its proximity to Hong Kong. Shenzhen flourished during the 1980-90s rapid industrialization, which destroyed much of the natural environment and significantly increased pollution levels. Many migrant workers flocked to Shenzhen to work in the booming industries.



lee + mundwiler architects
Radiant City Shenzhen
Treasure Island Master Plan, San Francisco
Skidmore, Owings & Merrill LLP
Bold moves set the framework for the redevelopment of Treasure Island. A complex and thoroughly articulated urban design and architectural plan establishes relationships among buildings, public open space, transportation, views, and natural forces, creating a compact, transit-oriented community with a commitment to sustainability unparalleled in the San Francisco Bay Area.
2009 Institute Honor Awards for Architecture
The 2009 Institute Honor Awards for Architecture recognize nine unique projects. The types of projects range from cathedrals to trend-setting residential projects. These projects have a tremendous impact on the social and physical fabric of the communities they serve. Many were designed with budget constraints and a number of projects were a reuse of existing buildings or an integration of old with new. Jury members include: Jury Chair David Lake, FAIA, Lake | Flato Architects; Carlton Brown, Full Spectrum of New York; Michael B. Lehrer, FAIA, Lehrer Architects; James J. Malanaphy, III, AIA, The 160 Group, Ltd; Paul Mankins, FAIA, Substance Architecture Interiors Design; Anna McCorvey, AIAS Director, Northeast Quad; Anne Schopf, FAIA, Mahlum Architects; Suman Sorg, FAIA, Sorg and Associates, P.C.; and Denise Thompson, Assoc. AIA, Francis Cauffman.
Basilica of the Assumption, Baltimore
John G. Waite Associates, Architects PLLC
Restoration of the Basilica of the Assumption (also known as the Baltimore Cathedral), a major architectural landmark and masterpiece of the Federal style, removes a century and a half of obscuring alterations to bring back Benjamin Henry Latrobe's concept of luminosity and spatial configuration. The now fully functioning cathedral again serves the people of Baltimore while reclaiming one of America's most brilliant architectural designs, by its first professional architect; one that greatly influenced the development of the country's architecture.
Cathedral of Christ the Light, Oakland, California
Skidmore, Owings & Merrill LLP
The Cathedral of Christ the Light resonates as a place of worship and conveys an inclusive statement of welcome and openness as the community's symbolic soul. The glass, wood, and concrete structure ennobles and inspires through the use of light, material, and form.
Charles Hostler Student Center, Beirut, Lebanon
VJAA
The Hostler Center integrates social gathering spaces for students and faculty with sports facilities, a theater, and underground parking. Challenging the idea of a single large-scale building and similarly scaled open plaza, the project instead proposes multiple building volumes interconnected into a continuous field of habitable space by its gardens and green roofs.
The Gary Comer Youth Center, Chicago
John Ronan Architects
This 74,000-square-foot youth center, located in one of Chicago's poorest neighborhoods, demonstrates a commitment to social progress in providing a constructive environment for area youths to spend their after-school hours. The center provides support for the programs of a 300-member drill team/performance group for children of ages 8 to 18 and provides space for various youth educational and recreational programs for disadvantaged children to better their chances of success in life.
Horno³: Museo del Acero, Monterey, Mexico
Grimshaw Architects
Horno3: Museo Del Acero comprises a full restoration of a once-derelict 1960s blast furnace. The abandoned furnace structure and cast hall are the centerpiece of the museum, housing an interactive exhibit that brings the old furnace to life, allowing visitors the unique experience of touring inside this piece of industrial history.
The Lavin-Bernick Center for University Life, New Orleans
VJAA
The challenge was to transform a rigidly compartmentalized and environmentally inefficient building into a dynamic, sustainable new university center. Only the existing concrete structure was retained, saving roughly $8 million in construction cost. The project was successfully completed for $189/SF, 14 months after Hurricane Katrina. Many of the sustainable design strategies used (canopies, shutters, balconies, and fans) were adapted from climate-responsive architecture traditional to New Orleans.
The New York Times Building, New York City
Design: Renzo Piano Building Workshop (RPBW)
The New York Times Building incorporates many transcendental themes in good architecture—volume, views, light, respect for context, relationship to the street—with a design that is open and inviting, providing its occupants with a sense of the city around them.
Plaza Apartments, San Francisco
Leddy Maytum Stacy Architects
Located on a prominent corner in an improving San Francisco redevelopment area, this new, mixed-use project provides permanent housing for the chronically homeless as a pilot project of Mayor Gavin Newsom and the Dept. of Public Health's "Housing First" program, which is a cornerstone of the city's 10-year plan to end homelessness. The sustainably designed 9-story building provides 106 highly efficient studio apartments with on-site mental and physical health services for the residents.
Salt Point House, Salt Point, New York
Thomas Phifer and Partners
Constructed of elegantly efficient and economical materials, this 2,200-square-foot house in New York's Hudson Valley is sited on a meadow with views to a small private lake. The house is carefully sited to take advantage of the prevailing summer breezes. Strategically placed operable windows and ventilating skylights allow the breeze to flow through the home.
2009 Institute Honor Awards for Interior Architecture
The 2009 Institute Honor Awards for Interior Architecture recognize 10 projects. The jury was drawn to projects that skillfully used natural light and provided unique architectural approaches to common design problems. Jury members include: Jury Chair Mark P. Sexton, FAIA, Krueck & Sexton Architects; Joan Blumenfeld, FAIA, Perkins + Will; Elisabeth Knibbe, AIA, Quinn Evans Architects; Arvind Manocha, Los Angeles Philharmonic Association; and Kevin Sneed, AIA, OTJ Architects
Barclays Global Investors Headquarters, San Francisco
STUDIOS Architecture
Barclays Global Investors' new headquarters office embraces innovation within a professional environment through thoughtful, sophisticated design and provides the infrastructure necessary to meet the firm's significant technological demands. The design encourages collaboration and interaction, interspersing break areas within work areas, and offers a variety of meeting spaces.
Chronicle Books, San Francisco
Mark Cavagnero Associates
Chronicle Books, a popular San Francisco-based publishing company, needed a new home. Chronicle Books' new home now reflects their strong communal values, fosters innovation, and responds to their unique relationship to books. In support of the office's workflow, new circulation between floors provides intuitive access and visual connections. The varied spaces create an open, charged social atmosphere while preserving personal space for quiet and concentration.
The Heckscher Foundation for Children, New York City
Christoff:Finio architecture
Commissioned by the Heckscher Foundation for Children, this project transforms a stoic neo-Georgian townhouse built in 1902 in New York City into a modern interior for the foundation's administration, providing offices, a boardroom, and small conference spaces. By incising a shaft of daylight from the ground floor to rooftop, the organization of the building's activity is centered on a single gesture of light and space.
Jigsaw, Washington, D.C.
David Jameson Architect
Recycling a single-story suburban house located on a busy corner site, Jigsaw introverts itself in a continuous spatial flow around an open air courtyard carved from the home's remains. A matrix of spaces is linked by movement through them as stories merge and spaces relate to each other as they rise and fall in a series of interlocked puzzle-like volumes.
R.C. Hedreen, Seattle
NBBJ
R.C. Hedreen Company's new office goes beyond practice to a transformative experience that creates a new kind of environment for conducting business. The project called for a complete remodel of the second floor in Seattle's 1927 Art-Deco Olympic Tower building and transitioned the company from a small, traditional office space to a large, open environment offering functionality and sophistication.
School of American Ballet, New York City
Diller Scofidio + Renfro
The expansion project for the School of American Ballet is located in the facilities of the official training academy for the New York City Ballet. The 8,200-square-foot project includes the addition of two new dance studios within the space of two existing ones. Like nesting dolls, each of the new studios is housed in the volume of the existing.
Sheila C. Johnson Design Center, New York City
Lyn Rice Architects
The Sheila C. Johnson Design Center establishes a new 32,800sf campus nexus for Parsons' The New School for Design by uniting and comprehensively re-organizing the street-level spaces of the school's four discrete buildings around a new campus quad. The center performs as an expansive urban threshold that draws together the school's creative programs and its vibrant Greenwich Village context.
Tishman Speyer Corporate Headquarters, New York City
Lehman Smith McLeish
The Corporate Headquarters for Tishman Speyer Properties is located in the historic Rockefeller Center.  The project relocated Tishman's corporate office and consolidated business units in this flagship space, which is one of the firm's signature properties. Modifications to the 1931 building created dramatic spaces that highlight the firm's forward-thinking mission, mirrored most prominently by their Modern art collection.
Town House, Washington, D.C.
Robert M. Gurney, FAIA
Built like its neighbors, over a century ago and part of a continuous network of buildings in a historical district, this town house has been completely renovated. Floor openings with bridges, skylights, and a three-story galvanized steel wall animate the spaces and integrate the floors vertically. Exposed brick walls, painted white are juxtaposed to blue epoxy floors. Glass and steel elements compose the spaces and unify a diverse but consistent palette of materials, resulting in a Modern spatial quality within a traditional town house typology.
World Headquarters for IFAW, Yarmouth Port, Massachusetts
designLAB architects
The World Headquarters for the International Fund for Animal Welfare (IFAW) established a precedent for a new work environment that is also a model for sustainable, low-impact development for the surrounding region. The desired building was to be transparent and open to reflect their honesty and communication. It was to be contemporary to reflect their global advocacy, yet inspired by the local vernacular. The result is a remarkable synergy of inhabitation that is reflected in the project at all scales.
AIA Architecture Firm Award 2009
Location: USA
AIA Architecture
The American Institute of Architects
For over 150 years, members of the American Institute of Architects have worked with each other and their communities to create more valuable, healthy, secure, and sustainable buildings and cityscapes. By using sustainable design practices, materials, and techniques, AIA architects are uniquely poised to provide the leadership and guidance needed to provide solutions to address climate change. AIA architects walk the walk on sustainable design. Visit www.aia.org/walkthewalk.
AIA Living the Box Competition
AIA New York Architecture Lecture
USA Building Designs
America Architecture News – latest building updates
Contemporary Southern US Architectural Designs – recent selection from e-architect:
Arkansas Museum of Fine Arts, Little Rock, Arkansas
Architects: Studio Gang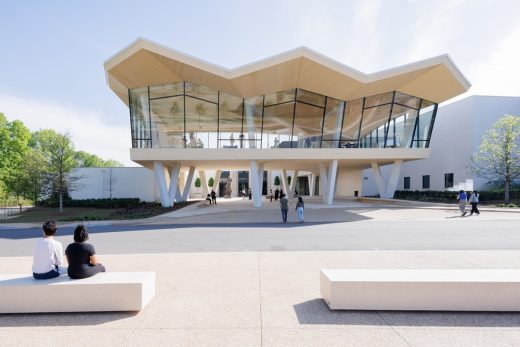 photo © Iwan Baan
Little Rock Art Museum, Arkansas
Dallas Museum of Art International Design Competition Shortlist, Dallas, Texas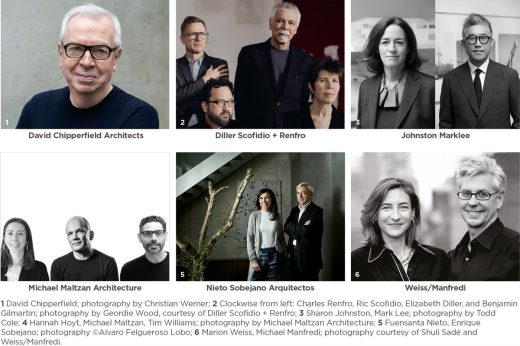 photo courtesy of Dallas Museum of Art
Dallas Museum of Art Design Competition Shortlist
Comments / photos for the 2009 AIA Architecture Honor Award page welcome