El Paso Housing, US Residential Property Design Images, American Building Project News
El Paso Development : Housing in Texas
New Texas Homes, USA design by OFIS Architects, Slovenia
Mar 23, 2010
Two nests
Proposal for Affordable Sustainable Housing in El Paso, Texas, USA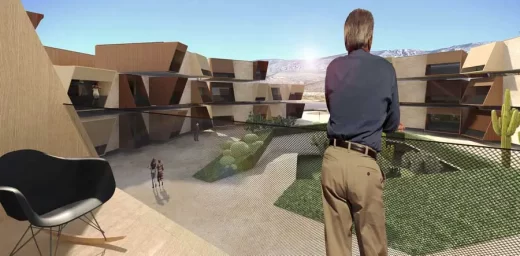 image courtesy of architects practice
El Paso Housing, Texas
The proposal separates the site in two roughly equal halves: North and South. The North is proposed for Phase II of the development, because its corner location suited best as commercial or mixed use development. The El Paso Housing complex is located in more quiet, southern part of the plot and is gathered in a form of a nest – living mount of apartments, stuck one above another.
The form makes a perfect shape as a shield protecting the units from sun and wind and the other hand offers quality environment: light, well ventilated with created different types of shared areas, both external and internal. Apartment units are orientated towards the internal park or towards the exterior. With its orientation keep intimacy and opened views to inhabitants. The El Paso apartments on level +1 around the internal park have atriums and terraces connected to the plaza.
Central garden
The roof of the garage on ground level creates internal park on the level +1. Apartments on the ground have own gardens and patios protected by sand mounts-lifted landscape creating fence and feeling of security and privacy. Apartments on level +1 around the internal park have atriums and terraces connected to the plaza. All other apartments have small loggias-shading devices with small space for plants.
Communal areas – spaces of friendship, communication and interaction
Spaces between and around apartment units are shared spaces. The organization of the El Paso Housing evokes communal diverse space. Some spaces are sunny and can be used on cold days; some are shaded and protected from the sun and wind. Some spaces are more intimate others opened and evoke communication. Some have views to the City or the mountains, others are enclosed. On the level 0 lies garden around the island with patterns of sand and desert vegetation. Topography of landscape is folded and creates intimate patios in front of ground apartments. Parts of level 0 are used for parking and loading.
Intimate Park
The roof of the parking on the ground level creates internal park on the level +1.
Apartments on the ground have its own gardens and patios protected lifted landscape creating natural barrier and feeling of security and privacy. Apartments on level +1 around the internal park have atriums and terraces which are connected to the plaza. All other apartments have small loggias.
Pedestrian friendly
Access to the garage is from the Southeast. Here also external covered parking for visitors are located. Entrance for bicycle and bicycle storage is from the same level. All the rest of the site is for pedestrians only.
Landscape
Landscape design is inspired from natural environment around El Paso. It is combination of stones, sand and pebbles in different colours and textures. Plants selection does not need extra care and maintenance and it does not need artificial watering- combination of cactuses, palm trees and desert plants. Landscape creates flat areas as well as ramps and slopes. These artificial mounts create entrances to the plaza on level +1 or fences that offer intimacy of ground apartments and their gardens.
Living unit: space of intimacy, safety and protection
There are two types of living units: 52 one bedroom apartments and 14 two bedroom apartments. Apartments are repetitive and simple but when gathered together perform a unique inclosed unit.
All units are combined from repetitive elements and allow construction with prefabricated elements. All bathrooms, closets, kitchen units, windows with shading devices are the same module.
Prefabrication and repetition
Housing units are repetitive rectangular containers made in horizontal and vertical grid with common dimensions. A repeated layout will be economical and facilitate faster construction. Construction systems and installation details are uncomplicated. Both, apartment units as well as its elements such as room sizes, kitchen, bathroom, window and door dimensions, closet assemblies, cabinets, ceiling and flooring materials are standardized and simplified.
They can be prefabricated in a factory and installed on site. Stairs, columns, beams, elevator shafts, floor and wall panels, vertical shafts such as refuse chutes are precast elements. Structure is simple made of reinforced concrete with standardized beam and column sizes. Load-bearing walls are external apartment units divisions so at the same time produce effect of sustainability. All other elements inside the unit and common areas are non-load bearing walls so flexibility inside the units is possible.
Innovative Use of Materials & Designs
Project consists of simple and repetitive units stuck together in a unique form. Complex is a living mount with shared areas between living units. Units are separated due to cooling effect and have shading devices. Different levels create rich external spaces and terraces that are occupied by shared facilities. Thick walls of living units that keep the right temperature inside the units have plaster and stucco. Shading system is made of precast wooden panels. Shading device is of textile that produces shade but anyway allows inhabitants to see through. Materials are durable, economical and easy to maintain.
Other Conceptual Issues
Important conceptual issue is to create a human friendly environment. Shared spaces are positioned and organized in a way that evokes friendship and dialog. The scheme provides a welcoming and adaptable living space for local families. Security is still a priority. Complex is easy to control and secure, nest organization evokes privacy and intimacy. On the other hand views, daylight, and cross ventilation is allowed.
Roof Garden / Living Roof
The complex is higher on the north and lower on the south. Difference in levels creates terraces and living roof. These are spaces of diverse character and sizes. Space between apartment entrances is airy and bright covered space that creates loggia effect. These are small shared areas for dialog, rest and meetings that are used as semi private terrace.
On top of the units roof terraces appear. Some are covered, some uncovered, and some are partly closed from the side. This creates different spaces that can be used in all weather condition. One can enjoy sun in the winter or be protected from it in hot summers. One can be protected from the strong wind but still enjoy external space that is ventilated and airy. On roof top we propose a gym and small spa that is closed. It can be extended to the terrace.
We also propose spaces for barbecue and sun-terraces. Since the roof appears both, on top of level 3 or level 4 each unit has its roof terrace almost next to it. Roof of garage is an internal garden that is a special feature of the housing. This space creates its own intimate, green and friendly ambient. One fells safe and protected from the sun, wind, views from the road and surrounding.
El Paso Housing images / information from OFIS
El Paso Housing Texas : further information
Location: El Paso, Texas, USA
Architecture in USA
Contemporary Architecture in USA
Izola Housing, Slovenia – design by OFIS
Izola Housing
American Architecture – Selection
Winspear Opera House, Dallas
Foster + Partners
Perot Museum of Nature & Science, Dallas
Morphosis
Franklin Mountain House, north side of El Paso, Texas
Architects: hazelbaker rush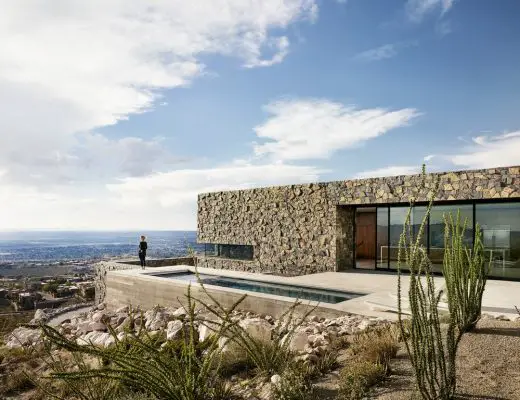 photo : Casey Dunn
Franklin Mountain House
Wyly Theatre – AT&T Performing Arts Center
Joshua Prince-Ramus / Rem Koolhaas
Comments / photos for the El Paso Housing – Residential Buildings in Texas design by OFIS Architects Slovenia page welcome