New Orleans Homes Images, Louisiana Houses, MIR Buildings Architects, USA Residential Designs
New Orleans Make it Right Homes
Make it Right Housing Development – Hurricane Katrina MIR – Brad Pitt Charity for Homeless People
Mar 27, 2008
New Orleans Houses, Lower Ninth Ward
Architects involved with charity Make It Right:
National architects
BNIM Architects:


Make it Right National Architects
For BNIM Architects, sustainability is a way of life; design is an act of optimism and hope for the future. With these philosophies in mind, BNIM continues to build on 37 years of history, design innovation, and environmental stewardship. BNIM is a pioneer in the design of healthy buildings and communities, having helped to develop the USGBC LEED® rating system and Living Building standards for restorative design.
We are committed to an inclusive design process, one which values close collaboration with all stakeholders, from end users, to local agencies to neighborhood groups. We excel at bringing all "voices" together, harnessing the energy and ideas of many with an integrated approach that empowers the design process and results in a solution that exceeds client and community expectations.
Our design solutions are inspirational, functional, and healthy for users and for the environment. With a holistic approach to issues of place, function, context and community, BNIM Architects strives to create architecture that not only performs technologically but also stirs the imagination of its users, while reconnecting them experientially to the living world.
KIERANTIMBERLAKE ASSOCIATES



KieranTimberlake Associates LLP has focused on solving complex design issues innovatively for over twenty years. We develop leading edge architecture that responds to the ideas, needs, and circumstances of its inhabitants. To further our understanding of architecture and develop new ways to see, design and make the products around us, we place research and development at the core of our practice. We employ collective rather than singular intelligence in the making of architecture. Our process is holistic involving many layers of information and participants at one time. Our art is the discovery of external and internal logics derived from this exploration.
An award-winning and internationally recognized architecture firm, KieranTimberlake Associates is noted for its research, innovation and inventive design. Founded in Philadelphia in 1984 by Stephen Kieran, FAIA, and James Timberlake, FAIA, the firm is comprised of fifty-four professionals. Recent projects include Loblolly House in Taylors Island Maryland, the new Sculpture Building at Yale University, Sidwell Friends School in Washington, DC and the West Campus Residential Initiative at Cornell University.
MORPHOSIS



Morphosis Architects was founded in 1972 in Los Angeles as an interdisciplinary and collective practice involved in experimental design and rigorous research. Today, the firm consists of a group of more than 40 professionals, who remain committed to the practice of architecture as a collaborative enterprise. Located in Chelsea, Morphosis New York represents an extension of the studio under a single umbrella of leadership, design philosophy and operations.
Named after the Greek term, morphosis, meaning to form or be in formation, Morphosis is a dynamic and evolving practice that responds to the shifting and advancing social, cultural, political and technological conditions of modern life. A critical practice where creative output engages contemporary society and culture through architectural design and education, Morphosis is a process driven firm that seeks new and different design challenges and has resisted becoming specialized in any particular building type. With projects worldwide, the firm's work ranges in scale from residential, institutional, and civic buildings to large urban planning projects.
With founder Thom Mayne serving as design director, Morphosis typically generates its ideas through brain-storming sessions, in which designers question all prior assumptions about a project and intensively test and refine different avenues toward a solution. Morphosis works closely with its clients to help them define the ethical and functional goals of the project, then translates those goals into a design that satisfies the unique requirements and aesthetic opportunities of the program, site and context. The ultimate goal is to produce an architecture that surprises and inspires—a critical architecture that contributes to the conversation about how we live today.
Over the past 30 years, Morphosis has received 25 Progressive Architecture awards, 70 American Institute of Architects (AIA) awards and numerous other honors.
PUGH + SCARPA ARCHITECTURE



Lawrence Scarpa, AIA, and Angela Brooks, AIA are recognized leaders in design innovation: formal, social, and sustainable. Under their direction as Lead Designers of Pugh + Scarpa, the firm has received 36 major design awards, notably eleven National AIA Awards, including 2006 and 2003 AIA Committee on the Environment "Top Ten Green Project" awards, 2005 Record Houses, 2003 Record Interiors, and the 2003 Rudy Bruner Prize. In 2004, the Architectural League of New York selected Lawrence Scarpa as an "Emerging Voice" in architecture. His work is currently on exhibit at the National Building Museum in Washington, DC.
They have taught and lectured at the university level at numerous schools including UCLA, University of Florida, Mississippi State University and SCI-arc. Mr. Scarpa is the 2008 Ruth and Norman Moore visiting professor at Washington University, 2007 Eliel Saarinen Visiting Professor at the Alfred Taubman College of Architecture at the University of Michigan, 2005 University of Michigan Max Fisher Visiting Fellow and 2004 Friedman Fellow at the University of California at Berkeley.
Mr. Scarpa and Ms. Brooks are also co-founders of Livable Places, a nonprofit development and policy organization dedicated to promoting healthy communities and improving quality of life through policy reform and responsible mixed-use housing developments.
Location: New Orleans, USA
New Orleans Buildings Designs
New Orleans Building Developments – chronological list
Contemporary New Orleans Architecture Designs, Louisiana, southern United States of America,
Saint Charles Avenue Mansion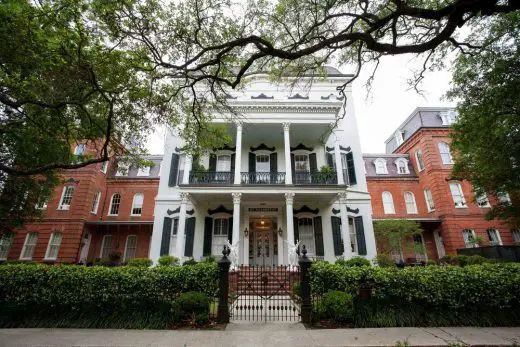 photo : Concierge Auctionsn
Saint Charles Avenue Mansion
Maison de la Luz
Design: EskewDumezRipple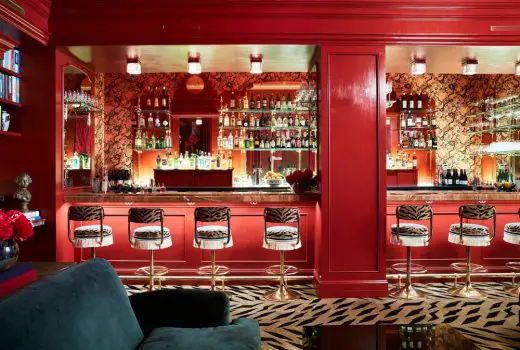 photograph : Stephen Kent Johnson
Maison de la Luz New Orleans
The Beacon, South Market
Design: EskewDumezRipple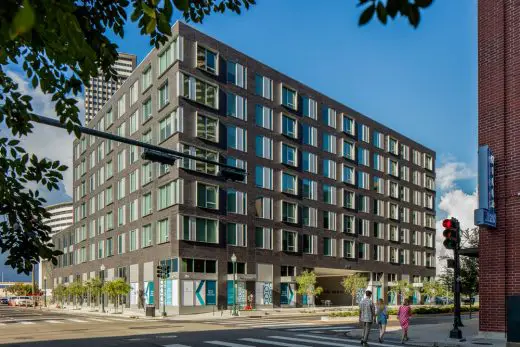 photo © Neil Alexander
The Beacon, New Orleans Homes
Architecture in the United States of America
American Architecture Links – chronological list
New Orleans Housing architects : GRAFT architects
American Architect Studios
Buildings / photos for the New Orleans Flooding Architecture – New Orleans Make it Right Homes by Brad Pitt page welcome
Website: www.makeitrightnola.org