Raleigh-Durham International Airport Terminal 2 building design, US air hub architect news
Raleigh-Durham International Airport Terminal 2, USA
RDU Building in North Carolina, USA: Wood Truss Structure design by Fentress Architects
Jan 24, 2011
Fentress-designed Terminal 2 Opens Final Phase at RDU as the World's First Major Airport with a Wood Truss Structure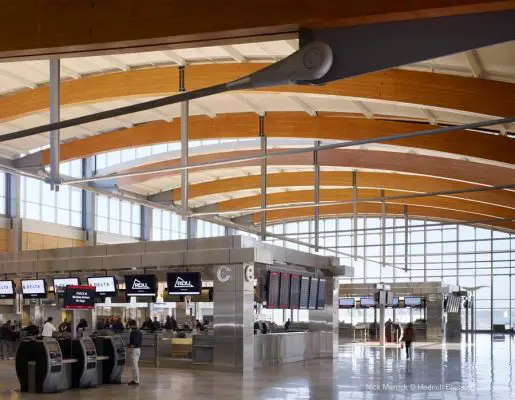 Photos by Nick Merrick © Hedrich Blessing
Raleigh-Durham International Airport Terminal 2 Building
On January 24, Terminal 2 opens its final phase with a uniquely warm, inviting passenger experience
RALEIGH-DURHAM, N.C. (January 24, 2011) – Fentress Architects, designer of the Terminal 2 at Raleigh-Durham International Airport (RDU) in North Carolina, has announced the opening of Terminal 2's final phase, celebrated with a ribbon-cutting at 4:30 p.m. on Monday, January 24, 2011 at RDU. Terminal 2 is the world's first major airport with a lenticular wood truss structure supporting the roof, which creates a warm, inviting passenger experience and a sense of place unlike any other airport in the world. Phase I opened in 2008 with 19 gates; Phase II adds 17 gates and features a soaring 96-foot-tall signature steel mast and canopy that welcomes passengers into a 60-foot-high arrivals hall, and a new south concourse beyond.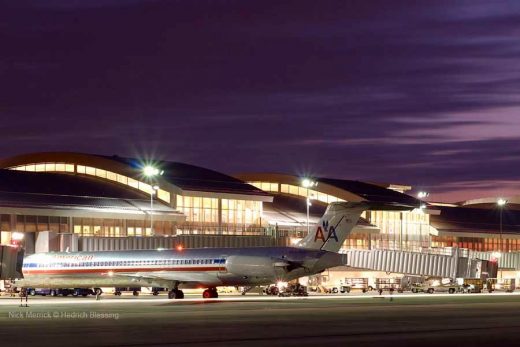 "Inspired by the region's craftsmanship and high-tech biomedical research, Terminal 2 is a world-class gateway to the largest research park in North America," said Curtis Fentress, Principal-in-Charge of Design, Fentress Architects.
Fentress' design provides the latest in self-service trends and airport technology, from a common-use environment to a state-of-the-art structural system. Terminal 2 now boasts six pieces of public artwork, 60 self-service check-in kiosks, 10 security checkpoint lanes, and 36 boarding gates, with an annual capacity of 11.4 million passengers.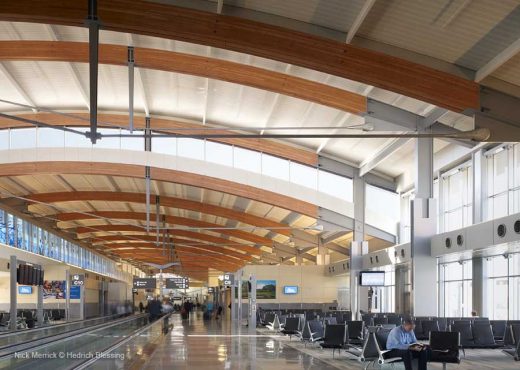 Revolutionizing Airport Design | Curtis Fentress, designer of international passenger terminals in Denver, Los Angeles and Seoul, South Korea, is known for revolutionizing airport design by "flipping the airport upside down" to create Denver International Airport's iconic peaked roof. For the first time, an airport became the symbol of a city.
International Recognition | Fentress' design for Terminal 2 was honored internationally as the world's best in the category of "Notable Regional Airport Development" in Passenger Terminal World, an industry-leading airport trade publication based in the UK. The magazine stated: "RDU has become one of the most important airports in the southeastern USA. The design is sublime, incorporating a central glass atrium with a 60-foot-high ceiling as its focal point."
Gateway to the High-Tech Triangle | Serving the largest research park in North America, Terminal 2's innovative design reflects the impact of three forward-looking universities and numerous bioscience companies in the renowned Research Triangle Park (RTP). Architect Curtis Fentress designed Terminal 2 with a thoughtful blending of the region's economy, heritage and landscape to create an airport unlike any other in the world.
Evoking the hills of the Piedmont region are its rolling roofs, supported by wood trusses that honor the region's legacy of handcrafted furniture industries and wooded countryside. The lenticular trusses, which weigh an impressive 34 tons each and span 156 feet in the ticketing/checkpoint areas, are comprised of laminated timbers, steel and cables. Referencing the RTP's cutting-edge research, terrazzo and carpet patterns represent high-tech biomedical imagery.
Elevating the Passenger Experience | Unlike an exposed metal structure, Terminal 2's wood trusses humanize the space with a warm, personal feel that offers travelers a sense of comfort. Meticulously detailed interiors are made alive by natural daylighting from clerestories and expansive glass curtainwalls. Often an afterthought, the restrooms at Terminal 2 set a new benchmark for restroom design. Comfortable, elongated stalls accommodate passengers' increasing number of carry-on luggage with ease.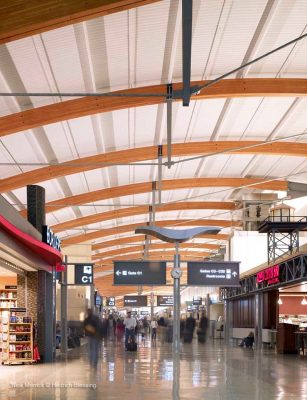 Airport of the Future | Long-span wooden roof trusses create column-free spaces that offer world-class efficiency and adaptability, from ticketing to security. Equipped with state-of-the-art technologies such as self-service kiosks, fully automated baggage screening and a common-use environment, Fentress' design offers ultimate flexibility for airlines and passengers alike. As a result, the airport can more efficiently manage its resources and use of space, easing the need for future expansion.
Public Art | Playing on the theme "handmade and mind-made," Terminal 2's extensive public art program showcases the region's strengths in high technology, medicine and education, as well as its vibrant fine arts and crafts heritage. Highlights include Ed Carpenter's work, "Triplet," in the central atrium, featuring a triangulated configuration of wood masts tipped with colored glass and LED lighting. "Wingspun," by Ellen Driscoll, is an animated glass installation that extends 780 feet along the international arrivals corridor.


drawing : Fentress Architects
RDU International Airport Terminal 2 – Building Information
Phase I & II – opened Jan 2011
• 920,000 square feet
• 36 gates, including a south concourse
• 3 ticketing islands with 60 check-in counters
• 60 self-service, check-in kiosks
• 10 security checkpoint lane capacity
• 5 baggage claim carousels
• 39 shops and restaurants
• 60-foot-high central atrium
• 90-foot-long canopy protecting passengers along the walk to the parking garage
Phase I – opened Oct 2008
• 550,000 square feet
• 19 gates on a north concourse
• 2 ticketing islands with 40 check-in counters
• 12 self-service, check-in kiosks
• 7 security checkpoint lane capacity
• Federal Inspection Services facility
• 3 baggage claim carousels
• 26 restaurants and shops
Groundbreaking: Mar 2006
Total Cost: $570 million
Boarding gates: 36
Capacity: 11.4 million passengers annually
Raleigh-Durham International Airport Terminal 2 – Project Team
Client: Raleigh-Durham Airport Authority
Lead Architect: Fentress Architects
Associate Architects: O'Brien/Atkins Associates and The Freelon Group
Project Management: Parsons Transportation Group
General Contractor: Archer Western
Raleigh-Durham International Airport Terminal 2 Building images / information from Fentress Architects
Location: Raleigh-Durham International Airport, USA
Denver Architect – Fentress Architects contact details
American Airport Buildings
American Airport Buildings
Denver International Airport South Terminal Redevelopment, Colorado
Design: Santiago Calatrava



picture : Santiago Calatrava LLC
Denver Airport Development
Indianapolis Airport Terminal, Indiana
Design: HOK



photo : Sam Fentress / HOK
Indianapolis Airport Terminal
Website: Raleigh–Durham International Airport North Carolina
Recent North Carolina Building
North Carolina Museum of Art Building
Design: Thomas Phifer and Partners



image © Scott Frances. Courtesy NCMA
North Carolina Museum of Art Building
Developments in Neighbouring State: Virginia Buildings
Buildings / photos for the Raleigh-Durham International Airport – RDU North Carolina design by Fentress Architects page welcome,