Loblolly House Photos, Residence Taylors Island, Maryland Architecture, Images
Loblolly House : Taylors Island Residence
Maryland Building, USA – design by KieranTimberlake Associates
Apr 12, 2014 – new larger photos added to this page
Taylors Island House
Loblolly House, Maryland
Design: KieranTimberlake Associates
Photos © Peter Aaron/Esto and Halkin Photography LLC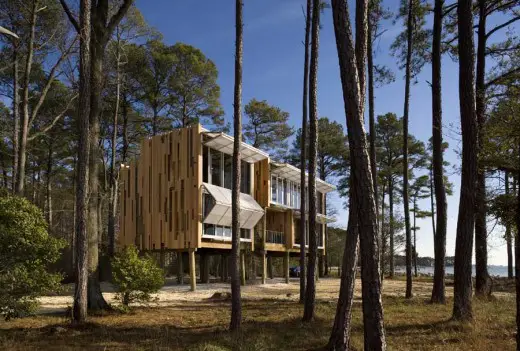 Taylors Island Residence
11 Aug 2008 – Positioned between a dense grove of loblolly pines and a lush foreground of saltmeadow cordgrass and the bay, Loblolly House seeks to deeply fuse the natural elements of this barrier island to architectural form. The timber foundations are at once pragmatic because they minimize the disruption to the ground, and poetic because the dwelling is literally founded on the tree. At the same time, the north, south and east elevations are of the forest. The design of the staggered vertical rain screen was literally composed over a site photograph to evoke the abstraction of solids and voids of the forest wall.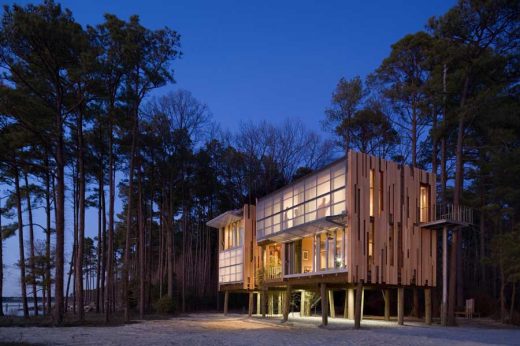 The idea of an elemental architecture extends to the method of assembly. The house is composed entirely of off-site fabricated elements and ready-made components, assembled from the platform up in less than six weeks. Specification is no longer conceived and structured around the sixteen divisions of the CSI that organizes thousands of parts that make up even a small house. Instead, the conception and detailing are collapsed into new elements of architecture: scaffold, cartridge, block and equipment. The aluminum scaffold system provides both the structural frame and the means to join cartridges, blocks and equipment to the frame with simple tools.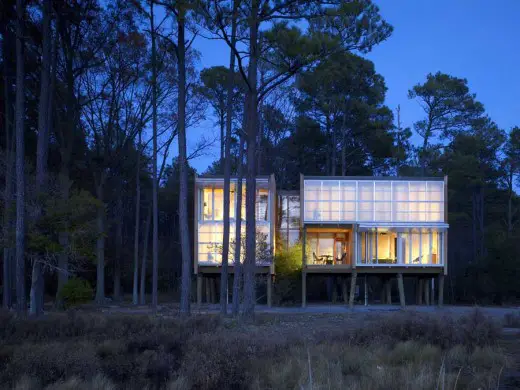 After the aluminum frame is erected on site, off-site fabricated floor and ceiling "cartridges," which distribute radiant heating, hot and cold water, waste water, ventilation, and electricity through the house are installed. Then, fully integrated bathroom and mechanical room modules are lifted into position. Exterior wall panels containing structure, insulation, windows, interior finishes and the exterior wood rain screen complete the cladding. The west wall is an adjustable, double-glazed system made up of interior accordion-style folding glass doors and exterior polycarbonate-clad hangar doors that provide an adjustable awning as well as weather and storm protection.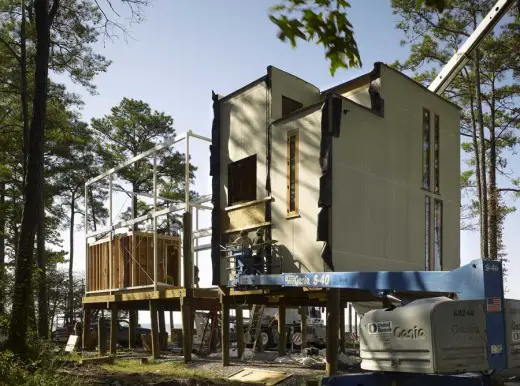 This method of construction confronts both how we assemble our architecture, as well as how we assume responsibility for its disassembly. Just as the components are assembled simply, so are they disassembled easily, and most importantly, with materials left intact. Instead of the stream of construction waste that winds up in landfills today, this house poses a far more extensive agenda of recycling and wholesale reclamation. It is a vision in which our architecture can be disassembled at some future moment, and relocated or reassembled in new ways from reclaimed parts.
Loblolly House – Building Information
Client: Stephen Kieran and Barbara DeGrange Kieran
Area: 1,800 square feet
Project Team:
Architect – KieranTimberlake Associates LLP
Design Team
Stephen Kieran, FAIA, James Timberlake, FAIA,
David Riz, AIA, Marilia Rodrigues, Johnathan
Ferrari, Alex Gauzza, Jeff Goldstein, AIA,
Shawn Protz, George Ristow, Mark Rhoads
Consultants:
Fabrication & Assembly Bensonwood Homes
Construction Manager Arena Program Management
Structural Engineer CVM Structural Engineers
MEP Engineer Bruce Brooks & Associates
Civil Engineer Lane Engineering
Geotechnical Engineer John D. Hynes & Associates, Inc.
Interiors: Marguerite Rodgers, Ltd.
Landscape: Barbara Seymour Landscapes
Photographers: Peter Aaron/Esto, Barry Halkin
Sources:
Structural system Aluminum Framing
Manufacturer: Bosch Rexroth
Stainless Steel Rod Assemblies (Diagonal Bracing)
Manufacturer: Tripyramid Structures, Inc.
Fiber cement board at exterior wall
Type: Hardipanel Vertical Siding – Smooth
Manufacturer: James Hardee Building Product
Windows Custom fixed and operable wood windows Manufacturer: Artistic Doors & Windows
Custom Fixed windows at bridge
Manufacturer: Loewen Windows
Glazing Translucent Multiskin Acrylic Sheets
Manufacturer: Deglas
Structural Glass Floor
Type: Glasswalk Floor System
Manufacturer: Innovative Building Products, Inc.
Doors Custom Wood Doors Manufacturer: Artistic Doors and Windows
Folding doors at west wall
Type: Thermally broken aluminum framed folding system
Manufacturer: Nanawall
Aluminum bi-fold hangar doors at west wall
Manufacturer: Wilson Doors
Stair Metal Spiral Stair (interior)
Manufacturer: Duvinage Corporation
Custom Metal Stair (exterior)
Manufacturer: Bill Curran Sculpture, Design, Fabrication
Hardware Entry Handset
Manufacturer: Double-Hill
Wall coverings Paneling
Birch Plywood, Natural finish
Floor and wall tile
Type: Polished pebbles (anatolia) at shower
Manufacturer: Solistone
Lighting Recessed downlights Manufacturer: Lightolier
Exterior lighting
Type: Wall Luminaire/Surface Compact Fluorescent
Manufacturer: We-ef Lighting
Ceiling Fans
Type: Artemis Ceiling Fan
Manufacturer: G Squared
Taylors Island Residence images / information from KieranTimberlake Associates
Location:Taylors Island, Maryland
Tred Avon River House, Maryland – 20 Aug 2013
Design: Robert M. Gurney Architect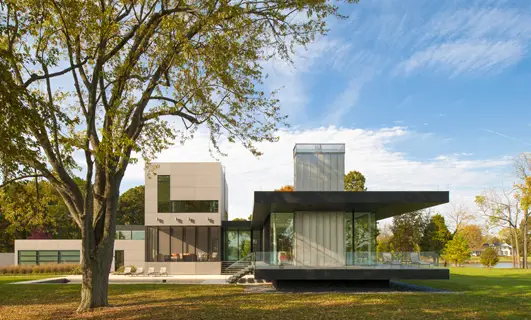 photo : Maxwell MacKenzie Architectural Photographer
Maryland Architecture



rendering : piratedesign.com
Comments / photos for the Maryland House – Taylors Island Architecture page welcome
Loblolly House Taylors Island