City of Vista Civic Center, US Community Facility Building, American architecture design, Architect, Picture
Vista City Hall : Californian Civic Center
Key Californian Development, USA – design by Carrier Johnson + CULTURE
Aug 26, 2008
Innovative City Hall and Civic Center in Vista, California, Breaks Ground Today –
Conceived by National Strategic Design Firm, Carrier Johnson + CULTURE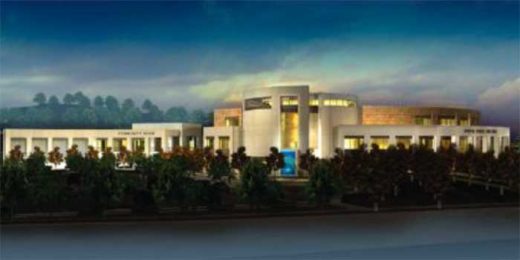 Part park, part city hall, and part municipal resource, the Vista complex will be a community destination. The facility includes a library and community room.
City of Vista Civic Center
VISTA, CALIF., August 26, 2008 – Carrier Johnson + CULTURE, a national leader in strategic design and green building, has announced the groundbreaking for a novel municipal building combining community and civic uses. Part city hall, part community facility, and part park, the City of Vista Civic Center begins construction today, and will be both a city landmark and community destination.
Scheduled to open in 2010, the new City of Vista Civic Center will consolidate city offices, an emergency operations center that doubles as a community room and event space, and the city council's chambers into a single, environmentally innovative facility.
Using input from public forums, the project was designed to reflect the Vista community's lifestyle and values, and will be a model for the many other significant redevelopment efforts currently underway in the city. "We are creating facilities that make an iconic statement about Vista," explained Mayor Morris B. Vance. "We anticipate that these spaces will quickly become integral parts of the town's daily life, and will be widely used by the entire community," Vance explained.
Park as building, building as park
Nestled along a hillside park and adjacent to the public library, the complex's unique location lends itself to a multidimensional experience for both business and leisure activities. Design elements such as glass walls, courtyards, and a council chamber defined by a two-story waterfall, lantern room, and "light ring" – which illuminates the building at night and tracks the movement of the sun on the chamber walls during the day – deliberately blur the lines between indoors and outdoors.
According to Mike Hoffman, associate principal with Carrier Johnson + CULTURE, the architectural character of the complex is serpentine, and seamlessly integrates with the surrounding park, which can be accessed from both the first and second floors. "People will be able to walk outside through openings in the building, along pathways, across bridges and not notice the delineation between park and building," said Hoffman.
"By stitching the structure into the hillside and incorporating the architecture directly into the landscape topography, the park becomes the building, and the building becomes the park," Hoffman continued.
With a recently revitalized downtown, which debuted in 2003, plus two new fire stations, a new outdoor amphitheatre stagehouse, a new sports park and the current Civic Center Complex, the city of Vista, located in Northern San Diego County, has become more defined by its architecture and commitment to its 95,000 residents' quality of life.
According to Patrick Johnson, Vista's Assistant City Manager and Project Manager for the Civic Center, each new element of the town's architectural landscape generates increased local enthusiasm. "Vista has always been a great place to live, but we're coming into our own now, and literally building a community that reflects our collective values," Johnson notes.
Building public pride
Over the past three years, the City conducted numerous "A.S.K." Meetings, with residents and community organizations, to generate public input and support for the Civic Center and other projects. Through this campaign, not only did they inspire the community to identify issues of priority, such as environmental sustainability, open space and outdoor recreation, but they created a sense of public voice.
Perhaps this unity is one of the reasons that Vista was listed seventh in the 2008 edition of 50 Best Places to Raise Your Family. As construction begins today on the City of Vista's Civic Center, the town marks a significant event in its own development, and looks ahead towards a continued robust future.
City of Vista Civic Center building by Carrier Johnson + CULTURE information from CC Sullivan Aug 2008
Location: Vista, San Diego County, Southern California, United States of America
Los Angeles Architecture Designs
Los Angeles Architecture Tours – architectural walks by e-architect
L.A. Architecture Designs – chronological list
Los Angeles Architectural Designs – recent Southern Californian buildings selection from e-architect:
Brentwood Tennis Pavilion
Architecture: Alex Pettas Architecture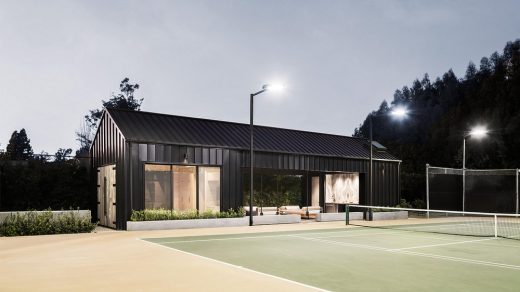 photo : Paul Vu
Brentwood Tennis Pavilion
About Carrier Johnson + CULTURE
Carrier Johnson + CULTURE reflects a new wave in the practice of architecture and strategic design, reinventing a model for the future. As a full-service architectural consulting practice, Carrier Johnson + CULTURE works in partnership with clients to provide innovative building, living, and communications solutions with a commitment to strategic and sustainable design.
Comments / photos for the City of Vista Civic Center Building in the United States of America page welcome.
Website: www.carrierjohnson.com