Architecture for Humanity & AIA Partnership, Disaster Response, AFH News
Architecture for Humanity & AIA : Partnership
AFH Court Case ; Bankruptcy ; The American Institute of Architects, USA – Disaster Relief
Jul 20, 2016
Architecture for Humanity
Architecture for Humanity Founders and Board Members Sued for $3 Million
Leaders of the nonprofit organization, which closed in 2015, are being accused of mismanaging funds.
In 2015, Architecture for Humanity (AFH), a U.S.-based nonprofit organization with more than 60 chapters worldwide, abruptly closed and declared bankruptcy, leaving many to wonder what exactly went wrong, reports the Architectural Record. Now it has emerged that AFH's founders and board members are being sued for alleged mismanagement of funds.
Architecture for Humanity Court Case
7 Feb 2012
AIA + Architecture for Humanity Partnership
New Partnership Combines Resources That Help Communities Better Respond and Rebuild Following Disasters
Architecture for Humanity and the AIA Partner to Prepare Architects for more effective Disaster Response Leadership Role in Communities they Serve.
Washington, D.C. and San Francisco – February 7, 2012 – The American Institute of Architects (AIA) and Architecture for Humanity announced a strategic partnership to coordinate advocacy, education, and training that helps architects make effective contributions to communities preparing for, responding to, and rebuilding after disaster. The partnership is focused on providing resources so more architects can utilize their skills in disaster response environments and better serve as leaders in their community.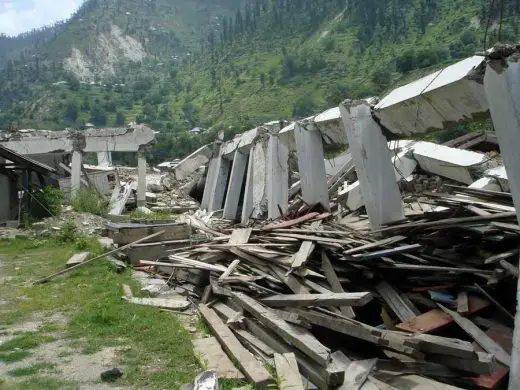 photo of post-earthquake buildings
Although the AIA and Architecture for Humanity each have well-established volunteer-led disaster response programs, the increase in disasters over the past several years heightened the need for additional architects to be trained in disaster response techniques so they assist their community when a disaster strikes. The AIA and Architecture for Humanity partnership combine and enhance existing disaster related resources and develop new programs and education targeted toward AIA members, allied professionals, and the general public.
"Too many communities struggle after a disaster with issues related to the ongoing safety and viability of their built environment," said Robert Ivy, FAIA, EVP/Chief Executive Officer of the AIA. This partnership with Architecture for Humanity will help architects everywhere acquire the tools, training, and leadership skill to make meaningful contributions when their community needs them most."
"We are excited to work with the AIA and its members to help communities rebuild lives and livelihoods," said Kate Stohr, Co-Founder of Architecture for Humanity. "Architects are needed most when disaster strikes. Too often disaster response fails to fully address the long-term reconstruction needs of communities. By training architects to work with communities, we can help speed the transition from emergency response to long-term recovery."
One of the first projects that the new partnership will offer is a grant program for local components and chapters. Both organizations are committed to developing and supporting local initiatives and the grants will help fund members to work with local government agencies on planning, training and other critical initiatives so that they can be prepared before disaster strikes.
About The American Institute of Architects
For over 150 years, members of the American Institute of Architects have worked with each other and their communities to create more valuable, healthy, secure, and sustainable buildings and cityscapes. Members adhere to a code of ethics and professional conduct to ensure the highest standards in professional practice. Embracing their responsibility to serve society, AIA members engage civic and government leaders and the public in helping find needed solutions to pressing issues facing our communities, institutions, nation and world. Visit http://www.aia.org.
About Architecture for Humanity
Architecture for Humanity is a nonprofit design services firm founded in 1999. We are building a more sustainable future through the power of professional design. By tapping a network of more than 40,000 professionals willing to lend time and expertise to help those who would not otherwise be able to afford their services, we bring design, construction and development services where they are most critically needed. To learn more, please visit http://www.architectureforhumanity.org
AIA / Architecture for Humanity Partnership information received 070212
8 Feb 2012
Architecture for Humanity News
The Maria Auxiliadora School Wins 2012 SEED International Award
Architecture for Humanity Design Fellows Recognized with Prestigious International Award & Two Honorable Mentions
San Francisco, CA (February 8, 2012)- Architecture for Humanity is incredibly proud to have our projects and design fellows recognized for their work in this year's SEED Award. SEED: Social Economic Environmental Design® is a common standard to guide, evaluate and measure the social, economic and environmental impact of design projects. SEED Awards for Excellence in Public Interest Design showcase and promote design projects that help create socially, economically and environmentally healthy communities.
The Maria Auxiliadora School won the 2012 SEED International Award. The school's design and construction were directed by Architecture for Humanity design fellow Diego Collazos as part of the Happy Hearts Fund – ING school reconstruction program. Architecture for Humanity's involvement in the school's development involved school selection, architectural design, and construction administration. The completed building accommodates 70 secondary school students in rural Peru. The community of Ica, home to over 2,500 people, provided direct input to the building design. Maria Auxiliadora was completed and opened in 2011.
In addition to winning the international award, two Architecture for Humanity projects also received honorable mentions from the 2012 SEED Award Jury:
Kimisagara Football for Hope Centre in Kigali, Rwanda
Fresh Moves Mobile Market led by Architecture for Humanity, Chicago chapter
Architecture for Humanity is very proud of all three teams that were recognized and continues to support architects committed to giving back by volunteering their time and expertise to communities in need.
For more information about the SEED Award winners and honorable mentions: http://designcorps.org/sfi/winners/
Architecture for Humanity is a 501(c)(3) nonprofit design services firm founded in 1999 that seeks to build a more sustainable future through the power of professional design. Through a network of building professionals, Architecture for Humanity brings design, construction, and development services to communities in need. For more information: http://www.architectureforhumanity.org
Open Architecture Collaborative: OAC
Location: USA
The American Institute of Architects Events Selection
Architecture for Humanity Competition
Safe Trestles Design Contest

picture from architect
Hosted by Architecture for Humanity, the Safe Trestles international design competition received over 100 entries for the design of a safe and low-impact access route to Trestles Beach, home to one of North America's most prized surfing spots and the 6.0 Lowers Pro surf event. Every year more than 100,000 people follow informal trails through marshlands and over active train tracks to access the beach, presenting a safety hazard with passing trains and a threat to the marine habitat that is home to a number of endangered animal species and important flora.
Architecture for Humanity Competition



picture from architect
The American Institute of Architects
AIA Links – architectural selection below:
American Institute of Architects Gold Medal
AIA UK Chapter Excellence in Design Awards
AIA Architecture Firm Award 2009
AIA Architecture Honor Awards 2009
AIA Living The Box Competition
American Architecture
American Architecture Award Winners
Comments / photos for the AIA + Architecture for Humanity Partnership – American Institute of Architects Project page welcome