California architecture designs, Los Angeles building, Architects news, United States of America property images
Californian Architecture : Buildings
Key American Architectural + Property Developments, CA, USA
post updated August 21, 2023
California – latest building articles
Architecture in California
We've selected what we feel are the key examples of Californian Architecture. We cover major, completed Californian buildings and building designs. The focus is on contemporary Californian buildings.
We have 4 pages of California Architecture selections.
Californian Architecture : news + key projects (this page)
Californian Building Developments : A-O
California Architecture Designs : P-Z
Californian Building Designs : other, outwith main cities
San Francisco Architecture Walking Tours
Celebrated Bay area buildings include the Contemporary Jewish Museum, the V. C. Morris Gift Shop, the de Young Museum, San Francisco Museum of Modern Art and the Federal building.
Californian Building News
California Architecture News – latest additions to this page, arranged chronologically:
April 20, 2023
Master Plan for Irvine Great Park Project, 8000 Great Park Blvd, Irvine, southern Orange County, CA 92618
Design: SWA Group with Kellenberg Studio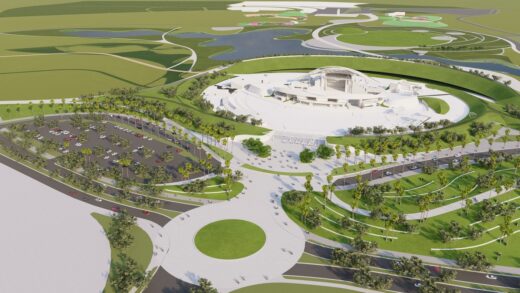 image courtesy of architects practice
Irvine Great Park master plan
SWA Group has unveiled its master plan for Irvine Great Park, which, at 1,200 acres, is one of the largest municipal parks in the world. The project's conceptual framework, which was developed by SWA Group's Laguna Beach studio and Kellenberg Studio, envisions a park that is both a destination for recreation and a hub for education, research, and cultural enrichment.
Feb 12, 2023
UC Santa Cruz, Big Creek Reserve, southern region of Big Sur, CA, USA
Architects: Levy Art + Architecture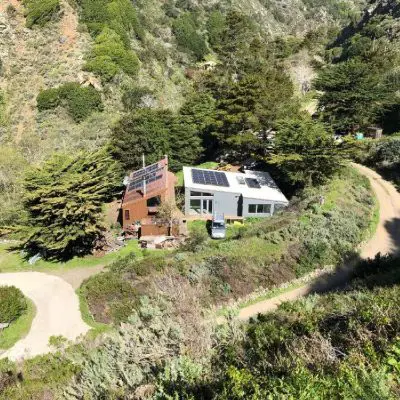 photography : Levy Art + Architecture
UC Santa Cruz Big Creek Reserve
Working with the Conservation Biology Department at the University of California Santa Cruz (UCSC), Levy Art + Architecture designed a living classroom, scientific research housing and staff housing on the 7,000-acre Natural Reserve and adjacent Marine Sanctuary.
Jan 8, 2023
Sonoma Wine Country 1, Healdsburg, Sonoma
Design: Lutsko Associates and Feldman Architecture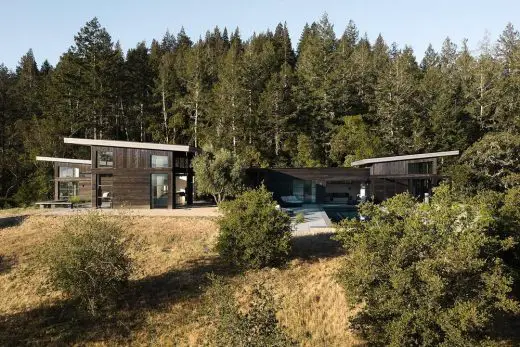 photo : Adam Rouse
Sonoma Wine Country 1, Healdsburg
The second phase of design at Sonoma Wine Country 1 works to transform an effortless one-bedroom retreat into a dynamic escape for a growing family. The architects original design comprised of a compact kitchen, primary bedroom, and guest house perched atop a hill overlooking Healdsburg.
Oscillation Residence, Yucca Valley
Dec 21, 2022
Century 21 theater rehabilitation, San Jose, Northern California
Architecture and Interiors: TEF Design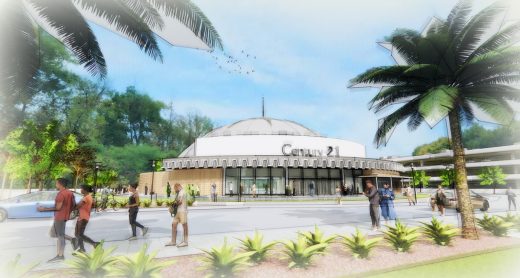 render : TEF Design
Century 21 Rehabilitation San Jose
Built in 1963 by the architect Vincent G Raney, the Century 21 theater in San Jose is considered the first of its kind, catalyzing the development of giant domed movie theaters that launched the Century Theaters brand.
Apr 19, 2022
Kellogg Doolittle House, Joshua Tree, Southern California
Design: architect Kendrick Bangs Kelloggs with John Vurgin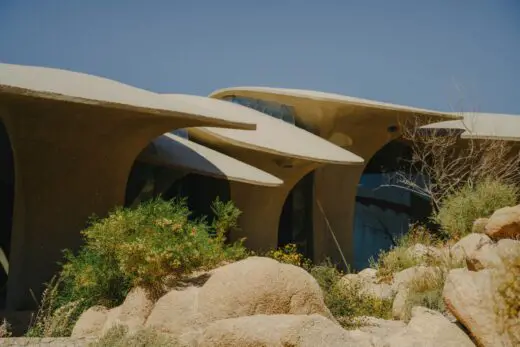 photos : Victor Stonem
Kellogg Doolittle House, Joshua Tree
Boffi pays tribute to California's iconic high desert with a series of photographs conceived by Dominican artist Victor Stonem. Designed by architect Kendrick Bangs Kellogg in the 1980s, the Kellogg Doolittle House is made to appear as though it naturally existed among its surrounding rocky landscape. The property's organic architecture, shapes, and textures come to play with Boffi 's contemporary shapes, fabrics and materials.
August 19, 2021
Copia Vineyards Winery and Tasting Room, Willow Creek AVA District, Paso Robles
Design: Clayton Korte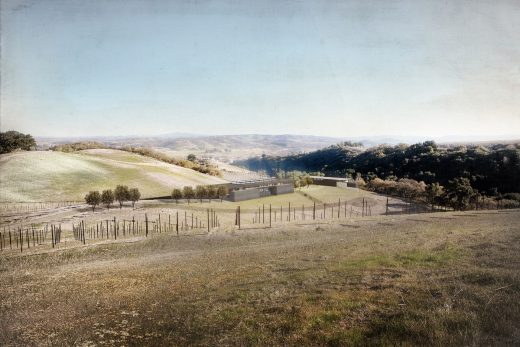 image courtesy of architects practice
Copia Vineyards Winery and Tasting Room, CA
Situated atop the crest of a hill within the rolling landscape of the Willow Creek AVA District, Copia Vineyards is a destination winery designed to capture the essence of wine, from vine to table. The hilltop winery serves as the culmination of an immersive journey that begins as visitors wind their way through the 25 acres of planted vineyard.
Jul 24, 2021
Viewfinder House, Truckee
Jul 23, 2021
Rowan Residence, Franklin Canyon Park
Jul 19, 2021
Carmel Cliff House, California home
Jul 8, 2021
Westridge Residence, Portola Valley CA
Jun 25, 2021
Theorem Winery, Calistoga, Napa Valley
Design: Richard Beard Architects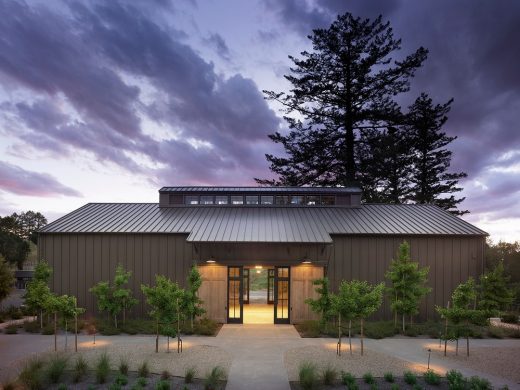 photo : Paul Dyer
Theorem Winery Calistoga
Theorem Winery is located west of downtown Calistoga, California, within the Diamond Mountain appellation in Napa Valley. Eschewing the ubiquitous large winery venues focused on handling hundreds of guests at one time, Theorem is designed as an intimate, bespoke experience where hospitality reigns supreme.
****************
Dec 17, 2020
Villa Firenze, Beverly Hills
Dec 15, 2020
House of Tomorrow, Palm Springs
Dec 14, 2020
Thousand Oaks Home
Nov 30, 2020
Palm Springs' Historic Desert House
Design: Richard Neutra architect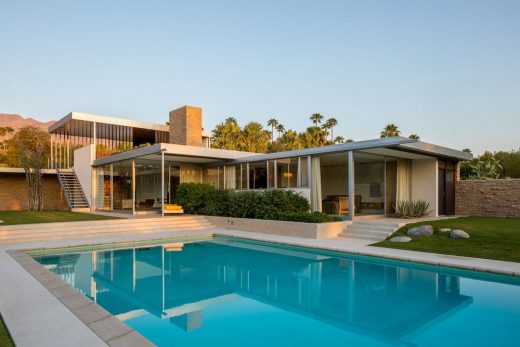 photo : Daniel Solomon for Sotheby's International Realty
Richard Neutra Desert House
Edgar J. Kaufmann made architectural history twice. First, when he hired Frank Lloyd Wright to design his home, Fallingwater, in Pennsylvania in 1935 and again in 1946 when he commissioned Richard Neutra to create his famed Desert House in Palm Springs. After undergoing a five-year restoration by Marmol Radziner, the Desert House is on the market at $25 million.
Oct 24, 2019
Hay Barn in Santa Cruz, California University
Oct 24, 2018
Cornish House, Encinitas, North County, San Diego County, Southern California
Design: Brett Farrow Architect, Inc.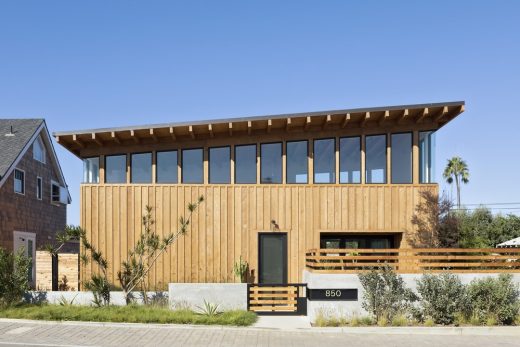 photograph : Paul Rivera Architectural Photography- Paul Rivera
New House in Encinitas
A new residential project located in the Southern California Coastal community of Encinitas, San Diego County. The small two-bedroom home makes full use of the site's panoramic ocean views from its hilltop location on a small and irregularly shaped lot.
Oct 2, 2018
Reggie Rodriguez Community Center, Montebello, Los Angeles County
Design: Sparano + Mooney Architecture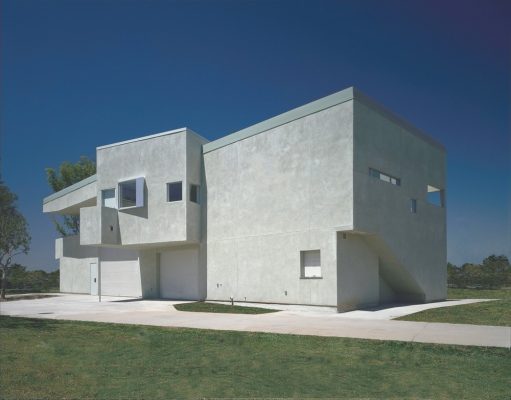 image : Sparano + Mooney Architecture
Reggie Rodriguez Community Center in Montebello
The community center was conceived as a physical expression of the perilous passage from adolescence to maturity. A combination of active and reflective experiences are present from porous public spaces extending out into the park, to the more introverted and cloistered areas for concentrated work study and growth.
Nov 11 + 7 May 7, 2013
Golden State Warriors Arena, San Francisco, Northern California
Design: Snøhetta + AECOM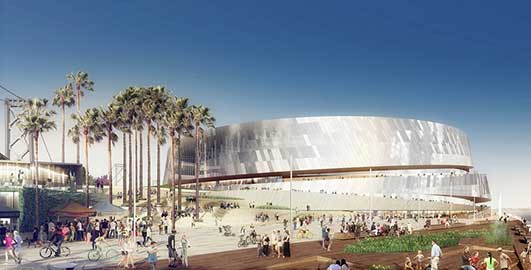 image from architect
Golden State Warriors Arena
The Golden State Warriors released the updated design of their new sports and entertainment arena on the waterfront at Piers 30-32 in San Francisco. This is not just a major new sports building but a significant piece of civic architecture and public realm. Cities across the North America – from Baltimore to Vancouver – have tried to reinvigorate their waterfronts and this development might go a long way in underlining San Francisco's commitment to quality cityscape.
Sep 20, 2013
Net Zero Energy House, Cupertino
Design: Klopf Architecture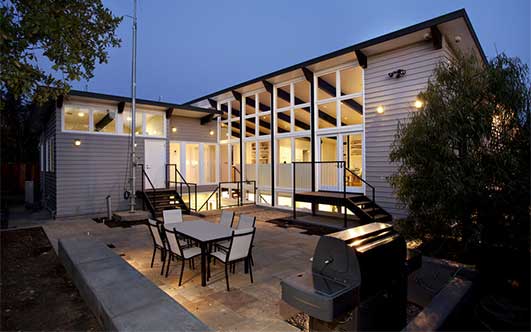 photo : Mariko Reed
Net Zero Energy House
A partially-submerged lower level was designed with a pulled-back floor plate to create a light-filled atrium. In conjunction with the mechanical engineer, Klopf designed a net-zero energy home featuring insulated concrete forms, structural insulated panels, high-performance windows, cementitious siding and a solar photovoltaic system sized to cover all the energy usage.
May 14, 2013
The New Stanford Hospital, San Francisco Bay Area
Design: Rafael Viñoly Architects



image from architect
The New Stanford Hospital Building
This new building has started on site, part of the Stanford University Medical Center: Project Renewal. The project is scheduled for completion in 2017.
May 2, 2013
UC Davis Art Museum
Design: SO – IL



image from architect
UC Davis Art Museum
This is the design for the new Jan Shrem and Maria Manetti Shrem Museum of Art at the University of California, Davis.
Mar 22, 2013
Facebook Campus Expansion, Menlo Park, San Mateo County, San Francisco Bay Area
Design: Frank Gehry – Gehry Partners, LLP



photo from facebook
Facebook Campus
The Facebook Campus Project includes two project sites inclusive of the East Campus and West Campus. The Project is being processed in phases. The East Campus is located at 1 Hacker Way and was previously occupied by Oracle. The site is currently developed with nine buildings, which contain approximately 1,035,840 sqft. The approximately 22-acre West Campus is located at the intersection of Willow Road and Bayfront Expressway.
Apr 27, 2012
Union Station Master Plan, Los Angeles
UNStudio / EE&K / Jacobs Engineering
Union Station Los Angeles Master Plan
Ben van Berkel of UNStudio and EE&K a Perkins Eastman company, and Jacobs Engineering propose a masterplan for this important city development.
Jan 14, 2012
Four Eyes House, Coachella Valley, southern California
Edward Ogosta Architecture
Four Eyes House
A weekend desert residence for a family and their dog, this contemporary California home is an exercise in site-specific experiential design.
Jan 9, 2012
Saperstein Residence, Hollywood Beach, Los Angeles
Enclosures Architects
Hollywood Beach Residence
This 3,000 sqft three story residence is designed to maximise its oceanfront setting on only 2,625 sqft of beach property.
Dec 19, 2011
The 747 Wing House, Malibu, Los Angeles
Studio of Environmental Architecture
The 747 Wing House
This residence is set on a 55-acre property in the hills of Malibu with panoramic views.
Solar Plant Towers, Mojave Desert
RAFAA architecture & design
Solar Plant Towers California
This is a 392-MW solar thermal power facility located in the Mojave Desert, California. Ivanpah is using mirrors to focus the power of the sun on solar receivers at the top of three 225m power towers.
Yucca Crater, Mojave Desert
Ball Nogues Studio
Mojave Desert Design
Located east of Joshua Tree in Wonder Valley this design is a 'synthetic earthwork' that doubles as a recreational amenity. This monumental basin stands 30 feet from rim to low point. Rock climbing holds mounted on the interior allow visitors to descend into a deep pool of water.
Redelco Residence, Studio City, Los Angeles
Brooks + Scarpa
Redelco Residence
Red Building at the Pacific Design Center, Los Angeles
Pelli Clarke Pelli Architects
Red Building Pacific Design Center
The Broad Art Foundation, Los Angeles
Diller Scofidio + Renfro
The Broad Art Foundation
More Californian Buildings online soon
Location: California, USA
Golden Gate Bridge, San Francisco
Irving F. Morrow / Gertrude C. Morrow
Golden Gate Bridge
Rudolf Schindler – California Modern architect
Morphosis – Californian Architecture Studio
Buildings / photos for the California Architecture page welcome