Arizona Building, Phoenix Architecture, US Architects, United States of America Design News
Arizona Architecture : Buildings
Key American Architectural + Property Developments – Built Environment News + Images
post updated July 16, 2021
Arizona Building News
Architecture in Arizona – latest additions to this page, arranged chronologically:
May 13, 2021
Bulletproof Home, Scottsdale
Bulletproof Home, Scottsdale
July 1, 2020
Jurassic Camp House Design Competition, The Wave, Paria Canyon-Vermillion Cliffs Wilderness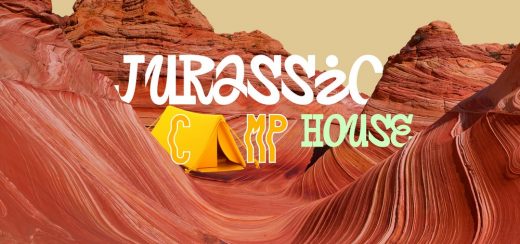 image courtesy of architecture contest organisers
Jurassic Camp House Design Competition in Arizona
The most basic, uncontroversial manifestation of beauty is the beauty of the natural world. Nature is the canvas on which geology, climate, time and science have painted all kinds of vistas and landscapes.
Apr 20, 2019
Salt River Pima-Maricopa Indian Community Justice Center
Salt River Pima-Maricopa Indian Community Justice Center
Red Rocks Residence, Phoenix
Architect: The Ranch Mine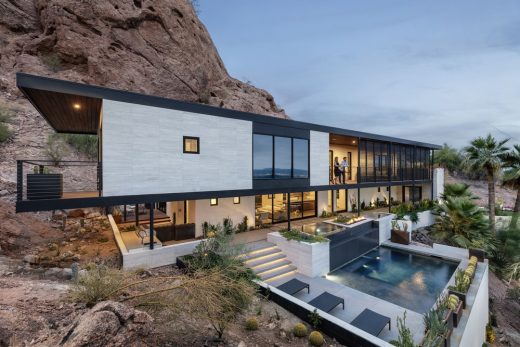 photography : Roehner + Ryan
Contemporary House in Phoenix
Clinging to the side of Camelback Mountain in Phoenix, Arizona, a Spanish Colonial Revival style house has been transformed by this architecture firm a dwelling that creates and elevates a variety of experiences with both the natural and man-made environment.
Oct 30, 2018
Dancing Light House, Paradise Valley
Architect: Kendle Design Collaborative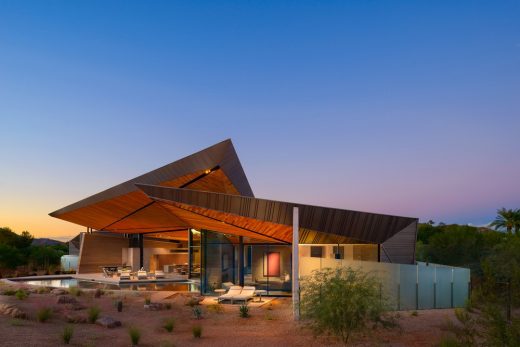 photography : Alexander Vertikoff
House in Paradise Valley
Apart from the topography and features of the land, the house also draws inspiration from natural light. Flooding through windows or seeping through narrow openings, Arizona's sunshine changes the living spaces throughout the day.
Oct 7, 2018
The Little Art Studio, Paradise Valley
Architects: Chen + Suchart Studio, LLC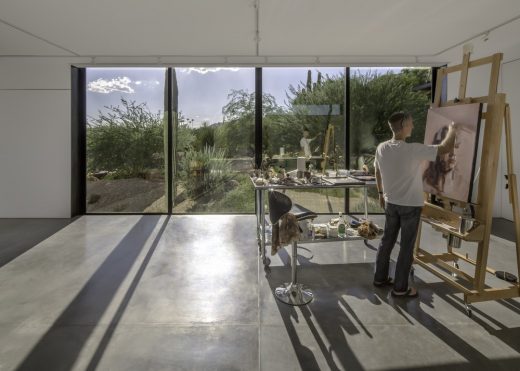 photo : WINQUIST PHOTOGRAPHY, Matt Winquist
The Little Art Studio in Paradise Valley
A 1400sqft addition to an existing contemporary stucco and glass residence. The addition of this project to the site provided a backdrop and bookend to an existing desert courtyard and a gathering area surrounding a fire pit.
Jun 18, 2018
Biomedical Sciences Partnership Building at the University of Arizona, Phoenix Biomedical Campus, Arizona, USA
Design: CO Architects with Ayers Saint Gross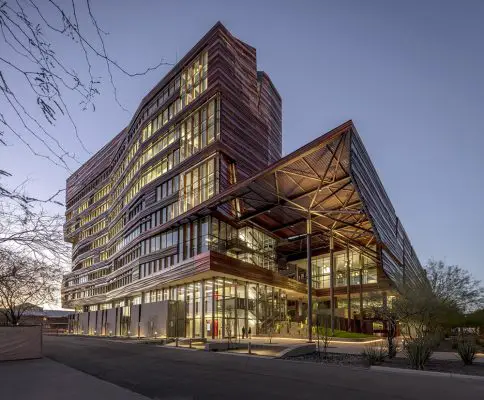 photo courtesy of The Chicago Athenaeum
Biomedical Sciences Partnership Building at the University of Arizona
The design of the 245,000-GSF Biomedical Sciences Partnership Building (BSPB) at the University of Arizona Phoenix Biomedical Campus is inspired by Arizona's iconic, majestic mountains and canyons.
Jun 4, 2018
Barrio Historico House, Tucson
Architect: HK Associates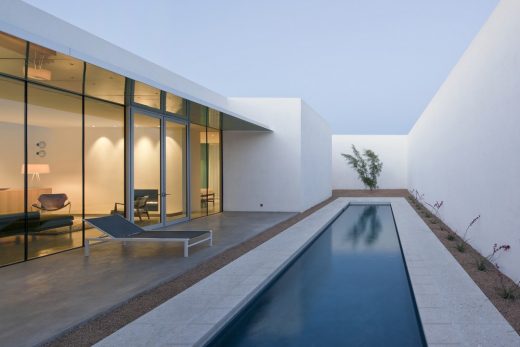 photograph : Bill Timmerman
Contemporary Tucson Home
Located in Tucson's Barrio Historico, this residence is a modern interpretation of the neighborhood's traditional courtyard architecture. From the street, the house is anonymous, fitting into the Barrio context with façade proportions and door and window openings in keeping with neighborhood guidelines.
Feb 22, 2018
Home 901, Sabino Springs, Tucson
Design: Kevin B. Howard Architects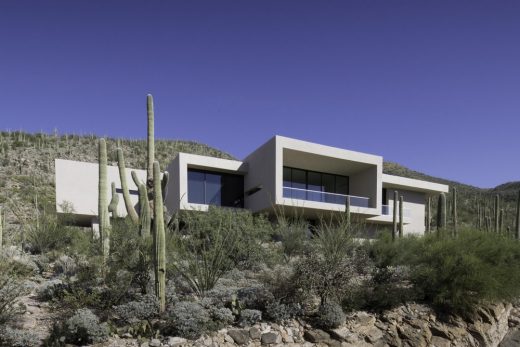 photograph : Matt Winquist and Robin Stancliff
Sabino Springs Home
There are only a few instances in an architectural career where a client and an architect's vision unify into an immaculate and complete expression of art and architecture.
Sep 6 2017
A Modern Mission Style House along the Arizona Canal, Phoenix
Architect: The Ranch Mine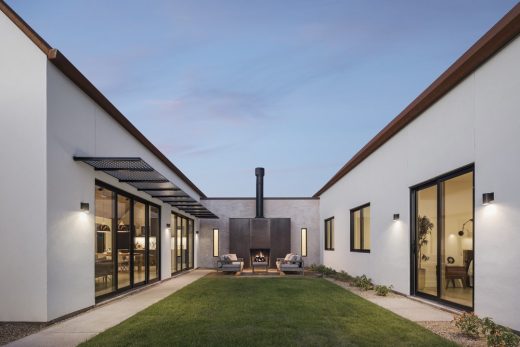 photograph : Roehner + Ryan
Canal House in Arizona
The central courtyard is anchored by a rusted steel clad outdoor fireplace that separates the living wing of the house from the sleeping wing. Custom designed steel panels shade the great room doors in the summer with a pattern of the archetypal house form that features prominently on the Canal House elevations.
Jan 30, 2017
Casa Caldera, Patagonia, San Rafael Valley
Architect: DUST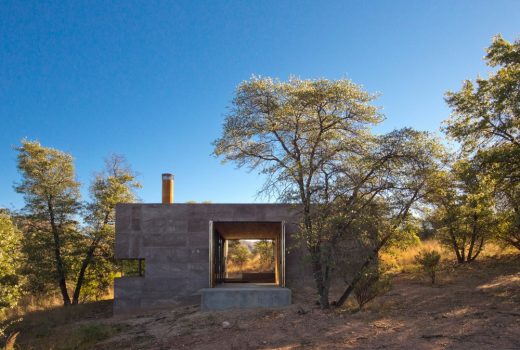 photograph : Cade Hayes
New Residence in Patagonia
The off-grid house emerges from the native grasses, Emery Oaks, and open ranges beyond in a simple rectangular form of 18" mass walls constructed of poured lava-crete. The material is comprised of a mixture of pulverized lightweight red scoria, cement, and water, rammed into formwork. These walls create the structure, finish and offer insulation and thermal mass all in one stroke.
Aug 18, 2016
Beus Center for Law and Society, ASU, Phoenix
Architect: Tomas Rossant of Ennead Architects, with Jones Studio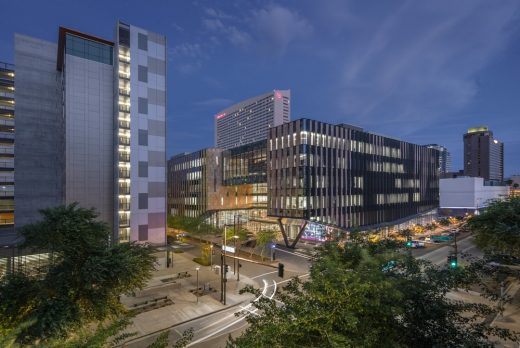 image courtesy of architects
Beus Center for Law and Society at ASU
The new home of the Sandra Day O'Connor College of Law at Arizona State University: BCLS is poised to transform the law school experience—both in program and design. A new six-story, 280,000-sqft, state-of-the-art facility in the heart of downtown Phoenix designed by Tomas Rossant of Ennead Architects, in collaboration with Jones Studio, BCLS was conceived and developed as a uniquely open urban environment where society and the study and practice of law converge.
Nov 4, 2016
Arquideas Design Competition, The Grand Canyon, northern Arizona



image from architects
Canyon View Accommodation Arizona Architecture Competition
The aim of this competition for architecture students and young architects, Canyon View Accommodation (CaVA) Arizona, is to propose a temporary accommodation space for visitors in such unique and delicate spaces as the Grand Canyon.
Mar 18, 2016
Arizona Center for Law and Society, ASU, Sandra Day O'Connor College of Law, Phoenix
Architect: Tomas Rossant of Ennead Architects, with Jones Studio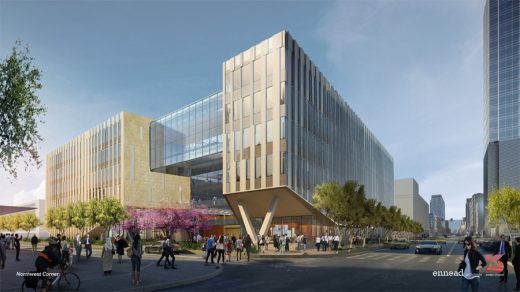 image from architects
Arizona Center for Law and Society Building
Dec 30, 2015
Desert Wash in Paradise Valley
Architect: Kendle Design Collaborative Architects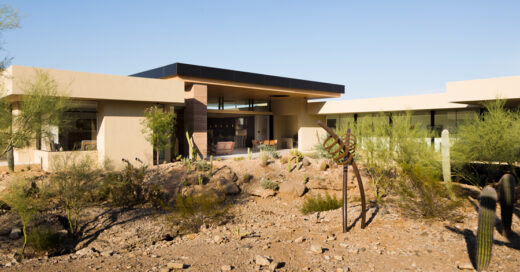 image from architects
Paradise Valley Residence
A unique modern home designed to celebrate nature and desert living. This contemporary home turns "an unwelcome obstacle for traditional residential design, a desert wash which periodically floods throughout the year, into a focal feature of natural beauty that delights and inspires".
May 29, 2013
Desert Wing, Scottsdale
Architect: Kendle Design Collaborative Architects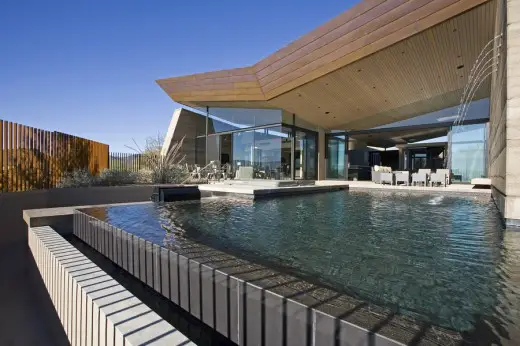 photo from architects
Desert Wing in Arizona
"While much of the surrounding homes echo themes from distant European cultures of centuries past this home speaks to its specific place in the Sonoran Desert. Forms derived not by the constraints of style but by programmatic and climatic forces shape this home."
Jul 15, 2013
Levin Residence
Design: Ibarra Rosano Design Architects



photo : Bill Timmerman
Levin Residence
Three simple volumes hover above the desert, responding to the challenges of the site and to an ethic of building with minimal disruption to the natural environment. The site slopes toward the west into a wash and is split by a smaller tributary valley, splitting the buildable area in half.
May 21, 2013
Tucson Mountain Retreat
Design: DUST Architects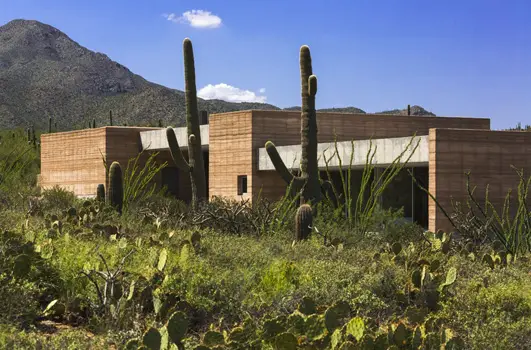 photo © Jeff Goldberg / Esto
Arizona Mountain Retreat
Elegant rammed earth house for Karen and David Francis whose primary residence is in San Diego. David grew up in Arizona so the Tucson Mountain Retreat and living in the desert are like a homecoming for him.
Apr 24, 2013
The Phoenix House
Design: Messana O'Rorke



image from architect
Contemporary Arizona House
This vast and strikingly beautiful desert landscape is the inspiration for this simple contemporary residential design. The tectonic mechanisms responsible for the landscape, where mountain ranges seem to slide past each other, is emulated by massive parallel walls of the house.
Dec 20, 2012
Phoenix Observation Tower
Design: BIG Architects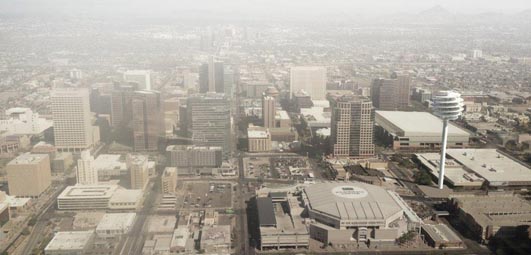 image from architect
Phoenix Observation Tower
Designed as a major attraction for both tourists and locals in the Valley of the Sun: conceived as a reinforced concrete tower topped with an open-air spiral sphere.
Oct 26, 2011
University of Arizona Poetry Center, Tucson
Design: Line and Space



photo : Robert Reck
University of Arizona Poetry Center
After nearly 50 years of patiently seeking out every new poetry publication, the University of Arizona amassed one of the finest collections of Contemporary Poetry in America.
Aug 10, 2011
Sunrise Mountain Library
richärd+bauer



image : Bill Timmerman
Sunrise Mountain Library
A replacement for a joint use public library in a high school that had been in existence for over ten years, the new building is a modern full-service regional library with a 100,000-piece collection. The facility utilizes RFID and self-service technology. Sliding glass walls and shelving on wheels allow for expanded programming space but is aesthetically pleasing when not in use.
May 27, 2011
Garcia Residence
Ibarra Rosano Design Architects



picture from architect
Tucson Mountains House
The Garcia site is a steep north-facing slope in the foothills of the Tucson Mountains with commanding views of city lights and the surrounding mountains. Our challenge was to design a structure that would appear to grow out of the rocky desert hillside without dominating the landscape.
May 26, 2011
Cesar Chavez Library, Phoenix
Line and Space with Richard+Bauer



image : Bill Timmerman
Cesar Chavez Library
Located in an existing park adjacent to a man-made lake the 25,000 sqft building is designed to serve 40,000 visitors per month within one of the fastest growing areas of Phoenix, the Village of Laveen.
Arizona Buildings
We've selected what we feel are the key examples of Arizona Buildings, USA. We aim to include projects that are either of top quality or interesting, or ideally both.
We cover completed Arizona buildings, new building designs, architectural exhibitions and architecture competitions across the state. The focus is on contemporary buildings but information on traditional buildings is also welcome.
Major Arizona Building Designs, alphabetical:
Arabian Library, Scottsdale
2007
Design: richärd+bauer



image : Bill Timmerman
Arabian Library
Bradley Residence, Scottsdale
2007
Michael P. Johnson Design Studios



image : Bill Timmerman
Bradley Residence – Scottsdale house
Courtyard Residence, Phoenix
2010-11
blank studio, architects



image : blank studio, Inc.
Arizona Residence
Ellsworth Residence – desert residence
2007
Michael P. Johnson Design Studios



photo : Bill Timmerman
Arizona house
Meinel Optical Sciences Building, University of Arizona, Tucson
2006
richärd+bauer



image : Bill Timmerman
Meinel Optical Sciences Building
Suncover Residence – house, Phoenix
2010-
blank studio, architects



image : blank studio, Inc
Phoenix Residence
More Arizona Buildings online soon
Major Arizona Building Developments, no images, alphabetical:
Cardinals Stadium, Glendale
1997-2006
Peter Eisenman with HOK Sport
Community Centre & Library, Maryvale, Phoenix
2006
Gould Evans Wendell Burnette
Maryvale Community Center, Phoenix
–
Wendell Burnette
Palo Verde Library, pool, community center, park
Northern Arizona University Advanced Research & Development Facility, Flagstaff
2003-07
Hopkins Architects
Planar House – Cottle Residence, Paradise Valley
–
Design: Steven Holl Architects
Quadrant House, Phoenix
–
Diller + Scofidio
Stevie Eller Dance Theatre, University of Arizona
2004
Gould Evans
Taliesin West, Scottsdale
1937
Frank Lloyd Wright
Link: Taliesin III in Wisconsin
Xeros project – house, Phoenix
2007
blank studio
More Arizona Building Designs online soon
Buildings in Neighbouring States to Arizona
Phoenix Building : Maricopa Court Complex
Buildings / photos for the Arizona Architecture page welcome