Michigan house, Bloomfield Hills home, Cranbrook Educational Community building architects
Michigan Building, USA : Bloomfield Hills House
Key American real estate development design by William Massie at the Cranbrook Educational Community
May 3, 2008
Location: Cranbrook Educational Community, Bloomfield Hills, Michigan, United States of America
Date: 2008
William Massie, the architect-in-residence at the Cranbrook Academy of Art
Location: northern Oakland County
The Award-Winning Cranbrook Architect
William Massie to Debut – American House 08
The First in His Series of Ten Prefabricated Houses At Cranbrook Art Museum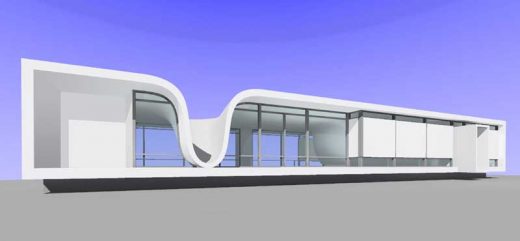 image from architects
American House 08
Bloomfield Hills, MI – The debut of the full-scale American House 08, the first in a series of ten prefabricated houses designed and constructed by William E. Massie – the award-winning Architect-in-Residence and Head of the Architecture Department at Cranbrook Academy of Art – will take place at Cranbrook Art Museum on May 3, 2008. American House 08 will be located on the lawn in front of Cranbrook Art Museum.
With increasing concern about issues such as sustainability and the swelling global population, pre-fabricated houses are taking center stage as a prime solution to a host of pressing needs in housing. American House 08 embodies Massie's drastically divergent practice from traditional architectural practice through his use of computer-based fabrication technology for efficient, precise, and customized buildings. It features innovative lighting and interior design as well as contemporary furniture by Herman Miller. The public is invited to tour American House 08 through September 14, 2008.
Constructed entirely within the architect's studio just minutes away from the historic Saarinen-designed Cranbrook campus, American House 08 was designed, in part, at full scale. It will be disassembled in late January 2008 and transported on a flatbed truck to the Cranbrook campus, where it will be reassembled on the lawn in front of Cranbrook Art Museum, adjacent to the towering Mark diSuvero sculpture.
By composing American House 08 in real-time in his studio, Massie was able to negotiate between material and concept, relying on human reaction to the actual space and details. Utilizing computer-based fabrication technology for production, the house consists of a prefabricated metal frame, in-filled with manufactured structural panels—all filtered through a process of digital fabrication.
William Massie American House Design
"Bill Massie's work is intriguing and provocative," says Reed Kroloff, Director of Cranbrook Academy of Art and Art Museum. "This work is a reconsideration of how and why architecture is made."
The design of American House 08 is defined by two glass elevations, uniting the interior experience with the exterior landscape. The regularity of the box-like form is disrupted by a pair of volumetric anomalies and elliptical light tubes, stretching down to the floor, implying a shift in program. Additionally, these complex surfaces capture light from multiple video projectors, creating a flexible ambient condition for the occupants, while dematerializing the object within the landscape. Without a specific client, Massie's architecture becomes propositional, predicating its functionality solely on the human body and experience. Proposing material motivations for behavior, this series of houses by Massie dares to be truly provocative.
In 2003, the Museum of Modern Art (MOMA) in New York City acquired a large laser-cut acrylic model of Massie's award-winning Big Belt House for its permanent collection. The Big Belt model will be on display at MOMA's upcoming exhibition, Home Delivery: Fabricating the Modern Dwelling opening on July 20, 2008.
In 2005, Cranbrook Academy of Art named William E. Massie Architect-in-Residence and Head of the Architecture Department. He joined Cranbrook's Master of Architecture program that has boasted a great heritage of well-known Architects including: Charles Eames, Dan Hoffman, Daniel Libeskind and Hani Rashid.
At Cranbrook Massie has continued his successful individual professional practice that includes recent award-winning work such as: House for a Photographer in Ghent, New York (2002 Progressive Architecture award); Big Sky House / Owens Residence in Broadwater County, Montana; and Big Belt House in White Sulphur Springs, Montana (2000 Progressive Architecture award).
Massie's architectural work has been featured in numerous publications, including Men's Vogue, Architectural Record, Architecture, Dwell, Esquire, GQ and the Village Voice. He has lectured and exhibited widely, including the Museum of Modern Art in New York; the National Building Museum in Washington, DC; the Shanghai Biennale in China; the San Francisco Museum of Modern Art; Southern California Institute of Architecture; the Rhode Island School of Art and Design; California Polytechnic, the Architectural League of New York; the University of Michigan; and Columbia University. He has received awards and grants, including four Progressive Architecture awards (2002, 2000, 1998 and 1997); two Architecture magazine Research Awards (2000 and 1998); and a New York Chapter AIA Interior Architecture Award (1994).
Massie received his Master of Architecture degree from Columbia University in 1991 and Bachelor of Fine Arts degree from Parsons School of Design in 1987. From 1994-2002, he held teaching positions at Renssaler Polytechnic University, Lawrence Technological University, Parsons School of Design, Montana State University and Columbia University.
Cranbrook Academy of Art, Michigan
The two-year program in Architecture at Cranbrook Academy of Art enrolls a maximum of fifteen students and is largely self-directed; each student defines and develops his or her own Master's Degree project, with the guidance of the Department Head/ Architect-in-Residence.  Upon successful completion of the two years' study, a thesis project is formally presented in a group exhibition at the Cranbrook Art Museum.
The Academy's architecture program attracts graduate students with a wide range of backgrounds.  Most applicants accepted into the program have a B.Arch. or equivalent foreign degree.  A significant number are practicing architects who choose to attend graduate school to further their knowledge and professional/ teaching opportunities.  Other students hail from related fields: landscape architecture, interior architecture, industrial design, and the fine arts.
Founded in 1932, the Cranbrook Academy of Art is a preeminent graduate level school of art, design and architecture. Offering an intense studio-based experience, Artists-in-Residence mentor students in art, architecture and design to creatively influence contemporary culture. Master of Fine Arts degrees are offered in nine disciplines including 2D Design, 3D Design, Ceramics, Fiber, Metal, Painting, Photography, Printmaking and Sculpture and a Master of Architecture degree. Cranbrook is an internationally renowned educational community dedicated to excellence in the arts, education and science. Cranbrook is located at 39221 Woodward Avenue in Bloomfield Hills, Michigan, and comprises its Academy of Art, Art Museum, Institute of Science, Schools and other affiliated cultural and educational programs. For more information, call (248) 645-3300 or visit the web site at www.cranbrook.edu.
Cranbrook Academy of Art General Information
CRANBROOK ART MUSEUM: GENERAL INFORMATION
MUSEUM HOURS
Regular museum hours are Wednesday through Sunday, 11:00 am – 5:00 pm; 4th Friday of each month, 11:00 am – 9:00 pm. The Museum is closed on Mondays, Tuesdays and selected holidays, including Thanksgiving Day.
ADMISSION FEES AND LOCATION
Cranbrook Academy of Art and Art Museum are located at 39221 Woodward Avenue in Bloomfield Hills, Michigan. Enter on the west side of Woodward Avenue between Lone Pine and Long Lake Roads.
Free parking is available adjacent to the Art Museum and in the parking deck, located between Cranbrook Art Museum and Cranbrook Institute of Science. Museum admission is free for ArtMembers@Cranbrook. General admission is: $10 adults; $5 teens and full-time students with ID; children 12 and under are admitted free with adult admission. For more information, please call 1-877-GO-CRANBrook (1-877-462-7262) or visit the website at www.cranbrook.edu.
Daniel Libeskind – famous architect:
Cranbrook School of Art and Design, Michigan, USA
1978-85: Head of the Department of Architecture
Cranbrook Institute of Science, Bloomfield Hills
–
Design: Steven Holl Architects
House X, Bloomfield Hills
1975
Peter Eisenman
Location: Cranbrook Educational Community, Bloomfield Hills, Michigan, United States of America
Michigan Building Designs
Contemporary Michigan Architectural Designs – recent selection from e-architect:
A recent Michigan house on e-architect:
Glen Lake Tower
Design: Balance Associates Architects



photo : Steve Keating Photography
Glen Lake Tower House Michigan
Another Michigan residence on e-architect:
Walloon Lake House
Design: DUDZIK Studios



photo : DUDZIK Studios
Walloon Lake House Michigan
Michigan Architect : John Lautner was born in Marquette
USA Building Designs and Homes
Contemporary Home Designs – recent selection from e-architect:
Buildings / photos for the American House 08 – Michigan Residential Architecture design by William Massie at the Cranbrook Educational Community page welcome