Paul Rudolph Hall, Yale University Arts Complex, Building Project, Photo, News, Design
Paul Rudolph Hall, New Haven
New Haven Building, Yale University Development, Connecticut, USA – LEED Gold
Apr 6, 2014 + Nov 24, 2009
Paul Rudolph Hall Building
Yale University Arts Complex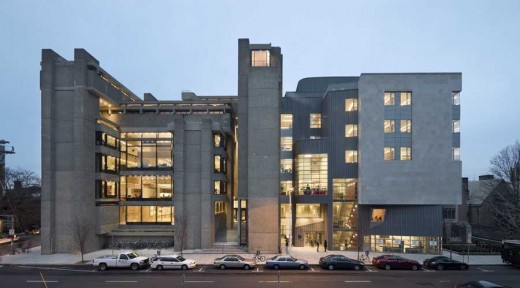 photo : Peter Aaron
Awarded LEED Gold and the Burchfield Penney Art Center at Buffalo State College Receives a LEED Silver Certification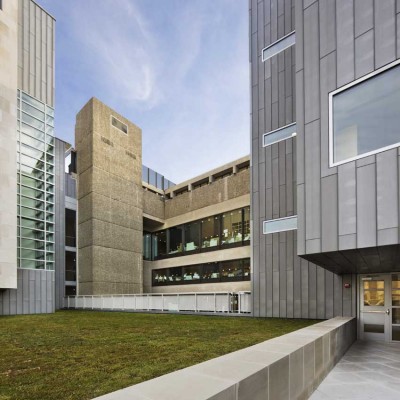 photograph : Peter Aaron
NEW YORK – The completely renovated and expanded Paul Rudolph Hall at Yale University, designed by Gwathmey Siegel & Associates Architects (GSAA) has received a LEED Gold certification.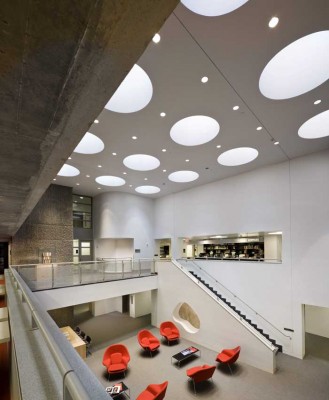 photo : Peter Aaron
The 114,000 square foot building, constructed of cast-in-place concrete in the Brutalist style, was formerly known as the Art and Architecture Building.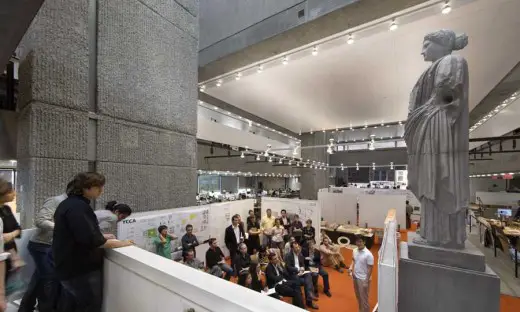 photo : Peter Aaron
It was designed by then chair of the Department of Architecture, Paul Rudolph and completed in 1963.
GSAA's design results from the integration of programmatic, structural and mechanical needs. It includes the restoration of exterior walls, the installation of historically correct windows, and upgrades to all building facilities including the exhibition gallery, jury and studio spaces, study areas, and administrative and faculty offices. It also introduces new lighting and furnishings throughout, in many cases replicating the originals, and brings the structure into compliance with current building and fire codes.
Clad in limestone and zinc panels, the new addition, the seven-story Jeffrey H. Loria Center for the History of Art building, adds another 87,000 square feet of space that provides classrooms, seminar rooms, lecture halls, faculty offices, lounge, and public cafe. The Robert B. Haas Family Arts Library, which occupies portions of both the new and old buildings, brings together all of Yale's previously dispersed arts collections. Known collectively as the Yale Arts Complex, the project was completed in 2008 and was led by Senior Associates Steven Forman and Elizabeth Skowronek, under the direction of the late Charles Gwathmey and Robert Siegel.
The Burchfield Penney Art Center located on the campus of Buffalo State College has officially received LEED Silver certification from the U.S. Green Building Council for meeting rigorous standards in the areas of site sustainability, water use and efficiency, reduced use of energy and atmospheric impact, use of materials and resources, improved indoor air quality and innovation in design.


photo : Biff Henrich
The Burchfield Penney is the first art museum in New York State to be LEED certified, and among the first several art museums in the nation to achieve LEED certification.
Gwathmey Siegel & Associates Architects has designed numerous facilities for the fine arts, most notably the expansion and renovation of Frank Lloyd Wrights Solomon R. Guggenheim Museum. The firms portfolio includes over forty major projects on college and university campuses across the nation.
Gwathmey Siegel Designed Higher Education Arts Facilities images / information received 241109
Gwathmey Siegel & Associates + Paul Rudolph
Location: 180 York St New Haven, CT 06511, United States
Paul Rudolph Hall – Yale School of Architecture Event
YALE SCHOOL OF ARCHITECTURE PRESENTS "IS DRAWING DEAD?"
SYMPOSIUM WILL EXPLORE HISTORIC ROLE OF ARCHITECTURAL DRAWING
AND ILLUMINATE CHALLENGES TO IT IN THE DIGITAL ERA
February 9–11, 2012
WHAT Since the early Renaissance, drawing has been the architect's primary instrument of investigation and expression. However, the sophisticated methodologies offered by digital technology over the past decade have challenged the practice, leading to the question Is drawing dead? This symposium, organized by the Yale School of Architecture, will explore the historic role of architectural drawing practice and illuminate the challenges it confronts today.
The symposium begins on Thursday, February 9, at 6:30 pm, with a lecture by Massimo Scolari, the William B. and Charlotte Shepherd Davenport Visiting Professor at the School of Architecture. This will be followed by an opening reception for the exhibition Massimo Scolari: The Representation of Architecture, 1967–2012, which is on view in the School of Architecture Gallery from February 6 through May 4, 2012.
Friday, February 10, will be devoted to "The Voice of Drawing: History, Meaning and Resistance." The first of the day's two sessions, from 2:00 to 5:00 pm, will begin with a brief introduction, followed by four presentations and a concluding roundtable discussion. At the evening session, at 6:30 pm, Sir Peter Cook, professor of architecture at the Royal Academy of Arts, London; emeritus professor of architecture at University College, London; and principal at Crab Studio, will give the keynote address. This will be followed by a response from Stanislaus von Moos, Vincent Scully Visiting Professor of Architectural History, Yale School of Architecture.
Saturday, February 11, will comprise a session titled "Burning Bridges: Questioning Practice," from 9:30 am to 12:45 pm, and one called "The Critical Act," from 2:00 to 5:00 pm. Both sessions will include an introduction followed by presentations and a roundtable discussion, and the day will end with an address by Mario Carpo, Vincent Scully Visiting Professor of Architectural History, Yale School of Architecture.
WHEN
Thursday, February 9; 6:30–8:00 pm
Friday, February 10; 2:00–5:00 pm and 6:30–8:00 pm
Saturday, February 11; 9:30 am–12:45 pm and 2:00–5:00 pm
WHERE
Yale School of Architecture, Hastings Hall, in Paul Rudolph Hall, 180 York Street, on the corner of Chapel Street (entrance on York), New Haven, Connecticut
ADMISSION The symposium is free and open to the public.
Preregistration is requested: Visit www.architecture.yale.edu/symposia.
Yale School of Architecture
Massimo Scolari: The Representation of Architecture, 1967–2012
Massimo Scolari, The Pilot of the Labyrinth, 1978,
watercolor on cardboard, 18 x 13 cm (ca. 7 x 5 in.):



image from JC&A
Yale School of Architecture Events, New Haven, Connecticut
American Architecture – Selection
Walt Disney Concert Hall, Los Angeles
Gehry Partners
Los Angeles Concert Hall
Farnsworth House, Plano
Mies van der Rohe
Farnsworth House
Winspear Opera House, Dallas
Foster + Partners
Winspear Opera House
University of Iowa building, Iowa City
Design: Steven Holl Architects
American University
Comments / photos for the Paul Rudolph Hall – Yale University Architecture page welcome
Website: www.buildings.yale.edu