Kennedy Homes Affordable Housing Project, Fort Lauderdale Building Photo, US Design News
Kennedy Homes Affordable Housing
Fort Lauderdale Architecture, Florida design by glavovic studio, FL, USA
Oct 11, 2013
Fort Lauderdale, Florida, USA
Design: glavovic studio inc.
Glavovic Studio's Innovative Kennedy Homes Affordable Housing Project Wins Two Awards
Fort Lauderdale Affordable Housing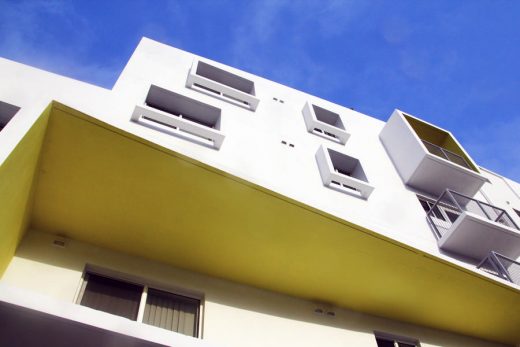 photo courtesy of Glavovic Studio
Kennedy Homes Affordable Housing Project
FT LAUDERDALE – Glavovic Studio, a leading Fort Lauderdale-based architecture, urban design and planning firm, has recently won two prestigious awards for its Kennedy Homes Affordable Housing Project. On October 5, Kennedy Homes received a Fort Lauderdale Chapter AIA Award of Excellence in the Residential Category.
On September 21, the USGBC South Florida Chapter (United States Green Building Council) honored the project with its Gala Verde: The 2013 LEEDership and Green Award for the best Midrise Residential Project. Kennedy Homes has also won a City of Fort Lauderdale Community Appearance Award. Completed in June 2013, Kennedy Homes is 100% occupied.
Developed on an 8.5 acre, 1940s public housing site, Kennedy Homes is a new paradigm for affordable housing. The $16 million, multi-story, multi-family, LEED Gold for Homes project is an extended green space within an urban edge at the gateway of the city of Fort Lauderdale and the historical Sailboat Bend neighborhood. The project's 11 buildings, ranging in height from one to five stories, include eight new residential structures that have 132 units, including 40 senior one-bedroom units, 83 two and three bedroom unit, and three existing structures that have been readapted for community use.





photos courtesy of Glavovic Studio
Glavovic's design uses conventional modular construction and is informed by South Florida's regional geographic and climate characteristics with a focus on natural ventilation, natural light and air movement across living spaces. Sustainability was achieved by using a multi-story building typology that arranges a large percentage number of units at a higher position above the ground plane to take advantage of prevailing breezes.
By capturing natural breezes in the units the need for air conditioning was reduced and possibly eliminated for a few months during the winter season making the apartments more desirable and cost efficient. The natural ventilation is augmented by means of low energy-consumptive ceiling fans in the living rooms and bedrooms. To help catch/direct the natural breezes and to maintain minimal temperature rise during daylight hours, all wall openings are shaded or framed.






photos courtesy of Glavovic Studio
Other sustainable features include: Energy efficient materials, LOW VOC/emission paints, adhesives and carpets, water conserving plumbing fixtures, local supplied materials, pervious pavement to minimize storm-water run-off, individual unit thermal and lighting controls, outdoor lighting that minimizes light spillage and pollution to adjacent properties, Energy-star appliances and urea-formaldehyde free cabinetry.
For the common rooms, Glavovic has created the Kennedy Homes Collection, artwork by a group of internationally, nationally and locally acclaimed artists; all of them possessing a strong history of living and working in Fort Lauderdale. The artists are Francie Bishop Good, Rosalia Curbelo "Cenigma", Louis Davis, Madeline Denaro, George Gadson, Seth Greenwald, Linda Fleischman, Jeremiah Jenner, Peter Nolan, Janet Onofrey, Rosanna Saccoccio and Holly Strawbridge.
In addition to the Collection, the common spaces have an historical photo series curated by Glavovic Studio and wall hooks designed by Miami-based LMNOQ. Two of the mid-rise buildings have unique artist-designed elevator laminate by Francie Bishop Good.
Kennedy Homes' landscape is celebrated as a strong historically significant element and space for daily life. The site, as large as a park, is organized around vistas, courtyards, a vertical porous ventilation system, views between buildings, community, urban design connections between the neighborhoods surrounding the site and maintenance of the existing tree canopy with the addition of drought-resistant native plants. An integrated photographic Ecoresin Landscape Series titled Fruit_extend the art experience to a larger scale into the courtyards as a wayfinding system and historical and cultural reference point incorporating Glavovic Studio graphics, photography and local foliage.


photos courtesy of Glavovic Studio
Kennedy Homes Affordable Housing – Building Information
Location: Fort Lauderdale, Florida, USA
Developer: Carlisle Development Group
Owner: Housing Authority City of Fort Lauderdale
Architect: Glavovic Studio Inc.
Landscape Architect: Stresau Smith and Stresau, PA
Structural Engineer: Bryntesen Structural Engineers, Inc.
Civil: HSQ Group
MEP: Franyie Engineers
LEED Consultant: Abney and Abney


Image courtesy of Glavovic Studio
Kennedy Homes Affordable Housing Project Fort Lauderdale images / information from glavovic studio inc., FL, USA
Kennedy Homes Affordable Housing design : Glavovic Studio
Location: Fort Lauderdale, Florida, United States of America
Florida Architecture
Contemporary Architecture in Florida
Florida Buildings



image from architects
Another project in Florida by Glavovic Studio, Inc:
The ArtsPark at Young Circle, Hollywood, FL



photo © Robin Hill 2007
Florida Park
US Architecture
Comments / photos for Kennedy Homes Affordable Housing – Fort Lauderdale Residential Buildings design by glavovic studio, FL, United States of America page welcome.